To make your choice easier, we have prepared for you the Denon AVR-S540BT review. The most important thing is that Denon AVR-S540BT meets the latest audio and video technologies standard.
The difference between the previous models and AVR-S540BT is an upgraded Bluetooth feature, which lets you connect your phone or other devices for wireless streaming of music directly to your receiver. Besides, Denon AVR-S540BT supports FLAC and Apple Lossless format.
Build and design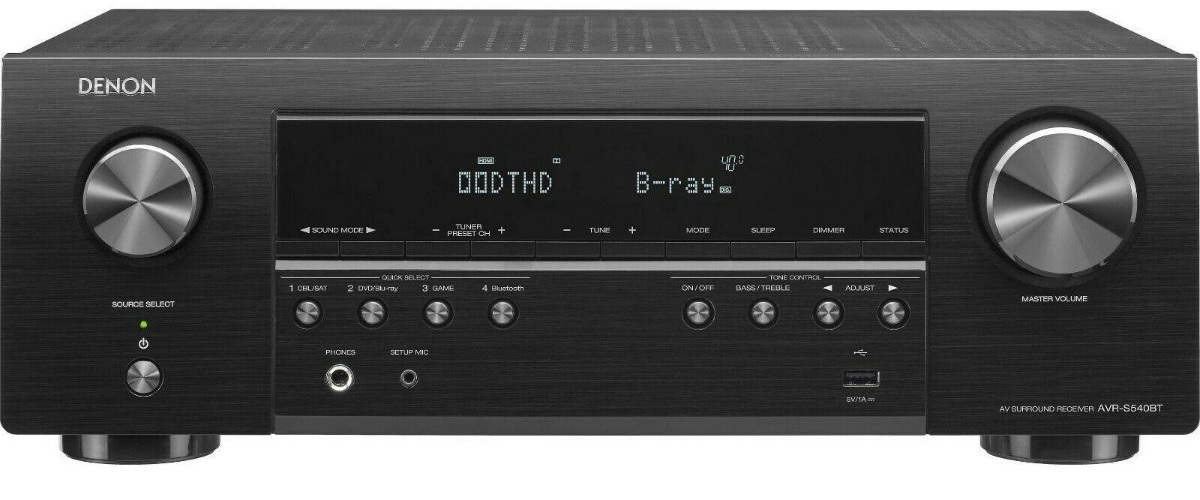 The Denon AVR-S540BT is a mid-sized receiver that is designed to be placed on a shelf or table. It is not as large as some of the other Denon receivers and has dimensions 17.1 x 12.6 x 6. It has a black and silver design that looks sleek and modern.
The receiver's front has a power button, an input selector knob, and a volume control knob. In addition, the Denon AVR-S540BT receiver has an informative display. It can tell you what input you're on, your sound mode, how loud the volume is, and more. The receiver's back features all the ports and connectors you need to connect to your TV, speakers, and other devices.
The Denon AVR-S540BT has a special remote control with large buttons. Once you install the device, you can turn it on, regulate the volume, and switch channels just using the remote control.
Features and specs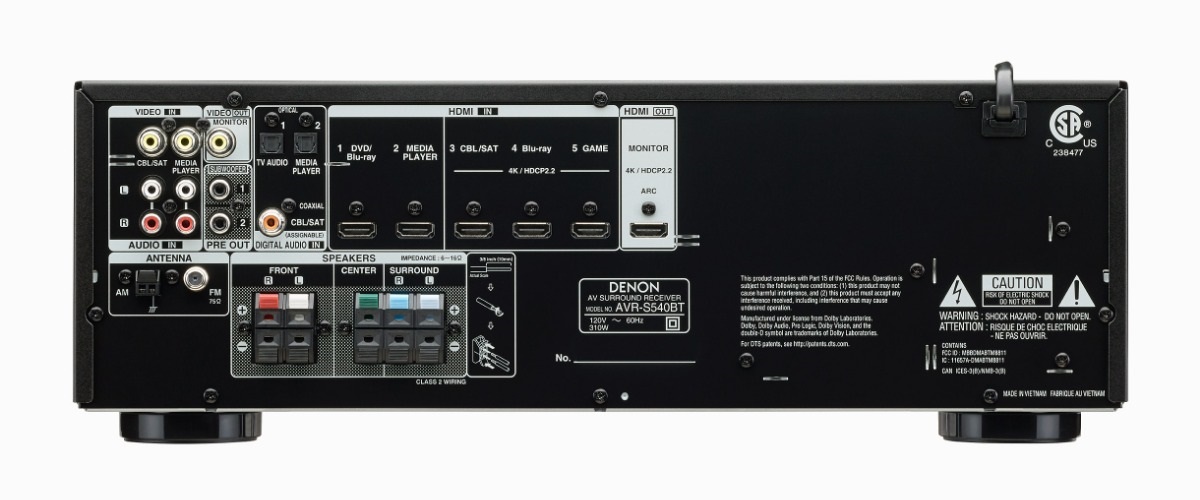 Denon AVR-S540BT specifications such as 5.2 Channels can support the latest video surround formats, including 4K Ultra HD. Power Output per Channel is 140 W (6 Ohms / 1 kHz; 10% THD) with 1-Channel Driven. As for Frequency Response is 10 Hz to 100 kHz, which is a pretty good range. This kind of power is perfect for medium-sized rooms.
The AVR-S540BT has HDMI (5 in / 1 out) with 3D, 4D, Audio Return Channel, and Deep Color (36-Bit). In addition to the HDMI, this receiver includes composite video and stereo RCA audio inputs. A USB port allows connecting to your computer and charging of portable devices. Besides, an AM/FM tuner gives you the possibility to listen to your favorite radio stations. The AVR-S540BT is compatible with high-resolution audio files, including FLAC, ALAC, WAV (up to 96 kHz/24-bit), AIFF, and Apple Lossless at up to 24-bit/96 kHz.
Denon AVR-S540BT is one of the few new models to come with Bluetooth wireless technology. You can connect to compatible Bluetooth devices for wireless listening or control your music wirelessly from the Denon remote app for Apple iOS and Android.
A new feature that got a lot of attention in AVR-S540BT is the ability to support Ultra HD 50p/60p 4K video signals and Dolby TrueHD and DTS-HD Master Audio decoding. In addition, this device provides an HDR (High Dynamic Range), which allows you to enjoy your favorite movie or TV show with deep blacks, bright whites, and enhanced detail. So, the picture will be more spectacular than ever before.
Sound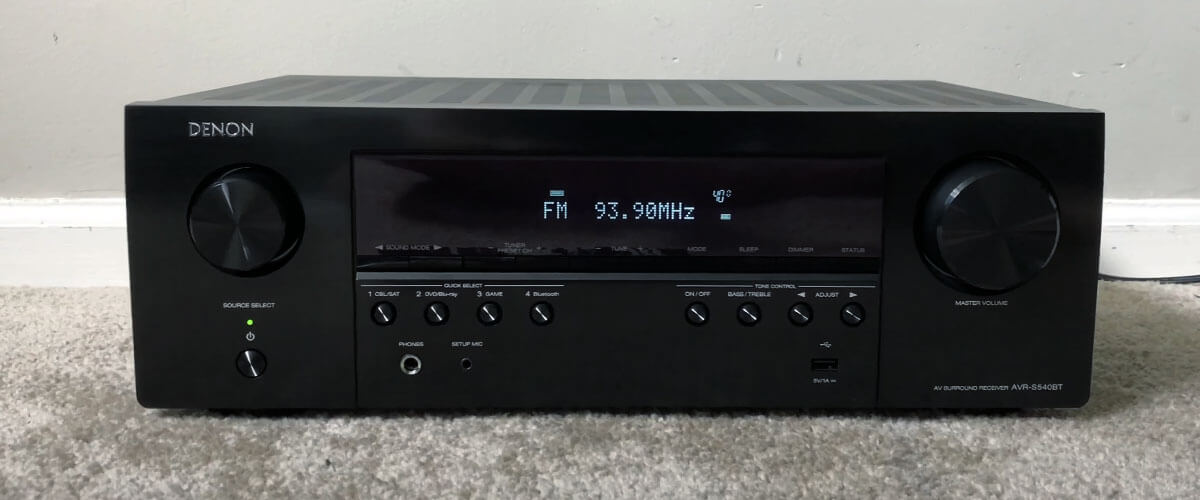 The Denon AVR-S540BT is an excellent receiver for home theater. It produces clean and crisp high-quality sound, without distortion. When you turn on this device and set the maximum volume, the sound will still be clear. It's an excellent option to watch movies and listen to music on it. So, using the receiver, you can hear every detail of the song and conversation in the movie.
Verdict about Denon AVR-S540BT receiver
Without any doubt, Denon AVR-S540BT features will help you to upgrade almost every home theater system. The receiver has excellent sound quality, and it is easy to set up. So if you are looking for an affordable option in your budget range and want to get some great features like wireless capability and HDR support, this model may be perfect for you!
We are supported by our audience. When you purchase through links on our site, we may earn an affiliate commission at no extra cost to you.
Our newsletter
* We will never send you spam or share your email with third parties