Take your home audio experience to the next level with the Pioneer VSX-935 AVR. This powerful receiver combines incredible sound quality and immersive surround capabilities for a truly stunning home theater system that you won't soon forget! The AVR is a great choice for those looking to amplify their home entertainment experience. Featuring advanced audio processing and surround sound capabilities, this receiver delivers an immersive theater-like atmosphere right in your living room! Find out what makes the Pioneer VSX-935 AVR a top choice for every user!
Build and design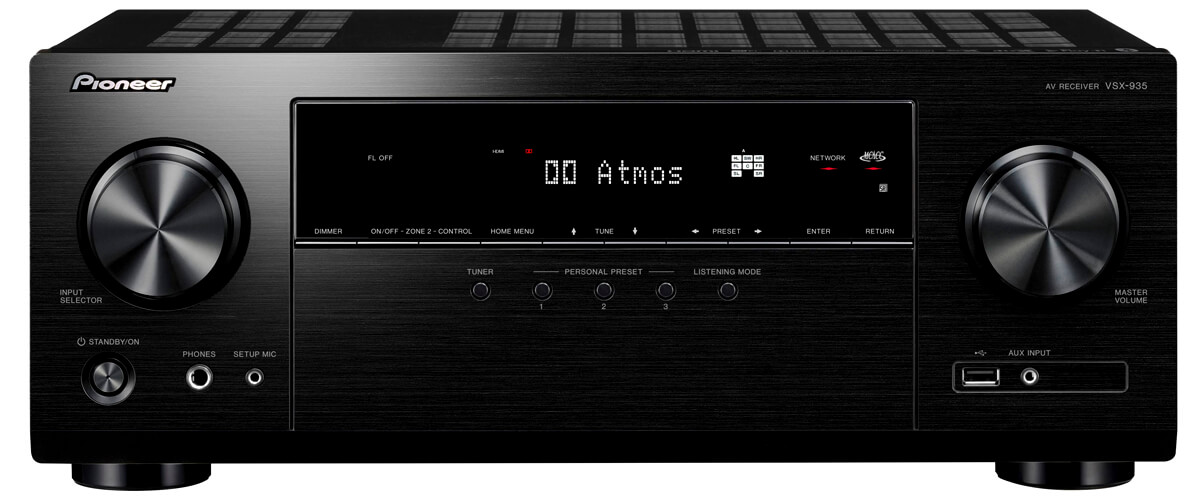 The Pioneer VSX-935 is an impressive piece of equipment designed with the most advanced technology and a sleek, modern design. Its front terminals offer a great range of connections and ports, including USB 1 In for connecting external USB devices, MCACC Setup MIC In for setting up and ensuring accurate sound performance, Audio 1 In, which allows for connecting a stereo mini jack, and Phones 1 Out for connecting headphones.
HDMI connections are plentiful, with 6 HDMI inputs at the rear of the receiver and 2 HDMI outputs to maximize the number of devices connected. Digital audio input is further enabled by two optical one and coaxial connectors, while two analog audio inputs provide a great range of options for connecting other audio devices.
The receiver also has a USB port and 3.5mm stereo mini jack at the front, allowing quick and easy hooking up of other portable media, while its dimensions measure 17-1/8 x 6-13/16 x 14-9/16 inches, and it weighs 20.7 lbs. Combining all these features with a stylish, modern design and intuitive control layout, the Pioneer VSX-935 is an ideal choice for those seeking premium sound reproduction capabilities in their home audio setup.
The Pioneer VSX-935 is the perfect combination of performance and style, allowing you to create an immersive and powerful audio experience in your home.
Features and specs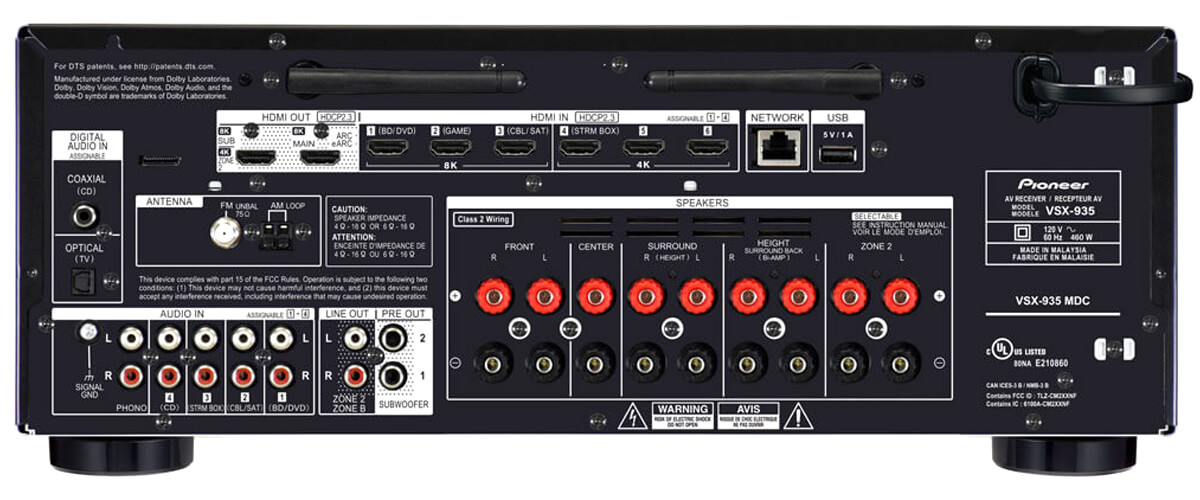 The Pioneer VSX-935 is a 7.2-channel AV receiver designed to provide cinematic audio and video quality to your home cinema setup. It features Dolby Atmos and DTS:X technologies, allowing you to experience immersive surround sound with up to 7.1.2 channels of object-based audio and Dolby Surround upmixer and DTS Neural:X Upmixer options. The receiver also supports 8K video, with Ultra HD Upscaling that allows you to upscale 4K content up to 8K resolution. Additionally, it features Bluetooth®, Apple Music AirPlay 2, SONOS compatibility, and Chromecast built-in for streaming audio, as well as Alexa and Hey Google for voice control.
The Pioneer VSX-935 is powered by 80 watts per channel (8 ohms) and 170 watts per channel (6 ohms). It supports HDR10+, HDR10, and HLG video technologies and HDMI 2.1 specifications. With its multiple connectivity options and support for the latest audio and video technologies, the Pioneer VSX-935 is an excellent choice for a high-quality home cinema receiver.
Whether watching movies, listening to music, or playing your favorite games, this receiver offers the performance and flexibility needed to get the most out of your AV setup.
Sound quality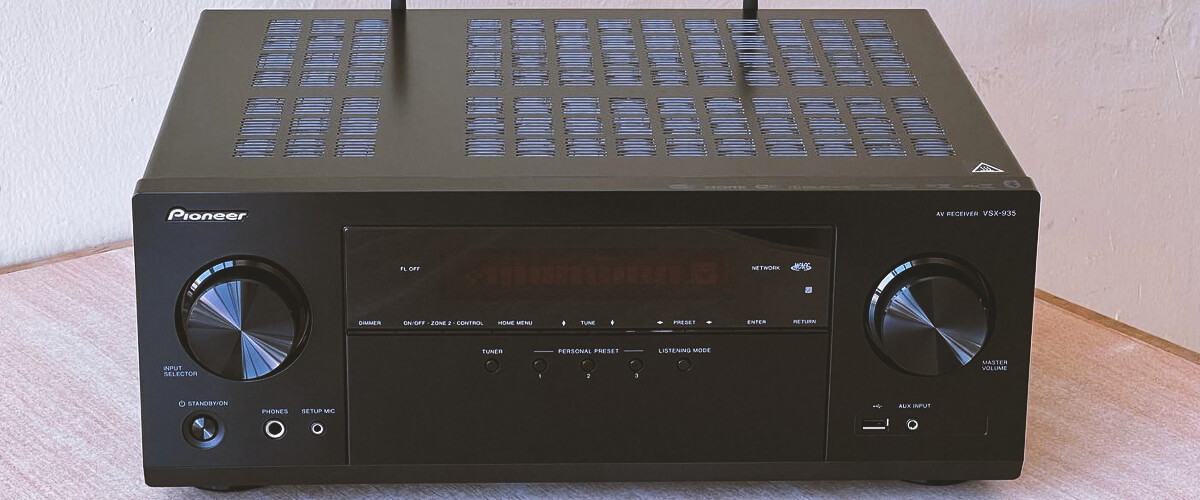 The Pioneer VSX-935 delivers incredible sound quality with its advanced audio processing and surround sound capabilities. Its Dolby Atmos and DTS:X technologies offer a truly immersive theater-like atmosphere.
It features an incredible frequency response of 10 Hz to 100 kHz, allowing you to experience every sound in great detail. Additionally, it comes equipped with MCACC Pro Auto Room Tuning, which calibrates your audio setup and ensures optimal sound performance. With its 80 watts per channel (8 ohms) and 170 watts per channel (6 ohms) power output, you can enjoy a powerful and dynamic sound that brings your favorite movies and music to life. It has an impressive signal-to-noise ratio of 105 dB, ensuring you hear the highest quality music and dialogue. The Pioneer VSX-935 is sure to improve your home entertainment experience dramatically. Its advanced audio technologies make it ideal for creating a top-of-the-line sound system. With its powerful output, dynamic sound quality, and wide range of features, this receiver is an excellent choice for any home theater enthusiast.
The strong bass and clear high-frequency sound of the Pioneer VSX-935 will ensure that you get the best sound for your music, movies, and gaming. Its advanced audio processing capabilities make it easy to customize your listening environment to match your tastes. Whether you're looking for theater-quality surround sound or a more personalized experience, this receiver has something for everyone.
Verdict about Pioneer VSX-935
Experience immersive sound quality with the Pioneer VSX-935 AV Receiver – a powerful and feature-rich audio system designed to bring your musical dreams alive! With its amazing range of features, this versatile unit is sure to be the perfect addition to any home theater setup. Its user-friendly design makes it easy for everyone, from newbies, to get great sound out of their favorite media quickly. Let yourself fall deep into an auditory wonderland as you connect with your music like never before!
We are supported by our audience. When you purchase through links on our site, we may earn an affiliate commission at no extra cost to you.
Our newsletter
* We will never send you spam or share your email with third parties