Looking for a great home theater receiver on a budget? The Denon AVR-X1700H is a fine option. It supports the latest audio and video technologies you would expect in $1000's units.
Check out our full Denon AVR-X1700H review, we'll take a closer look at its features and performance to see if it's the right model for you.
Build and design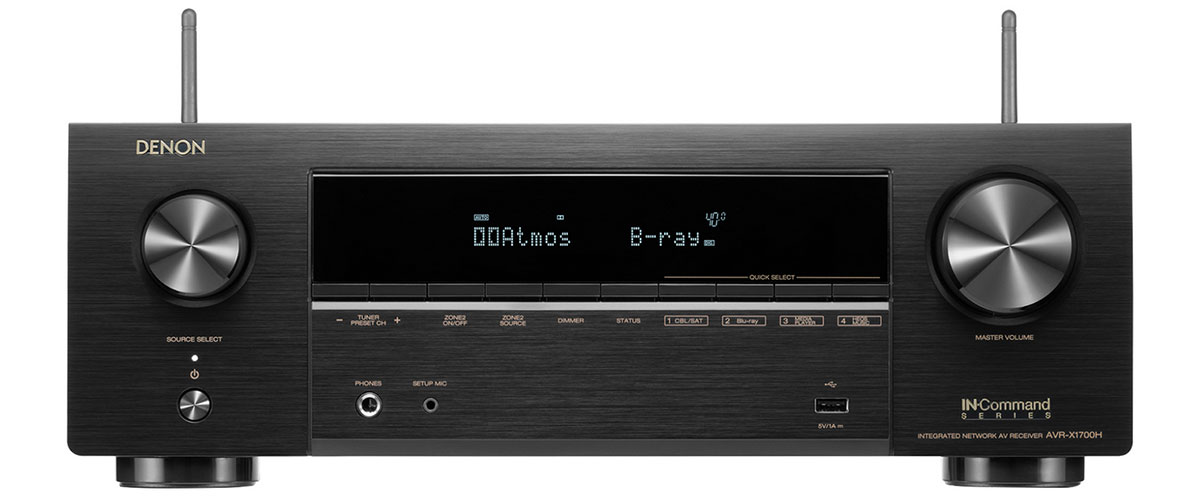 Denon AVR-X1700H is a mid-sized receiver, measuring 17 inches wide, 13.5 inches deep, and 6 inches tall. It weighs about 19 pounds. An uncluttered appearance that will go well with any home theater setup is the trademark of the Denon AVR-X1700H.
The front panel has a clean, minimalist design with a large volume knob, power button, along with a row of buttons for basic control and navigating the menu. The display is small but clear, and it's easy to read from a distance and very intuitive. The rear of the receiver is more complex and contains a good range of connectivity options.
As for me, it would be better to have different colors and symbols representing different menu items, but it seems to be a personal taste judgment. There have, however, been no issues I noticed other than the screen remaining on after adjusting the volume, requiring a second press.
Features and specs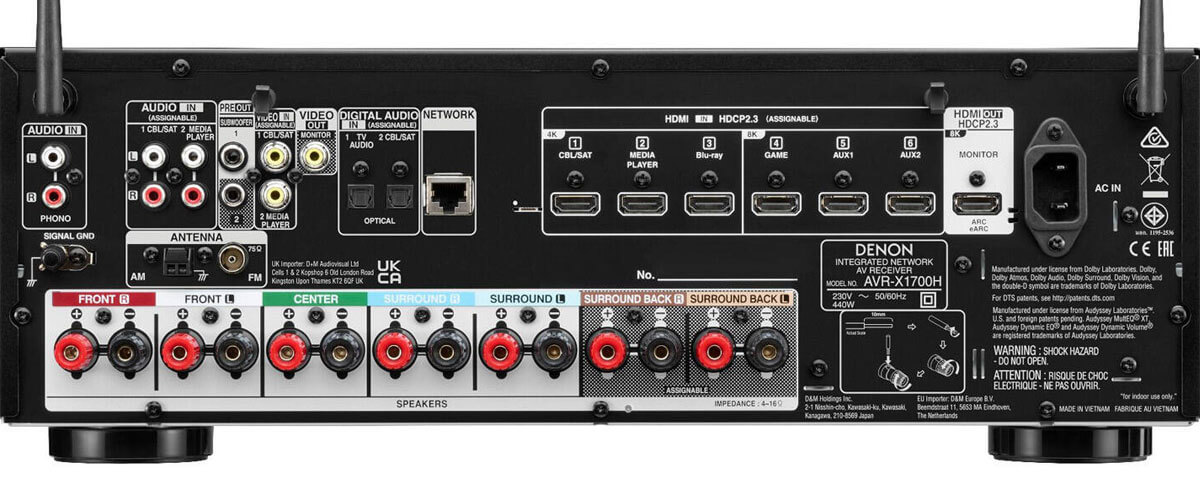 Denon AVR-X1700H's specifications say that it is a 7.2 channel receiver that has 95 watts per channel of power into 8 ohms. It is enough for a medium to large-sized room. I'm typically running 55% volume level for normal TV/voice and up to 75% for loud movies/entertainment. In addition, the Denon AVR-X1700H features built-in HEOS wireless multi-room audio technology, which lets you play music from the receiver in any room of your house. For example, I connected my speakers in the kitchen and could watch a movie in the living room and have the soundtrack playing in the kitchen simultaneously.
Six back HDMI inputs and one main output are on offer, with 8k/60 – 4k/120 max Resolution. Phono input for vinyl enthusiasts is also a nice touch. There are also 2 subwoofer outs for those that like to have beefier bass. The pass-through functionality works great as you can still use the tv without the stereo when you don't need it. I configured Zone 2 for my speakers outside, so AirPlay, HEOS functionality, and streaming integration are super handy to control from a phone without needing remotes. I can control the unit from my phone which is great when we're outside.
Denon AVR-X1700H supports Dolby Atmos and DTS:X, both of which create an immersive 3-dimensional soundscape. Dialog Enhancer is a Denon exclusive feature that helps make speech more intelligible, even in difficult listening environments. The receiver also supports HDR (high dynamic range) video passthrough, which means you can watch HDR content from your Ultra HD Blu-ray player or streaming service and get the full benefit of HDR's enhanced picture quality, with brighter highlights, deeper shadows, and more natural colors. I've watched a few 4k HDR videos and the results were really great.
Sound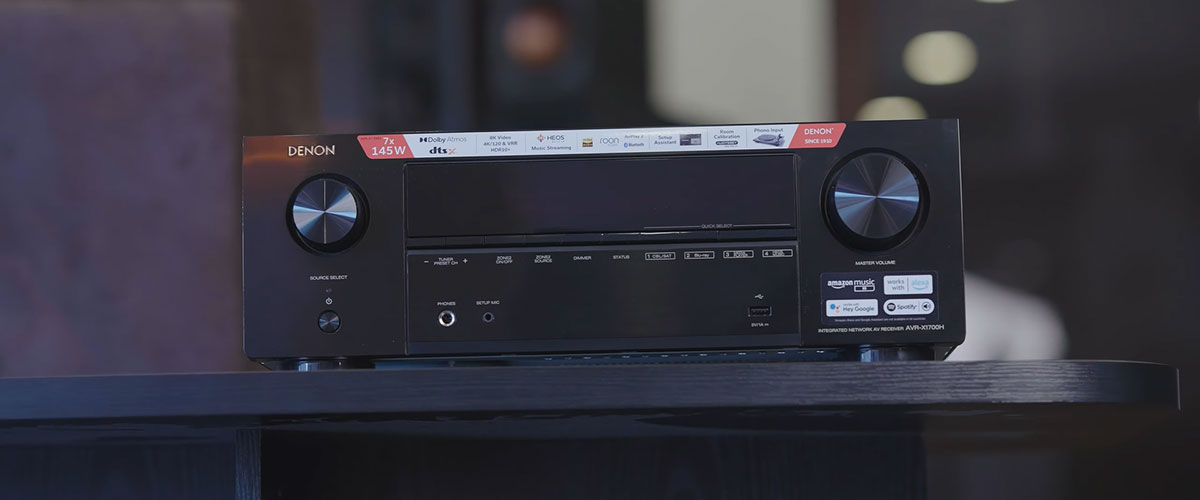 The Denon AVR-X1700H adds great natural tones and excellent clarity. The receiver's ability to create an immersive soundscape is especially impressive, and it makes movies and TV shows feel more cinematic. The bass response is good, although it could be a bit deeper. The receiver's sound quality is sure to please audiophiles and casual listeners alike. Especially I liked the moments in film trailers where the full surround sound, such as wind or a helicopter, kicked in. I could feel like I was in the room with the action happening. But keep in mind that you have to set up a few speakers in front of you and a few behind it. Otherwise, the sound will be flat.
Verdict about Denon AVR-X1700H
I would consider Denon AVR-X1700H to be an advantageous receiver if you want to upgrade a home theater setup on a budget without sacrificing features or performance. It offers enough audio and video formats for significant improvement of sound and picture quality, with no unnecessary features you'll never use.
We are supported by our audience. When you purchase through links on our site, we may earn an affiliate commission at no extra cost to you.
Our newsletter
* We will never send you spam or share your email with third parties