Denon launched the latest revision of AVR-X2700H in 2020, and it still remains rather future-proof. It offers you the ability to create the finest 4K home theater today while also ensuring that your receiver is 8K prepared. This Denon AVR-X2700H review will cover its most essential features, letting you know where it succeeds and falls short.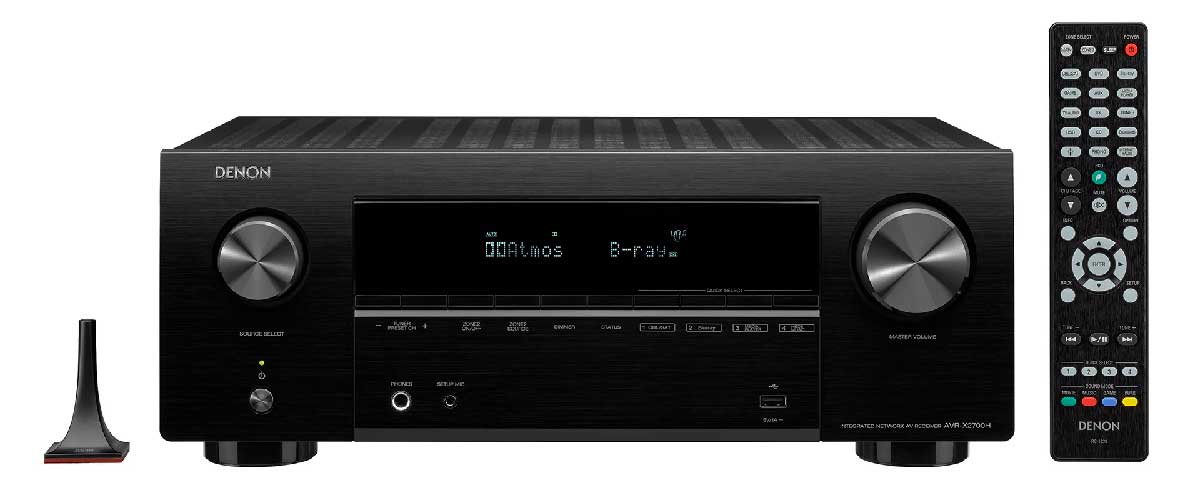 Outwardly, we are dealing with a typical black box receiver that won't win any beauty contests. But compared to the previous models, the AVR-X2700H comes with an enhanced dynamic range, the support for more video formats, and an expanded list of surround sound codecs.
Build and design
Denon AVR-X2700H is quite heavy at 21 lbs. However, this weight is due to the high-quality build. There is a metal chassis that gives the receiver a solid feel. With the dimensions 17.1 x 13.4 x 9.3 inches (or 6.6 inches with the antennas in the horizontal position), the device is the same size as its predecessor – the AVR-X2600H. The only change you see on the front panel is the absence of an HDMI port.
All functions are visualized in a large display in the middle. Two big circular knobs on either side of the front panel serve for volume control and source selection. A thin line of function buttons under the display includes buttons for the tuner preset channel selection, controls for Zone2, the brightness of the display and its mode, and some buttons you can use to register settings of your choice.
Features and specs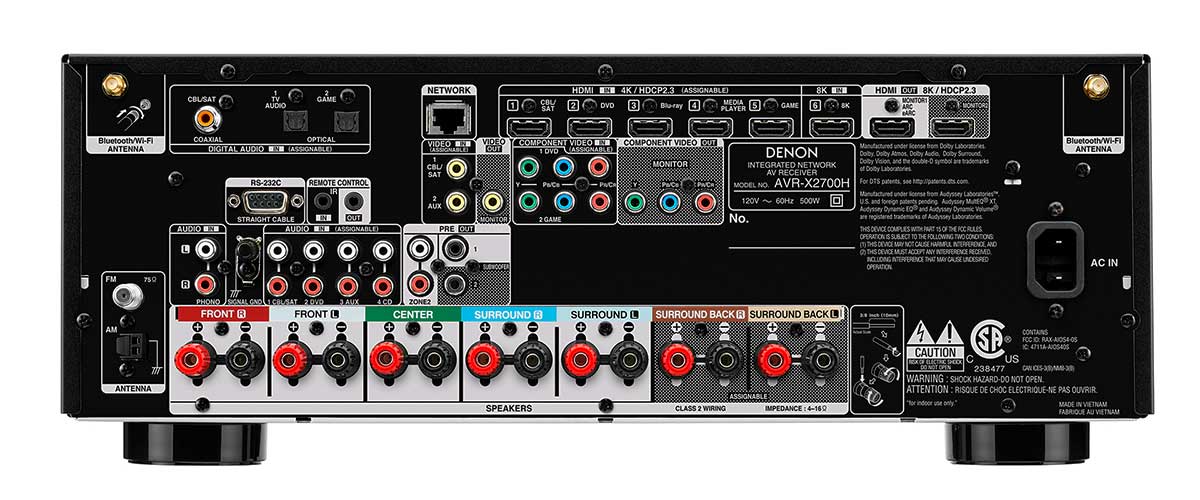 Denon AVR-X2700H features provide users with a sophisticated yet easy-to-use solution for their home theater needs. There is a 7 channel amplifier that delivers 95 W (8 ohms, 20 Hz – 20 kHz, THD: 0.08% 2ch drive) of power per channel, which is quite a lot for a receiver in this price category.
There is a good selection of connections for all your devices. The AVR-X2700H has 6 HDMI inputs and 2 HDMI outputs with HDCP 2.3 processing. One dedicated input supports 8K/60Hz and 4K/120Hz pass-through (although the producer underlines that not all the 4K/120Hz media sources are supported). Upconversion to 8K is available on all six HDMI inputs. One of the HDMI outputs has ARC/eARC capability, which lets you hear the sound from your smart TV app through your speakers without using an additional cable. It can come in handy if you mount your TV on a wall. There is also an audio preamp output that allows connecting an external power amplifier. In addition, optical and coaxial inputs are available.
From the other specifications of Denon AVR-X2700H, it is worth noting that the receiver supports Dolby Atmos and DTS:X surround sound decoding, the respective virtualization technologies, and a wide selection of HDR formats.
The device comes with built-in Wi-Fi and Bluetooth and has two antennas that ensure a reliable connection. You can choose a wired or wireless connection to your home network. The AVR-X2700H provides access to most streaming services. You can listen to music stored on your mobile devices over AirPlay. Besides, the AVR-X2700H can deal with music files on your computer with its built-in support for most popular file formats.
Finally, the receiver offers compatibility with most voice-controlled assistants, making it easy to perform such functions as adjusting volume.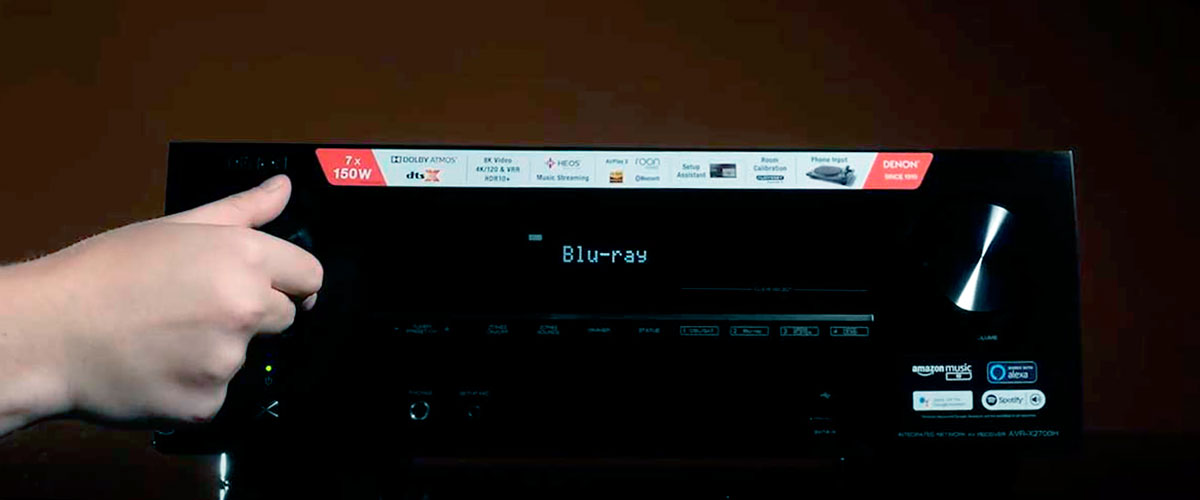 Sound
Good news for everyone who wants to enjoy the incredible sound experience. Denon AVR-X2700H shines thanks to excellent build quality and components that deliver high-fidelity performance when it comes to sound quality. Those who change their old receiver to this model describe its sound as warm, clear, and full. They also notice that the bass became deep and tight and the trebles – smooth and well-defined. Users also praise the quality of sound when it comes to surround sound. Finally, they agree that Denon AVR-X2700H works very well with different types of speakers.
The receiver features a wide variety of sound settings to let you customize your experience depending on the content you listen to. You can use either the Audyssey MultEQ XT room calibration system or one of the pre-programmed modes for movies, music, or game. If you are an advanced user, you can even create your own mode.
Verdict about Denon AVR-X2700H
The AVR-X2700H is packed with impressive features and delivers excellent sound. As for some minor issues, I can mention the setup difficulties and disappointing functionality of the mobile app supplied with the device. But at this price range, it is probably tough to find another receiver with the same performance.
We are supported by our audience. When you purchase through links on our site, we may earn an affiliate commission at no extra cost to you.
Our newsletter
* We will never send you spam or share your email with third parties