If you are not sure about this model, we suggest you read our Onkyo TX-NR797 review. The TX-NR797 is one of the most potent Onkyo receivers, and it differs from other receivers in its class in a few ways.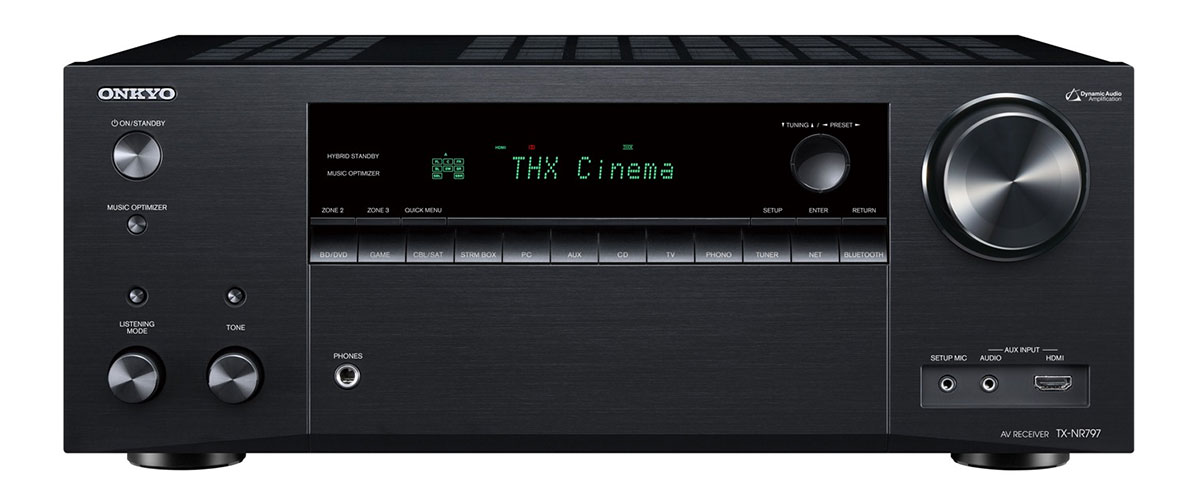 First, it offers plenty of features and capabilities to make your movie watching and music listening experience much better. For example, this receiver can decode Dolby Atmos and DTS:X soundtracks, which gives you an immersive surround sound experience. It also has very robust and feature-rich network audio capabilities. Finally, it allows you to access your music library from any device on your network, including PCs, smartphones, and tablets.
Build and design
It measures 17 1/8″ x 6 13/16″ x 14 15/16 inches and has a very sleek and modern design that will look great in any home theater. This receiver looks very attractive with its nice-looking curves on the front panel, which contains an aluminum facing plate combined with a black color metal casing.
The whole front panel is very logical and well designed. All connectors are labeled nicely with their names, making setting up much easier for connections between various devices. In addition, a front panel includes Power and Station preset buttons, a Volume control dial, a Mute button, Input selector, and Tuner.
The Onkyo TX-NR797 receiver is not difficult to set up. The receiver has a guided setup process that makes it easy to follow.
Features and specs
Onkyo TX-NR797 is a 9.2 channel network A/V receiver that supports 4K Ultra HD video playback, HDR10, and Dolby Vision passthrough. According to Onkyo TX-NR797 features, the power is 100 Watts, 0.08% THD, when two channels are driven. Furthermore, it has a built-in Chromecast that helps to stream content from your devices easily and quickly.
In addition, Onkyo TX-NR797 has AM and FM tuners. So, you can listen to your favorite radio stations. Furthermore, it includes AirPlay support, so it gives a possibility to stream music from your Apple devices. The Onkyo equipped this receiver with FlareConnect Multi-room Audio playback, which allows you to send audio to compatible speakers in other rooms.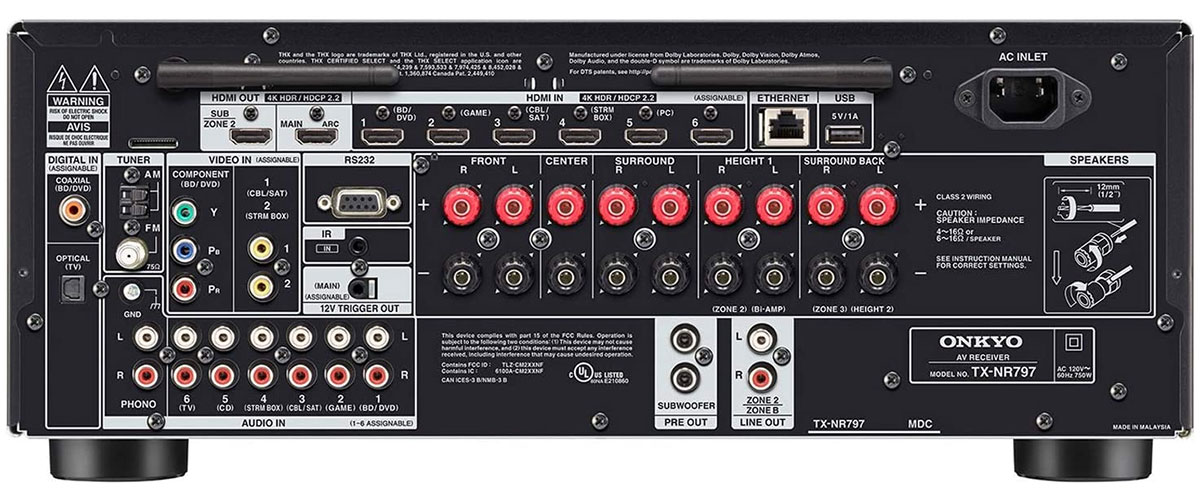 The Onkyo TX-NR797 has a lot of different inputs and outputs that will fit any modern home theater system configuration. We have found the number of ports quite impressive. On the back side of this model, you will find 7 HDMI inputs, composite video inputs, digital and analog audio inputs. Besides, you will find 2 HDMI outputs, one composite and component video outputs. Besides, there are three digital and seven analog audio outputs.
In addition, the Onkyo equipped TX-NR797 with Bluetooth and Wi-Fi. So, you will be able to connect wirelessly to your home network and as a result stream your music from computer or mobile device. Furthermore, you will get access to Internet radio stations to discover new music or listen to your favorite online radio shows.
Let's consider some Onkyo TX-NR797 video specifications. This receiver supports video playback in 4K resolution. It has built-in HDMI 2.0a connections so that you can connect 4K video sources directly to it without extra converters. The TX-NR797 can also upscale lower resolution video to near-4K quality so that you can enjoy your old movies and TV shows with improved detail and clarity.
Sound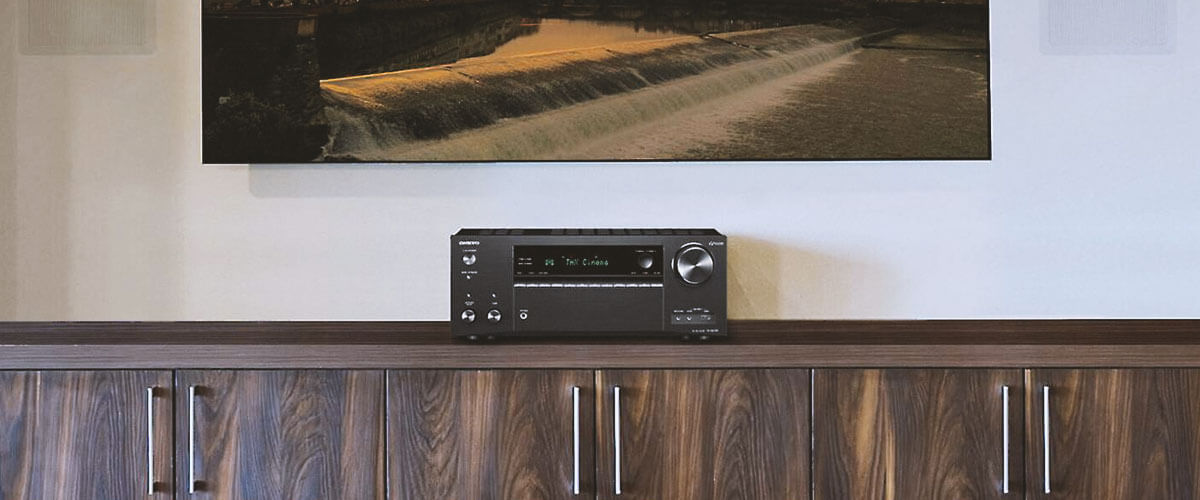 The sound quality is excellent, and it can quickly fill a large room with sound. The Onkyo TX-NR797 offers excellent sound quality when listening to music. This receiver generally produces clear and powerful sound, making it the perfect choice for movie enthusiasts.
In addition, it's perfect for listening to all types of music, from classical to rock. The technology that Onkyo TX-NR797 uses is Dolby Atmos and DTS:X. It delivers impressive 3D surround sound effects, especially if you have a speaker system capable of reproducing height effects. This receiver also features THX Select2 Plus certification, which guarantees high-quality sound reproduction.
However, some users argue that this model has better but not the best sound compared to some other receivers.
Verdict about Onkyo TX-NR797
The TX-NR797 is an excellent choice for anyone looking for an AV receiver to improve home theater and wants to get excellent sound quality. If your goal is to get surround sound from all directions and feel like in the scene playing out before your eyes, this receiver is a perfect option!
We are supported by our audience. When you purchase through links on our site, we may earn an affiliate commission at no extra cost to you.
Our newsletter
* We will never send you spam or share your email with third parties