You might be scrolling through hundreds of customer reviews and see that all receivers have a lot to offer their users. But are they the right option for you? In this Pioneer Elite VSX-LX104 review, I will take a closer look at the features and performance of the VSX-LX104 to help you make an informed decision.
Whether you are already familiar with home theater receivers or this is your first time shopping for one, I hope that my insights will be of use to you.
Build and design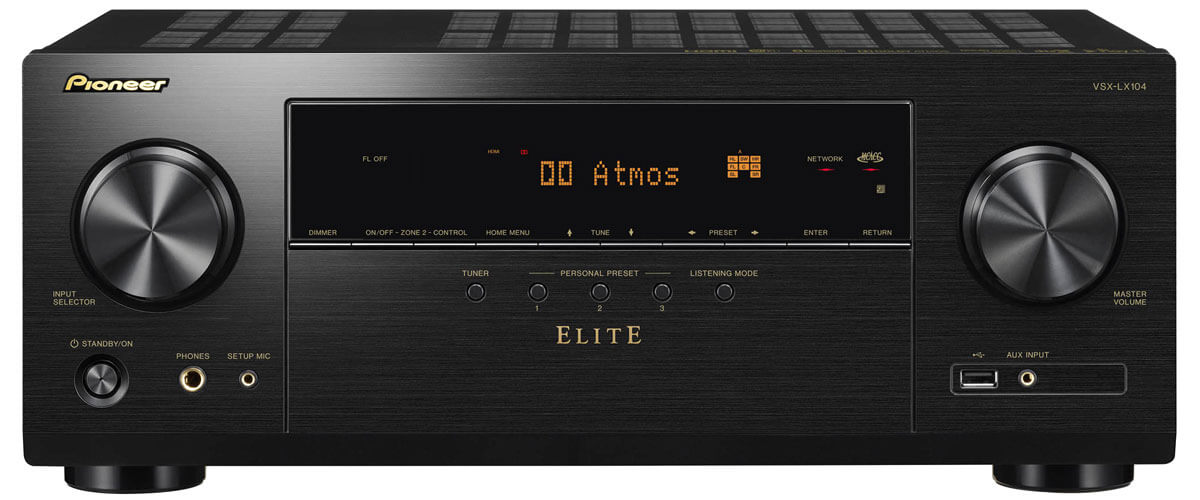 The Pioneer Elite VSX-LX104 measures 14.56 x 17.13 x 6.81 inches and weighs 20.7 pounds. While it is not the smallest or lightest receiver on the market, it is still manageable enough to fit comfortably into most home theater setups.
The front panel has a brushed aluminum finish and is adorned with a Pioneer logo. There is also a row of buttons for navigating the on-screen menus. The buttons and knobs are all easy to access and clearly labeled, making it simple to make adjustments on the fly. All the connections and controls are located on the back panel: speaker terminals, inputs and outputs, power cord and ports. The VSX-LX104 also includes a remote control.
Features and specs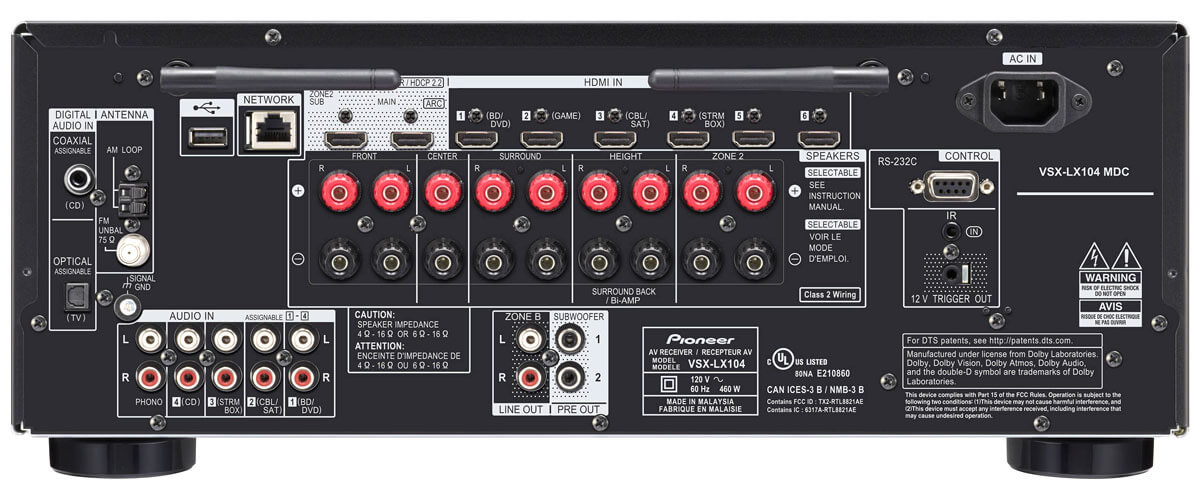 The Pioneer Elite VSX-LX104 is a 7.2-channel receiver, each of its channels can handle up to 80 watts of power. In reality, I wouldn't say it sounds so much more powerful than other receivers that claim to have fewer watts of power. However, it's not bad and is able to drive most speakers without issue.
The receiver also has a Bi-Amp function which can be used to drive a pair of speakers with separate amplifiers for the high and low frequencies. This feature improves sound quality, especially with speakers that are not able to handle a lot of power. Zone 2 Sources allows you to send audio from the receiver to the second room in your home, perfect for watching TV or listening to music while someone else is using the main TV or audio system.
In terms of connectivity, the VSX-LX104 has everything you need. It includes 6 In and 2 Out HDMI inputs, a phono input, 6 analog inputs, a headphone output, and more. Thanks to this, I could connect all the devices I use at once, among which were my cable box, Blu-ray player, and turntable.
You can also connect the receiver to your network and use Pioneer's iControlAV5 app to control all of its functions from your smartphone or tablet. In addition, Pioneer Elite VSX-LX104 features many popular streaming services.
The VSX-LX104 also includes a variety of sound modes to help you get the most out of your audio. These modes include Auto MCACC (which automatically adjusts the receiver's settings to match your speaker setup), Direct Stream Digital (for listening to high-resolution audio files), and a variety of other modes that are specific to different types of content.
Sound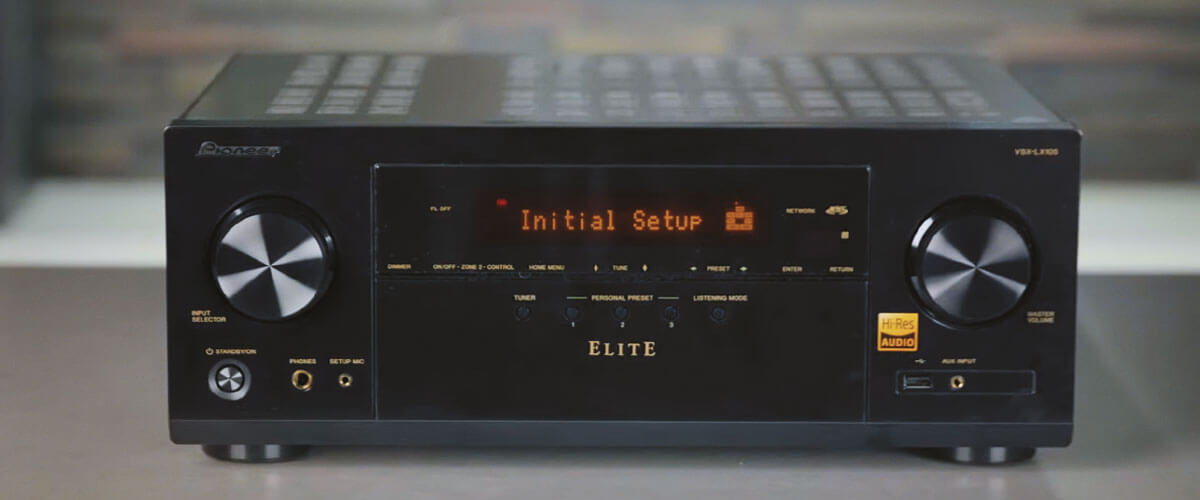 Overall, due to its specifications, Pioneer Elite VSX-LX104 is an excellent performer. The various sound modes did a good job of tailoring the sound to match the type of content I was playing. When watching action movies or listening to music, I didn't feel like the bass was overpowering or muddled.
I was also impressed with the receiver's ability to handle low-frequency sounds. With the support of various audio decoders and formats, the receiver adds height information to the soundscape, making it seem like the sounds are coming from all around you. All music with vocals sounded clear, and I didn't notice any distortion at high volumes.
Verdict about Pioneer Elite VSX-LX104
To sum up, the Pioneer Elite VSX-LX104 is all about exceptional sound quality and a wide range of features. If you are looking for a receiver that handles most types of content and performs well, VSX-LX104 can make your theater experience remarkable.
We are supported by our audience. When you purchase through links on our site, we may earn an affiliate commission at no extra cost to you.
Our newsletter
* We will never send you spam or share your email with third parties