Reading our Sony STR-DN1080 review will help you to get to know a few key things that differ this receiver from the rest models. First, it is equipped with six HDMI inputs and, of course, two outputs.
Usually, it is more than most such devices have. So, it means that you can easily connect all needed devices to the receiver and even without worrying about running out of ports. Additionally, the Sony STR-DN1080 stands out from other models, because of one of the most powerful audio processing engines. It allows it to reproduce sounds that are more true to recorded initially, providing a much richer experience than other receivers on the market today.
Build and design

The STR-DN1080 measures 16.92 x 6.14 x 13.03 inches. It is well-equipped, but isn't too complex in usage. The Sony STR-DN1080 receiver has a sleek and modern design, because of a black finish and some silver accents. The front side is elegant and has a large, central display screen, buttons, and dials to handle the device. This display is clear and really easy to read. The buttons are also well-placed and comfortable in usage. The receiver's back houses a lot of ports and connectors, for example different input and output jacks, as it was mentioned, HDMI and USB ports.
Purchasing the Sony STR-DN1080 you will also get a special remote control. It means you mustn't connect to another device for enjoying wireless, hands-free operations. In addition, you can place your receiver at the rear part of your room and still operate the receiver using this remote control.
Features and specs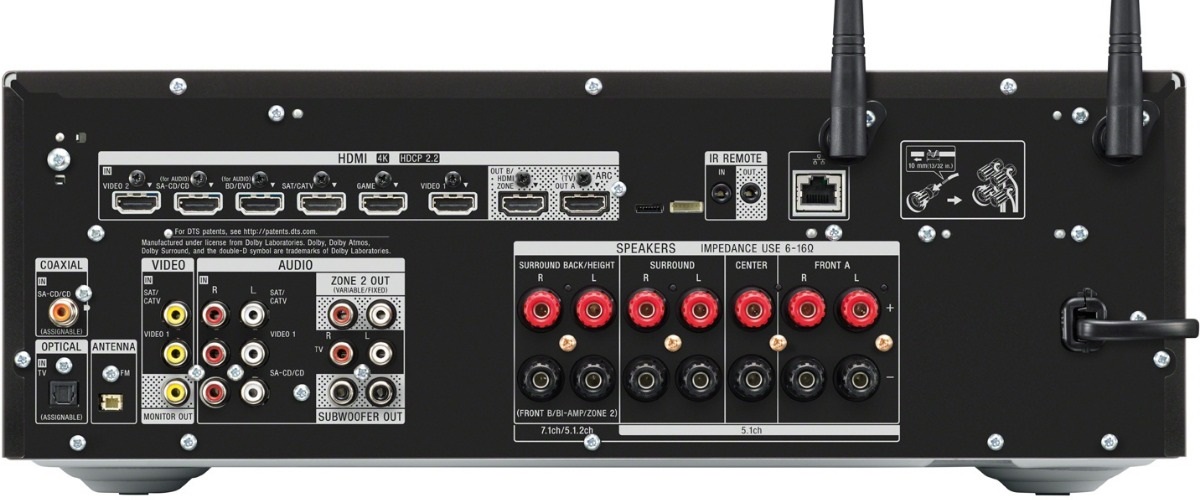 Sony STR-DN1080 is a 7.2-channel receiver with 165 W (6 ohms, 1 kHz, 1ch driven THD 0.9%) per channel. STR-DN1080 AV receiver has multi-room support. So, by downloading the Sony app, you can easily connect your home speakers to play the same music in different rooms.
The Sony STR-DN1080 receiver has Chromecast capabilities. It gives a possibility to control the music playback on the receiver using your. You can also cast audio content from websites and other apps to the receiver. Sony STR-DN1080 supports AirPlay 2, letting you wirelessly stream your iTunes library from your computer or other Apple device. Besides, you can ask Siri to regulate playback on the receiver.
The STR-DN1080 receiver is equipped with a wide variety of ports, including inputs and outputs. For example, 8 HDMI ports (here we can speak about six inputs and two outputs), a USB port, and optical and coaxial digital audio outputs.
Besides, it has an Ethernet port, with which you can connect the receiver to a home network. It allows the user to control the settings and playback on their receiver. It also has built-in Wi-Fi and Bluetooth. This receiver is perfect for connecting all your devices and sending the audio to the whole surround sound system.
The STR-DN1080 receiver has several features that will attract movie enthusiasts' attention. For example, 4K Ultra HD (up to 60p (4:4:4)). In addition to 4K Ultra HD support, the STR-DN1080 is also HDR compatible. It means that you'll be able to enjoy HDR content to its fullest potential, with improved contrast and color accuracy. Whether you're watching a movie or playing a video game, the HDR compatibility of the STR-DN1080 will give you an immersive experience. So with these Sony STR-DN1080 features, you'll get the most out of your movies and TV shows.
Sound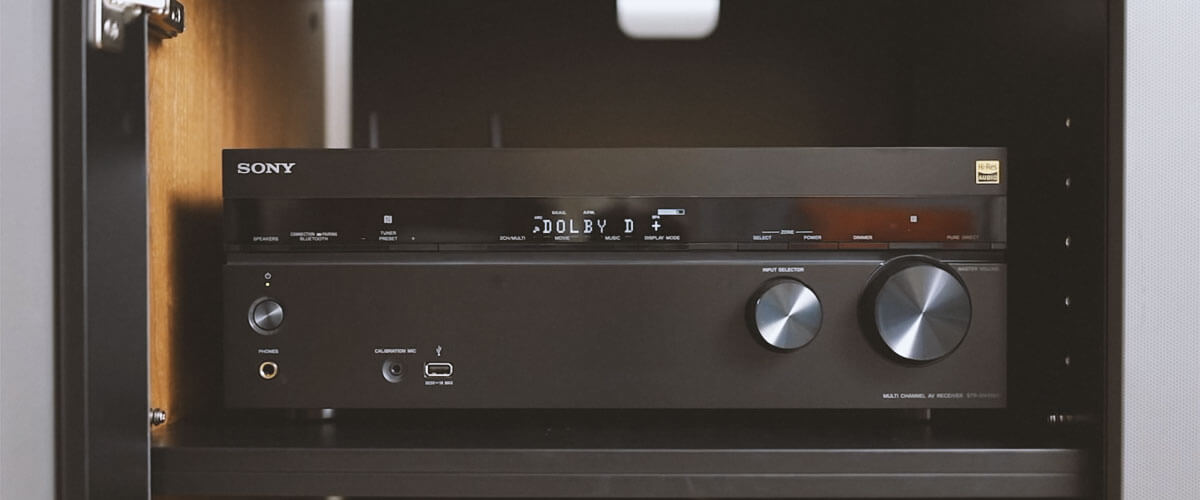 The STR-DN1080 can decode Dolby Atmos, and DTS:X surround sound formats. So that you have a chance to enjoy a clear and really powerful sound. It can handle all of your music and movie needs with ease. The receiver provides a crisp sound even without any distortion. You will hear every note and nuance in your music, as well as experience the full impact of your movies. The STR-DN1080 is the ideal option to improve any home entertainment system.
The STR-DN1080 receiver also features Sony's Digital Cinema Sound. This feature gives you a chance to listen to the best sound quality, whether watching your favorite film or listening to music. Furthermore, this device creates a fascinating surround sound experience. It will help you to feel like you're right in the film action, no matter what kind of films you are watching.
Verdict
Sony STR-DN1080 specifications prove that this receiver is a perfect device for improving your home entertainment system. It provides high sound quality, and you can regulate it using your personal smartphone, tablet, or remote control. So if you're going to buy a receiver that will fill up your house with rich, clear audio, then this model fits the bill!
We are supported by our audience. When you purchase through links on our site, we may earn an affiliate commission at no extra cost to you.
Our newsletter
* We will never send you spam or share your email with third parties