We prepared for you the Yamaha RX-A2A review, in which you can read about the key features of this receiver. If you're looking for a high-quality AV receiver that supports 4K Ultra HD and HDR10, the Yamaha RX-A2A is an excellent option.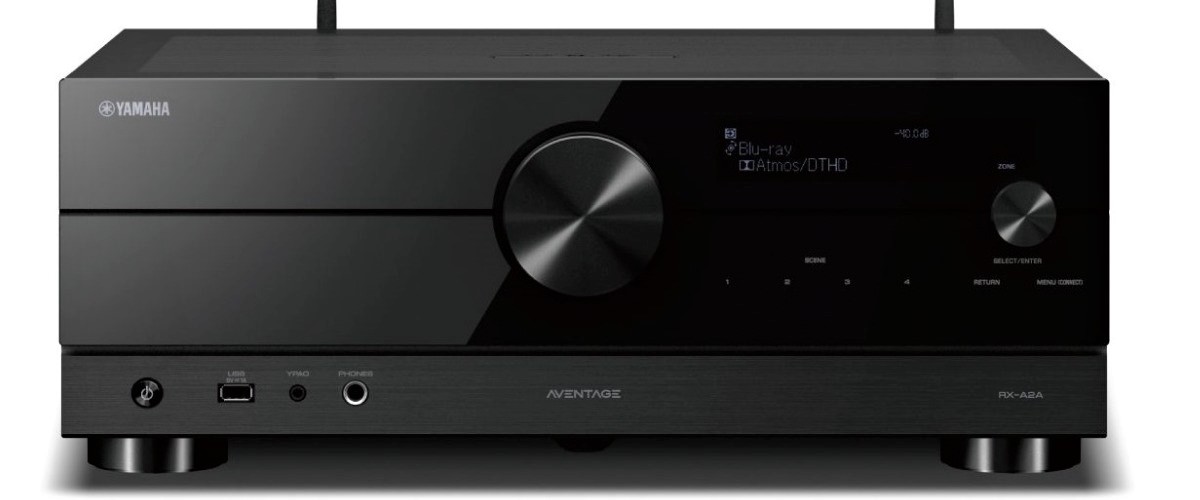 It's not the cheapest receiver on the market, but it offers features and performance that you won't find in most other receivers. For example, it includes a phono input for connecting a turntable, and it has a dedicated Zone 2 output for sending audio to another room in your house.
Build and design
The Yamaha RX-A2A receiver comes with a sleek and stylish design to complement any home décor. The receiver has a black cabinet with a silver front panel, and it measures 17-1/8″ x 6-3/4″ x 14-5/8″ inches. It weighs 22.5 lbs., so it's not too heavy to move around if needed.
On the front panel, you can find a USB port, audio input ports (including another "AUX" A/V input), and speaker binding post outputs. An LED display shows the source name or listening mode currently on. There are also buttons, which will let you quickly mute the sound or change the volume level without using the remote. On the front panel, there is a possibility to control power, select input, volume, and other essential functions.
Besides, you can use the supplied remote control to do all of this. The remote is backlit, making it easy to use in low-light conditions.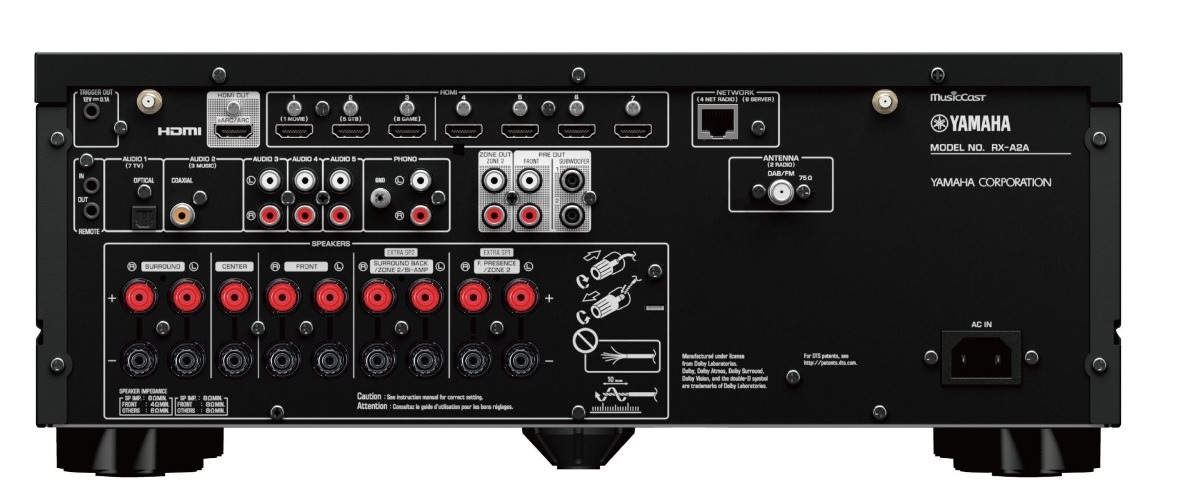 Features and specs
With its 7.2 channel surround sound and 100 W (8 ohms, 0.06% THD) with 2ch driven, the RX-A2A can deliver an immersive, unparalleled soundstage perfect for movies and music. It also features Yamaha's MusicCast technology, which allows you to stream music from your phone or tablet to other MusicCast-enabled devices throughout your home. Besides these Yamaha RX-A2A features, it has the bi-amp capability. It means that the main left and right speakers can be powered by two separate amplifiers, one for the low frequencies (bass) and one for the high frequencies (treble). As a result, it provides better sound quality, improved bass response, and reduced distortion.
Yamaha RX-A2A receiver contains a variety of ports and jacks. For example, there are seven HDMI inputs and one output. Two digital optical audio inputs, two coaxial audio inputs, and a LAN port.
This receiver is perfect for people who have a lot of devices that need to be connected to their home theater system. Yamaha RX-A2A receiver has WiFi and Bluetooth. You will be able to stream music from your smartphone. You should connect the phone to the network of AV receivers, and you're ready to go. Also, don't forget that you can use Spotify Connect or Airplay.
It also supports 4K (up to 120p) and 8K (up to 60p) video pass-through so that you can enjoy the latest high-resolution videos without any degradation in quality. In addition, the RX-A2A will also support HDR10+ (High Dynamic Range) technology which gives a broader color range between bright and dark images for more realistic looking images on your TV.
Sound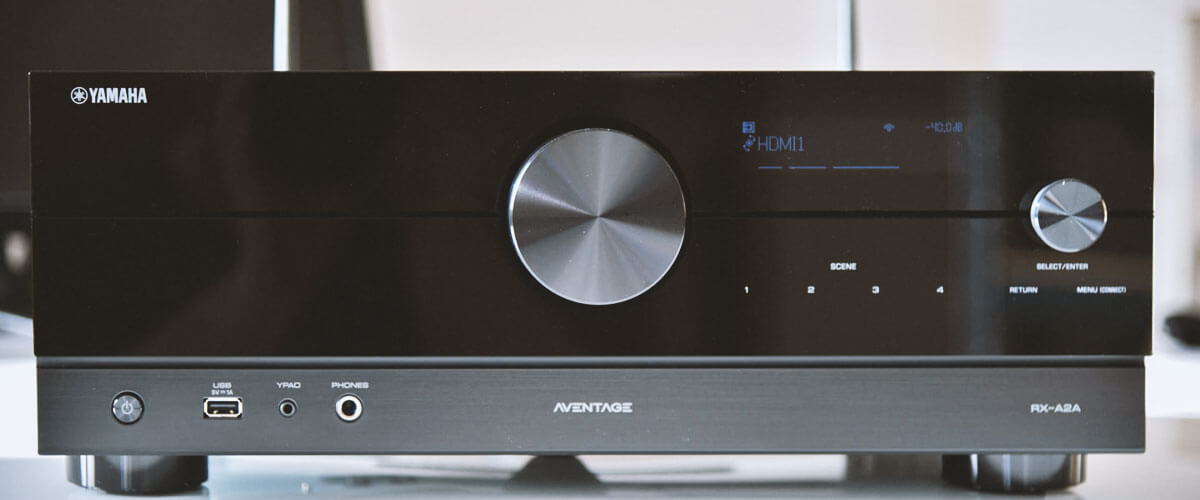 The Yamaha RX-A2A is perfect for home theaters and media rooms. It provides clear, immersive sound and stunning visuals that will take your entertainment experience to the next level. In addition, it supports Dolby TrueHD and DTS HD master audio.
Besides, Yamaha RX-A2A is designed to create an immersive 3D sound experience. This surround sound receiver is equipped with Dolby Atmos and DTS:X audio technologies, which allow it to deliver a realistic, three-dimensional audio experience.
If you like to watch movies or listen to music with many basses, this receiver is perfect for you. It can create a sound that is both rich and full.
Verdict about Yamaha RX-A2A
Summing up all Yamaha RX-A2A specifications, I recommend it to anyone looking for a high-quality receiver with excellent features. It has an impressive range of audio inputs, outputs, and amplifier power. In addition, it is easy to configure and use. The Yamaha RX-A2A offers everything you need in an audio and video receiver.
We are supported by our audience. When you purchase through links on our site, we may earn an affiliate commission at no extra cost to you.
Our newsletter
* We will never send you spam or share your email with third parties