We have prepared a Yamaha RX-V4A review for you to make your choice easier. The most obvious thing differentiating it from others is the support of 8K HDMI and 4K Ultra HD video with full 60p resolution, allowing receiving and processing 4K content without compression.
The new RX-V4A is a universal receiver that supports almost any existing surround sound format. It provides a possibility to work with network sources or external speakers through its proprietary Yamaha system. It supports Dolby Atmos and DTS:X – two new surround sound formats. What is more, this model offers a possibility to work with network sources and external speakers through a proprietary Yamaha system.
Build and design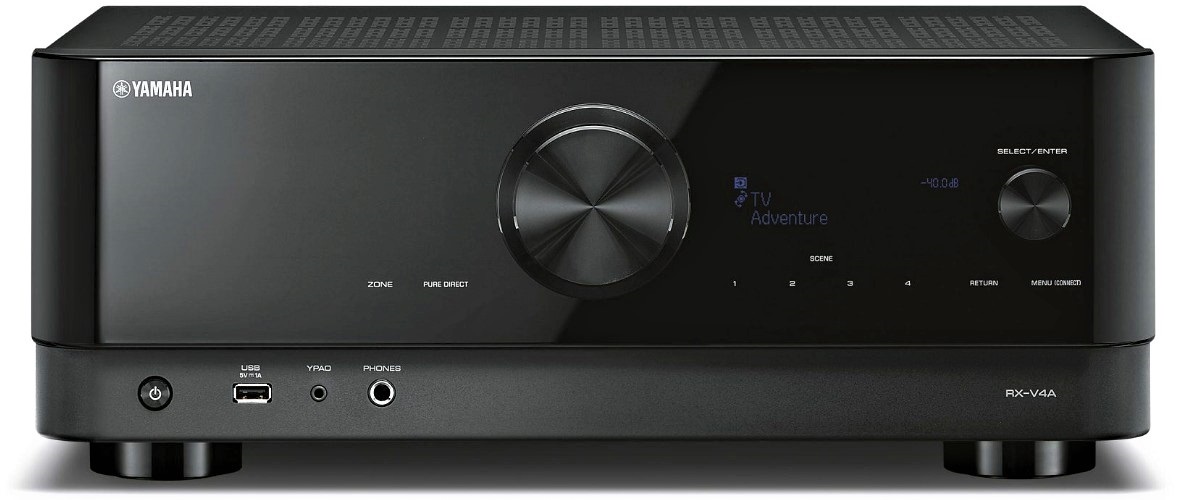 The Yamaha RX-V4A receiver has a sleek and modern look. It has a black finish and a brushed aluminum front panel. The Yamaha RX-V4A receiver weighs about 19.4 lbs and measures 17-1/8" x 6-3/4" x 14-7/8" inches.
The front panel includes a power button, volume and channel knobs, and buttons for managing the audio input and output. The receiver also includes an on-screen display that allows you to control all of its functions.
On the rear side of the Yamaha RX-V4A receiver, you can find all inputs and outputs. They allow you to connect the receiver to other devices, such as a TV or a computer. The ports are also used to power the receiver and to transfer audio and video signals.
The remote control for the Yamaha RX-V4A receiver is easy to use. It gives you complete control over the receiver's settings and has more than enough buttons to make it easy to set up.
Features and specs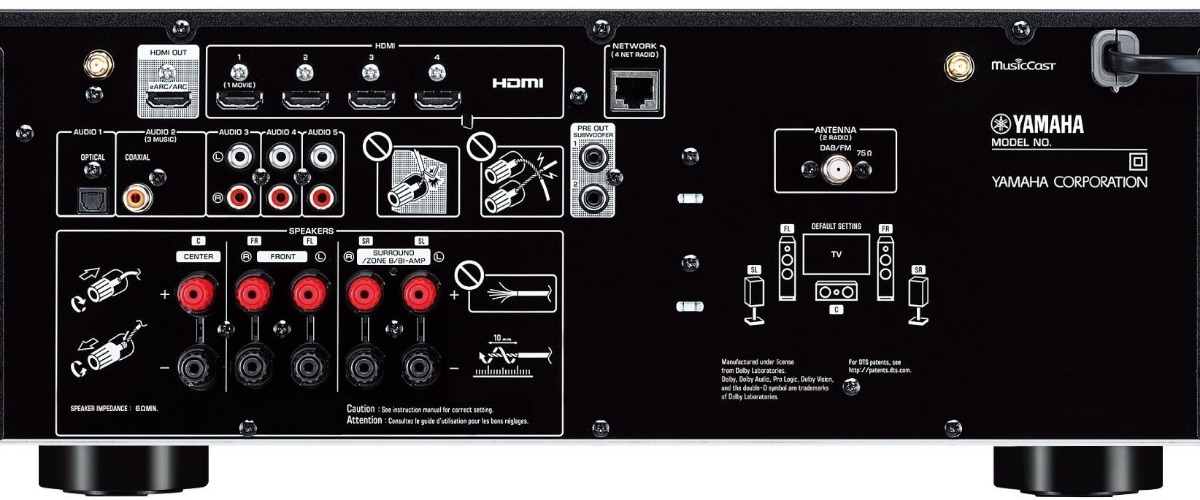 As for Yamaha RX-V4A specifications, it is a 5.2 channel AV receiver. This receiver has 80 W (6 ohms, 0.06% THD) per output channel when two speakers are driven. In addition, this receiver is equipped with bi-amp ability. Therefore, you can connect your speakers directly to it and use the receiver as a power amplifier for high-quality sound reproduction without losing the dynamics that often accompany passive loudspeakers.
Yamaha RX-V4A is an excellent home theater receiver for the newer AV formats. The Yamaha RX-V4A also has a variety of input jacks that allow for many different options for connecting external devices. In addition, this receiver comes with many features such as 4 HDMI inputs, network capabilities through RJ45 input, USB input and outputs, two digital optical audio output ports, and analog audio out port. It also has built-in Bluetooth and Wi-Fi so that you can connect it in different ways.
The video quality of the Yamaha RX-V4A receiver is not bad. The picture is clear and with ample color depth. This receiver is equipped with HDR10+. A new standard for high dynamic range video offers improved contrast, excellent brightness, and enhanced color. In addition, Yamaha RX-V4A supports a 4K Ultra HD video passthrough, allowing you to watch your favorite movies and TV shows in stunning detail. The Yamaha RX-V4A receiver is also an 8K (up to 60p) capable device that delivers excellent video quality.
Sound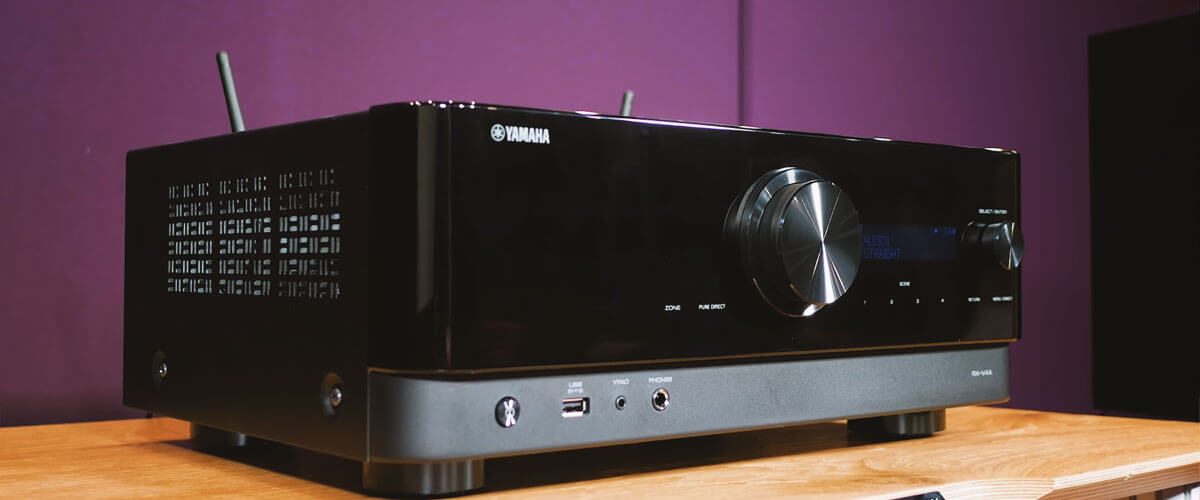 When it comes to sound quality, the receiver is clear and sounds great. In addition, the Yamaha is not distorted when you turn the volume up to its maximum setting.
The Yamaha RX-V4A is an excellent receiver for listening to music. The sound quality is excellent, and the surround sound effects are powerful. Additionally, it supports Dolby Digital Plus decoding. It provides an immersive opportunity for watching videos, TV shows, and games.
However, some people argue that it has a little bit of bad sound quality when watching movies, compared to the sound quality in music. The problem is that it does not have any preset modes for watching movies, so when you choose "Movie" mode, the only thing that would change is that dialog will be louder. Sometimes, that's not enough.
Verdict about Yamaha RX-V4A receiver
Summing up Yamaha RX-V4A features, it is an excellent receiver for home theater and music listening. Dolby Atmos, built-in Wi-Fi, and Bluetooth, AirPlay, and MusicCast make it enjoyable to use. If you're looking for an easy way to create the perfect sound in your home theater, this receiver is highly recommended and worth buying it.
We are supported by our audience. When you purchase through links on our site, we may earn an affiliate commission at no extra cost to you.
Our newsletter
* We will never send you spam or share your email with third parties