If you're looking for a receiver with great features and performance, the Denon AVR-S970H is worth considering. Robust sound quality and support for Dolby Atmos and DTS:X make it an excellent option for home theater enthusiasts.
Build and design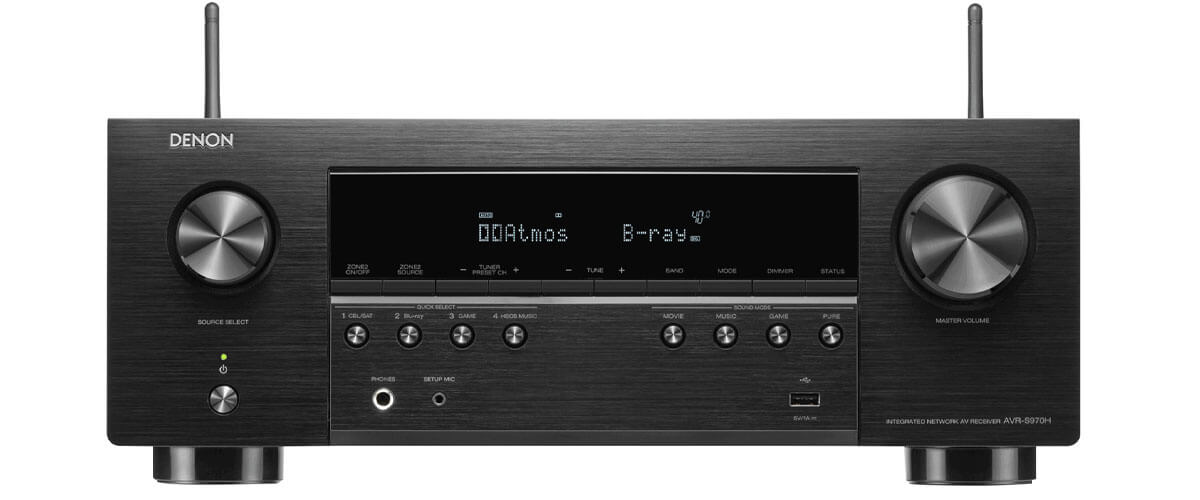 The front panel of the Denon AVR-S970H includes four Quick Select buttons, a status button, a dimmer button, and an input selector. The input selector allows you to choose from six HDMI-connected devices, plus CD, phono, USB, Bluetooth, AM/FM, HEOS, and TV audio.
The Quick Select buttons allow you to store and retrieve your favorite audio settings quickly and easily.
The status button changes the large and clear display, or the dimmer button dims the light. With the USB input, you can enjoy your favorite music stored on a flash drive. MP3 WMA, FLAC, or ALAC are all supported and will play back seamlessly after plugging it in! The headphone jack allows you to connect your favorite headphones or use Bluetooth to connect your Bluetooth headphones wirelessly.
The back panel of the Denon AVR-S970H has a variety of inputs and outputs. Speaker terminals allow you to connect up to seven speakers for a 5.1.2 Dolby Atmos setup. Dual subwoofer outputs allow you to connect up to two subwoofers for more balanced bass performance throughout the room. In addition, the back panel has dual Wi-Fi antennas for rock-solid Wi-Fi connectivity, even in congested environments.
Features and specs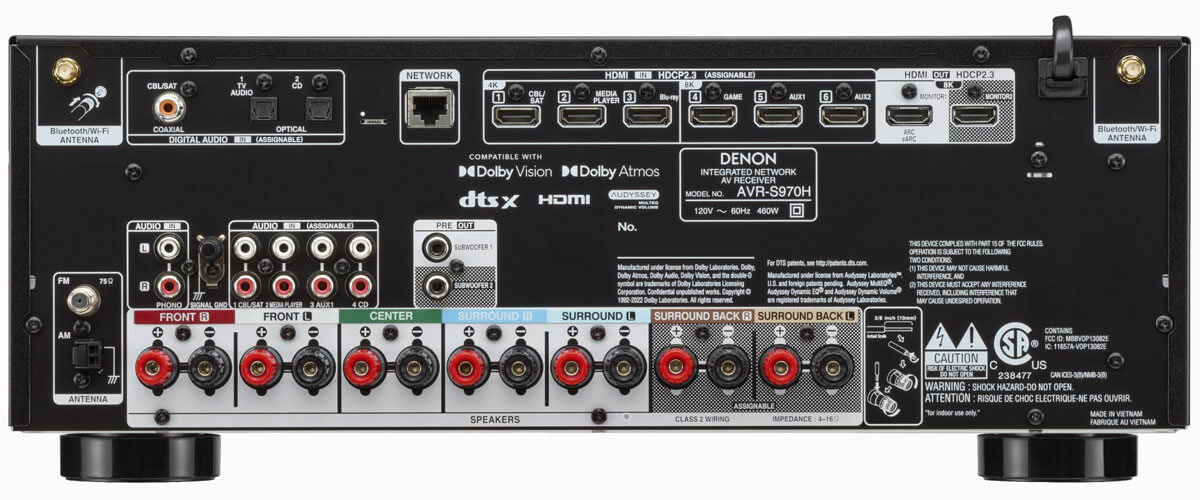 The Denon AVR-S970H is a 7.1 channel AV receiver that supports DTS HD Master, DTS:X, DTS Neural:X, and DTS Virtual:X audio formats. It also features Dolby TrueHD, Dolby Atmos, Dolby Atmos Height Virtualization, and Dolby Atmos Music audio technologies.
It is also equipped with HEOS Wireless Multi-Room Technology, which allows it to be integrated into a HEOS wireless home audio system.
Additionally, the AVR-S970H is compatible with Alexa, Google Voice Assistant, and Apple HomePod voice assistants and has been tested with Roon software.
It features HDMI inputs and outputs that support HDCP2.3 content protection and 8K/60Hz AB video pass-through. In addition, the AVR-S970H also supports 3D signal pass-through, HDR10+, and ALLM (Auto Low Latency Mode) for gaming.
Additionally, it has two multi-room zones and an automatic speaker setup by microphone using Audyssey MultEQ technology. The Denon AVR-S970H has a power output of 185 watts per channel into 6 ohms
Sound quality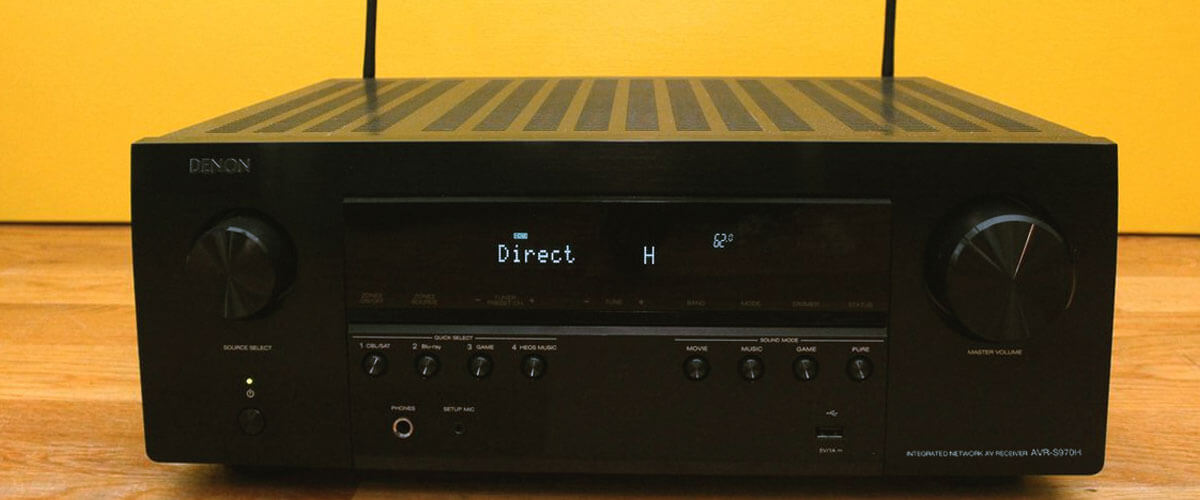 The Denon AVR-S970H has stunning sound quality, breathing life into old speakers and making them sound great again. It is a great receiver for those who want punchy bass in their home audio system.
The highs and lows sound clear, crisp but not too emphasis or harsh, which gives you that perfect listening experience! It's easy to use with the other components. The overall sound is well-balanced and truly enjoyable. The surround sound is immersive and creates a truly realistic experience. On the high volume, it still sounds fantastic without any distortion. You will be satisfied with the sound quality of the receiver.
Verdict about Denon AVR-S970H
The AVR is a great receiver for home theater and music listening. It has excellent sound quality with plenty of power to drive prominent speakers, and it can decode all the latest audio formats. Overall, this excellent product will provide many years of enjoyment.
We are supported by our audience. When you purchase through links on our site, we may earn an affiliate commission at no extra cost to you.
Our newsletter
* We will never send you spam or share your email with third parties