The Denon AVR-X4800H is an excellent choice for anyone looking to get the most out of their home theater setup. It offers plenty of features and power, plus its Dolby Atmos support makes it perfect if you love listening or watching movies in surround sound!
Build and design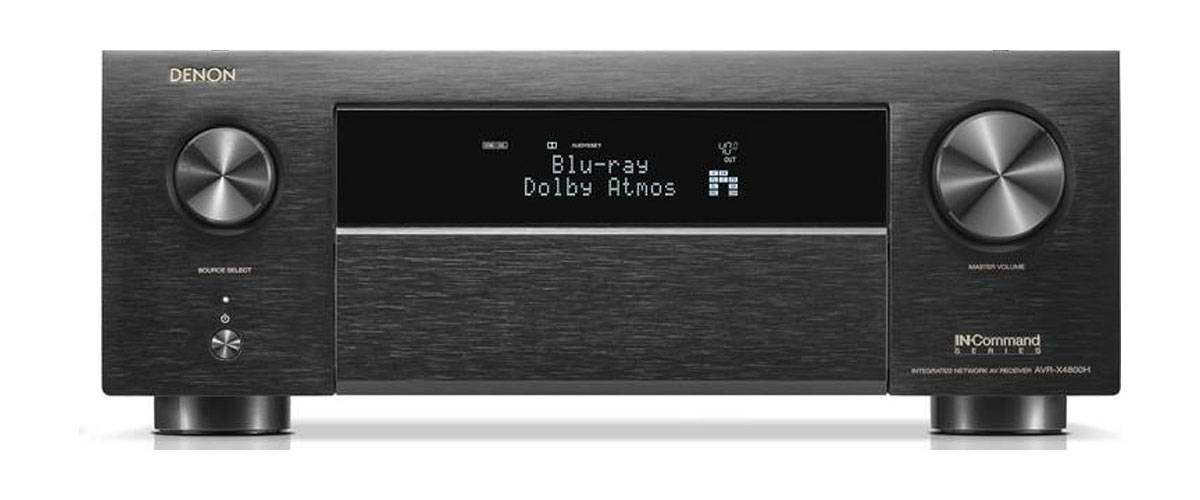 The Denon AVR-X4800H is a potent AV receiver with a sleek and modern design. It has maximum dimensions of 17.1 x 15.3 x 9.3 inches and a weight of 29.1 pounds, making it easy to transport and install. The metal front panel gives it a durable and high-quality look and feel, while the included vertical antenna ensures optimal signal reception. The power operation button is used to turn the power of the main zone (the room where this unit is located), while the source select knob lets you choose the input source. The door on the front of the unit opens to reveal the ZONE2 and ZONE3 ON/OFF buttons, SOURCE button, and STATUS button.
On the rear side of the unit, you will find connectors for Bluetooth/wireless LAN antennas, digital and analog audio, a network connection, and an RS-232C connector. The Bluetooth/wireless LAN antennas connect the included external antennas for Bluetooth/wireless connectivity when connecting to a network via wireless LAN or a handheld device via Bluetooth. The digital and analog audio connectors connect the unit to your home theater system.
Features and specs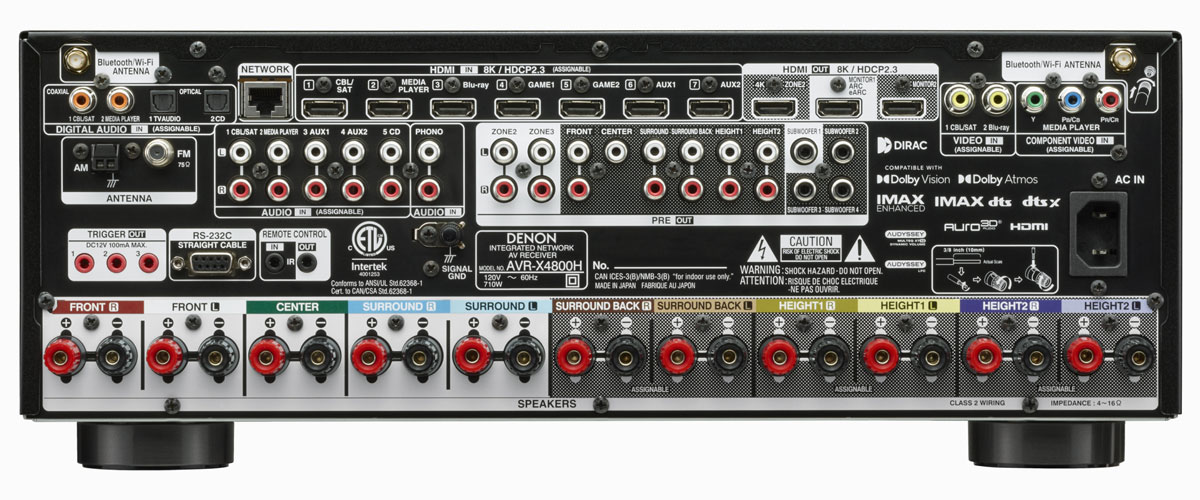 The Denon AVR-X4800H is a 9.4-channel AV receiver that supports Dolby Atmos, DTS:X, and IMAX Enhanced. It has a maximum of 11.4 channels of processing and can power up to nine speakers. The receiver also includes HEOS wireless multi-room technology, Alexa and Google Voice Assistant support, AirPlay 2, and HDMI 2.1 with 8K/60Hz AB and 4K/120Hz AB support. The AVR-X4800H has three multi-room zones and can pass through 8K signals.
The Denon AVR-X4800H includes HDR, 4K video upscaling, and 3D pass-through. It has a built-in HDBaseT transmitter and supports HDMI 2.0a and HDCP 2.2. Additionally, the receiver is Roon Ready and can be controlled with the HEOS app.
The Denon AVR-X4800H features Audyssey MultEQ XT32 room calibration, which uses an included microphone to measure the acoustics of your room and adjust the sound accordingly. The receiver also includes Audyssey Dynamic EQ and Dynamic Volume for an optimal listening experience.
Sound quality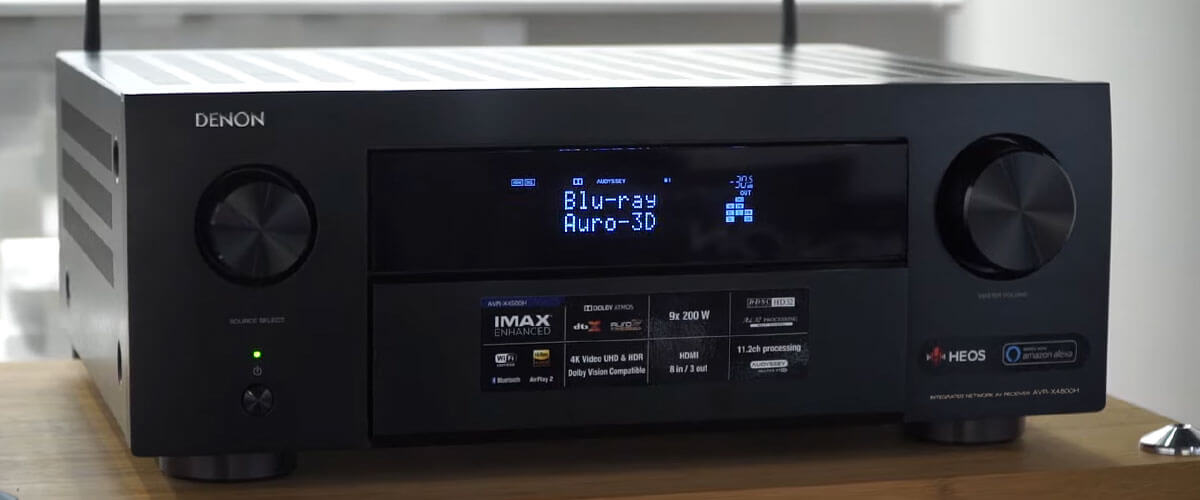 The Denon AVR-X4800H produces a high-quality sound that is clear and crisp. The receiver's nine amplifiers provide discrete power to each speaker, ensuring you hear every note and nuance of your music or movie soundtrack. So whether you're watching a movie or listening to music, the Denon AVR-X4800H will envelop you in rich, detailed sound.
The low-frequency effects (LFE) channel reproduces deep, powerful bass, and the Dolby Atmos and DTS:X audio formats create a truly immersive surround sound experience. If you're looking for a receiver that delivers exceptional sound quality, the Denon AVR-X4800H is an excellent option. The highs and mids are very clear with great detail. The low end is also well-balanced and not muddy. This receiver shines when playing music, but it's also great for movies and TV shows.
Verdict about Denon AVR-X4800H
The Denon AVR-X4800H is a powerful and versatile AV receiver with excellent sound quality and a wide range of features. If you're looking for a receiver that can handle all your audio needs, the Denon AVR-X4800H is an excellent option. It's perfect for those who love watching movies or listening to music in surround sound.
We are supported by our audience. When you purchase through links on our site, we may earn an affiliate commission at no extra cost to you.
Our newsletter
* We will never send you spam or share your email with third parties