As the home cinema experience continues to expand and grow, so too do the range of options available to choose from when picking out audio-visual gear. With this in mind, Marantz has now released their new CINEMA 60 7.2 channel AVR – a receiver pitched as the ultimate solution for managing your home entertainment system and delivering powerful multichannel sound.
Build and design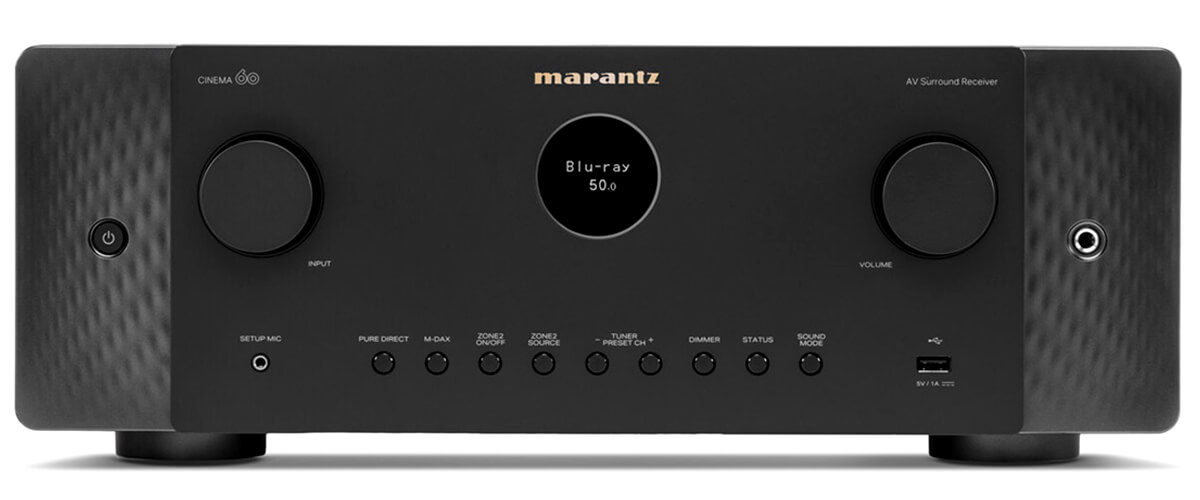 Marantz CINEMA 60 offers a sophisticated, luxury-level experience with its stunning architecture – perfect for making an eye-catching statement or blending seamlessly into any setting. In addition, the high-end construction of its sophisticated metal chassis provides solid protection for the unit's internal components while providing a cleaner sound free from interference.
The CINEMA 60's design is aesthetically pleasing and incredibly easy to use. All inputs and outputs are clearly labeled on the back panel and can be easily accessed via the intuitive front panel interface.
The Front Display is a port hole OLED with maximum dimensions of 17.4 inches in length, 13.9 inches in width, and 9.3 inches in depth, weighing 24 lbs total.
Features and specs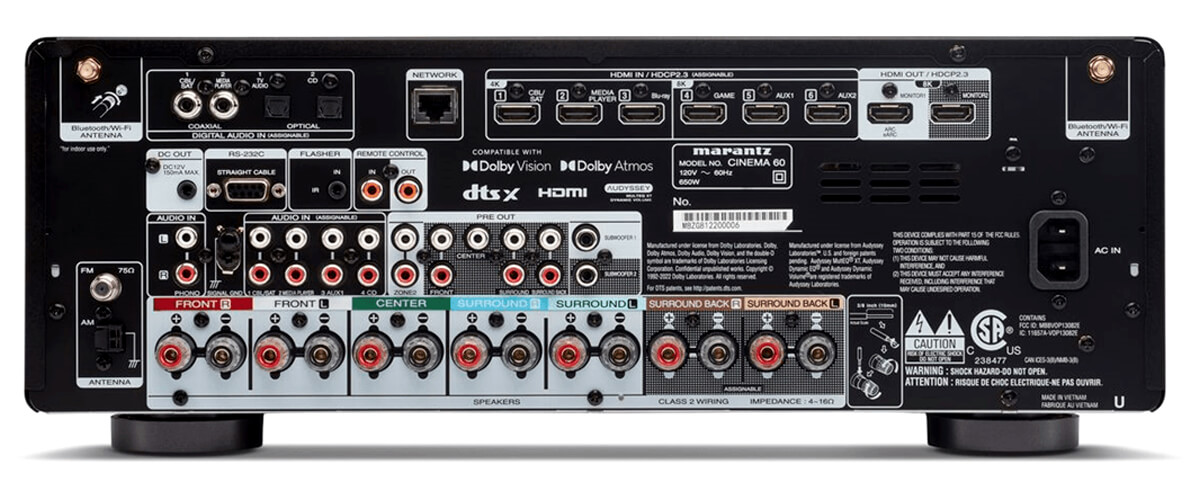 The Marantz CINEMA 60, a multichannel surround sound receiverб features the latest in surround sound technologies from DTS and Dolby, such as DTS HD Master, DTS:X, DTS Neural:X, DTS Virtual:X, Dolby TrueHD, Dolby Atmos, Dolby Atmos Height Virtualization and Dolby Atmos Music. It also features 6 HDMI inputs and 2 HDMI outputs for easy connection to various devices. Additionally, the receiver has a built-in phono preamp to use with turntables, four analog audio inputs, and HDCP2.3 support. It also offers 8K/60Hz and 4K/120Hz maximum resolution framerate and HEOS Multi-room and Streaming capabilities.
The receiver is equipped with built-in Wi-Fi certified for 802.11 a/b/g/n networks, so you can stream music from your favorite services like Pandora and Spotify. Bluetooth technology allows for easy wireless streaming from compatible devices.
It has dual-zone audio and video capabilities, allowing you to watch a movie in one room while someone else listens to music in another. Advanced Audyssey room calibration technology also ensures optimal sound performance for your space.
Sound quality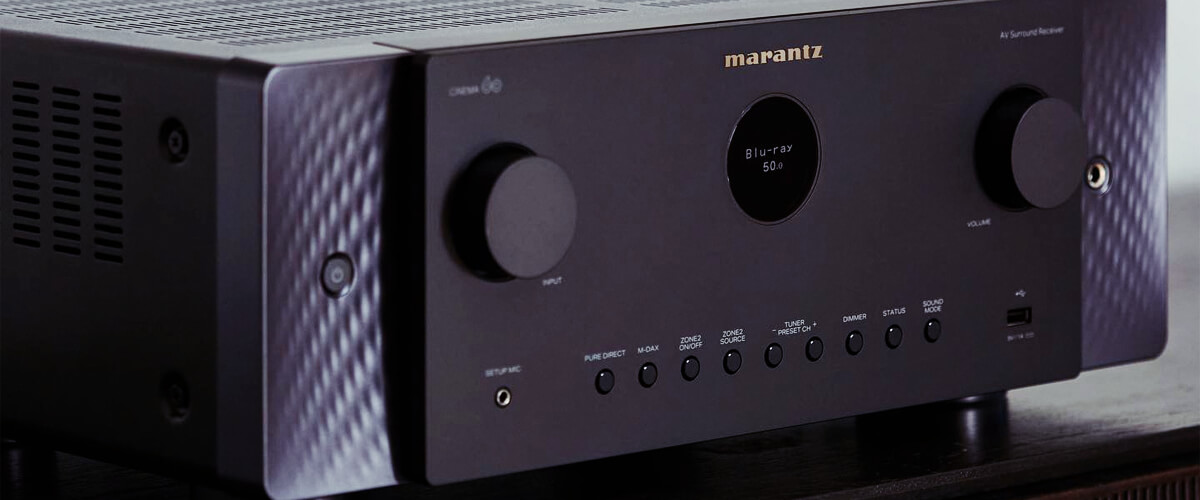 The CINEMA 60's audio performance is outstanding, delivering a nuanced and dynamic soundstage with excellent resolution across all frequencies.
This product has a clear and crisp sound quality, even HDMI, no matter what input you use. Some might think optical would be better, but this product proves otherwise.
The Marantz CINEMA 60 provides a fantastic sound experience. You will feel like you are right in the middle of your favorite movies and shows with its surround sound system. The Cinema 60 also provides a wide range of sound modes to customize your listening experiences, such as Movie Mode for optimizing the surround sound experience or Music Mode, designed to bring out the best in your favorite music. As the Cinema 60 is equipped with Dolby Atmos and DTS:X, you can experience the latest and most advanced sound technology. The AVR also includes a state-of-the-art amplifier that will bring out powerful yet nuanced sound.
Verdict about Marantz CINEMA 60
The Marantz CINEMA 60 is an excellent choice for those seeking a high-quality surround sound experience. It features advanced technologies and HDMI inputs and outputs that allow you to connect various devices easily. In addition, the clear, crisp sound quality makes this product stand out above other receivers today – making it well worth its price tag!
We are supported by our audience. When you purchase through links on our site, we may earn an affiliate commission at no extra cost to you.
Our newsletter
* We will never send you spam or share your email with third parties