Are you searching for a timeless audio-visual receiver with premium features, vintage sound quality, and great value for your money? Look no further than the Marantz CINEMA 70s AV receiver! This advanced technology is designed to take advantage of today's cutting-edge technologies while showcasing its classic aesthetic.
Build and design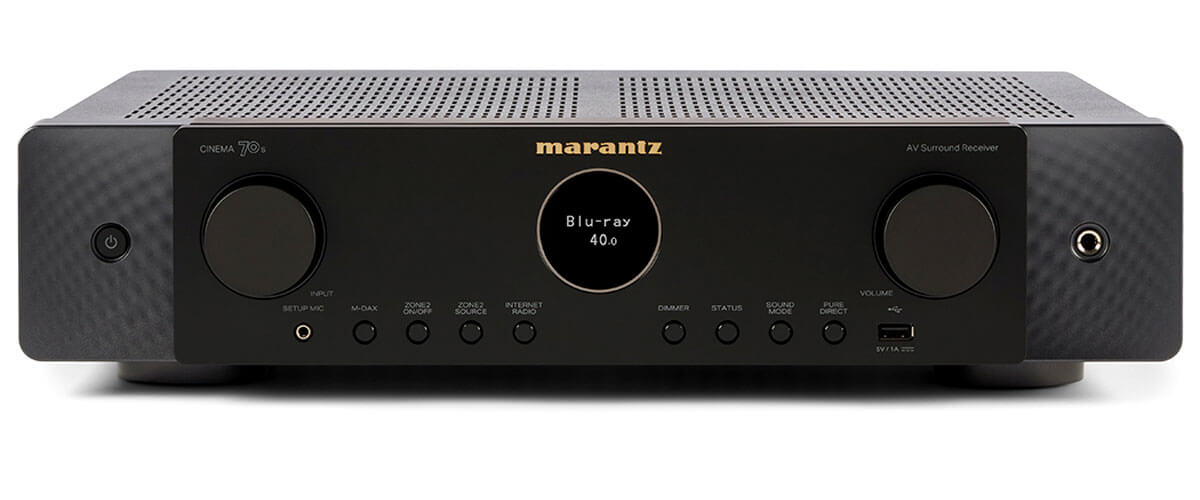 The Marantz CINEMA 70s has a slim and stylish design, less than half as tall as other receivers. It looks luxurious, with each part carefully thought out. The size is 17.4 x 15.1 x 7 inches, and the weight is 19.2 pounds. It has plenty of space to fit all the components while still looking sleek and modern. The design is timeless, with a classic look that will never age.
The Marantz CINEMA 70s is built to last, with quality materials and craftsmanship that ensure it will stand the test of time. It is a durable and reliable choice that won't need to be replaced anytime soon.
The front panel is easy to use, with its intuitive controls and simple layout. There are dedicated buttons for each part of the receiver, allowing you to adjust settings quickly without going through multiple menus. In addition, the display is clear and easy to read, making it even simpler to understand what you're doing.
Features and specs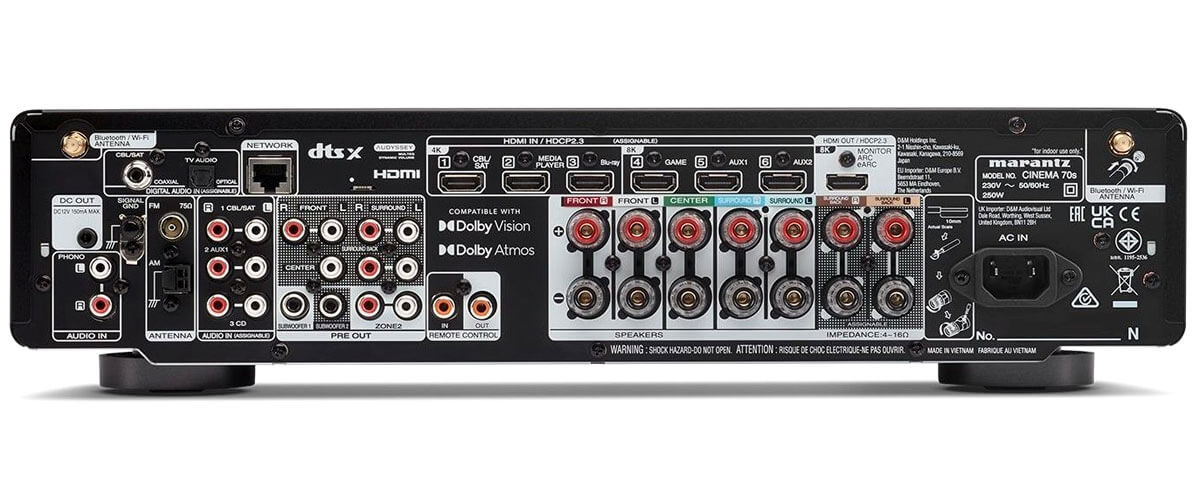 The Marantz CINEMA 70s is a state-of-the-art home theater system that offers users an incredible home theater experience. It is equipped with a powerful 7-channel amplifier, providing clean and powerful sound to power all your home entertainment systems. It supports the latest audio formats, including DTS HD Master, DTS:X, DTS Neural:X, DTS Virtual:X, Dolby TrueHD, Dolby Atmos Height Virtualization, and Dolby Atmos Music. This system also supports a range of high-definition audio formats with HDMI In/Out support up to 6/1. In addition, it upscales 1080p/4K video content to 8K resolution and can reach a max resolution of up to 8K/60Hz, 4K/120Hz.
This power output device has an 8-ohm impedance, a frequency range of 20 Hz – 20 kHz, and a 0.08% 2ch drive capacity with 50 Watts power.
An impressive feature of the CINEMA 70s is its Audyssey Dynamic EQ which optimizes sound quality based on the content being watched. It also has a built-in HEOS Multi-room and Streaming technology, allowing users to stream their favorite content from their mobile devices.
For audiophiles, the CINEMA 70s also includes a phono (MM) input which allows you to connect your turntable to the system and enjoy classic vinyl recordings.
Overall, with its impressive list of features and specs, the Marantz CINEMA 70s is a top choice for home theater enthusiasts looking to get the most out of their audio experience.
Sound quality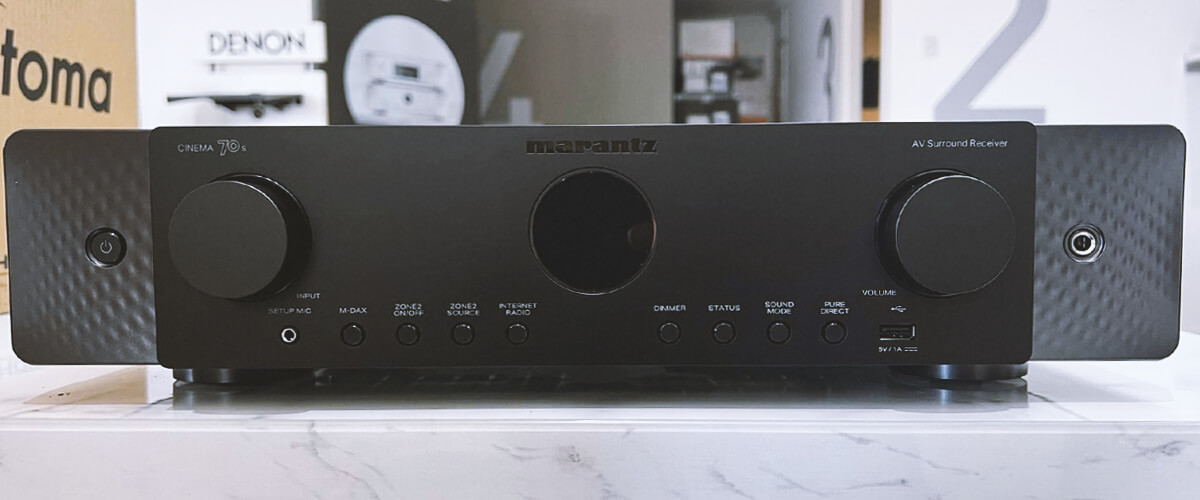 Marantz CINEMA 70s provides unbeatable sound quality and supports the latest audio formats, ensuring that you will always enjoy your favorite content in crystal-clear quality. For those who are serious about their audio, the Marantz CINEMA 70s has options for high-resolution audio playback, including DSD (Direct Stream Digital) and ALAC (Apple Lossless Audio Codec). In addition, with Dolby Atmos sound processing capability, the Marantz CINEMA 70s can take your home theater experience to new heights. It also offers advanced room correction technology to fine-tune your listening experience to the environment of your living room.
The Marantz CINEMA 70s has various advanced audio features, including Bass Management, Center Image Control, and Audyssey MultEQ® XT32. With these options, you can ensure you get the best sound quality possible from your home theater system.
Hearing audio with Atmos or surround sound directly from the source is incredible and adds to your listening experience.
Despite my apprehension that 50 watts per channel could generate a feeble sound, I was pleasantly surprised to find the audio quality robust. Moreover, this power supply is more than enough to handle an 18′ x 12′ space.
Verdict about Marantz CINEMA 70s
Overall, the Marantz CINEMA 70s is an excellent choice for home theater enthusiasts who want to get the most out of their audio experience. With its impressive list of features and specs, advanced room correction technology, and high-definition audio format support, this system offers a truly immersive experience that can take your listening pleasure to new heights. For audiophiles looking for superior sound quality in their entertainment systems, the Marantz CINEMA 70s is definitely worth considering!
We are supported by our audience. When you purchase through links on our site, we may earn an affiliate commission at no extra cost to you.
Our newsletter
* We will never send you spam or share your email with third parties