AV Receivers are a great way to get all your home theater equipment in one place. However, knowing which receiver will work best for you and meet your needs can take time and effort, especially with so many options available! In this review, I go over the best 11-channel AV receiver on the market, describing their features and qualities in detail. Then, whether you're looking for something high-end or more budget-friendly, you can decide which one is right for you.
Our pick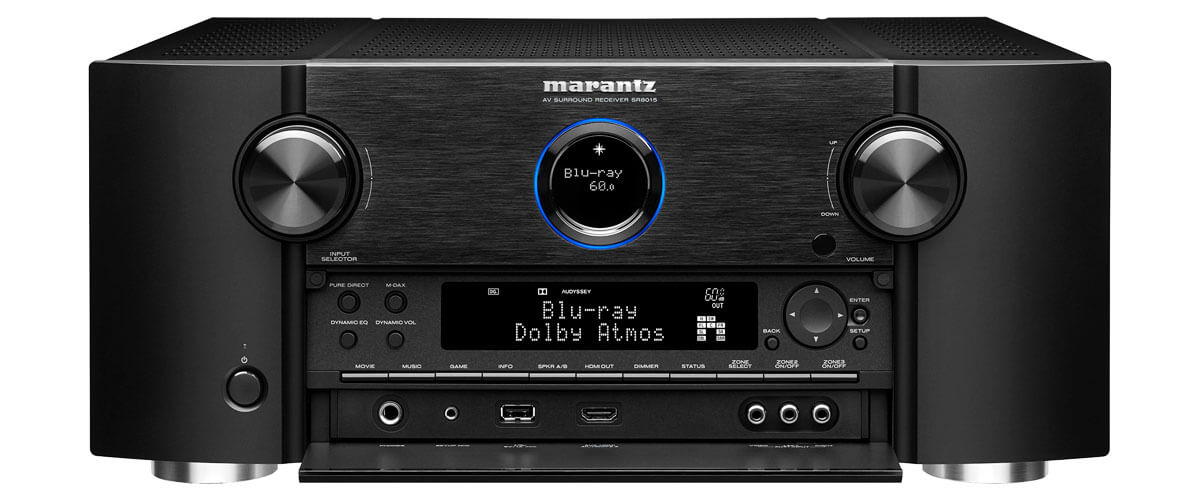 Marantz SR8015
Best 11 channel AV receiver
Deliver exquisitely detailed home cinema sound with the Marantz SR8015 11.2 channel 8K AV receiver.
Read the full review
Best 11 channel AV receiver reviews
Marantz is a known and respected brand in the audio industry. They offer superb sound quality and plenty of features, and the SR8015 is no exception.
The same as all Marantz receivers, the SR8015 is built with quality in mind. In this Marantz SR8015 review, I will show why this receiver punches well above its weight class with features that rival models that are twice as expensive. Read on to find out more!
Build and design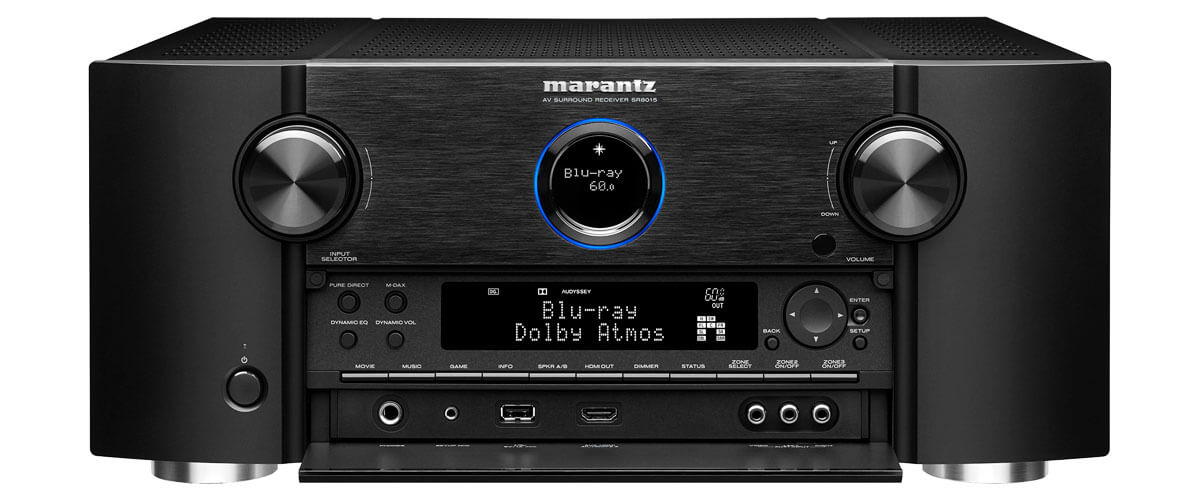 The Marantz SR8015 is a well-designed receiver, measuring 17.3 inches wide, 14.8 inches deep, and 6.5 inches tall. It weighs a hefty 33 pounds, so you will need a sturdy shelf or cabinet to place it on.
The front panel has a minimalist look with the Marantz logo in the middle and brushed aluminum finish around the edges. It is uncluttered and contains only the essentials: a power button, input selector, and volume knob. The display is easy to read, even from a distance.
The back panel is equally as simple, with all of the connections neatly arranged. It is just as well organized, with color-coded binding post terminals for the speakers and clearly labeled input and output ports. The build quality is excellent, as you would expect from a Marantz product. Everything feels solid and well put together.
Features and specs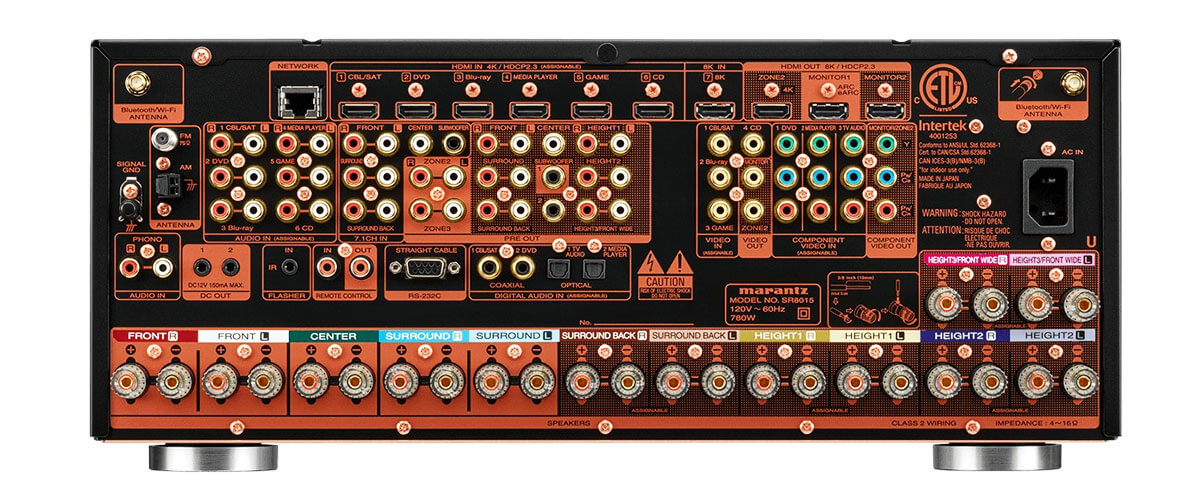 This receiver is a powerhouse that has 9 channels of amplification, making it ideal for creating a gaming room or a true home theater. Actually, it means you can accommodate the receiver to any speaker setup. For example, I have 4 speakers and 2 subwoofers set up around my room and SR8015 was absolutely able to power even more. Multi-room functionality is also included, so you can enjoy your music in other parts of your house without quality loss.
Marantz SR8015's specifications include 8 HDMI inputs and 3 outputs.There are also component and composite video inputs for legacy devices. In case you prefer wireless technologies, you can easily connect your gadgets by using WiFi and Bluetooth. As a vinyl lover, I appreciate the possibility to listen to my vinyl collection with a phono input. Also, don't forget about streaming services and Apple AirPlay 2.
The SR8015 is also loaded with the latest audio technologies. You will get the best possible picture quality because Dolby Atmos and DTS:X are both supported, as well as IMAX Enhanced and Auro-3D. All of the HDMI ports are 4K/60p and HDR10, BT.2020, and Dolby Vision compatible, with support for HLG coming via a future firmware update. Besides, the receiver features auto-calibration that allows you to quickly and easily set up your speakers, so you don't have to be an audio expert to get the most out of this receiver.
Sound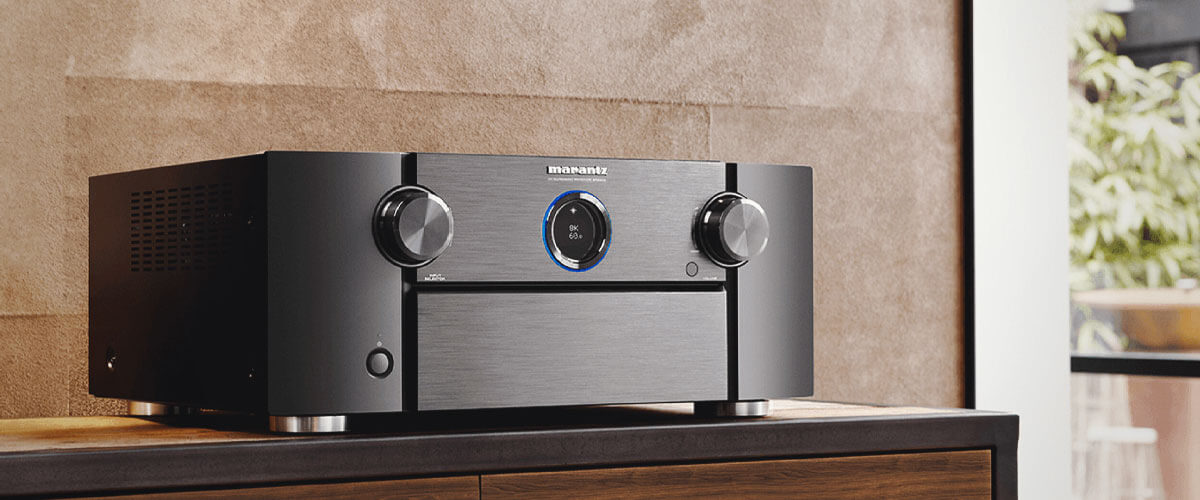 Thanks to Marantz SR8015 features, the sound quality is simply amazing, never sounding muddy or overwhelming. My favorite Tarantino's soundtracks were truly atmospheric, I felt like I was transported into the movie. The surround sound effects, like motorbikes, wind, or breaking glass were placed accurately and with excellent depth, even at low volumes.
The music I listened to also sounded fantastic. The receiver handled all the genres with ease, from classical to heavy metal. I was able to push my speakers to loud volumes without any distortion or clipping. When listening to music at low volumes, you can activate the Marantz SR8015's eco mode to reduce power consumption by up to 30%.
Verdict about Marantz SR8015
No doubt, I would recommend The Marantz SR8015 if you asked me for a top-quality receiver. It comes with a full complement of the latest features and you definitely get what you pay for.
Denon AVR-X6700H
If you can't decide if this receiver model is worth buying and there are some problems in making a choice, look through our Denon AVR-X6700H review. This model is really powerful and advanced. People choose it, because it includes many features that they cannot notice on other such devices.
You obviously should pay a lot of attention to its potent amplifier section. With its comprehensive range of connectors and ports, the model can accommodate virtually any type of both video and audio equipment. Moreover, the device is provided with different variants of connectivity. These features make it easier for connecting to a wide variety of the most popular streaming services. If you really want to buy a good Denon AV receiver, which is practical and powerful, the AVR-X6700H model is an ideal option to consider.
Design and built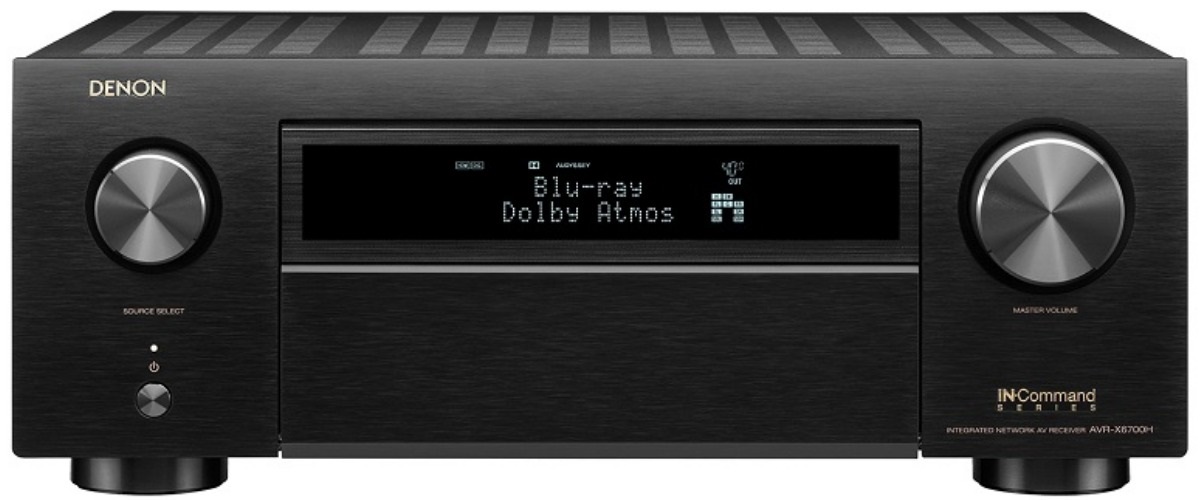 I think most users will like this sleek and at the same time practical design. Its weight is 32 lbs. and its measures are 17.1 x 15.3 x 6.6 inches. First of all, let's look at the front panel. It has a clean, minimalist interface that contains only a few regulation buttons and indicator lights. It includes the volume control, power and input selection buttons, etc. Besides, there you will find the display screen. It gives users a possibility to control the receiver's settings. As for other controls, they are located on remote control. You will find it also very sleek and straightforward. It's easy to use because all buttons and controls are clearly labeled. Different color-coded connections make the rear side well-organized.
The Denon receiver isn't difficult to set up. This model comes with a detailed instruction manual. It describes how to set up step-by-step. So even if you've never set up any devices for a home theater system, you will be able to do it with AVR-X6700H without any obstacles.
Features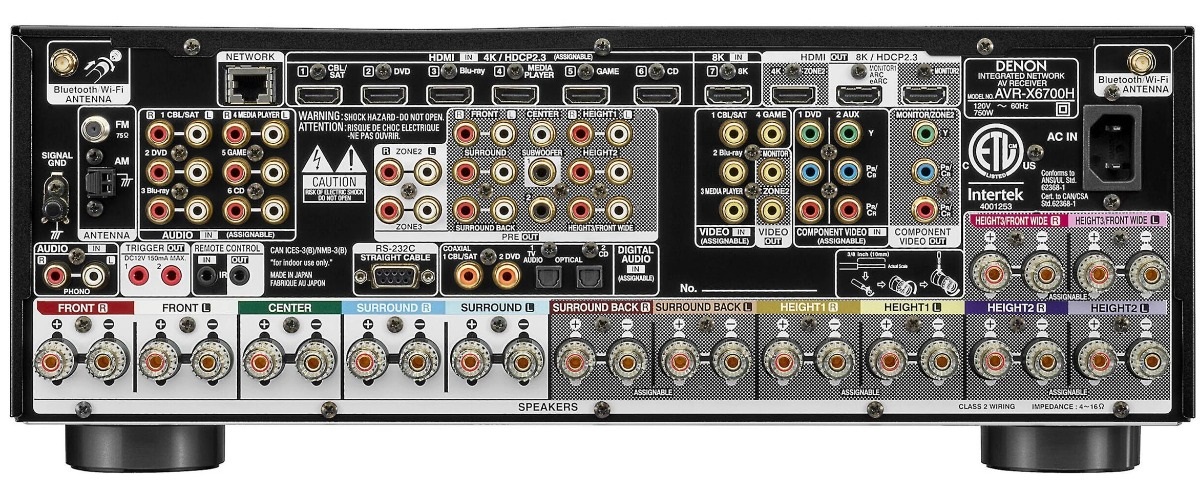 Considering Denon AVR-X6700H specifications, let's begin with the information that it is a popular 11.2 channel AV Receiver. People like its power output140 W(8 ohms, 20 Hz - 20 kHz, 0.05% 2ch Drive). The model supports bi-amping. Here we speak about one of the needed features, especially if you are looking for high and better sound quality. When using a bi-amping, you are able to send different frequencies to each of your home speakers. It results in a more accurate and well balanced sound. In any case you should keep in mind that it requires access not only to one, but two speakers.
This device model supports even multi-room features. It means, you have a chance to enjoy listening to different sources in every, including the farthest room in your house. While someone is watching a movie in, for example, the living room, you will be able to listen to music in the bedroom or kitchen. The AVR-X6700H model can provide you with such a possibility because, as we have mentioned, it features enough for powering several rooms, 11 channels.
Looking at AVR-X6700H you can notice a lot of important ports, such as eight HDMI inputs and three outputs. Users will find three digital audio and component ports, composite one, and many other ports. All of them can be used for connecting your devices to a particular receiver. Besides, this receiver model has access to various popular streaming services, such as Pandora, Spotify, Tidal, and some others. Moreover, if you are a radio fan, it's also for you.
There is a possibility to listen to any internet radio stations directly through your chosen receiver. In the case, if you are subscribed to some streaming services, you have a chance to use this model for listening to your favorite songs. Additionally, this device supports wide-spread AirPlay and, of course, Bluetooth. It's not needed to explain that it's a way how you can stream all music from a smartphone or other devices. Besides, it includes Wi-Fi. Here we speak about a popular and useful way that people use for streaming music, partfrom online music services just connecting to your home network.
The Denon AVR-X6700H includes a wide range of video features, including 4K Ultra HD60 Hz Pass-Through and 4:4:4 Pure Color sub-sampling. Besides, the model supports High Dynamic Range, known as HDR and BT.2020 pass-through, providing stunning video quality that provides enhanced details and all colors. Furthermore, the AVR-X6700H model has a 12V trigger output. It is useful for powering a motorized projector screen.
Sound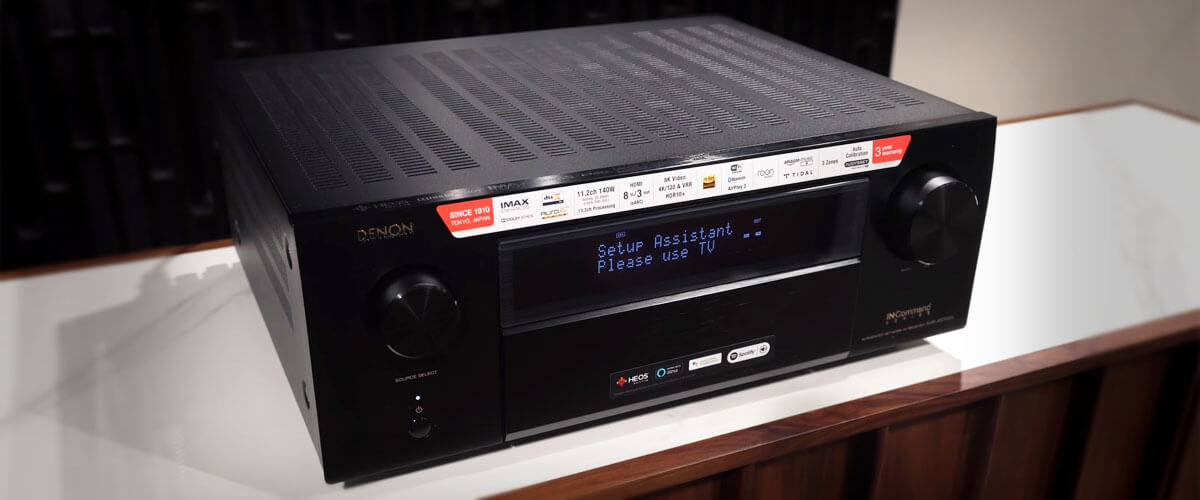 The AVR-X6700H model of Denon is a pacesetting model for most home theaters that provides high and clear sound quality. It supports wide-spread Dolby Atmos and DTS:X object-based and other popular audio formats. It also offers high-resolution audio support for lossless audio files, like FLAC. Additionally, it has modern HEOS wireless technology, which allows users to stream music from your favorite streaming services directly.
The Denon AVR-X6700H is a beautiful choice for anyone who wants to be the owner of a really powerful receiver for home theater. Whether you are watching your favorite films or listening to any kinds of music, the Denon model will deliver a top-notch audio experience.
There cannot be any doubt that the Denon AVR-X6700H will provide you with clear sound, whether it's during a favorite movie or music listening experience. This Denon model packs a lot of power and also built-in features which is evident in its ability to deliver crisp and distortion-free audio.
Verdict about Denon AVR-X6700H
The Denon AVR-X6700H is a beautiful receiver that a wide range of people should appeal to. It offers high sound quality, a lot of features, and robust performance. While it may be a little pricey for some consumers, this Denon model is worth considering if you're in the market for buying a new receiver.
Yamaha RX-A8A
If you're looking for a high-quality A/V receiver that will deliver the amazing audio experience you deserve? Well, Yamaha RX-A8A is worth considering.
With its comprehensive feature set and stellar sound quality, it is certain to exceed your expectations. In this Yamaha RX-A8A review, I'll explore some of the key features I personally tested and discuss how they can benefit you.
Build and design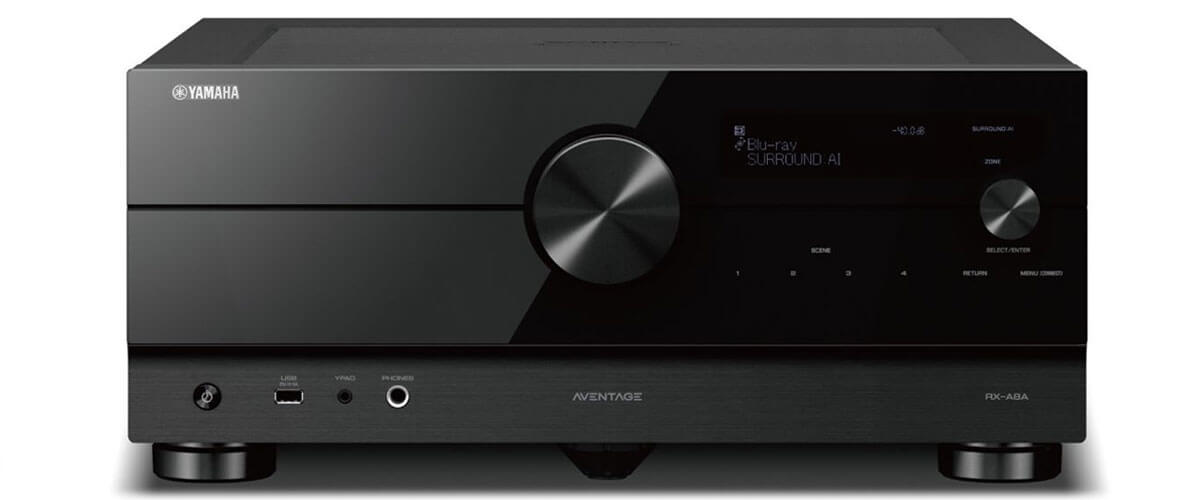 First and foremost, Yamaha RX-A8A is a beautifully designed piece of hardware. It features a sleek and modern look that will complement any home theater setup. But looks aren't everything. It's also important that the receiver is solidly built and durable and made with high-quality components.
The front panel is packed with buttons and controls, so you'll have easy access to all the features. There's also a large display that provides information about the current status of the receiver. This is a great feature, especially for those who are new to A/V receivers. The back panel is loaded with ports and jacks, so you'll be able to connect all of your audio and video components.
Features and specs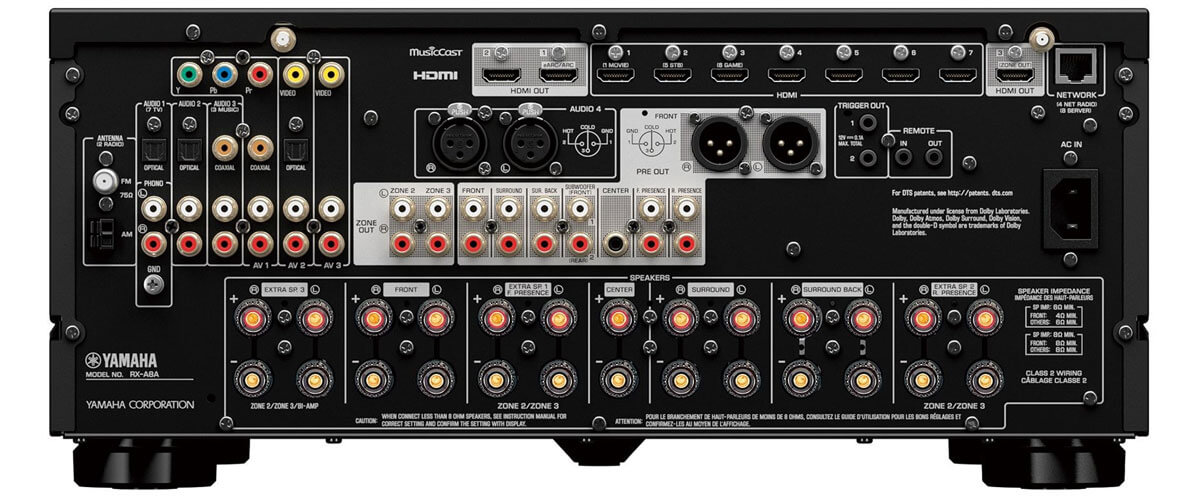 In terms of specifications, Yamaha RX-A8A is one of the most powerful receivers on the market. It has 11 channels of amplification which means that you'll be able to connect up to 11 speakers all over your house. The receiver delivers 150 watts per channel, so it can easily handle even the most demanding home theater setups without any sound distortions or problems. In addition, High Slew Rate Amplifier, combined with Yamaha's own DSP processing, allows hearing every nuance of your favorite music tracks.
Yamaha RX-A8A is equipped with a wide range of connectivity options. It has 7 HDMI inputs and 3 outputs, so you'll be able to connect all of your high-definition devices. There is also built-in Wi-Fi and a network port, so you can easily stream content from the internet or from your local network. RX-A8A is also a great choice for those who are looking for a receiver that can be used for home automation. I managed to download apps for iPhone, iPad, Android phone, and tablet. Actually, you are able to control your receiver with just a simple tap on your smartphone.
One of Yamaha RX-A8A's features is support for different video formats and high resolution. It can decode and playback videos in 4K Ultra HD resolution, so you'll be able to enjoy the latest blockbuster movies in stunning detail. There are also HDR10 and Dolby Vision formats included for the best possible viewing experience. Video Adjustment lets you automatically tune the image to match your specific preferences, for example, adjusting the contrast, brightness, and color saturation. VRR/ALLM/QMS/QFT support lets you enjoy smooth and lag-free gaming experiences, with no annoying image stuttering or tearing.
Sound quality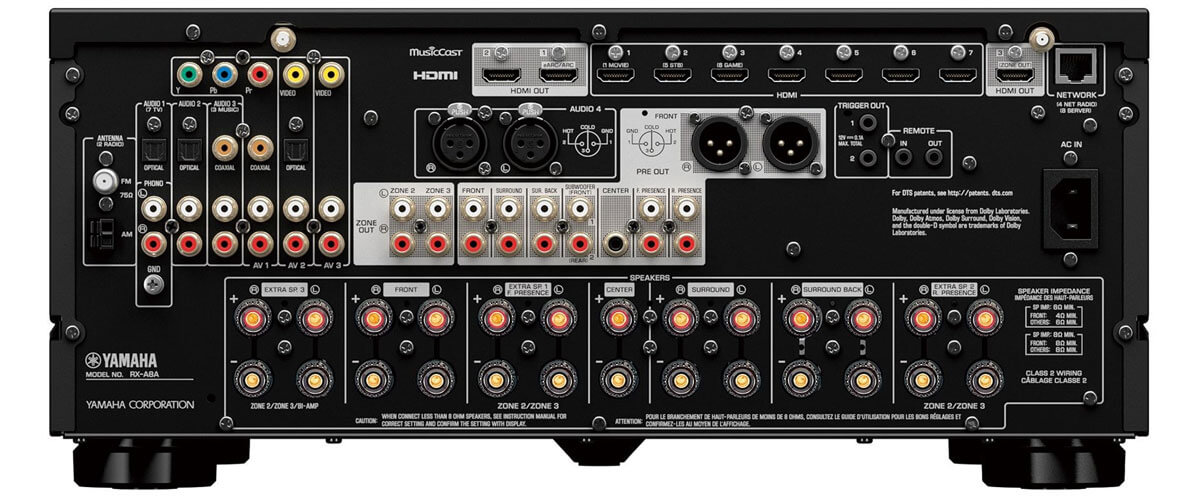 Of course, the most important thing about any A/V receiver is the sound quality. And the Yamaha RX-A8A doesn't disappoint. It has been designed with audiophiles in mind and delivers an amazing listening experience that will truly envelop you.
The receiver supports a wide range of audio formats, including Dolby Atmos, DTS:X, and Yamaha's own CINEMA DSP 3D technology. It creates truly immersive and realistic sound both for movies and for music. Even if you have just a pair of speakers, MusicCast Surround mode will produce 3D sound. As for me, it feels like you are in a movie theater or a professional music studio. Moreover, with a calibration system set up, performance will be perfectly optimized for your room.
Verdict about Yamaha RX-A8A
In my opinion, RX-A8A excels in many areas. This powerful receiver can provide stunning surround sound, and it's packed with features that will make your entertainment experience truly unique and will last for years.
Pioneer Elite SC-LX904
I've seen a lot of impressive AV receivers in recent years, and Pioneer Elite SC-LX904 might just be one of the best. It's packed with features, delivers excellent performance, and has one of the most user-friendly interfaces.
In this Pioneer Elite SC-LX904 review I will go over in detail the capabilities of this receiver and tell my honest opinion about them.
Build and design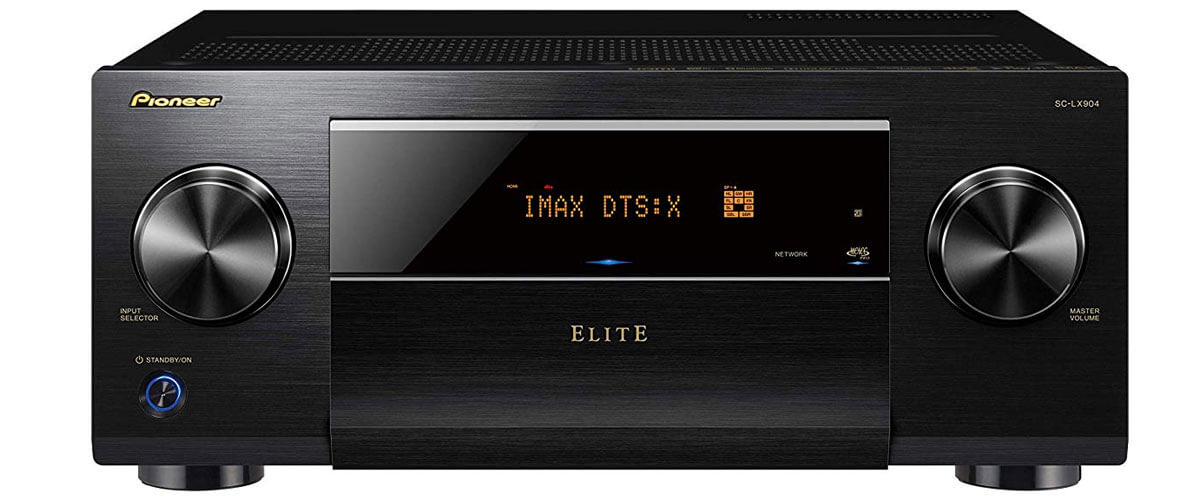 The first thing that caught my eye about Pioneer Elite SC-LX904 is its elegant design. The entire receiver has a black finish with a hint of silver around the edges. It's a sleek look that will match any modern home theater setup. The receiver is solid and feels heavy, which gives me confidence that it will last for years. Overall, Pioneer Elite SC-LX904 is surely among the best-looking and best-built receivers I've ever used.
The front panel of the receiver is very user-friendly, with large buttons and a bright display. The buttons provide feedback with a satisfying click. The display is large and easy to read, even in low light conditions.The rear panel of the receiver is just as well-designed as the front. All the inputs and outputs are clearly labeled and easy to access.
Features and specs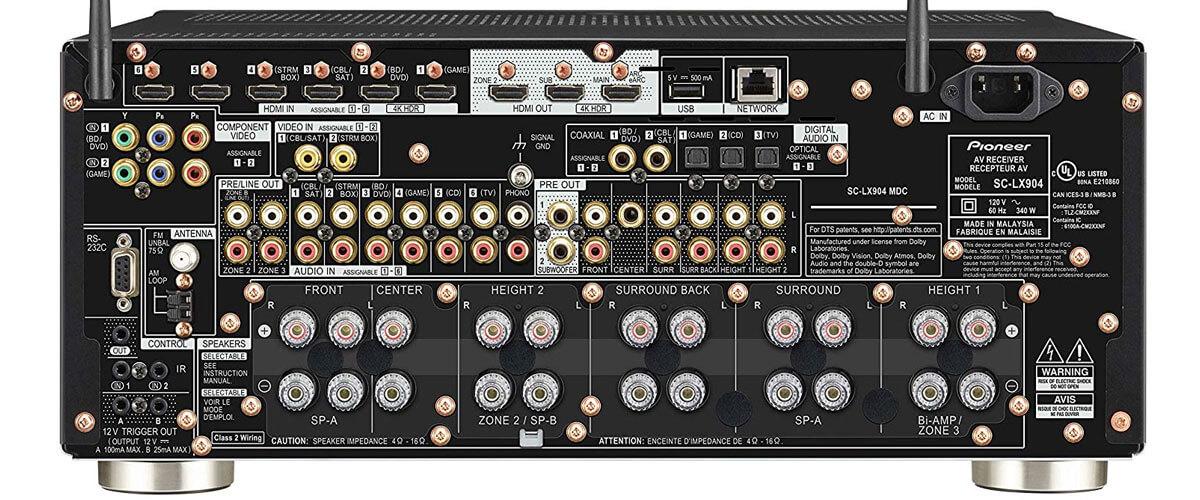 I would call the receiver powerful just because of its rated power output. It is said to deliver 140 watts per channel into 8 ohms (20-20,000 Hz) with 0.08% THD. Besides, this Pioneer Elite SC-LX904 uses 32-bit / 384 kHz capable DACs that can produce high-resolution audio. In practice, it means that I can push the receiver to its limits, and it never skips a beat. It has 11.2 channels of audio processing, so it can handle even the most complex home theater setups consisting of up to 11 speakers.
The receiver is also compatible with Pioneer's Multi-Zone Technology, which allows you to play different audio sources in different rooms.
Pioneer Elite SC-LX904's features include 8 HDMI inputs, 3 HDMI outputs, Hi-Res Audio playback, and built-in Wi-Fi and Bluetooth. There's also a USB port on the front panel, which makes it easy to connect a portable hard drive or thumb drive. I was able to hook up a TV, PlayStation, smartphone, laptop, and even a turntable. The AirPlay compatibility was especially handy, as it allowed me to easily stream audio from my iPhone to the receiver. By the way, there is no energy-saving ECO mode, which might be disappointing to some people.
One of the first things that caught my attention was the inclusion of HDCP 2.2 support. This ensures that the receiver will be able to handle the new 4K Ultra HD. The receiver also includes support for 3D pass-through, 4K upscaling, and HDR. I tested the receiver with a 4K TV, and it did an excellent job of upscaling lower resolution content. The list of advantages complements support for Dolby Atmos, DTS Neural:X, IMAX Enhanced, DTS:X, Dolby Digital Plus, and other pro features.
Sound quality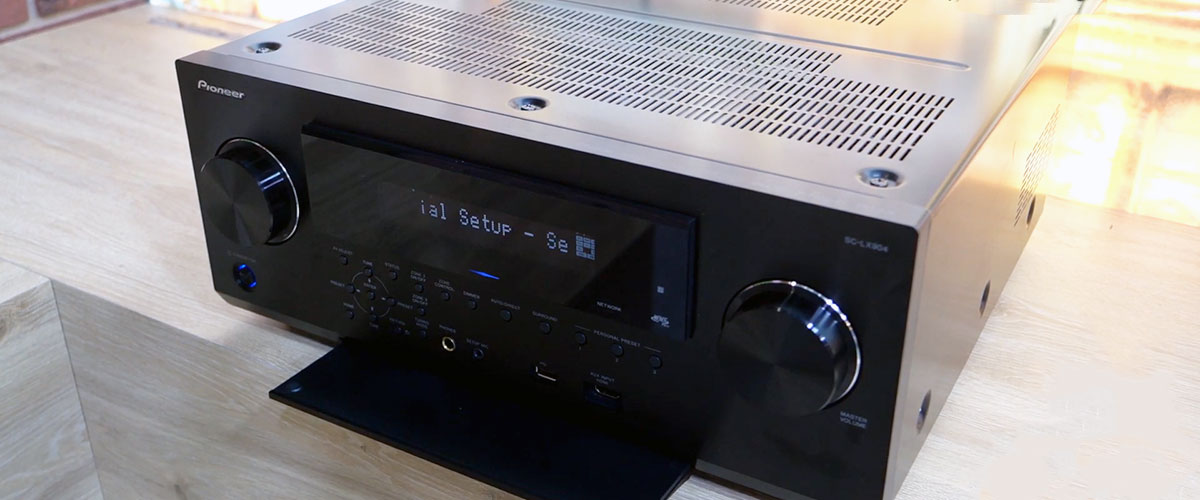 Listening to music and watching movies on Pioneer Elite SC-LX904 was an absolute pleasure. The receiver delivered exceptional sound quality with crystal clear highs and thundering lows. I watched Captain Marvel and during the beginning of the movie, when Carol dreams and we see the explosion and the earth falling to the ground, there were numerous tiny elements in the soundtrack around me that I hadn't noticed with my old receiver. I never had to adjust the volume levels, even during explosions and other loud scenes.
Verdict about Pioneer Elite SC-LX904
There is nothing about Pioneer Elite SC-LX904's specifications that may disappoint you in terms of the quality of sound or picture. You just connect it to the components you have, and it works great. As for me, this is all I'm looking for in receivers.
11.2 receivers buying guide
With so many brands and models available, it's really tough to decide. However, by keeping a few critical factors in mind, you can narrow your options and choose the correct receiver for your needs. For example, if you're looking for the optimal sound quality, you'll probably want to opt for a receiver with amplification and supporting different surround sound formats. Also, consider the connections you need, especially if you have additional multimedia devices. Finally, look at the receiver's video features and ensure it has everything you need.
Amplifier power rating
The power rating indicates how much power the amplifier can produce and measures in watts per channel (WPC). A higher WPC rating means that the amplifier can produce more power, which can be necessary for powering prominent speakers or watching movies with loud sound effects. Therefore, when choosing an AV receiver, it's essential to ensure that the amplifier has enough power to handle your needs.
Pay attention to the necessary connections
Depending on the number of speakers you have and the capabilities of your system, you'll need to connect your receiver to several different components. The most critical connection is between the receiver and the TV. It can be via HDMI, component, or composite cables. You'll need to connect the receiver to the subwoofer and other speaker components if you have a surround sound system. In addition, you may need to connect the receiver to an external amplifier or devices such as Blu-ray players or gaming consoles. By taking the time to understand the necessary connections of your AV receiver, you can ensure that you get the best possible performance from your home theater system.
Receivers video features
HDR provides expanded color and contrast range for more lifelike images. If you have a device that can output 4K HDR at 60fps, you'll want to ensure your receiver can handle it. Otherwise, you'll be stuck with a lower frame rate. In addition to 4K HDR support, you'll also want to consider things like Dolby Vision, HDMI eARC, and HDCP 2.2. These days, most receivers come with at least one HDMI input that supports these features, but it's still something to keep in mind. Once you've decided on the optimal receiver for your system, you can start enjoying all your favorite movies and TV shows in the finest quality.
Surround sound formats: Dolby Atmos, DTS:X
There are two main surround sound formats: Dolby Atmos and DTS: X. These formats use overhead speakers to create a more immersive sound experience. In addition, Dolby Atmos uses object-based audio, meaning that sound maps to specific objects in the scene. It makes it possible to create a more realistic and three-dimensional soundscape. DTS:X also uses object-based audio, including support for height channels. Sound can come from above, below, or behind the listener. I recommend looking for a receiver that supports both of these formats, especially since surround sound is now available in most modern mid-range and even budget models.
FAQ
How long should a receiver last?
The typical lifespan of a home theater receiver is around five years. However, it would be ten years if you planned and bought good quality equipment from the beginning and properly exploited it.
Do amplifiers sound better than receivers?
With a high-powered amplifier, you'll be able to hear the details in your music or movie more clearly. Still, the AV receiver should receive both audio (sounds) and video signals, and it doesn't depend on how powerful your device or system produces them. It means anyone can enjoy whatever playing comes through the receiver without distortion, no matter what volume levels are playing.
Does a receiver make a difference in sound quality?
It certainly does. Sound quality may depend on its capabilities, supported technologies, power, and other aspects. It is also important to set it up properly by yourself or to use special software. All these things have a direct impact on the final sound quality.
We are supported by our audience. When you purchase through links on our site, we may earn an affiliate commission at no extra cost to you.
Our newsletter
* We will never send you spam or share your email with third parties