For those who want to experience the ultimate in home theater, check the best 7 channel receiver reviews. With channels for each individual speaker and Subwoofer plus dedicated processing power from software like Dolby Digital Plus™ or DTS:X Ultra HD -to give you an immersive listening experience without compromise on any aspect of sound quality!
Our pick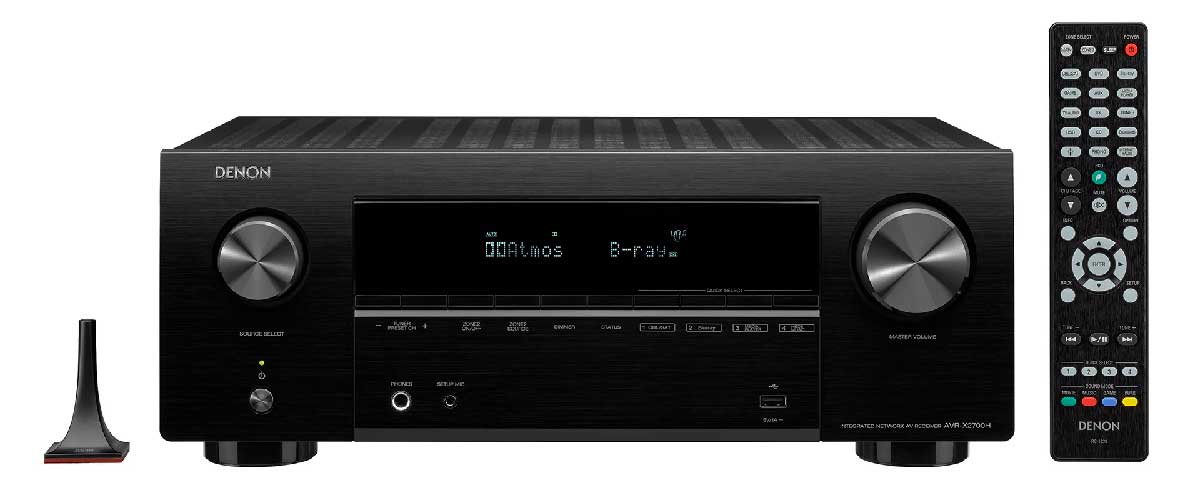 Denon AVR-X2700H
Best 7 Channel Receiver
Denon's AVR-X2700H 7.2ch 8K AV receiver is perfect for making the most out of the home theater experience, with its ability to support 3D audio formats and HDR10+, Dynamic HDR, and ALLM!
Best seven channel receiver reviews
Denon launched the latest revision of AVR-X2700H in 2020, and it still remains rather future-proof. It offers you the ability to create the finest 4K home theater today while also ensuring that your receiver is 8K prepared. This Denon AVR-X2700H review will cover its most essential features, letting you know where it succeeds and falls short.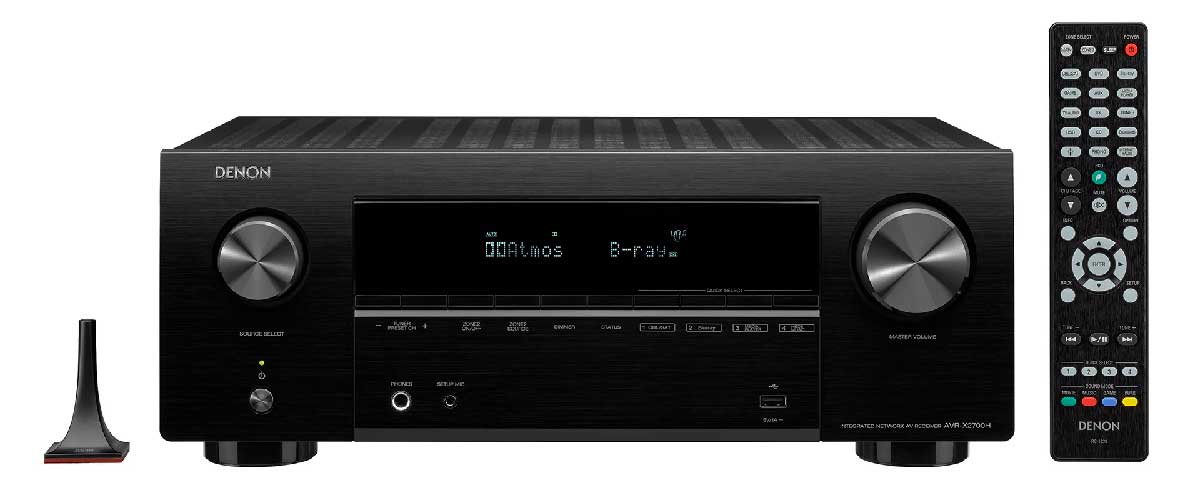 Outwardly, we are dealing with a typical black box receiver that won't win any beauty contests. But compared to the previous models, the AVR-X2700H comes with an enhanced dynamic range, the support for more video formats, and an expanded list of surround sound codecs.
Build and design
Denon AVR-X2700H is quite heavy at 21 lbs. However, this weight is due to the high-quality build. There is a metal chassis that gives the receiver a solid feel. With the dimensions 17.1 x 13.4 x 9.3 inches (or 6.6 inches with the antennas in the horizontal position), the device is the same size as its predecessor - the AVR-X2600H. The only change you see on the front panel is the absence of an HDMI port.
All functions are visualized in a large display in the middle. Two big circular knobs on either side of the front panel serve for volume control and source selection. A thin line of function buttons under the display includes buttons for the tuner preset channel selection, controls for Zone2, the brightness of the display and its mode, and some buttons you can use to register settings of your choice.
Features and specs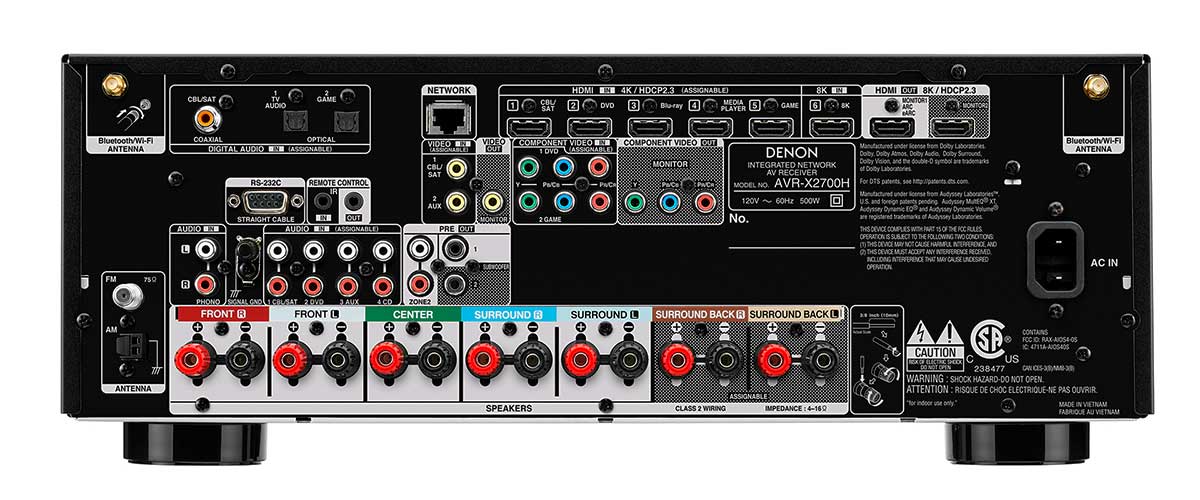 Denon AVR-X2700H features provide users with a sophisticated yet easy-to-use solution for their home theater needs. There is a 7 channel amplifier that delivers 95 W (8 ohms, 20 Hz – 20 kHz, THD: 0.08% 2ch drive) of power per channel, which is quite a lot for a receiver in this price category.
There is a good selection of connections for all your devices. The AVR-X2700H has 6 HDMI inputs and 2 HDMI outputs with HDCP 2.3 processing. One dedicated input supports 8K/60Hz and 4K/120Hz pass-through (although the producer underlines that not all the 4K/120Hz media sources are supported). Upconversion to 8K is available on all six HDMI inputs. One of the HDMI outputs has ARC/eARC capability, which lets you hear the sound from your smart TV app through your speakers without using an additional cable. It can come in handy if you mount your TV on a wall. There is also an audio preamp output that allows connecting an external power amplifier. In addition, optical and coaxial inputs are available.
From the other specifications of Denon AVR-X2700H, it is worth noting that the receiver supports Dolby Atmos and DTS:X surround sound decoding, the respective virtualization technologies, and a wide selection of HDR formats.
The device comes with built-in Wi-Fi and Bluetooth and has two antennas that ensure a reliable connection. You can choose a wired or wireless connection to your home network. The AVR-X2700H provides access to most streaming services. You can listen to music stored on your mobile devices over AirPlay. Besides, the AVR-X2700H can deal with music files on your computer with its built-in support for most popular file formats.
Finally, the receiver offers compatibility with most voice-controlled assistants, making it easy to perform such functions as adjusting volume.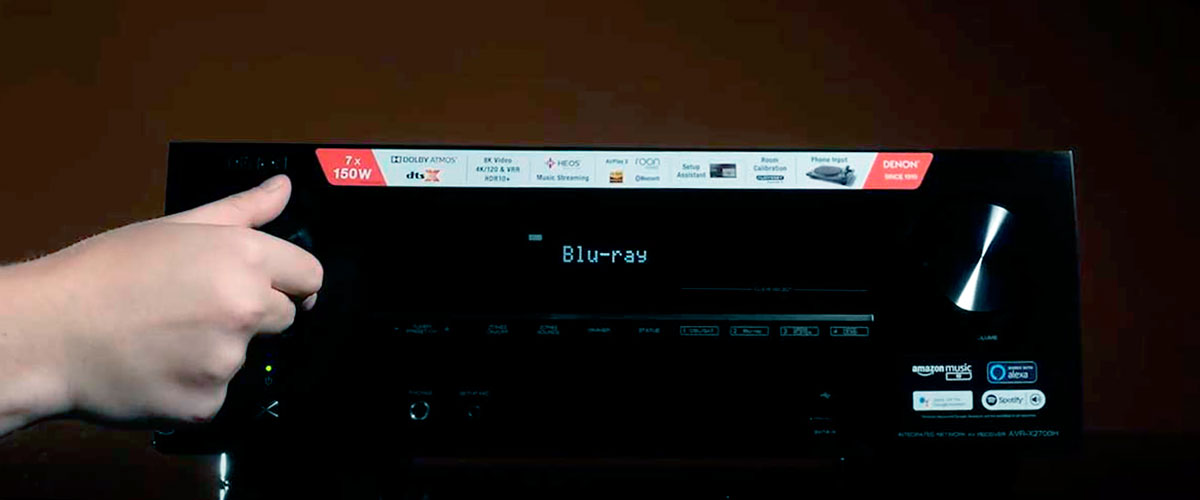 Sound
Good news for everyone who wants to enjoy the incredible sound experience. Denon AVR-X2700H shines thanks to excellent build quality and components that deliver high-fidelity performance when it comes to sound quality. Those who change their old receiver to this model describe its sound as warm, clear, and full. They also notice that the bass became deep and tight and the trebles – smooth and well-defined. Users also praise the quality of sound when it comes to surround sound. Finally, they agree that Denon AVR-X2700H works very well with different types of speakers.
The receiver features a wide variety of sound settings to let you customize your experience depending on the content you listen to. You can use either the Audyssey MultEQ XT room calibration system or one of the pre-programmed modes for movies, music, or game. If you are an advanced user, you can even create your own mode.
Verdict about Denon AVR-X2700H
The AVR-X2700H is packed with impressive features and delivers excellent sound. As for some minor issues, I can mention the setup difficulties and disappointing functionality of the mobile app supplied with the device. But at this price range, it is probably tough to find another receiver with the same performance.
Yamaha RX-A2A
We prepared for you the Yamaha RX-A2A review, in which you can read about the key features of this receiver. If you're looking for a high-quality AV receiver that supports 4K Ultra HD and HDR10, the Yamaha RX-A2A is an excellent option.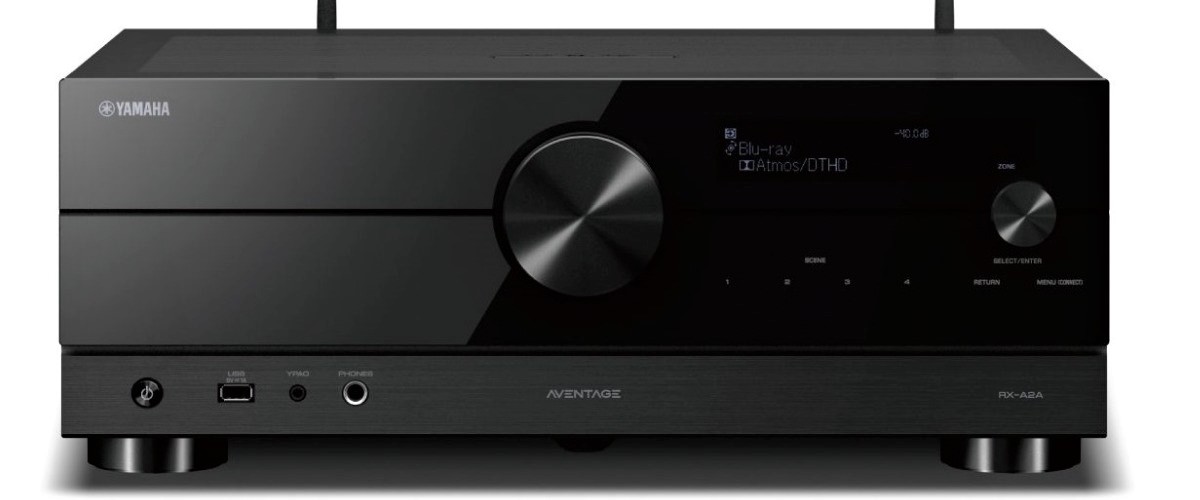 It's not the cheapest receiver on the market, but it offers features and performance that you won't find in most other receivers. For example, it includes a phono input for connecting a turntable, and it has a dedicated Zone 2 output for sending audio to another room in your house.
Build and design
The Yamaha RX-A2A receiver comes with a sleek and stylish design to complement any home décor. The receiver has a black cabinet with a silver front panel, and it measures 17-1/8" x 6-3/4" x 14-5/8" inches. It weighs 22.5 lbs., so it's not too heavy to move around if needed.
On the front panel, you can find a USB port, audio input ports (including another "AUX" A/V input), and speaker binding post outputs. An LED display shows the source name or listening mode currently on. There are also buttons, which will let you quickly mute the sound or change the volume level without using the remote. On the front panel, there is a possibility to control power, select input, volume, and other essential functions.
Besides, you can use the supplied remote control to do all of this. The remote is backlit, making it easy to use in low-light conditions.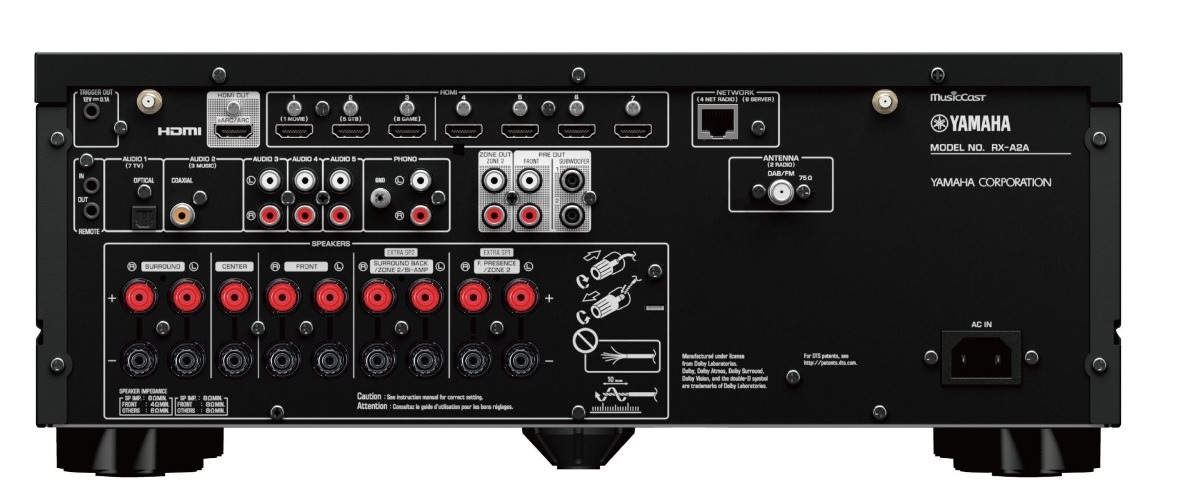 Features and specs
With its 7.2 channel surround sound and 100 W (8 ohms, 0.06% THD) with 2ch driven, the RX-A2A can deliver an immersive, unparalleled soundstage perfect for movies and music. It also features Yamaha's MusicCast technology, which allows you to stream music from your phone or tablet to other MusicCast-enabled devices throughout your home. Besides these Yamaha RX-A2A features, it has the bi-amp capability. It means that the main left and right speakers can be powered by two separate amplifiers, one for the low frequencies (bass) and one for the high frequencies (treble). As a result, it provides better sound quality, improved bass response, and reduced distortion.
Yamaha RX-A2A receiver contains a variety of ports and jacks. For example, there are seven HDMI inputs and one output. Two digital optical audio inputs, two coaxial audio inputs, and a LAN port.
This receiver is perfect for people who have a lot of devices that need to be connected to their home theater system. Yamaha RX-A2A receiver has WiFi and Bluetooth. You will be able to stream music from your smartphone. You should connect the phone to the network of AV receivers, and you're ready to go. Also, don't forget that you can use Spotify Connect or Airplay.
It also supports 4K (up to 120p) and 8K (up to 60p) video pass-through so that you can enjoy the latest high-resolution videos without any degradation in quality. In addition, the RX-A2A will also support HDR10+ (High Dynamic Range) technology which gives a broader color range between bright and dark images for more realistic looking images on your TV.
Sound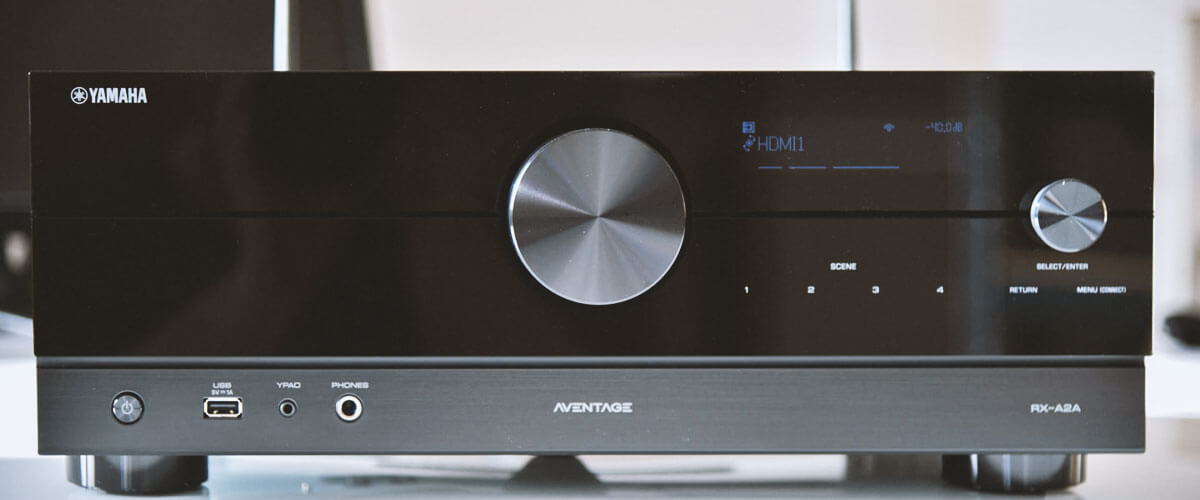 The Yamaha RX-A2A is perfect for home theaters and media rooms. It provides clear, immersive sound and stunning visuals that will take your entertainment experience to the next level. In addition, it supports Dolby TrueHD and DTS HD master audio.
Besides, Yamaha RX-A2A is designed to create an immersive 3D sound experience. This surround sound receiver is equipped with Dolby Atmos and DTS:X audio technologies, which allow it to deliver a realistic, three-dimensional audio experience.
If you like to watch movies or listen to music with many basses, this receiver is perfect for you. It can create a sound that is both rich and full.
Verdict about Yamaha RX-A2A
Summing up all Yamaha RX-A2A specifications, I recommend it to anyone looking for a high-quality receiver with excellent features. It has an impressive range of audio inputs, outputs, and amplifier power. In addition, it is easy to configure and use. The Yamaha RX-A2A offers everything you need in an audio and video receiver.
Marantz SR5015
The Marantz SR5015 is one of the company's more affordable receivers, yet it still manages to pack in a healthy selection of features. On contrary to previous models in the SR series, this one comes with an 8-channel amplifier which provides plenty of power for a 7.2 system. I've put it to the test, and I am ready to share opinions with you. Keep reading the Marantz SR5015 review to see if it's the right receiver for your needs.
Build and design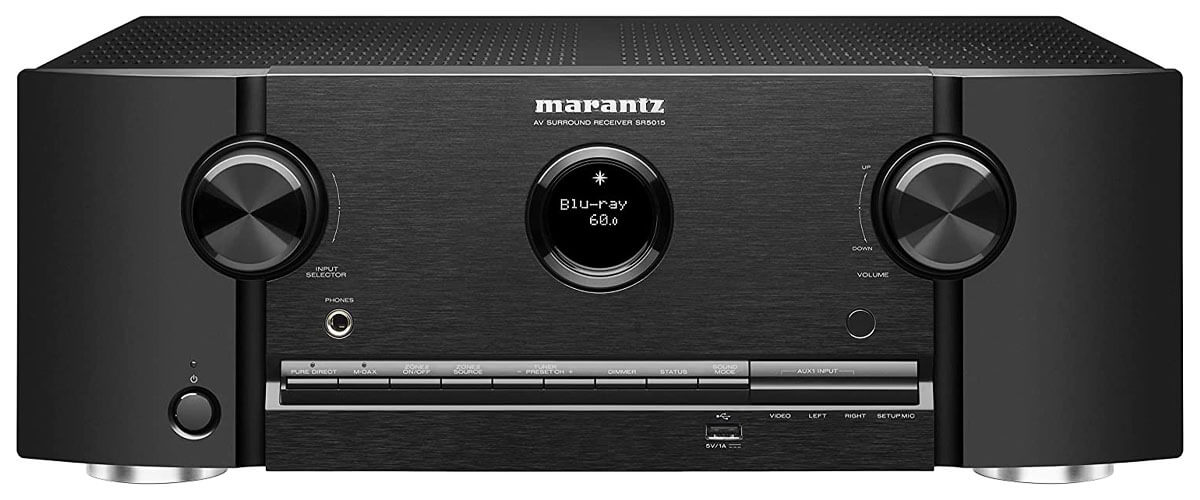 Marantz SR5015 looks very similar to its predecessor, the SR5009. The only real difference is that the new model is a tiny bit wider in order to accommodate the extra amplifier channels. It's still a slim receiver at just under 4 inches tall, so it should fit nicely into most home theater setups. The front panel features the same clean and simple design that Marantz is known for. All the inputs and outputs are located on the back, which makes for a neater installation.
One thing to note is that the SR5015 only comes in black. If you're looking for a receiver with a little more style, you might want to check out one of Marantz's higher-end models.
Features and specs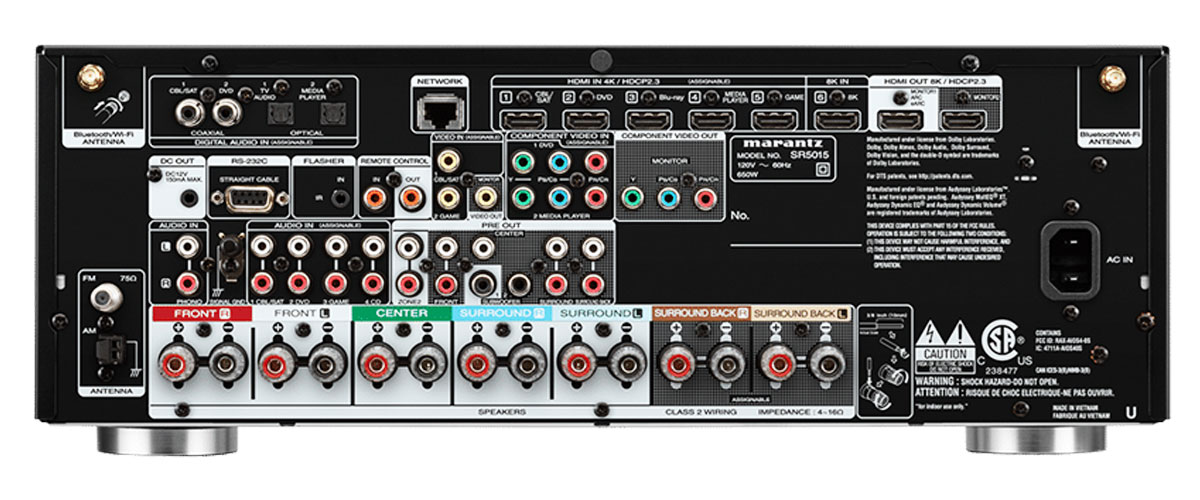 The Marantz SR5015 is a 7.2-channel receiver with an 8-channel amplifier. That means it can power a full surround sound system with no problem. It has a total output of 105 watts per channel, which is plenty for most applications. With seven amplifier channels on board, you can connect a 5.1.2 or 7.1.2 speaker setup and no external amplifier is needed.
The receiver has eight HDMI inputs and two outputs, as well as built-in Wi-Fi and Bluetooth. You can also use the receiver as a central hub for your home theater system thanks to Apple AirPlay 2 support. There's a USB port on the front for quick access and an input for a personal audio player. The Marantz app may be downloaded to your smartphone or tablet and used to control the receiver, which is a nice touch.
Marantz SR5015 also features Dolby Atmos and DTS:X decoding, making it ideal for movie lovers. Dolby Surround and DTS Neural:X mixing modes are also effective, and they can be used with non-Atmos content. Among Marantz SR5015's specifications is support for 4K Ultra HD video and HDR. If you have a compatible TV, you can take advantage of the receiver's 4K passthrough feature without losing any quality. The SR5015 also provides HDR10 and Dolby Vision support.
Sound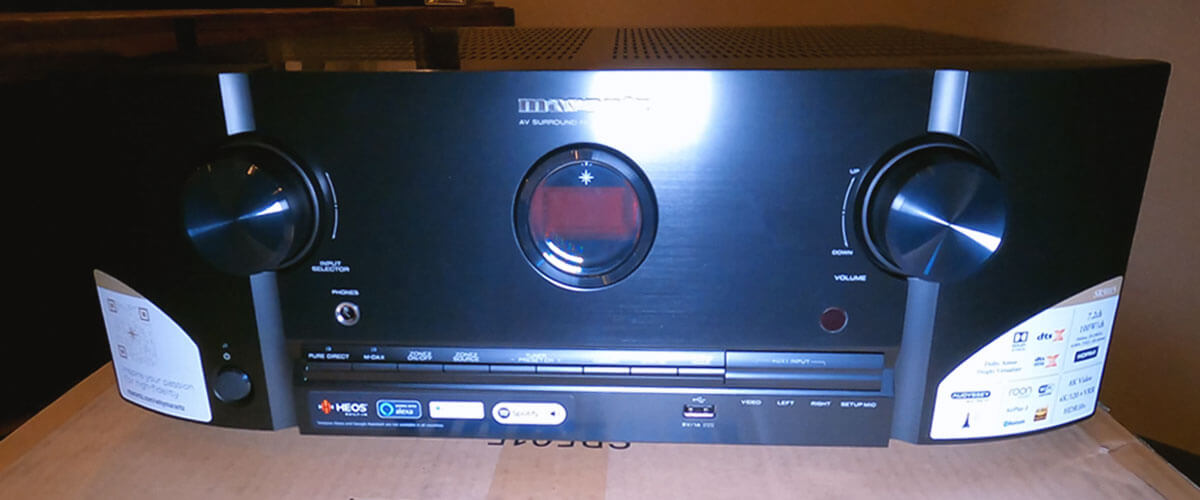 One of the main things about the SR5015 is its sound quality. Thanks to its discrete amplifier design and Marantz's HDAM technology, the receiver remains clear and distortion-free. It did a great job of reproducing both 2-channel and multichannel music, delivering the performance that had me hooked for hours on end.
The SR5015 had no problem driving my Klipsch Reference Premiere speaker system to loud volumes. Even when pushed to high volumes, the receiver never sounded harsh or strained. Since it didn't have any trouble filling the whole room with the sound of music or film, I think the receiver's amplifiers do their part very well.
The only thing I could nitpick about is that the receiver didn't quite have the same impact as some of the higher-end models I've tested. During action-packed scenes, I felt like the sound could have been a little more explosive. But overall, I thought the SR5015 did a great job with movies.
Verdict about Marantz SR5015
The receiver has a lot to offer, from its build and design to its sound quality. If you're looking for an affordable surround sound receiver that can handle just about anything you throw at it and doesn't compromise on features or performance, I highly recommend checking out the SR5015.
Sony STR-DN1080
Reading our Sony STR-DN1080 review will help you to get to know a few key things that differ this receiver from the rest models. First, it is equipped with six HDMI inputs and, of course, two outputs.
Usually, it is more than most such devices have. So, it means that you can easily connect all needed devices to the receiver and even without worrying about running out of ports. Additionally, the Sony STR-DN1080 stands out from other models, because of one of the most powerful audio processing engines. It allows it to reproduce sounds that are more true to recorded initially, providing a much richer experience than other receivers on the market today.
Build and design

The STR-DN1080 measures 16.92 x 6.14 x 13.03 inches. It is well-equipped, but isn't too complex in usage. The Sony STR-DN1080 receiver has a sleek and modern design, because of a black finish and some silver accents. The front side is elegant and has a large, central display screen, buttons, and dials to handle the device. This display is clear and really easy to read. The buttons are also well-placed and comfortable in usage. The receiver's back houses a lot of ports and connectors, for example different input and output jacks, as it was mentioned, HDMI and USB ports.
Purchasing the Sony STR-DN1080 you will also get a special remote control. It means you mustn't connect to another device for enjoying wireless, hands-free operations. In addition, you can place your receiver at the rear part of your room and still operate the receiver using this remote control.
Features and specs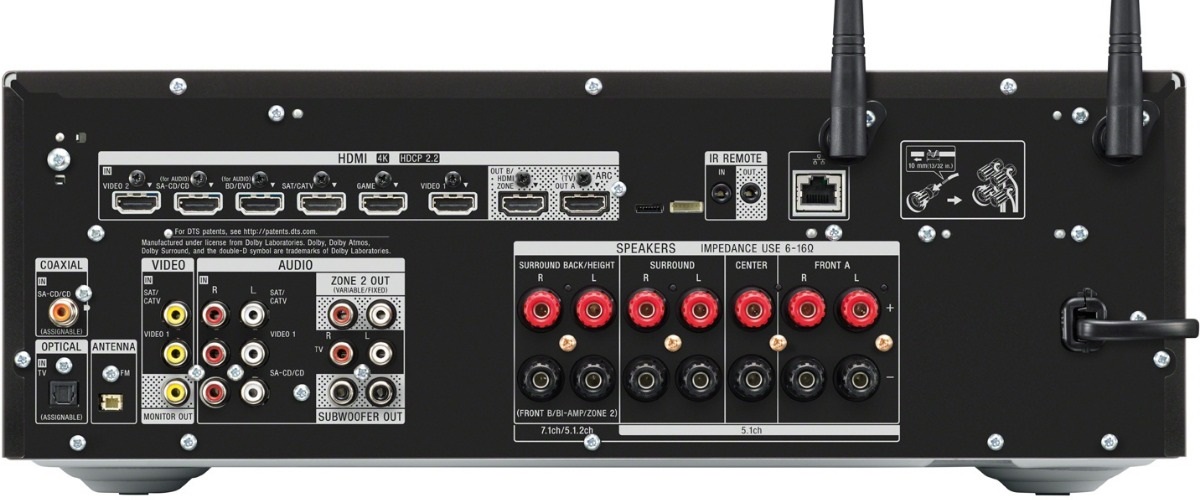 Sony STR-DN1080 is a 7.2-channel receiver with 165 W (6 ohms, 1 kHz, 1ch driven THD 0.9%) per channel. STR-DN1080 AV receiver has multi-room support. So, by downloading the Sony app, you can easily connect your home speakers to play the same music in different rooms.
The Sony STR-DN1080 receiver has Chromecast capabilities. It gives a possibility to control the music playback on the receiver using your. You can also cast audio content from websites and other apps to the receiver. Sony STR-DN1080 supports AirPlay 2, letting you wirelessly stream your iTunes library from your computer or other Apple device. Besides, you can ask Siri to regulate playback on the receiver.
The STR-DN1080 receiver is equipped with a wide variety of ports, including inputs and outputs. For example, 8 HDMI ports (here we can speak about six inputs and two outputs), a USB port, and optical and coaxial digital audio outputs.
Besides, it has an Ethernet port, with which you can connect the receiver to a home network. It allows the user to control the settings and playback on their receiver. It also has built-in Wi-Fi and Bluetooth. This receiver is perfect for connecting all your devices and sending the audio to the whole surround sound system.
The STR-DN1080 receiver has several features that will attract movie enthusiasts' attention. For example, 4K Ultra HD (up to 60p (4:4:4)). In addition to 4K Ultra HD support, the STR-DN1080 is also HDR compatible. It means that you'll be able to enjoy HDR content to its fullest potential, with improved contrast and color accuracy. Whether you're watching a movie or playing a video game, the HDR compatibility of the STR-DN1080 will give you an immersive experience. So with these Sony STR-DN1080 features, you'll get the most out of your movies and TV shows.
Sound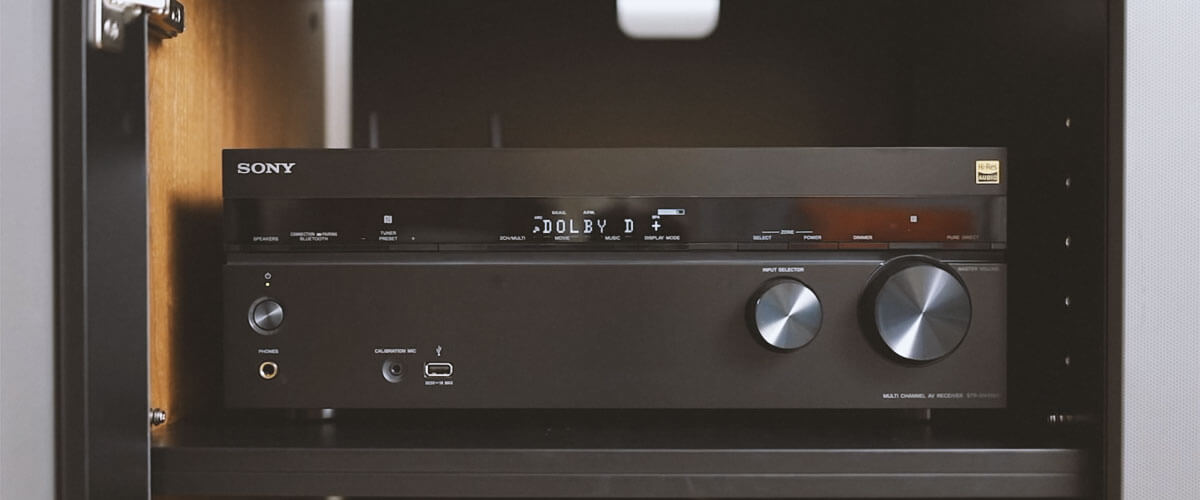 The STR-DN1080 can decode Dolby Atmos, and DTS:X surround sound formats. So that you have a chance to enjoy a clear and really powerful sound. It can handle all of your music and movie needs with ease. The receiver provides a crisp sound even without any distortion. You will hear every note and nuance in your music, as well as experience the full impact of your movies. The STR-DN1080 is the ideal option to improve any home entertainment system.
The STR-DN1080 receiver also features Sony's Digital Cinema Sound. This feature gives you a chance to listen to the best sound quality, whether watching your favorite film or listening to music. Furthermore, this device creates a fascinating surround sound experience. It will help you to feel like you're right in the film action, no matter what kind of films you are watching.
Verdict
Sony STR-DN1080 specifications prove that this receiver is a perfect device for improving your home entertainment system. It provides high sound quality, and you can regulate it using your personal smartphone, tablet, or remote control. So if you're going to buy a receiver that will fill up your house with rich, clear audio, then this model fits the bill!
Yamaha RX-V6A
In our Yamaha RX-V6A review you can get to know a few things, which make it stand out from others. First, it has a really powerful amplifier. This feature makes the device perfect for both larger rooms and home theaters.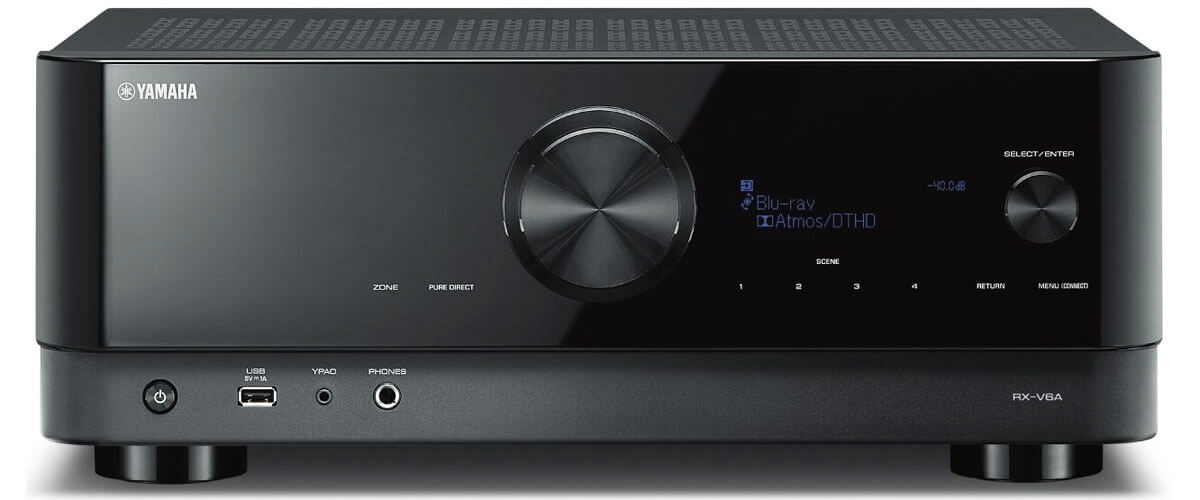 The device's advanced features and functionality make it a suitable option for those who want more control over their audio experience. This model also includes features like Yamaha's Own CINEMA DSP processing, which provides an unforgettable sound experience. Finally, the RX-V6A model has different built-in ways of connectivity that makes the device really easy for connecting to your favorite streaming services.
Design and its built
Let's begin with the design of the model, which is relatively straightforward. For instance, when you are looking at the front side, we can notice a clean and minimalist design, with only a few buttons and regulation knobs. Generally speaking, its build quality is also fine, with a solid feel.
Let's consider some more Yamaha RX-V6A specifications. As for dimensions, they are 17-1/8" x 6-3/4" x 14-7/8" inches. The model also weighs about 21.6 lbs., which gives it a premium feel. As for the back panel, it is where all the action is, with many ports and connections.
Overall, this design is elegant and practical. It should be more than enough to satisfy most users' needs and desires.
Moreover, it's really easy to set up the Yamaha RX-V6A model, even if you haven't done it before. The Yamaha model has a clear interface, so it will be easy for you to to control and operate it. The setup process does not require special knowledge or expertise. The receiver can be configured to work with most varieties of home theater systems and different audio components that you use.
Features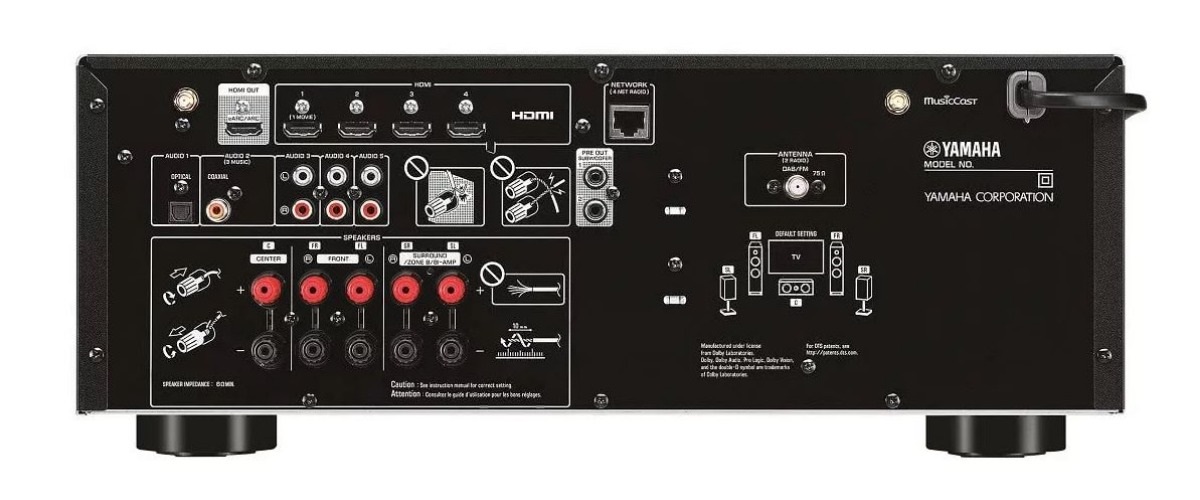 The Yamaha RX-V6A model is a popular 7.2-channel device, which produces deep, realistic sound and supports advanced streaming services for ultimate flexibility and convenience. I think practicality and power are two main things, which are worth our attention. With 100 W (8 ohms, 20Hz-20kHz, 0.06% THD, 2ch driven), the model has a lot of power in order to drive your speakers and also provide an unforgettable sound experience. It is a possibility to feel deep and clear sounds. This model supports bi-ampinng.
Owners of the device can use two amplifiers at the same time, if they want to power each of the left and right speakers, providing greater power and improved sound quality. Bi-amp capable models typically have special speaker terminals. Users are allowed to connect the two amplifiers and switches or menus in order to enable or disable the bi-amp function.
Besides, it includes a multi-room mode. Here we speak about one more interesting feature. You just need to download the MusicCast app if you want to control which room the sound is playing in. People can also use it to stream different sources to any of your rooms. It's really comfortable, because it doesn't require any additional remote control, only your smartphone.
The Yamaha RX-V6A includes a wide variety of ports for connecting a lot of types of devices, such as audio and video. It's also important to check before buying, in order not to buy something else later. On this device you can notice seven HDMI inputs, two RCA stereo inputs, one optical digital input, and a subwoofer output.
In addition, this model includes a USB port that gives a possibility to connect a USB drive or a digital audio player. For radio fans, the RX-V6A includes a built-in AM and FM tuner. Besides, there are some other connectivities, such as Bluetooth and Wi-Fi. Such availability is really comfortable, because they are like alternative options, in the case of any problem. It provides an easy way of connection, giving you the maximum flexibility in usage. The AirPlay2 and Yamaha AirPlay app allows you to stream your favorite music directly from your personal Apple devices. The RX-V6A model is ideal for almost any home theater setup with all these great features.
This model provides an excellent video experience. Yamaha RX-V6A also has several audio features that will improve watching experience. It supports 4K Ultra HD video, including HDR10+ and Dolby Vision. People like and prefer this device for its 4K120AB, 8K60B, 4K60, and 24GBPS HDMI1-3 pass-through.
Sound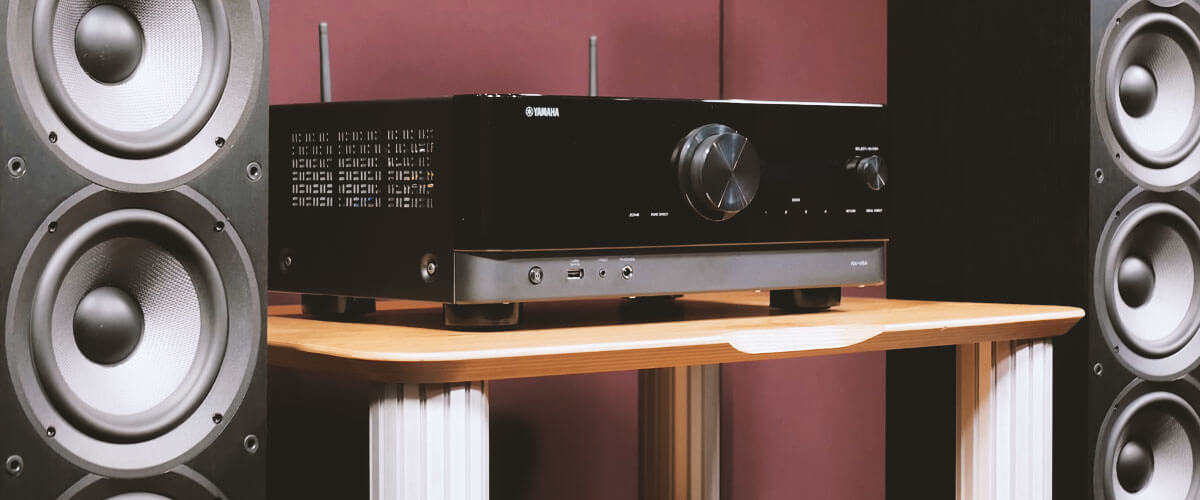 The Yamaha RX-V6A is an excellent option for people, who are looking for quality sound. It has many great features that will make your listening experience better. The receiver has a built-in Dolby Digital and DTS decoder, ensuring that you'll get the best possible sound quality from your movies and music. It supports a wide variety of audio formats. It also features six channels of amplification to enjoy stereo sound even in large rooms. So, one of the best things about this receiver is the sound quality. It provides a clear and powerful sound that will make you feel right in the middle of the action.
The Yamaha RX-V6A also includes the YPAO Volume feature. It is a feature that automatically adjusts the receiver's volume to suit your preference.
Verdict about Yamaha RX-V6A
In conclusion, the Yamaha RX-V6A is an excellent option for those looking for an affordable home theater experience. It offers clear and powerful sound quality and a wide range of features to make your movies and music come to life. If you're on the market in order to buy a new receiver, we highly recommend considering the Yamaha RX-V6A.
FAQ
Do you have to use 7 speakers for a 7.1 AVR?
No, you do not have to use
7 speakers
for a 7.1 AVR. You can use any number of speakers that you want, as long as it is a multiple of 2 to have at least stereo suond. Seven channels mean that it is possible to use 7 speakers, but is not necessary.
How big of a room do you need for 7.1 surround sound?
For a 7.1 surround sound system, you will need a room that is at least 12 feet by 18 feet. The size of the room will determine how many speakers you can have and where you can place them.
Does Netflix have 7.1 surround sound?
As of now, Netflix does not offer 7.1 surround sound. However, they are constantly improving their services, so there is a possibility that they will add this feature in the future.
We are supported by our audience. When you purchase through links on our site, we may earn an affiliate commission at no extra cost to you.
Our newsletter
* We will never send you spam or share your email with third parties