Dolby Atmos is a surround sound technology that offers an immersive cinema-like experience in your home. While the cost of a receiver with Dolby Atmos can be prohibitive for some, there are budget options available that still provide great sound quality.
Our pick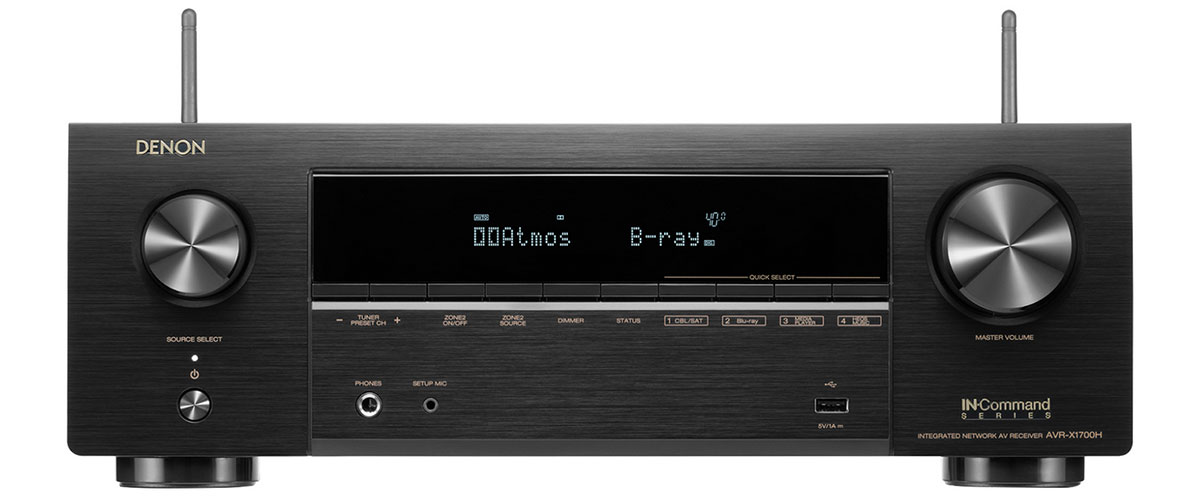 Denon AVR-X1700H
Best cheapest atmos receiver
The AVR-X1700H is designed for use with 4K or 8K setups. It provides the ultimate 3D audio home theater/gaming experiences and supports the latest HDMI specifications.
In this blog post, we will explore some of the best budget receivers for Dolby Atmos. We will also take a look at what to consider when purchasing a receiver and offer some advice on how to get the most out of your investment. So, whether you are just starting out or are looking for an affordable upgrade, read on for the best budget receivers for Dolby Atmos.
Best budget Dolby Atmos receiver reviews
Looking for a great home theater receiver on a budget? The Denon AVR-X1700H is a fine option. It supports the latest audio and video technologies you would expect in $1000's units.
Check out our full Denon AVR-X1700H review, we'll take a closer look at its features and performance to see if it's the right model for you.
Build and design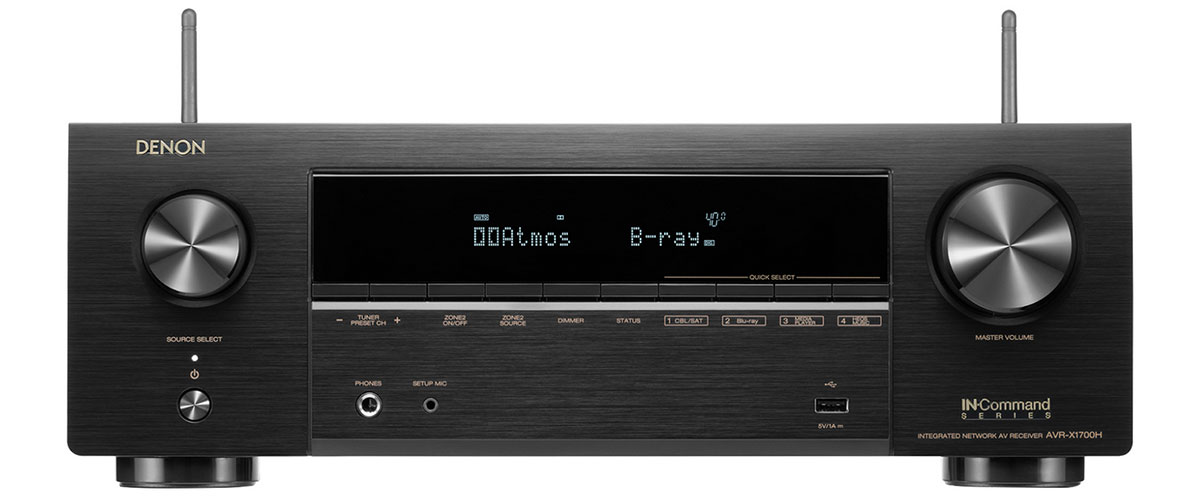 Denon AVR-X1700H is a mid-sized receiver, measuring 17 inches wide, 13.5 inches deep, and 6 inches tall. It weighs about 19 pounds. An uncluttered appearance that will go well with any home theater setup is the trademark of the Denon AVR-X1700H.
The front panel has a clean, minimalist design with a large volume knob, power button, along with a row of buttons for basic control and navigating the menu. The display is small but clear, and it's easy to read from a distance and very intuitive. The rear of the receiver is more complex and contains a good range of connectivity options.
As for me, it would be better to have different colors and symbols representing different menu items, but it seems to be a personal taste judgment. There have, however, been no issues I noticed other than the screen remaining on after adjusting the volume, requiring a second press.
Features and specs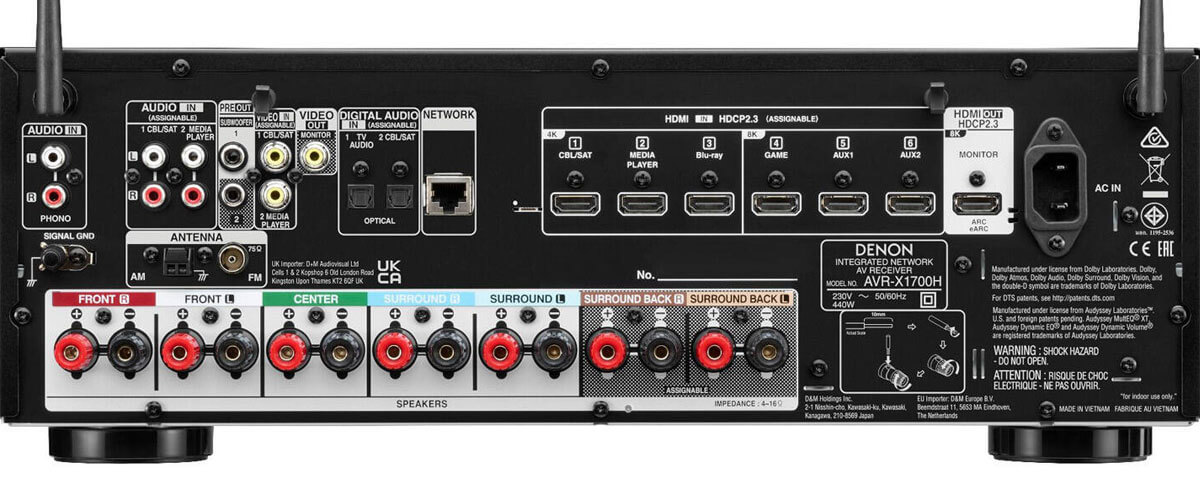 Denon AVR-X1700H's specifications say that it is a 7.2 channel receiver that has 95 watts per channel of power into 8 ohms. It is enough for a medium to large-sized room. I'm typically running 55% volume level for normal TV/voice and up to 75% for loud movies/entertainment. In addition, the Denon AVR-X1700H features built-in HEOS wireless multi-room audio technology, which lets you play music from the receiver in any room of your house. For example, I connected my speakers in the kitchen and could watch a movie in the living room and have the soundtrack playing in the kitchen simultaneously.
Six back HDMI inputs and one main output are on offer, with 8k/60 - 4k/120 max Resolution. Phono input for vinyl enthusiasts is also a nice touch. There are also 2 subwoofer outs for those that like to have beefier bass. The pass-through functionality works great as you can still use the tv without the stereo when you don't need it. I configured Zone 2 for my speakers outside, so AirPlay, HEOS functionality, and streaming integration are super handy to control from a phone without needing remotes. I can control the unit from my phone which is great when we're outside.
Denon AVR-X1700H supports Dolby Atmos and DTS:X, both of which create an immersive 3-dimensional soundscape. Dialog Enhancer is a Denon exclusive feature that helps make speech more intelligible, even in difficult listening environments. The receiver also supports HDR (high dynamic range) video passthrough, which means you can watch HDR content from your Ultra HD Blu-ray player or streaming service and get the full benefit of HDR's enhanced picture quality, with brighter highlights, deeper shadows, and more natural colors. I've watched a few 4k HDR videos and the results were really great.
Sound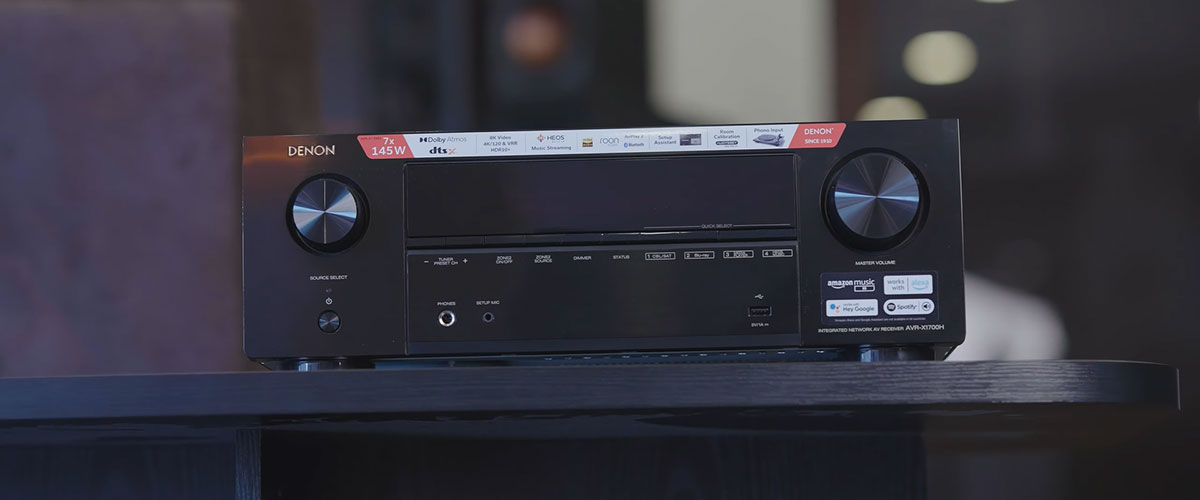 The Denon AVR-X1700H adds great natural tones and excellent clarity. The receiver's ability to create an immersive soundscape is especially impressive, and it makes movies and TV shows feel more cinematic. The bass response is good, although it could be a bit deeper. The receiver's sound quality is sure to please audiophiles and casual listeners alike. Especially I liked the moments in film trailers where the full surround sound, such as wind or a helicopter, kicked in. I could feel like I was in the room with the action happening. But keep in mind that you have to set up a few speakers in front of you and a few behind it. Otherwise, the sound will be flat.
Verdict about Denon AVR-X1700H
I would consider Denon AVR-X1700H to be an advantageous receiver if you want to upgrade a home theater setup on a budget without sacrificing features or performance. It offers enough audio and video formats for significant improvement of sound and picture quality, with no unnecessary features you'll never use.
Yamaha RX-V4A
We have prepared a Yamaha RX-V4A review for you to make your choice easier. The most obvious thing differentiating it from others is the support of 8K HDMI and 4K Ultra HD video with full 60p resolution, allowing receiving and processing 4K content without compression.
The new RX-V4A is a universal receiver that supports almost any existing surround sound format. It provides a possibility to work with network sources or external speakers through its proprietary Yamaha system. It supports Dolby Atmos and DTS:X – two new surround sound formats. What is more, this model offers a possibility to work with network sources and external speakers through a proprietary Yamaha system.
Build and design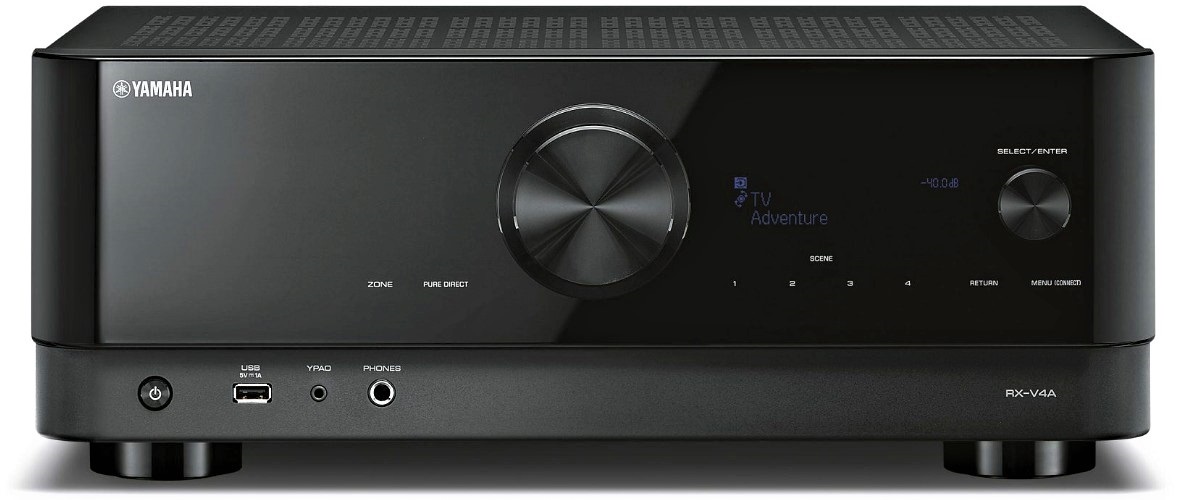 The Yamaha RX-V4A receiver has a sleek and modern look. It has a black finish and a brushed aluminum front panel. The Yamaha RX-V4A receiver weighs about 19.4 lbs and measures 17-1/8" x 6-3/4" x 14-7/8" inches.
The front panel includes a power button, volume and channel knobs, and buttons for managing the audio input and output. The receiver also includes an on-screen display that allows you to control all of its functions.
On the rear side of the Yamaha RX-V4A receiver, you can find all inputs and outputs. They allow you to connect the receiver to other devices, such as a TV or a computer. The ports are also used to power the receiver and to transfer audio and video signals.
The remote control for the Yamaha RX-V4A receiver is easy to use. It gives you complete control over the receiver's settings and has more than enough buttons to make it easy to set up.
Features and specs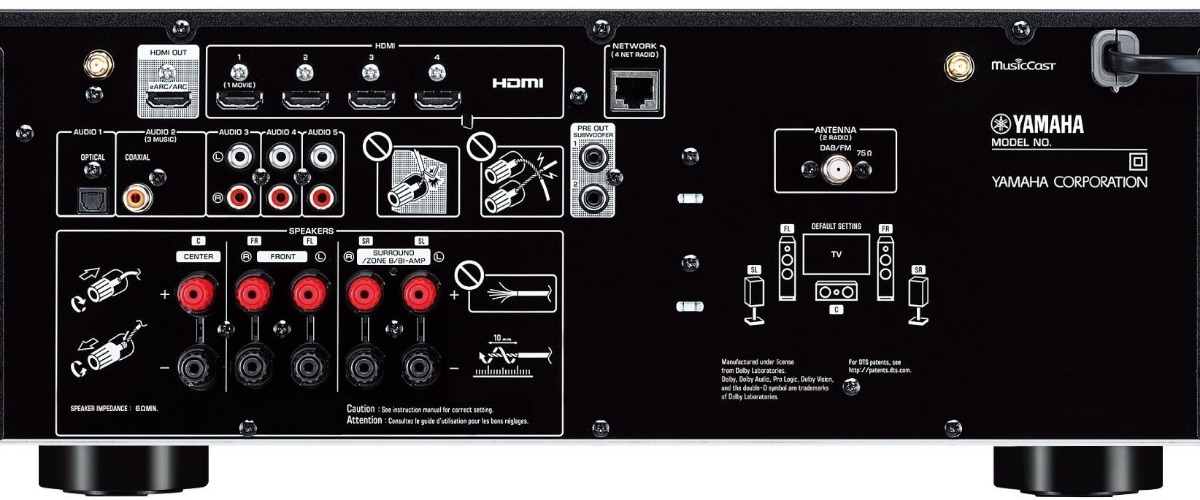 As for Yamaha RX-V4A specifications, it is a 5.2 channel AV receiver. This receiver has 80 W (6 ohms, 0.06% THD) per output channel when two speakers are driven. In addition, this receiver is equipped with bi-amp ability. Therefore, you can connect your speakers directly to it and use the receiver as a power amplifier for high-quality sound reproduction without losing the dynamics that often accompany passive loudspeakers.
Yamaha RX-V4A is an excellent home theater receiver for the newer AV formats. The Yamaha RX-V4A also has a variety of input jacks that allow for many different options for connecting external devices. In addition, this receiver comes with many features such as 4 HDMI inputs, network capabilities through RJ45 input, USB input and outputs, two digital optical audio output ports, and analog audio out port. It also has built-in Bluetooth and Wi-Fi so that you can connect it in different ways.
The video quality of the Yamaha RX-V4A receiver is not bad. The picture is clear and with ample color depth. This receiver is equipped with HDR10+. A new standard for high dynamic range video offers improved contrast, excellent brightness, and enhanced color. In addition, Yamaha RX-V4A supports a 4K Ultra HD video passthrough, allowing you to watch your favorite movies and TV shows in stunning detail. The Yamaha RX-V4A receiver is also an 8K (up to 60p) capable device that delivers excellent video quality.
Sound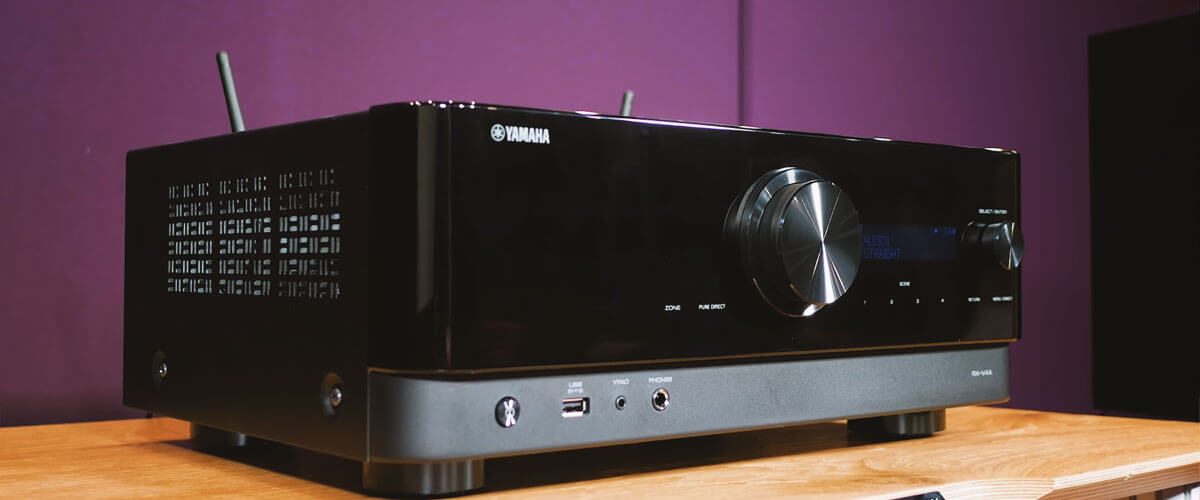 When it comes to sound quality, the receiver is clear and sounds great. In addition, the Yamaha is not distorted when you turn the volume up to its maximum setting.
The Yamaha RX-V4A is an excellent receiver for listening to music. The sound quality is excellent, and the surround sound effects are powerful. Additionally, it supports Dolby Digital Plus decoding. It provides an immersive opportunity for watching videos, TV shows, and games.
However, some people argue that it has a little bit of bad sound quality when watching movies, compared to the sound quality in music. The problem is that it does not have any preset modes for watching movies, so when you choose "Movie" mode, the only thing that would change is that dialog will be louder. Sometimes, that's not enough.
Verdict about Yamaha RX-V4A receiver
Summing up Yamaha RX-V4A features, it is an excellent receiver for home theater and music listening. Dolby Atmos, built-in Wi-Fi, and Bluetooth, AirPlay, and MusicCast make it enjoyable to use. If you're looking for an easy way to create the perfect sound in your home theater, this receiver is highly recommended and worth buying it.
Onkyo TX-SR393
We have prepared an Onkyo TX-SR393 review. The TX-SR393 is an excellent receiver that offers excellent value. It has many features not found on other receivers in its price range.
For example, it has built-in Bluetooth that allows you to stream music from your phone or tablet. It also has an HDMI port with a 4K passthrough and HDCP 2.2 support, which allows you to take full advantage of the latest high-resolution video formats. Finally, it has a built-in FM tuner, which you will not find in many other receivers.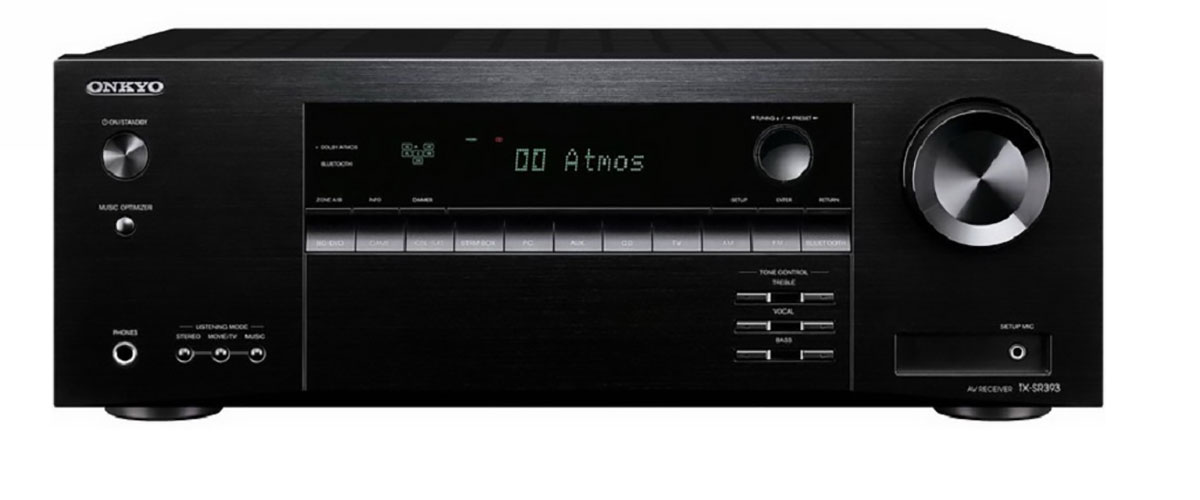 Build and design
Let's begin with Onkyo TX-SR393 features. The receiver's dimensions are 17 1/8"" x 6 5/8"" x 12 15/16"" inches, and it is 18.1 lbs in weight. The front panel has a clean and clear design. The front panel has a power button, input selector, volume knob, and headphone jack. The back panel has speaker terminals, an antenna connector, different inputs, a USB port, and HDMI ports.
A small display in the middle of the front panel shows the current input and volume level. Around the display, four LED indicators show which input is selected: Analog, Optical/Coaxial, and two HDMI inputs.
There is also a remote control. It is essential, but it gets the job done. It has all the standard buttons you would need, such as power, volume up/down, input, and surround mode. Plus, it's backlit, making it easy to see in the dark.
Features and specs
Onkyo TX-SR393 is a 5.2 channel A/V Receiver with 80 Watts, 0.08% THD of audio output when 2 channels driven. TX-SR393 is a receiver that allows you to enjoy many features. For example, it supports Zone B line-out. In addition, it allows users to send audio from the receiver to a second location, typically in another room.
Onkyo TX-SR393 has HDMI, Optical, and AUX inputs, a USB input that you can play music directly from your mp3 player or phone, a headphone output, and coaxial input. The rear panel of Onkyo TX-SR393 has several audio output ports. It also houses an antenna port for picking up FM broadcast signals. In addition, there are two RCA connectors for the analog input source, along with a dedicated digital coaxial connector. The speaker terminals are similar to the ones on the front. This model doesn't have built-in Wi-Fi, but you can connect your mobile phone, TV, DVD player to it via Bluetooth.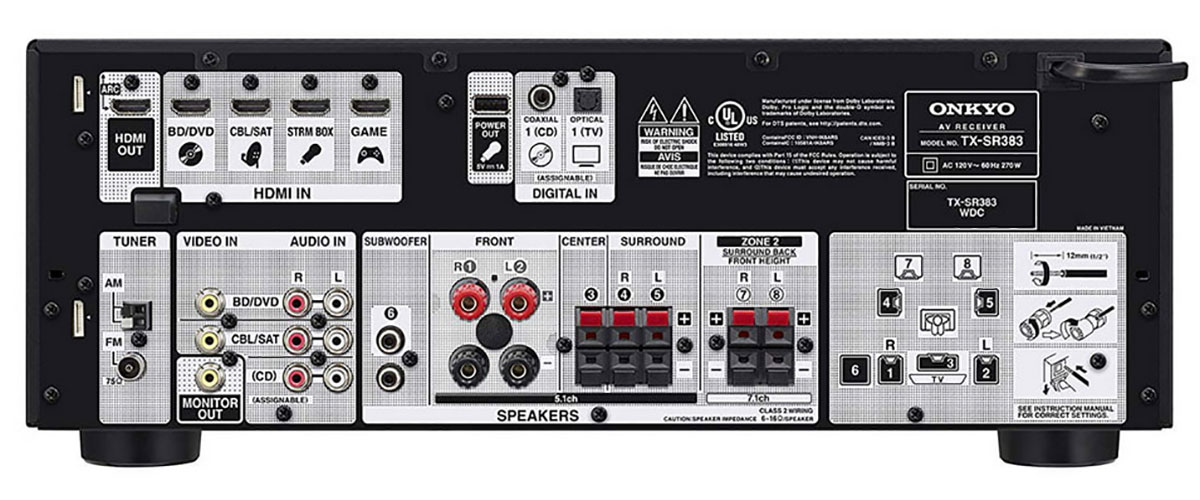 As Onkyo TX-SR393 video specifications, have Ultra HD Pass that supports 4K (up to 60p) video signals. It makes your movies come alive. It plays all types of media files, including high-definition blu-ray discs, making it worth buying for movie buffs. A high-quality video processor guarantees the highest image quality by minimizing noise and improving color gradation. In addition, the upscaling function converts standard definition material to Full HD for an improved picture, even on large screens.
Sound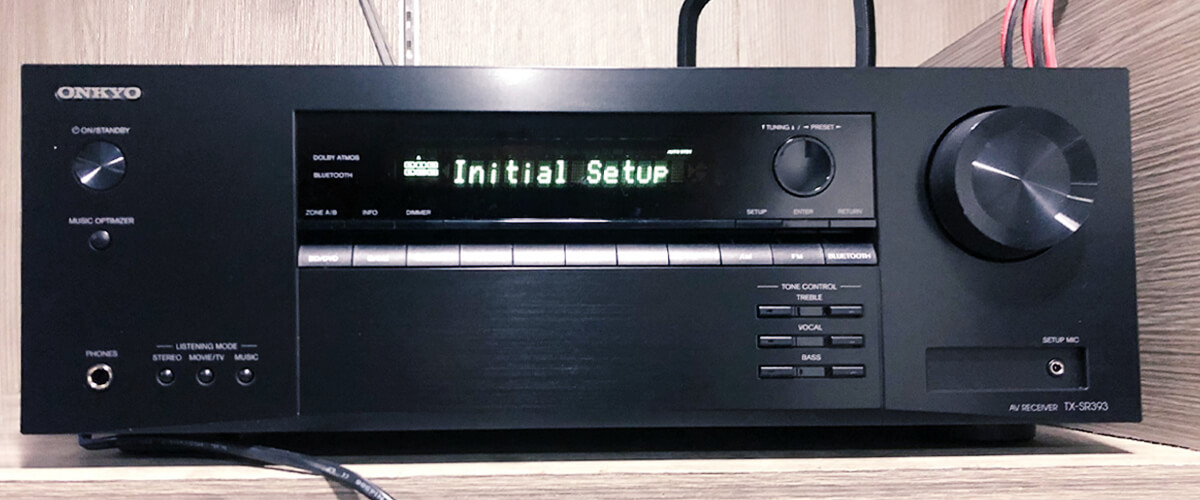 It has an excellent sound quality, and it can easily play almost all types of file formats, including MP3, WMA, AAC, WAV, FLAC, and DSD. In addition, the TX-SR393 also supports Dolby Atmos and DTS:X, which are two of the latest audio formats. As a result, it allows you to experience a more immersive sound with better quality.
The sound of the Onkyo TX-SR393 is perfect for watching movies. This receiver brings the movies to life and makes you feel like you are right in the middle of the action. The low, mid, and high frequencies are well balanced, but it lacks some power in the bass frequencies. When watching an action movie, you will notice this effect with explosions or car chases. This aspect can be compensated by adding a subwoofer to the system.
Verdict about Onkyo TX-SR393
The Onkyo TX-SR393 is the perfect amplifier for those who want to enjoy a genuinely cinematic soundscape. It's powerful enough to deliver performance that will satisfy even the most avid audiophile, but it does so without compromising on convenience or affordability. So if you're looking for an upgrade from your current system, you should pay attention to this model.
Pioneer Elite VSX-LX104
You might be scrolling through hundreds of customer reviews and see that all receivers have a lot to offer their users. But are they the right option for you? In this Pioneer Elite VSX-LX104 review, I will take a closer look at the features and performance of the VSX-LX104 to help you make an informed decision.
Whether you are already familiar with home theater receivers or this is your first time shopping for one, I hope that my insights will be of use to you.
Build and design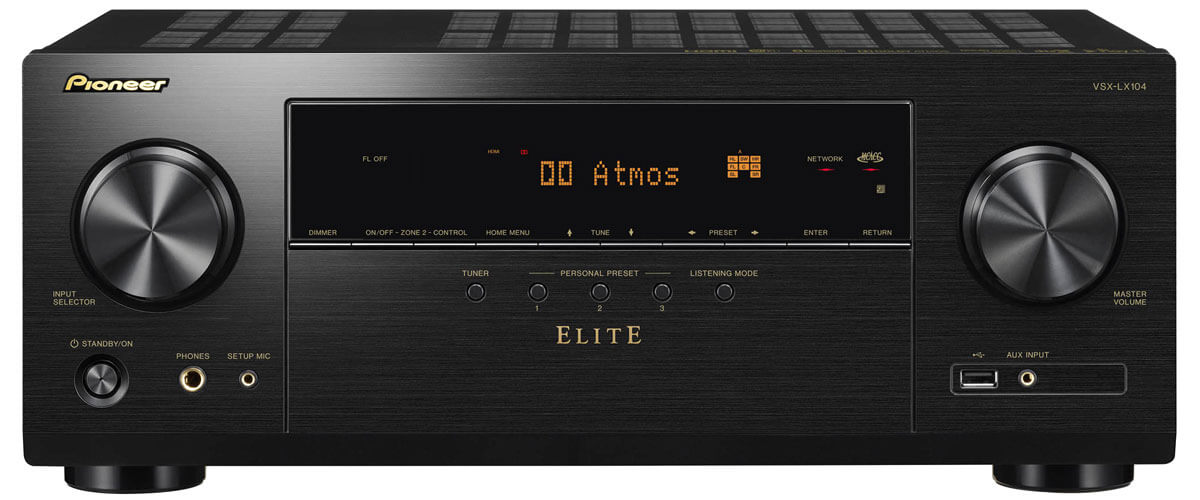 The Pioneer Elite VSX-LX104 measures 14.56 x 17.13 x 6.81 inches and weighs 20.7 pounds. While it is not the smallest or lightest receiver on the market, it is still manageable enough to fit comfortably into most home theater setups.
The front panel has a brushed aluminum finish and is adorned with a Pioneer logo. There is also a row of buttons for navigating the on-screen menus. The buttons and knobs are all easy to access and clearly labeled, making it simple to make adjustments on the fly. All the connections and controls are located on the back panel: speaker terminals, inputs and outputs, power cord and ports. The VSX-LX104 also includes a remote control.
Features and specs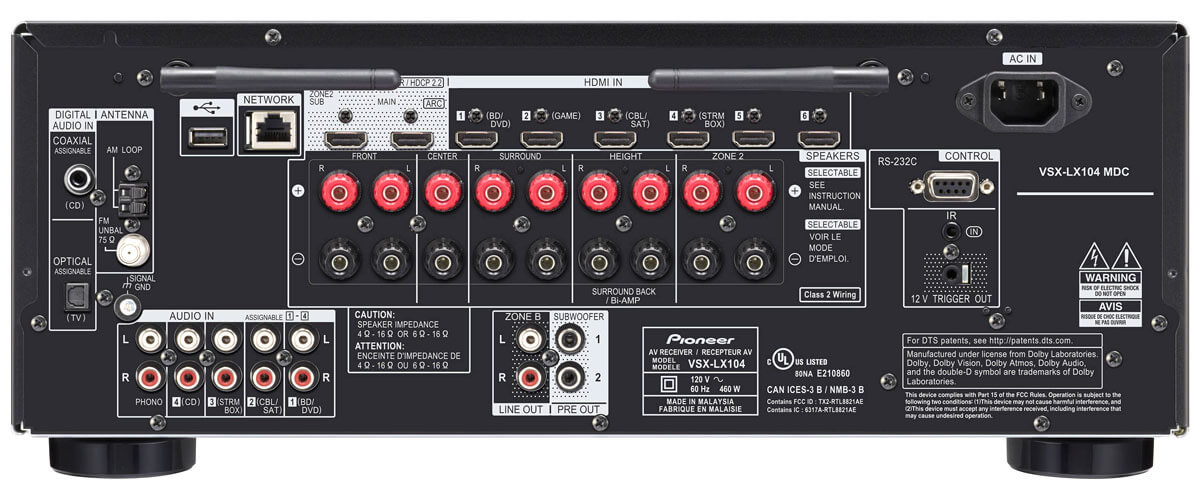 The Pioneer Elite VSX-LX104 is a 7.2-channel receiver, each of its channels can handle up to 80 watts of power. In reality, I wouldn't say it sounds so much more powerful than other receivers that claim to have fewer watts of power. However, it's not bad and is able to drive most speakers without issue.
The receiver also has a Bi-Amp function which can be used to drive a pair of speakers with separate amplifiers for the high and low frequencies. This feature improves sound quality, especially with speakers that are not able to handle a lot of power. Zone 2 Sources allows you to send audio from the receiver to the second room in your home, perfect for watching TV or listening to music while someone else is using the main TV or audio system.
In terms of connectivity, the VSX-LX104 has everything you need. It includes 6 In and 2 Out HDMI inputs, a phono input, 6 analog inputs, a headphone output, and more. Thanks to this, I could connect all the devices I use at once, among which were my cable box, Blu-ray player, and turntable.
You can also connect the receiver to your network and use Pioneer's iControlAV5 app to control all of its functions from your smartphone or tablet. In addition, Pioneer Elite VSX-LX104 features many popular streaming services.
The VSX-LX104 also includes a variety of sound modes to help you get the most out of your audio. These modes include Auto MCACC (which automatically adjusts the receiver's settings to match your speaker setup), Direct Stream Digital (for listening to high-resolution audio files), and a variety of other modes that are specific to different types of content.
Sound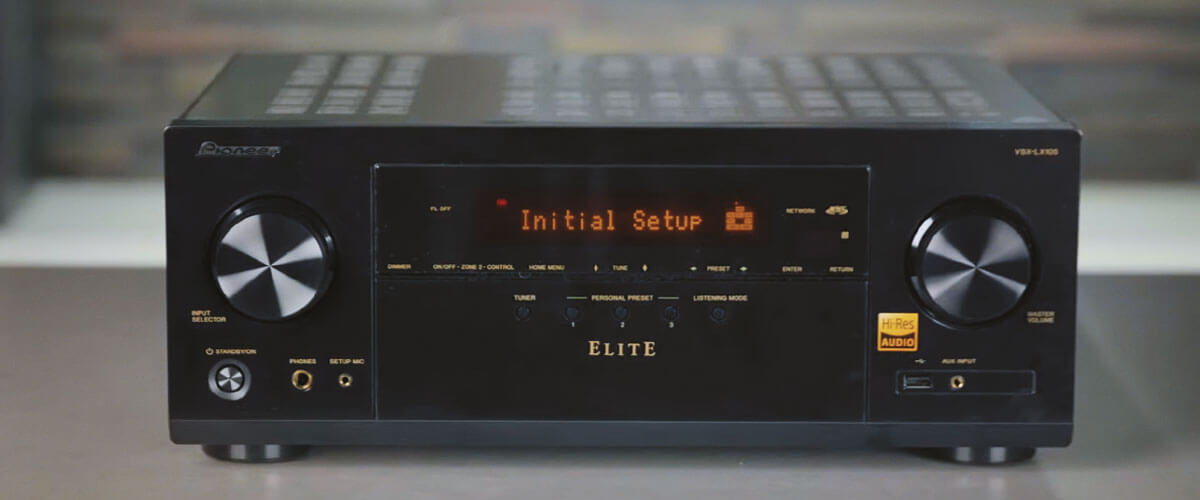 Overall, due to its specifications, Pioneer Elite VSX-LX104 is an excellent performer. The various sound modes did a good job of tailoring the sound to match the type of content I was playing. When watching action movies or listening to music, I didn't feel like the bass was overpowering or muddled.
I was also impressed with the receiver's ability to handle low-frequency sounds. With the support of various audio decoders and formats, the receiver adds height information to the soundscape, making it seem like the sounds are coming from all around you. All music with vocals sounded clear, and I didn't notice any distortion at high volumes.
Verdict about Pioneer Elite VSX-LX104
To sum up, the Pioneer Elite VSX-LX104 is all about exceptional sound quality and a wide range of features. If you are looking for a receiver that handles most types of content and performs well, VSX-LX104 can make your theater experience remarkable.
FAQ
Do you need a special receiver for Dolby Atmos?
To get Dolby Atmos in your home, you will need an A/V receiver that can decode it.
How do you use Dolby Atmos on a receiver?
To use Dolby Atmos on a receiver, you need to first enable it in the settings. Usually, there's a Dolby Atmos setting in the speaker setup menu that needs to be activated before purchase.
Programs that support Dolby ATMOS can decode and playback sounds outside of traditional channels on home theater devices that are compatible with the technology. When an ATMOS soundtrack is played, the program will create a virtual surround soundscape by positioning sounds above and around the listener. Some newer movie theaters also have Dolby Atmos installed in the theater itself, providing an even more immersive experience.
To get the most out of Dolby Atmos, you need to have a surround sound speaker setup. This typically involves placing Atmos-enabled speakers in the front and rear of the room, as well as a subwoofer for bass. If you don't have Atmos-enabled speakers, you can still enjoy the technology by using a Dolby Atmos-enabled receiver and adding height speakers at the top of your listening area.
What is needed for Dolby Atmos?
You need height speakers. If you have enough money and room, you can install 4 or 6 height speakers in your ceilings. Otherwise, you can use a 5.1.2 setup with 2 height speakers.
Do you need eARC for Atmos?
No, you don't need eARC for Atmos. I have a receiver that does not have eARC, so I use the optical audio out to connect to my Atmos speakers. The sound quality is excellent and I don't have any issues.
Do more expensive receivers sound better?
There is no definitive answer to this question. AV receivers can vary in price from as little as $50 to as much as $10,000. While
more expensive AV receivers
may offer more features or better sound quality, this isn't always the case. It's important to do your research and find an AV receiver that suits your needs and budget.
We are supported by our audience. When you purchase through links on our site, we may earn an affiliate commission at no extra cost to you.
Our newsletter
* We will never send you spam or share your email with third parties