When it comes to AV receivers, there's no hotter debate than Denon vs Onkyo! So let's compare the receivers of two industry leaders: Denon AV receivers and Onkyo AV systems. Find out which is best for your media needs as we look at their sound quality, features, design options, and more!
To identify which option is superior for each price range, we have compared the top models of various brands. Our goal? Make sure you pick the absolute best product available on the market today!
Basic information about Denon and Onkyo
Denon and Onkyo are two of the leading home theater brands in the world. They are well-known for their high-quality sound systems, innovative technologies, and wide range of products. Denon is the oldest brand of the two, starting in 1910 as a maker of gramophones and other audio equipment. It has since expanded its product line to include home theaters, multi-room audio systems, 4K projectors, and more. Onkyo has been around since 1946 and is considered one of the top brands in home theater sound systems. It produces various products in many settings, including home theaters and multi-room setups.
People choose Denon and Onkyo for several reasons. The first is their high-quality sound. Both brands produce audio systems that deliver deep bass, clear highs, and excellent sound quality. They also produce AV receivers with a wide range of features, from advanced Dolby Atmos technology to streaming capabilities, making them ideal for home theaters. Finally, they offer a range of products at various price points, so you can find something that fits your budget. You can get a top-notch home theater experience with Denon and Onkyo without breaking the bank.
Mid-price Denon and Onkyo receivers comparison
Denon AVR-X3800H
The Denon AVR-X3800H is a good option for people who want a potent AV receiver with many features. It does very well in everything, with excellent audio and video quality. And it has many features that make it perfect for a home theater setup. So if you want an AV receiver that can do everything, the Denon AVR-X3800H is the one you want.
Build and design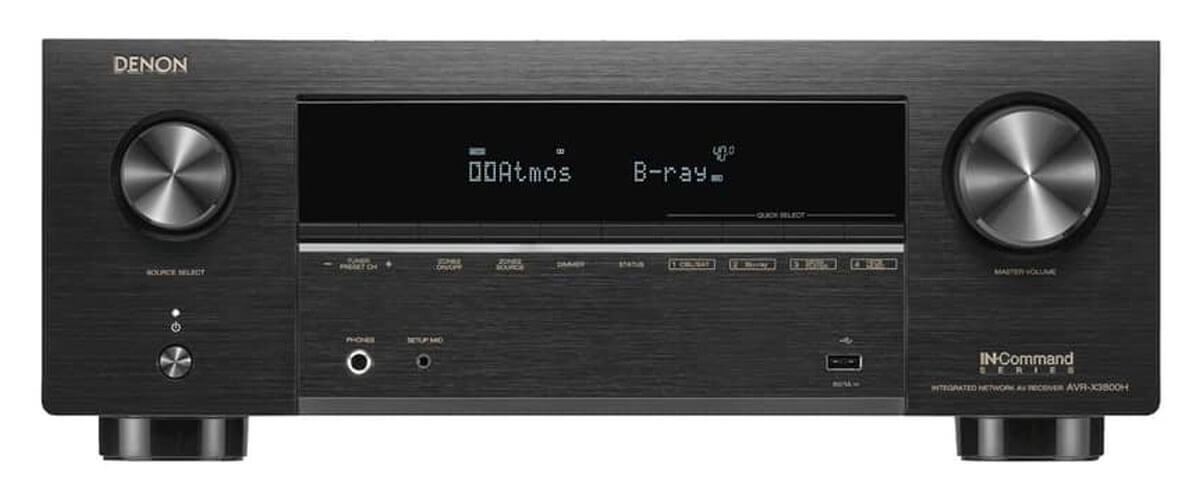 The receiver's front panel also has four Quick Select buttons that allow you to save and retrieve your favorite audio settings. The display is big and easy to see. You can use the status button to change it or the dimmer button to make the light softer. The headphone jack lets you connect headphones to the device or use the Bluetooth transmitter to connect wireless Bluetooth headphones.
There are banana plugs on the back panel for the speakers, an FM antenna input, and a spot to plug in the AC power adapter.
Among the cons of the design is there are no leveling feet on the bottom of the receiver. Getting the receiver perfectly level can be challenging, especially if you're placing it on a shelf.
Features and specs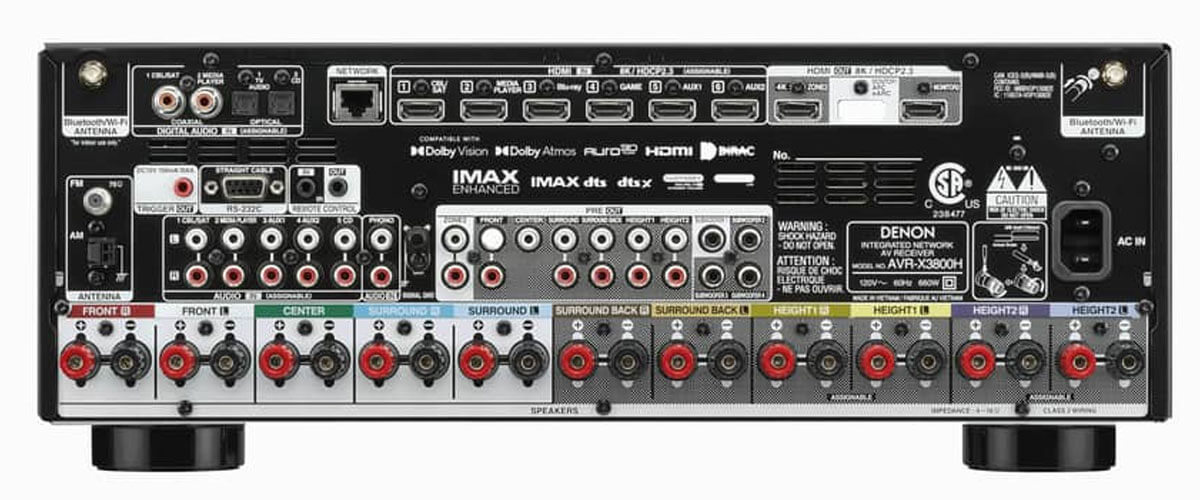 This product supports various audio formats, including DTS HD Master, DTS:X, DTS Neural:X DTS, Virtual:X, and IMAX Enhanced. It also supports Dolby TrueHD, Dolby Atmos, Dolby Atmos Height Virtualization, and Dolby Atmos Music. Additionally, it features Audyssey Dynamic EQ and Dynamic Volume for an optimized listening experience.
The Denon AVR can be upgraded to Dirac Live for even better sound quality. You can control the device with voice assistants like Alexa or Google Voice Assistant and the HEOS app on your smartphone.
It has six HDMI inputs and two multi-room zones. This product is compatible with the Remote APP for Smart Phones Denon 2016 AVR Remote.
The Denon AVR-X3800H has nine power amps and can output 105W of power at 8 ohms and 20 Hz - 20 kHz with 0.08% 2ch drive. It can also output 135W of power at 6 ohms and 1 kHz with 0.7% 2ch drive or 215W of power at 6 ohms and 1 kHz with 10% 1ch drive.
Sound quality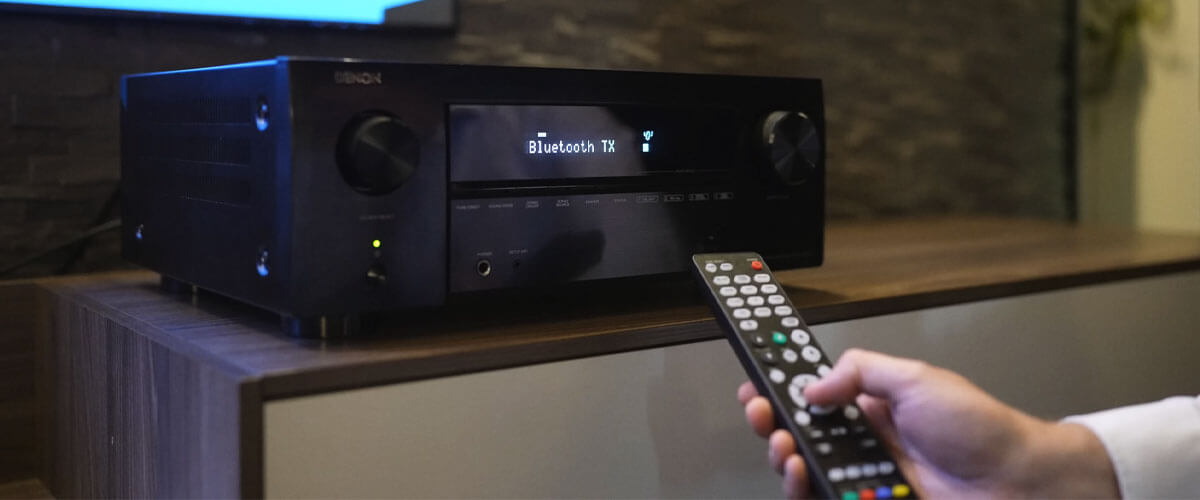 The receiver is doing a great job of bringing life to the sound. The overall tone and volume level are complete, and the receiver allows me to hear things in a mix I've never heard before.
The sound is both fuller and warmer than I had expected. Moreover, it packs quite a punch for its size and boasts several features that are usually only available on more expensive models.
It had excellent sound quality and was easy to use, but it couldn't play loudly without overheating. At 50 volume or higher, the heat became too much for the product.
The sound emitted by this unit is fantastic anywhere between volumes 40-45. However, once it gets to 50, the noise becomes too overwhelming, and at 60+, the music begins to distort because of my input settings, particularly for the bass. Although, if I'm using it for home theater, 62.5 on that specific input sounds best even though it's much louder than what's comfortable for listening to music.
This product provides stunning sound quality. However, it can be complicated to set up, so if you're looking for a basic stereo system, this is not the right choice. On the other hand, if you want an immersive listening experience, buy this product and enjoy sounds you've never heard before!
Verdict about Denon AVR-X3800H
Overall, the Denon AVR-X3800H is an excellent AV receiver with great sound quality and many features. Its design is attractive and easy to use, and it can be upgraded to even better sound quality with Dirac Live. In addition, it's compatible with various audio formats, including DTS HD Master, DTS:X, DTS Neural:X DTS, Virtual:X, IMAX Enhanced, Dolby TrueHD, Dolby Atmos, Dolby Atmos Height Virtualization, and Dolby Atmos Music.
Onkyo TX-RZ50
Are you searching for a powerful yet affordable home audio system and want to know if the Onkyo TX-RZ50 is right for you? Well, we've done all the hard work for you by testing this powerful amplifier and speakers, so let us tell you what we found. The Onkyo TX-RZ50 9.2-Channel AV receiver has proven to be an excellent pick for adding quality sound to your home.
Build and design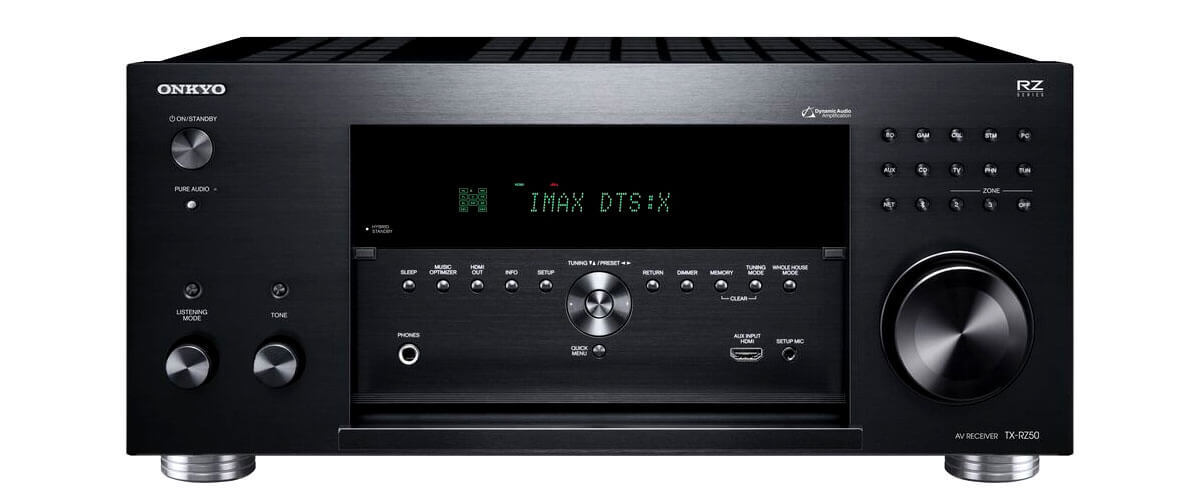 The Onkyo TX-RZ50 has a front panel with buttons and knobs. It is designed to look nice and has simple controls for adjusting the sound. The main power button is at the panel's top, with volume and input selection buttons below. The Tone Control knobs are on either side of the center display, allowing quick sound adjustments. Finally, a headphone jack is located at the bottom for private listening. These controls can customize your home theater experience quickly and easily.
The Onkyo TX-RZ50 also features a sleek and modern look with black accents and silver trim. This combination of colors helps it stand out while still providing an elegant look.
The Onkyo TX-RZ50 has dimensions of 17 1/8˝ x 7 15/16˝ x 15 11/16˝ (435 x 201.5 x 398 mm), making it a relatively small and portable device. Its weight also reflects this as it weighs only 30.9 lbs. (14.0 kg), making it light enough to be carried around easily.
Features and specs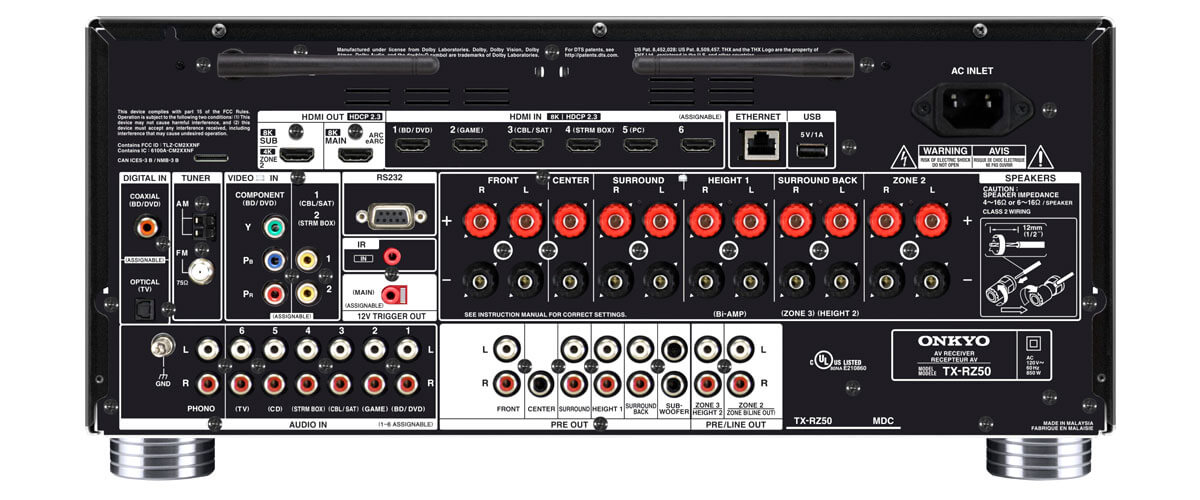 The Onkyo TX-RZ50 is a unique audio amplifier that offers superior sound quality and performance. It boasts 250 W/Ch of THX® Certified Select RZ Series Dynamic Audio Amplification, meaning it can provide a powerful and crisp sound to any home entertainment system. It is also IMAX® Enhanced certified for an immersive signature sound by DTS:X®, providing a true cinematic experience.
The device features 11.2-ch processing and pre-outs for 7.2.4 layouts, allowing you to get the most out of your surround sound system at home. In addition, it can be controlled with Hey Google or Alexa, making it easy to use.
The Onkyo TX-RZ50 is also equipped with a range of HDMI® inputs. Inputs 1-3 and the Main/Sub out support 8K/60AB and 4K/120AB, while inputs 4-6 support 8K/60B and 4K/120AB. The front HDMI input supports up to 4K/60 (HDMI 2.0). There's also an HDMI Sub/Zone 2 Out that can transmit media to a second display.
Onkyo TX-RZ50 supports Bluetooth® wireless technology, allowing you to send or receive audio easily. In addition, it features RX mode (SBC/AAC) and TX mode (SBC/Qualcomm® aptX™/aptX HD), providing superior sound quality when streaming music or other audio content.
In addition, the AVR is compatible with 4K/120, giving gamers an ultimate gaming experience. With this level of resolution, you'll enjoy the most stunning visuals and smooth gameplay from the comfort of your home.
For music lovers, the receiver is also Sonos Certified, meaning it can easily integrate into existing Sonos audio systems for expanded sound options. So whether streaming music or playing it through a CD player, you can experience your favorite tunes in crystal clear sound.
Sound quality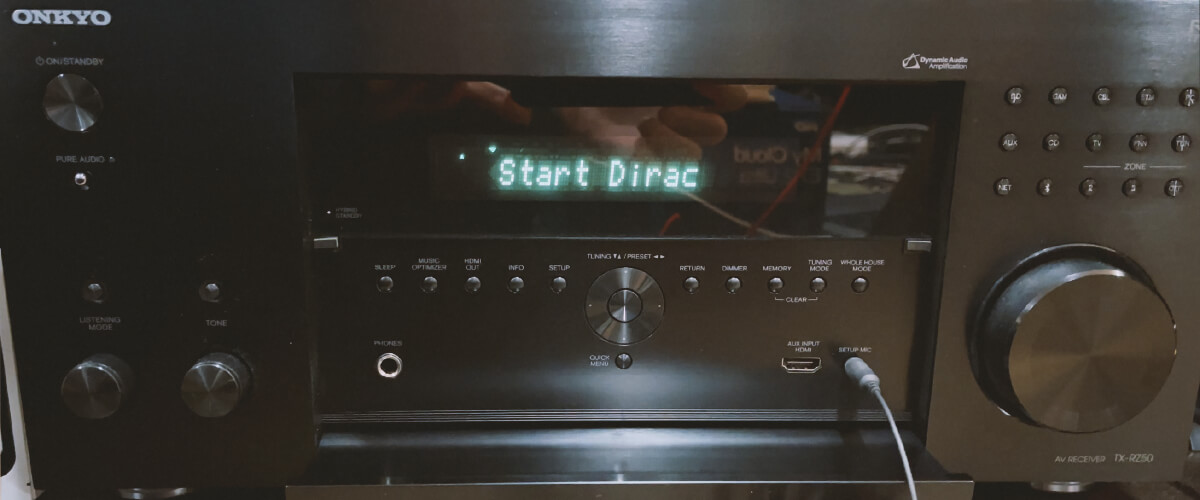 The sound from the Onkyo TX-RZ50 is really good. It makes everything you hear sound clear and crisp. The soundstage is wide and detailed, making it easy to pick out individual sounds in the mix. The bass response is tight and precise, giving plenty of power when needed without being too overpowering. Voices are natural and clear, while the highs have good sparkle without sounding harsh or grating. It also has a lot of dynamic range, allowing a wide range of music types to be enjoyed.
All in all, this receiver's sound quality is excellent, something that both seasoned audiophiles and novices alike can appreciate.
The Onkyo TX-RZ50 truly shines after being calibrated with DIRAC, making movie watching an unparalleled experience! It not only adds clarity and precision to sound across the frequency range but also offers features such as adjustable dialogue enhancement, bass management, and subwoofer equalization. In addition, with DIRAC's unparalleled acoustic manipulation capabilities, your Onkyo TX-RZ50 will become a truly immersive home theater experience!
Verdict about Onkyo TX-RZ50
The Onkyo TX-RZ50 is an impressive receiver that offers a wide range of features and options for both audio enthusiasts and casual listeners.
This product is truly outstanding - it was effortless to get up and run, and the audio quality is incredibly clear. It's of note that this item outperforms many others in its price range!
The Onkyo TX-RZ50 AV receiver is an excellent choice for anyone in search of a feature-packed and powerful home theater receiver!
The Denon AVR-X3800H and the Onkyo TX-RZ50 are excellent mid-price receivers, offering superb sound quality, a range of features, and a sleek design. Both receivers have similar audio specifications, including support for Dolby Atmos, HDR10+, and up to 8K passthrough.
I believe Onkyo does better regarding sound quality, even though it may not have as many features. Nevertheless, its performance is more reliable.
Denon AVR-X1700H
Looking for a great home theater receiver on a budget? The Denon AVR-X1700H is a fine option. It supports the latest audio and video technologies you would expect in $1000's units.
Check out our full Denon AVR-X1700H review, we'll take a closer look at its features and performance to see if it's the right model for you.
Build and design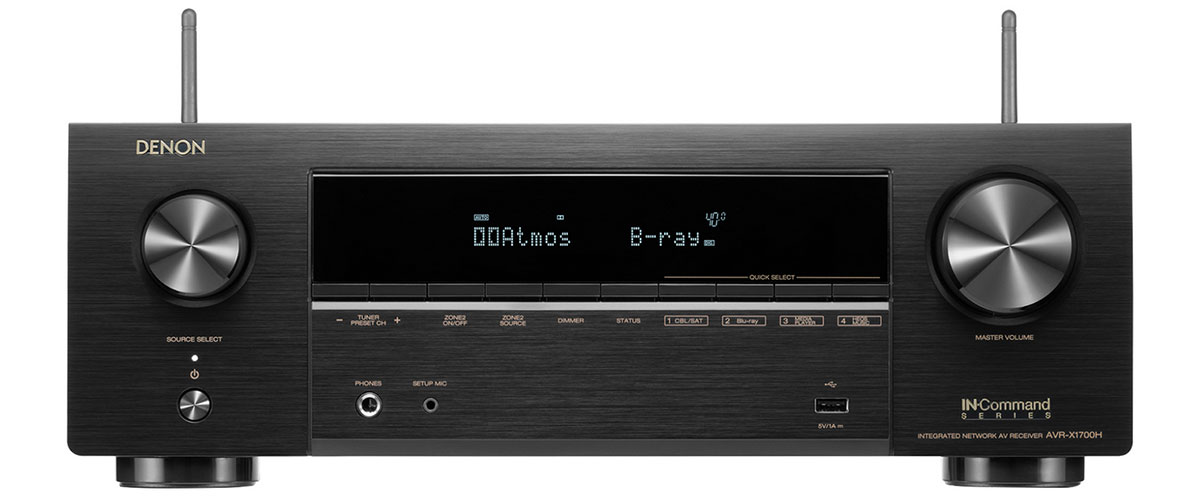 Denon AVR-X1700H is a mid-sized receiver, measuring 17 inches wide, 13.5 inches deep, and 6 inches tall. It weighs about 19 pounds. An uncluttered appearance that will go well with any home theater setup is the trademark of the Denon AVR-X1700H.
The front panel has a clean, minimalist design with a large volume knob, power button, along with a row of buttons for basic control and navigating the menu. The display is small but clear, and it's easy to read from a distance and very intuitive. The rear of the receiver is more complex and contains a good range of connectivity options.
As for me, it would be better to have different colors and symbols representing different menu items, but it seems to be a personal taste judgment. There have, however, been no issues I noticed other than the screen remaining on after adjusting the volume, requiring a second press.
Features and specs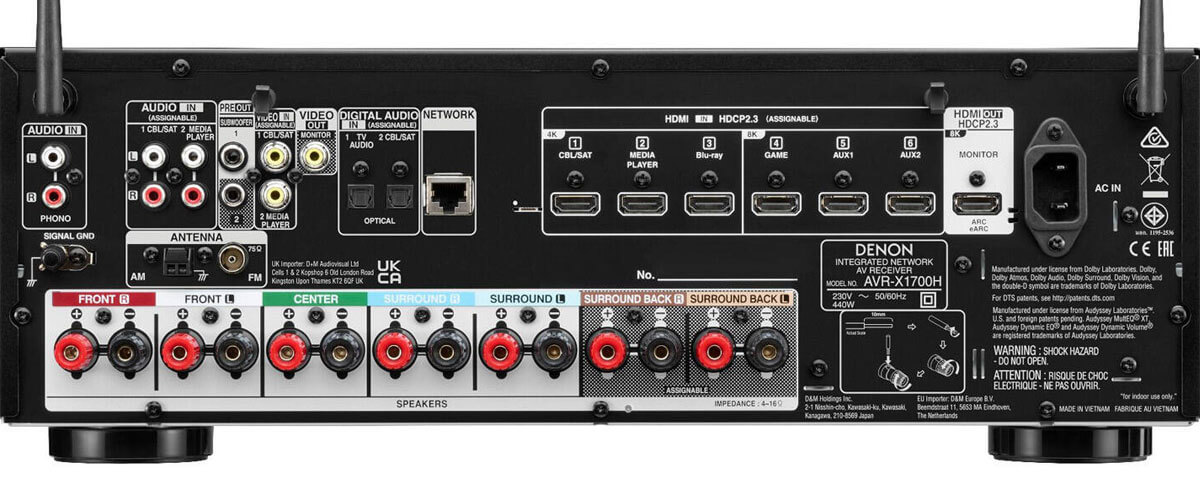 Denon AVR-X1700H's specifications say that it is a 7.2 channel receiver that has 95 watts per channel of power into 8 ohms. It is enough for a medium to large-sized room. I'm typically running 55% volume level for normal TV/voice and up to 75% for loud movies/entertainment. In addition, the Denon AVR-X1700H features built-in HEOS wireless multi-room audio technology, which lets you play music from the receiver in any room of your house. For example, I connected my speakers in the kitchen and could watch a movie in the living room and have the soundtrack playing in the kitchen simultaneously.
Six back HDMI inputs and one main output are on offer, with 8k/60 - 4k/120 max Resolution. Phono input for vinyl enthusiasts is also a nice touch. There are also 2 subwoofer outs for those that like to have beefier bass. The pass-through functionality works great as you can still use the tv without the stereo when you don't need it. I configured Zone 2 for my speakers outside, so AirPlay, HEOS functionality, and streaming integration are super handy to control from a phone without needing remotes. I can control the unit from my phone which is great when we're outside.
Denon AVR-X1700H supports Dolby Atmos and DTS:X, both of which create an immersive 3-dimensional soundscape. Dialog Enhancer is a Denon exclusive feature that helps make speech more intelligible, even in difficult listening environments. The receiver also supports HDR (high dynamic range) video passthrough, which means you can watch HDR content from your Ultra HD Blu-ray player or streaming service and get the full benefit of HDR's enhanced picture quality, with brighter highlights, deeper shadows, and more natural colors. I've watched a few 4k HDR videos and the results were really great.
Sound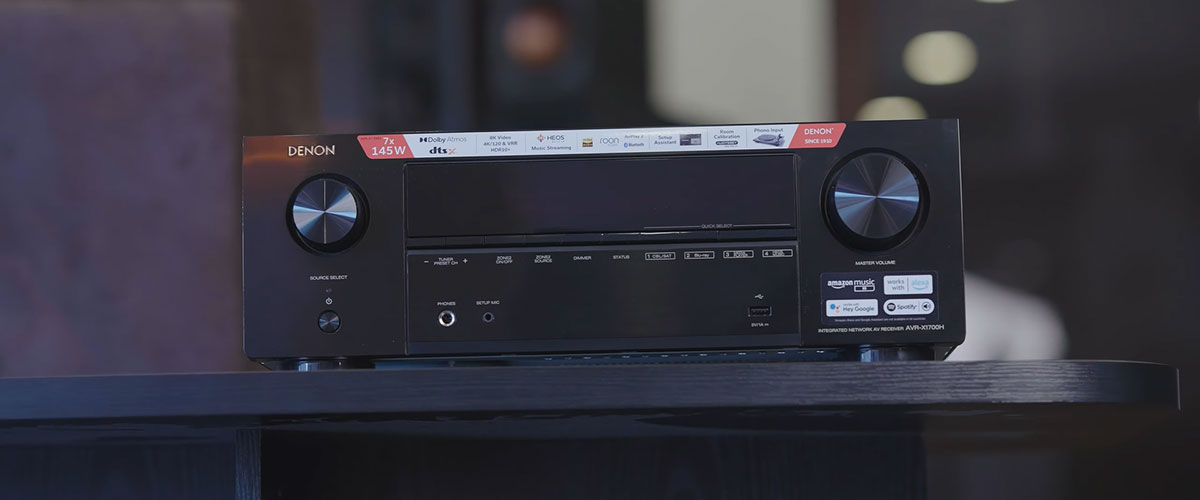 The Denon AVR-X1700H adds great natural tones and excellent clarity. The receiver's ability to create an immersive soundscape is especially impressive, and it makes movies and TV shows feel more cinematic. The bass response is good, although it could be a bit deeper. The receiver's sound quality is sure to please audiophiles and casual listeners alike. Especially I liked the moments in film trailers where the full surround sound, such as wind or a helicopter, kicked in. I could feel like I was in the room with the action happening. But keep in mind that you have to set up a few speakers in front of you and a few behind it. Otherwise, the sound will be flat.
Verdict about Denon AVR-X1700H
I would consider Denon AVR-X1700H to be an advantageous receiver if you want to upgrade a home theater setup on a budget without sacrificing features or performance. It offers enough audio and video formats for significant improvement of sound and picture quality, with no unnecessary features you'll never use.
Onkyo TX-NR6100
With these features, the Onkyo TX-NR6100 is an ideal choice for a powerful home theater receiver with superior audio quality and performance. Whether it's used for movies or music, this receiver will provide an immersive sound experience that goes beyond the ordinary.
Build and design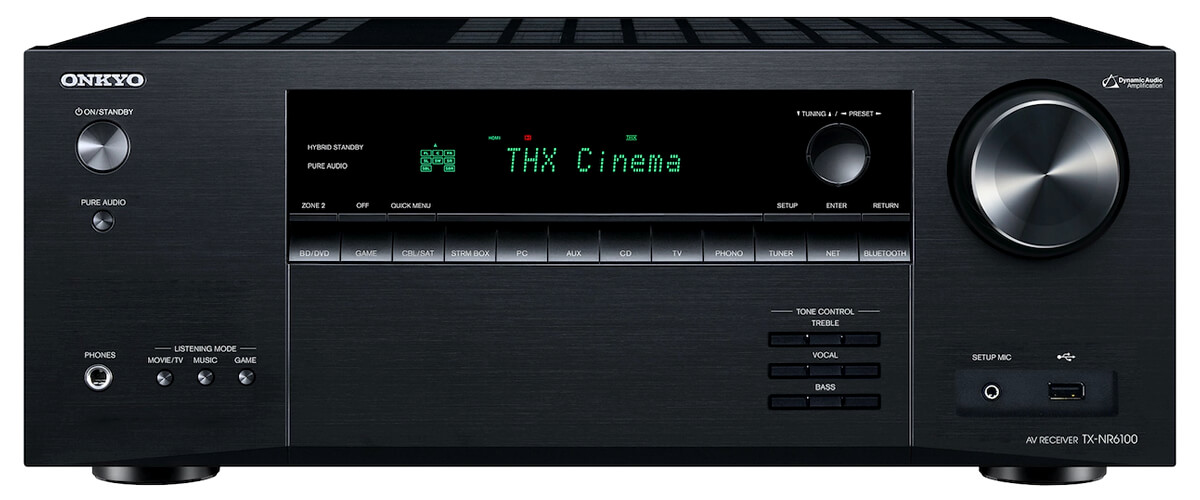 The Onkyo TX-NR6100 is a well-constructed device with an impressive build that makes it stand out in the audio receiver market. Its dimensions are 17 1/8˝ x 6 13/16˝ x 14 15/16˝ (435 x 173.5 x 379.5 mm), providing a solid foundation for the unit and making it easy to fit in any setup. The 21.7 lb (9.8 kg) weight might not be light, but its size is still manageable and should work well even with limited space.
The design of the Onkyo TX-NR6100 looks sleek, with a brushed aluminum front panel and a black finish. The front panel houses various buttons, dials, and other controls, along with an intuitive LCD display that provides quick access to the menu settings. At the back of the unit are ports for connecting audio devices, including HDMI inputs/outputs, digital optical/coaxial inputs/outputs, Zone 2 line-level outputs, and speaker terminals.
Features and specs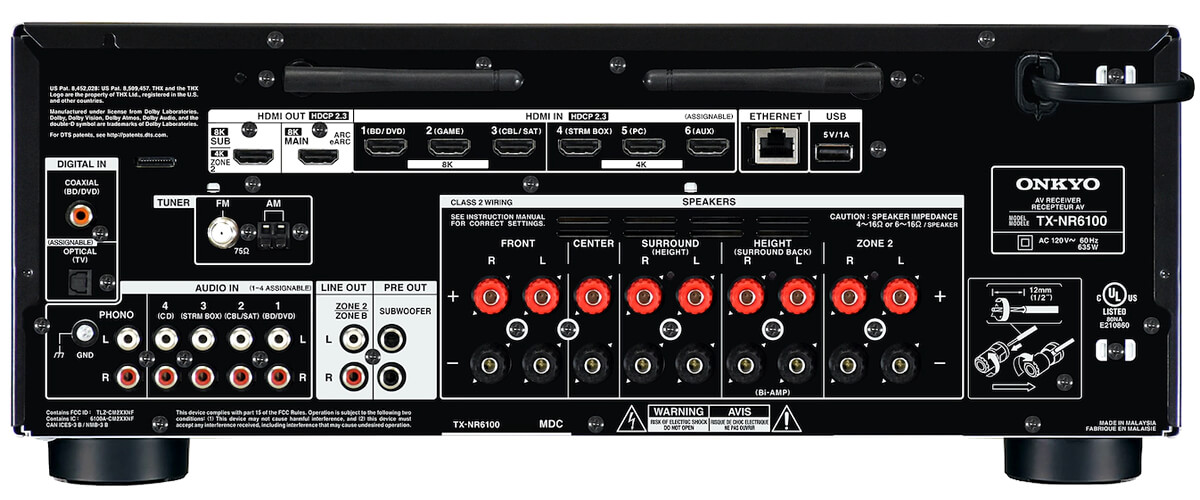 The Onkyo TX-NR6100 is an advanced 5.2.2-channel home theater receiver that offers a wide range of features and specs to provide an immersive movie and music listening experience. It boasts 210 W/Ch (6 ohms, 1 kHz, 10% THD, 1-ch driven) power output and 100 W/Ch (8 ohms, 20 Hz–20 kHz, 0.08% THD, 2-ch driven) for a powerful sound system. It also supports Dolby Atmos and DTS:X playback for an immersive surround sound experience like no other.
In addition, the Onkyo TX-NR6100 also works with popular streaming services such as Sonos, Chromecast built-in™, AirPlay 2, and DTS Play-Fi®. It also supports Spotify®, Amazon Music HD, Pandora®, TIDAL, Deezer, and TuneIn so that you can listen to your favorite music in high-definition audio quality.
Furthermore, the receiver is equipped with HDMI 2.1 features that make it compatible with a range of devices and provide smooth frame-by-frame performance on TV via VRR, ALLM, QFT (Quick Frame Transport), DSC (Display Stream Compression), QMS (Quick Media Switching) and eARC (Main Out). Additionally, it features Bluetooth® wireless technology RX mode with SBC/AAC and TX mode with SBC/Qualcomm® aptX™ /aptX HD for easy streaming.
With these features, the Onkyo TX-NR6100 is an ideal choice for a powerful home theater receiver with superior audio quality and performance. Whether it's used for movies or music, this receiver will provide an immersive sound experience that goes beyond the ordinary.
Sound quality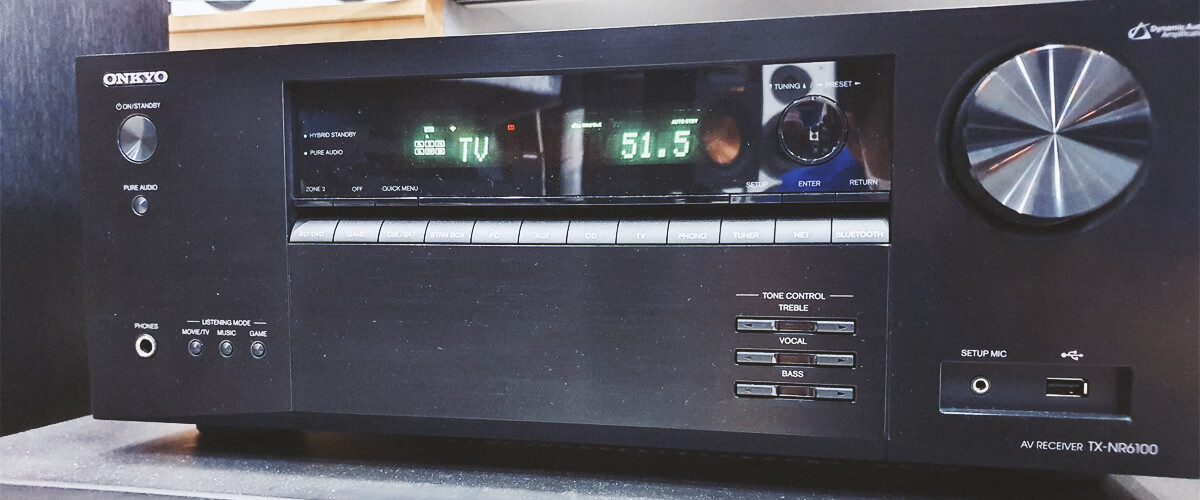 The Onkyo TX-NR6100 provides an immersive and dynamic sound experience. Its 100 watts per channel output creates a vibrant and detailed soundstage with tight highs and powerful lows that stand out from the rest. The receiver utilizes THX certification to ensure crystal clear sound without any signs of artifacts, further enhanced by its compatibility with all major audio formats, such as Atmos, DTS X and Dolby True HD.
Thanks to its advanced calibration system, it can upmix any stereo sound to all your speakers for a more immersive experience. Whether watching an action movie or playing the latest video game, the Onkyo TX-NR6100 delivers a captivating audio experience with you on the edge of your seat.
The frequencies can be easily adjusted with its Graphical User Interface, allowing you to customize the sound according to your taste. The lows and mids are especially adjustable, giving you the power to fine-tune your sound with smooth bass and crisp highs, and the highs can be pushed even further with the help of its Room Acoustic Calibration system.
Additionally, its user-friendly interface makes it easy to set up and use. With the Onkyo TX-NR6100, you can easily customize your audio setup for the perfect listening experience. All in all, it is an entry to the mid-range receiver with high-end sound quality.
Verdict about Onkyo TX-NR6100
The Onkyo TX-NR6100 is an excellent mid-range home theater receiver that provides an outstanding audio experience with its powerful 100 W/Ch (8 ohms, 20 Hz–20 kHz, 0.08% THD, 2-ch driven) output and immersive surround sound capabilities. With its advanced calibration system and user-friendly interface, the Onkyo TX-NR6100 is one of the best available home theater receivers in this price range. Highly recommended!
The Denon AVR-X1700H and Onkyo TX-NR6100 are two of the top home theater receivers on the market. Both offer extensive features and capabilities, allowing users to create a cinema-like experience in their homes. In my opinion, Denon AVR-X1700H has a superior sound quality to Onkyo TX-NR6100 because it possesses more potent amplification and a higher grade DAC.
Budget Denon and Onkyo receivers comparison
Denon AVR-S570BT
Are you looking for an audio receiver system that will provide a home theater-like experience without breaking the bank? Look no further than Denon's AVR-S570BT Audio/Video Receiver. This 5.2-channel receiver is packed with features, offering users unparalleled sound quality, convenience, and more. In this review, we'll look at what sets the AVR-S570BT apart from other receivers on the market and give an in-depth analysis so you can decide whether or not it's right for your audio needs.
Build and design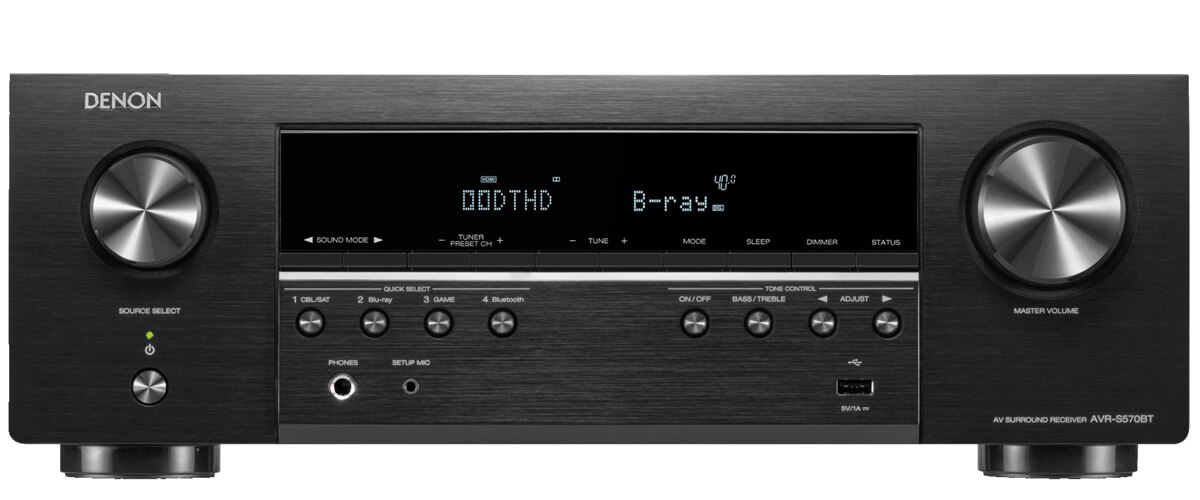 The Denon AVR-S570BT design is nothing short of sleek and stylish. Its black finish with a subtle brushed aluminum trim adds an understated elegance to any living space. Its intuitively placed power button, source controls, and menu navigation are all within reach for easy access.
With the flip of a switch, you can easily select from five external source devices, including USB, Bluetooth, and AM/FM television audio - taking your entertainment to new heights! Then, with a straightforward click of the status button, you can captivate any audience with a stunning display illuminated to perfection. And when it's time for private listening sessions, connect your favorite headphones via the headphone jack and adjust the brightness using its integrated dimmer function.
The Denon AVR-S570BT is the perfect combination of size and power, standing at just 17.1 inches wide by 13 tall with a depth of 6 inches yet weighing only 16.8 pounds!
Features and specs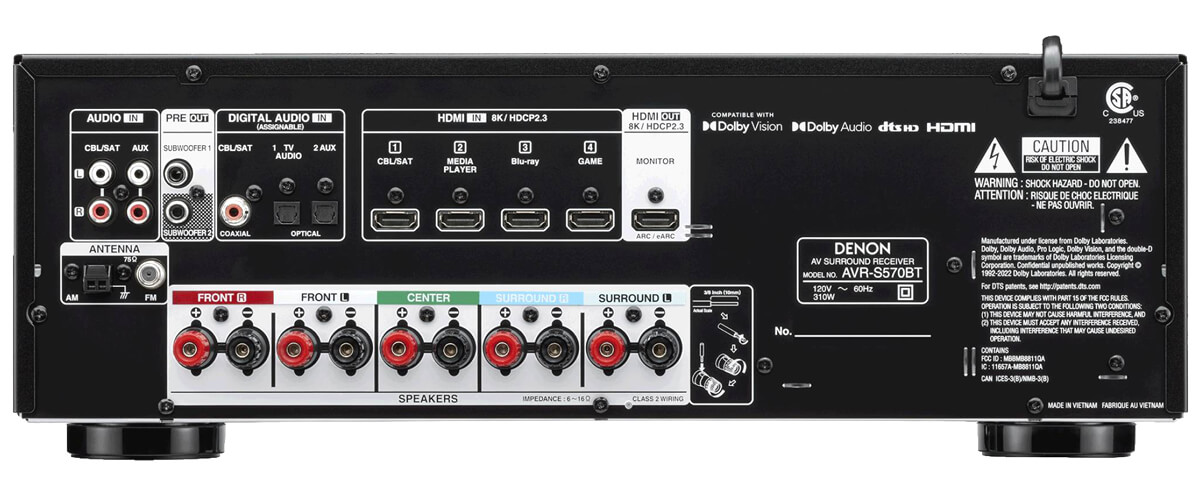 The Denon AVR-S570BT has all the features you need to bring an immersive, high-resolution audio and video experience into your living room. With support for DTS HD Master, Dolby TrueHD, and 5.1 channels of pre-amp processing power, this device is sure to provide a truly cinematic sound in any space. In addition to its impressive audio capabilities, it also comes with 4 HDMI inputs which are all compatible with HDCP2.3 standards and can display 8K/60Hz AB or 4K/120Hz AB images with HDR10+, Dolby Vision and other dynamic HDR technologies for stunning picture quality at home.
The receiver is lacking in certain features that are found on newer devices. One of the most significant drawbacks is the lack of Alexa / Google Voice Assistant / Apple HomePod interaction. This means that automated voice control and intelligent responses to natural language queries are not available. Additionally, a multi-room feature is absent; users cannot playback audio in multiple rooms from the same source. Furthermore, there are no IP Control, RS232 Control, Web Control, or App Control features for remote control and automation. All these features are commonly found on newer audio receivers but not on this model. As such, users should be aware that these functions are lacking if they plan to purchase this receiver.
Sound quality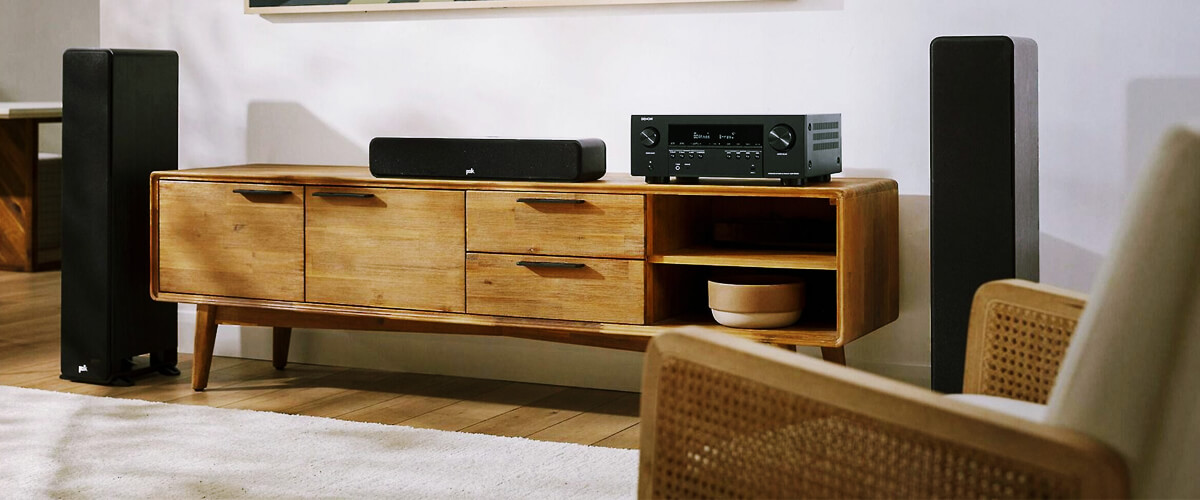 With a great price and even better sound, this is an unbeatable combination of value and quality.
This exceptional product is perfect for creating a majestic 5.2 surround sound experience in your living space - and it even packs enough power to fill larger rooms!
The sound quality is crystal clear, with no distortion or interference from outside noise. It has a wide range of frequency responses, providing deep bass and crisp highs that perfectly capture all aspects of your audio.
The low-frequency sound waves are mighty, providing a rich and immersive experience. The audio is well-balanced, with no overpowering frequencies that can cause fatigue after long listening sessions.
The sound quality is superb, ensuring you get the best possible sonic experience from your 5.2 surround sound system.
Verdict about Denon AVR-S570BT
The Denon AVR-S570BT is the perfect combination of size and power, offering a sleek design with intuitive controls for easy access. In addition, its impressive audio capabilities make it ideal for creating an immersive 5.2 surround sound experience in your living space.
With crystal clear sound quality that offers deep bass and crisp highs without any distortion or interference from outside noise, this receiver provides excellent value for money, making it well worth investing in if you're looking for superior sonic performance at home!
Onkyo TX-SR393
We have prepared an Onkyo TX-SR393 review. The TX-SR393 is an excellent receiver that offers excellent value. It has many features not found on other receivers in its price range.
For example, it has built-in Bluetooth that allows you to stream music from your phone or tablet. It also has an HDMI port with a 4K passthrough and HDCP 2.2 support, which allows you to take full advantage of the latest high-resolution video formats. Finally, it has a built-in FM tuner, which you will not find in many other receivers.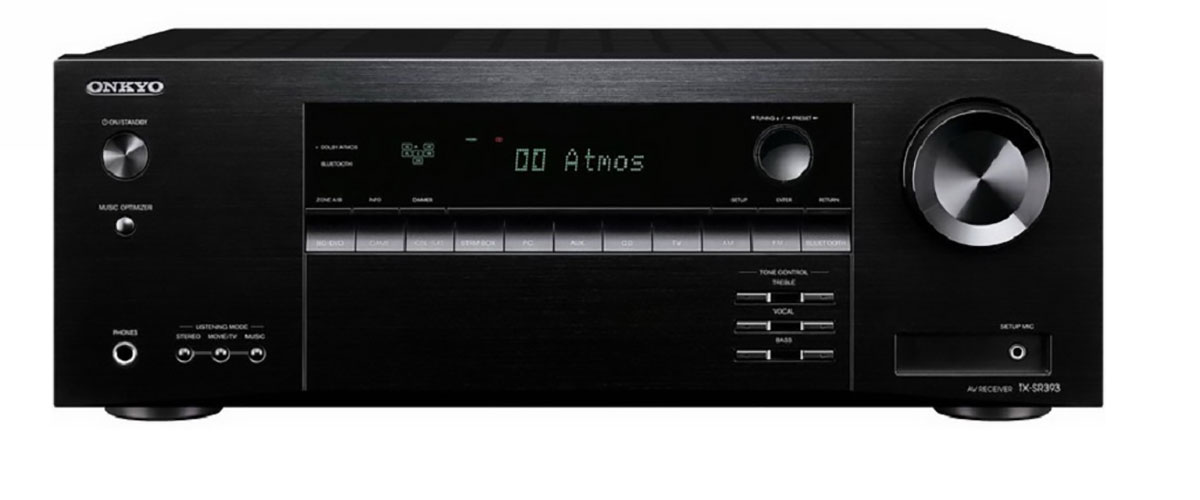 Build and design
Let's begin with Onkyo TX-SR393 features. The receiver's dimensions are 17 1/8"" x 6 5/8"" x 12 15/16"" inches, and it is 18.1 lbs in weight. The front panel has a clean and clear design. The front panel has a power button, input selector, volume knob, and headphone jack. The back panel has speaker terminals, an antenna connector, different inputs, a USB port, and HDMI ports.
A small display in the middle of the front panel shows the current input and volume level. Around the display, four LED indicators show which input is selected: Analog, Optical/Coaxial, and two HDMI inputs.
There is also a remote control. It is essential, but it gets the job done. It has all the standard buttons you would need, such as power, volume up/down, input, and surround mode. Plus, it's backlit, making it easy to see in the dark.
Features and specs
Onkyo TX-SR393 is a 5.2 channel A/V Receiver with 80 Watts, 0.08% THD of audio output when 2 channels driven. TX-SR393 is a receiver that allows you to enjoy many features. For example, it supports Zone B line-out. In addition, it allows users to send audio from the receiver to a second location, typically in another room.
Onkyo TX-SR393 has HDMI, Optical, and AUX inputs, a USB input that you can play music directly from your mp3 player or phone, a headphone output, and coaxial input. The rear panel of Onkyo TX-SR393 has several audio output ports. It also houses an antenna port for picking up FM broadcast signals. In addition, there are two RCA connectors for the analog input source, along with a dedicated digital coaxial connector. The speaker terminals are similar to the ones on the front. This model doesn't have built-in Wi-Fi, but you can connect your mobile phone, TV, DVD player to it via Bluetooth.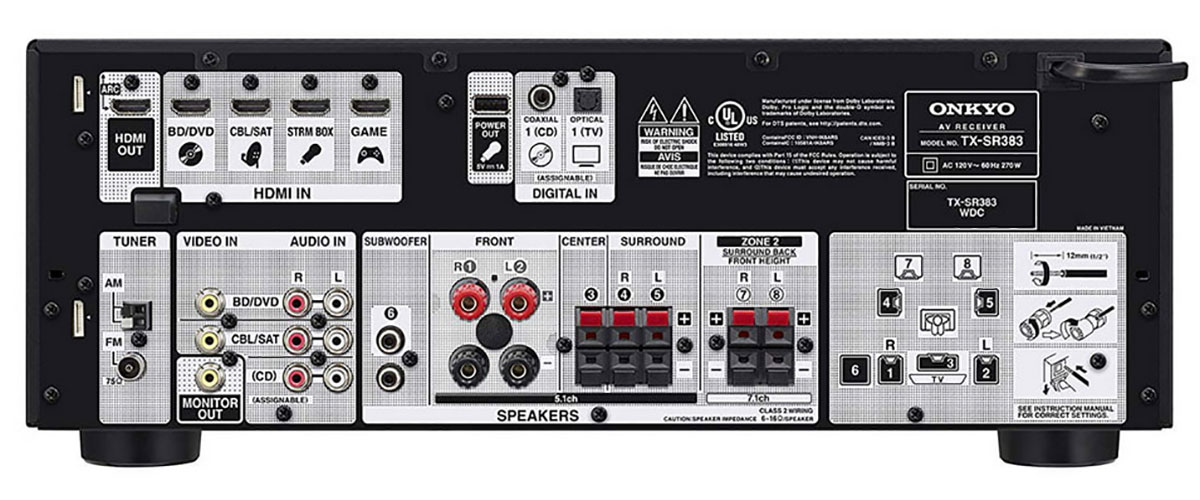 As Onkyo TX-SR393 video specifications, have Ultra HD Pass that supports 4K (up to 60p) video signals. It makes your movies come alive. It plays all types of media files, including high-definition blu-ray discs, making it worth buying for movie buffs. A high-quality video processor guarantees the highest image quality by minimizing noise and improving color gradation. In addition, the upscaling function converts standard definition material to Full HD for an improved picture, even on large screens.
Sound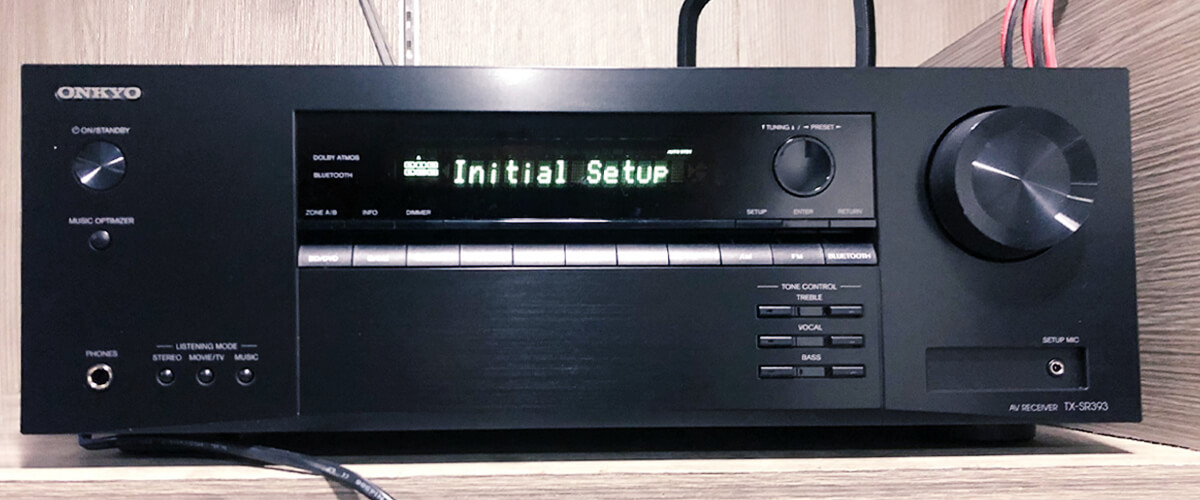 It has an excellent sound quality, and it can easily play almost all types of file formats, including MP3, WMA, AAC, WAV, FLAC, and DSD. In addition, the TX-SR393 also supports Dolby Atmos and DTS:X, which are two of the latest audio formats. As a result, it allows you to experience a more immersive sound with better quality.
The sound of the Onkyo TX-SR393 is perfect for watching movies. This receiver brings the movies to life and makes you feel like you are right in the middle of the action. The low, mid, and high frequencies are well balanced, but it lacks some power in the bass frequencies. When watching an action movie, you will notice this effect with explosions or car chases. This aspect can be compensated by adding a subwoofer to the system.
Verdict about Onkyo TX-SR393
The Onkyo TX-SR393 is the perfect amplifier for those who want to enjoy a genuinely cinematic soundscape. It's powerful enough to deliver performance that will satisfy even the most avid audiophile, but it does so without compromising on convenience or affordability. So if you're looking for an upgrade from your current system, you should pay attention to this model.
The Denon AVR-S570BT and Onkyo TX-SR393 are good receivers that are great for audiophiles on a budget.The Denon is the more expensive of the two, but it is equipped with many advanced features that make it a great choice for those looking for superior sound quality. When it comes to sound quality, both receivers deliver great results. Ultimately, after Denon vs Onkyo receivers comparison, I'm picking the AVR-S570BT from Denon. To me, it sounds like the better option.
FAQ
Is Onkyo still a good brand?
Is Onkyo still a good brand? Absolutely – the audio and video products they produce are some of the best in the industry. With decades of experience behind them, Onkyo has continued to innovate and create products that deliver high-quality sound and visuals.
Their speakers, receivers, and amplifiers are some of the most popular in the world, and they have even released a line of smart products that offer added convenience. Onkyo is also well-known for its reliability – its products are designed to last, so you can rest assured that any product from Onkyo will be reliable and trustworthy.
I recommend Onkyo if you're looking for a reliable brand that makes high-quality products. Their audio and video products are some of the best in the business, so you can trust that your Onkyo purchase will be a sound one.
Does Denon sound better than Onkyo?
The answer depends on individual preferences, as it is subjective. However, Denon and Onkyo both produce excellent sound quality. In addition, both offer advanced technologies to enhance sound quality and create an immersive listening experience. Ultimately, the best sound system for you will depend on your budget, room size, and listening habits. Therefore, it is recommended to do research into both Denon and Onkyo products before making a decision about which one to buy. Additionally, listening to a demo at a store is one of the best ways to decide which sound system will suit your needs.
How long do Denon receivers last?
Denon receivers can last very long with proper maintenance and upkeep. Depending on the model, they can easily last over ten years or more. The key to longevity is keeping it clean and free of dust and other contaminants and regularly checking for any signs of wear or tear. Additionally, it's important to keep the unit properly maintained and always use the right cables and a surge protector to protect your receiver from power surges or other electrical issues. Doing so will ensure you get the most out of your Denon receiver over time.
Additionally, if you're ever unsure about something when it comes to your Denon receiver, be sure to contact an authorized Denon dealer for further assistance. They can provide the best advice regarding caring for your receiver and help you get the most out of it. With proper care and attention, Denon receivers can last many years and offer incredible sound quality.
Are Denon receivers overheating?
Denon receivers are known for their reliability and exceptional performance, but there have been reports of some units overheating. This issue is more likely to occur in heavily used models, as the heat generated increases with extended use. Denon has responded to this issue by increasing the cooling capacity of their receivers and adding more fans or larger fans to improve airflow and reduce the risk of overheating.
Using a Denon receiver, it is important to provide proper ventilation and avoid blocking air intakes or exhausts. Additionally, ensure your unit is connected to a power outlet that supplies sufficient voltage and amperage. Finally, if you notice your receiver becoming unusually hot, it's best to shut it down and contact Denon support for help.
In most cases, properly ventilating your Denon receiver should be enough to ensure that the unit operates at an optimal temperature. However, if overheating continues to be a problem, you may consider purchasing an additional cooling accessory, such as an active cooling fan or fan tray. These accessories can help keep your receiver running at a safe temperature and extend its life.
Finally, if you want added protection against overheating, you can also purchase an extended warranty plan from Denon that covers potential damage caused by overheating. It could give you peace of mind and help you save money in the long run if your receiver ever does overheat.
Ultimately, properly ventilating your Denon receiver should be enough to prevent overheating.
We are supported by our audience. When you purchase through links on our site, we may earn an affiliate commission at no extra cost to you.
Our newsletter
* We will never send you spam or share your email with third parties