The receivers are the heart of any truly great home multimedia system. But how to choose the optimal option among the plethora of brands and models? I and my review of the best Pioneer AV receivers will help you. Why Pioneer? It's simple. It's a well-proven company with a wide range of models. So let's get down to business.
Our pick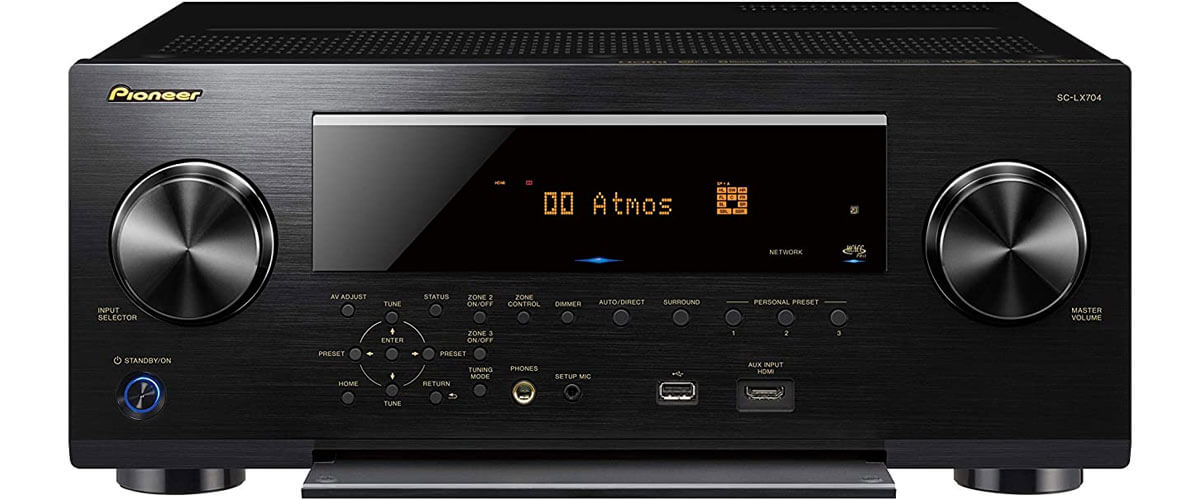 Pioneer Elite SC-LX704
Best Pioneer AV receiver
Pioneer Elite SC-LX704 brings out the best from 3D surround sounds of IMAX Enhanced, Dolby Atmos, and DTS: X. In addition, the new Audio Exclusive Mode and AV Direct Mode enhance detailed sound reproduction.
Read the full review
.
Best Pioneer AV receiver reviews
In this Pioneer's Elite SC-LX704 review we will take a look at one of the company's top-of-the-line AV receivers. It is a full-featured AV receiver with a bevy of advanced audio processing capabilities that should appeal to a wide range of users. While it's not the cheapest receiver on the market, it definitely offers a full performance.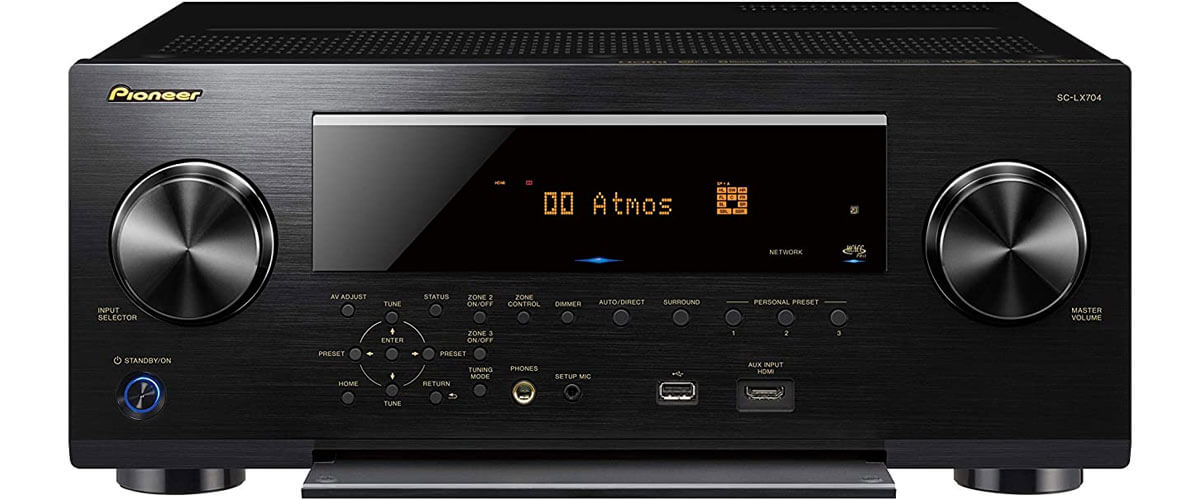 Build and design
The Pioneer Elite SC-LX704 has a sleek and elegant design that will look great in any home theater setup. The front panel is glossy black with a silver Pioneer logo in the center. The rest of the receiver is made of high-quality materials and feels very solid. It's not too big or bulky, and the front panel is relatively uncluttered. The receiver also has a built-in AM/FM tuner and comes with remote control. From my point of view, the buttons on the remote are a bit small and cramped. Even so, they become convenient once you get used to them.
The SC-LX704 is relatively easy to set up. The onscreen display is clear and easy to navigate, and the receiver comes with a well-written manual that will help you get everything up and running in no time. Included setup microphone makes calibrating your speakers a breeze.
Features and specs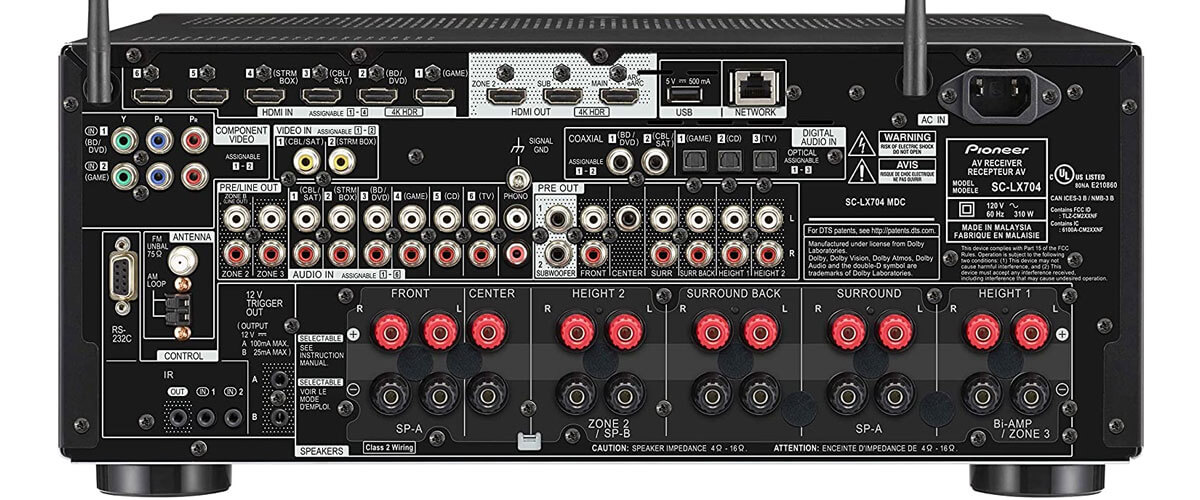 Let's see what features Pioneer Elite SC-LX704 hides inside. The receiver has a 9.2-channel amplifier and a power output of 140 watts per channel (8 ohms, 20 Hz - 20 kHz, 0.08% THD). Thanks to the A/B speaker, it's possible to use two different types of speakers. At the same, the Bi-Amp mode allows using the front left and right channels for bi-amp operation with compatible speakers. In addition, Multi-Tone Control adjusts the sound of each individual channel to match your speakers.
The SC-LX704 has a variety of inputs and outputs, including HDMI, a subwoofer output, an RS-232C port for integration with custom control systems, and a USB port for connecting a storage device. You can wirelessly stream audio from your mobile devices, using built-in Wi-Fi and Bluetooth, or connect wirelessly to speakers and favorite services like Spotify, Pandora, and Tidal. There's also support for AirPlay, Chromecast, and DNLA. If you're into vinyl, the SC-LX704 has a phono input for connecting to a turntable.
The Pioneer Elite SC-LX704 also supports 4K Ultra HD pass-through with HDR support. This means that you'll be able to enjoy the latest and greatest in video quality, without having to worry about compatibility issues. The receiver comes with a variety of pre-set sound modes, including Dolby Atmos, DTS:X, Dolby Surround, and DTS Neural:X. There's also a Cinema EQ mode that automatically adjusts the sound quality for movies and a Music EQ mode that does the same for music.
Sound quality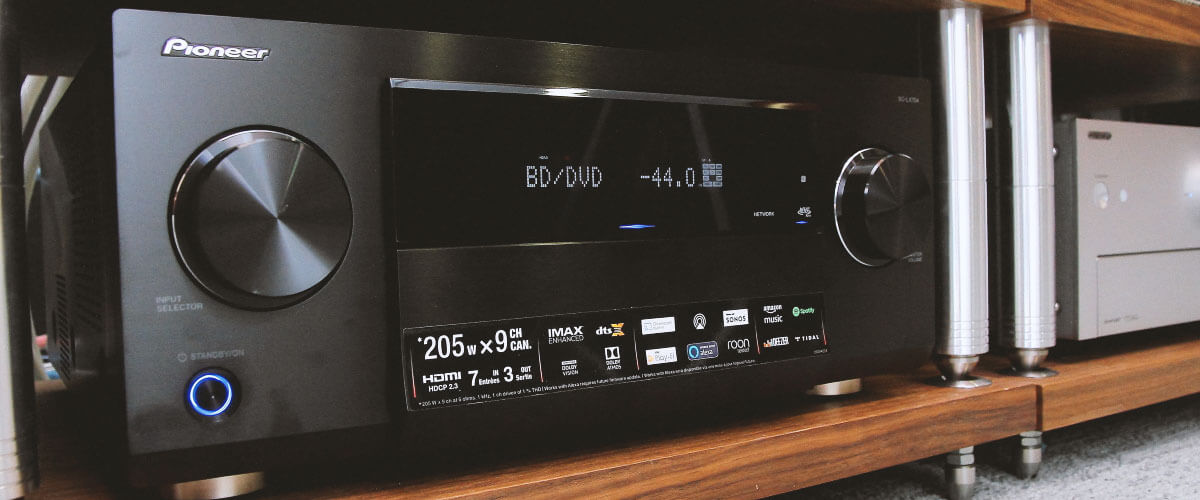 I've tested a lot of receivers before, and the Pioneer Elite SC-LX704 is definitely one of the finest. The calibration process, from my point of view, is better than many others. Besides, I tried to play the soundtrack of "Mad Max: Fury Road" with the Dolby Atmos enabled, and it sounded fantastic, with plenty of depth and detail. The explosions and gunfire were incredibly loud and realistically portrayed, and the sound stage was huge. The SC-LX704 handled music well, delivering a smooth and natural sound with good bass response. Even at higher volumes, the Pioneer is rich and full.
Verdict about Pioneer Elite SC-LX704
The Pioneer Elite SC-LX704's specifications clearly met my hopes. It is great for movies, music, and games alike. Overall, this unit is a decent value for the money if you're looking for a high-end receiver that can handle all of your audio needs.
Pioneer Elite SC-LX904 – premium
I've seen a lot of impressive AV receivers in recent years, and Pioneer Elite SC-LX904 might just be one of the best. It's packed with features, delivers excellent performance, and has one of the most user-friendly interfaces.
In this Pioneer Elite SC-LX904 review I will go over in detail the capabilities of this receiver and tell my honest opinion about them.
Build and design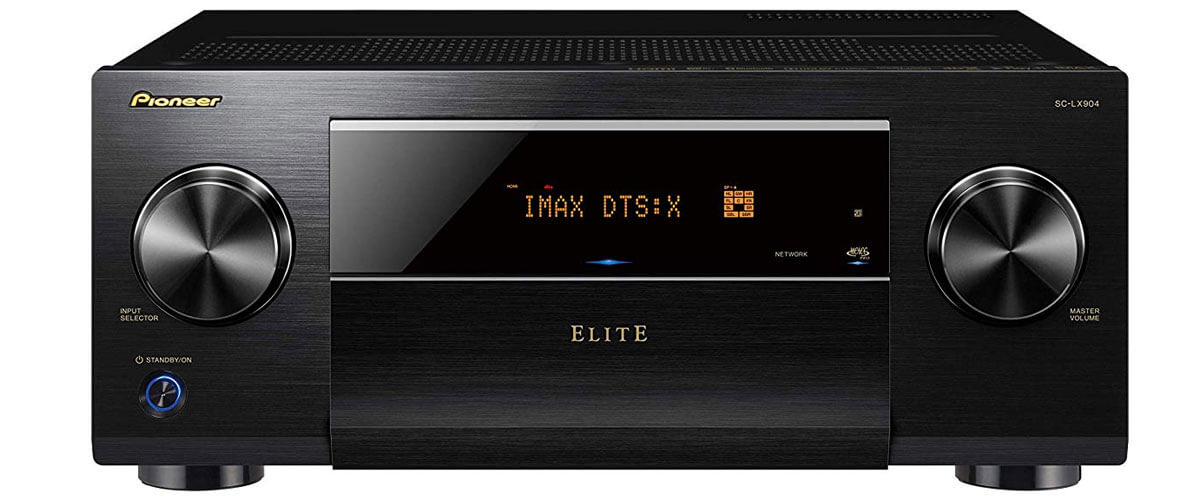 The first thing that caught my eye about Pioneer Elite SC-LX904 is its elegant design. The entire receiver has a black finish with a hint of silver around the edges. It's a sleek look that will match any modern home theater setup. The receiver is solid and feels heavy, which gives me confidence that it will last for years. Overall, Pioneer Elite SC-LX904 is surely among the best-looking and best-built receivers I've ever used.
The front panel of the receiver is very user-friendly, with large buttons and a bright display. The buttons provide feedback with a satisfying click. The display is large and easy to read, even in low light conditions.The rear panel of the receiver is just as well-designed as the front. All the inputs and outputs are clearly labeled and easy to access.
Features and specs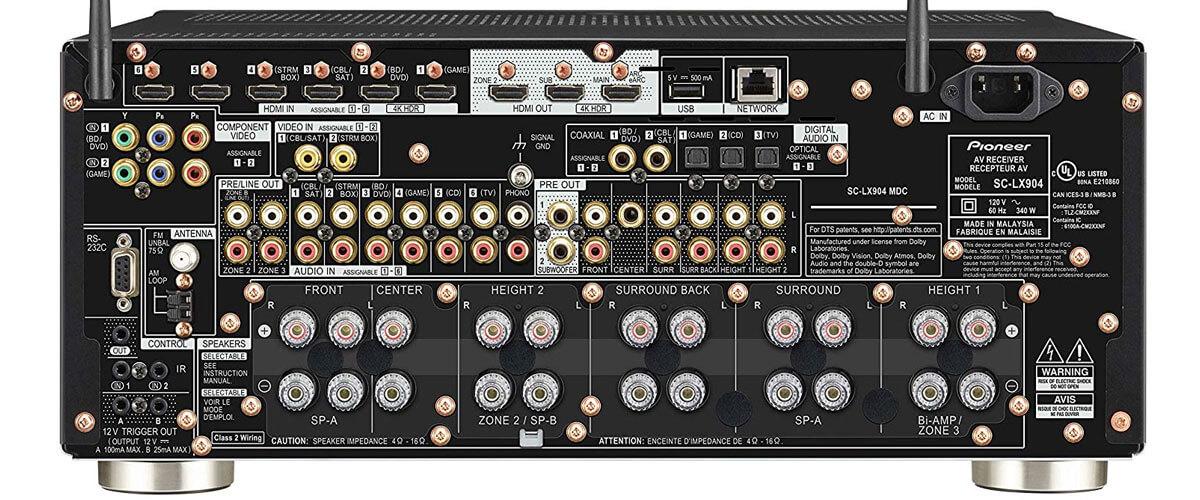 I would call the receiver powerful just because of its rated power output. It is said to deliver 140 watts per channel into 8 ohms (20-20,000 Hz) with 0.08% THD. Besides, this Pioneer Elite SC-LX904 uses 32-bit / 384 kHz capable DACs that can produce high-resolution audio. In practice, it means that I can push the receiver to its limits, and it never skips a beat. It has 11.2 channels of audio processing, so it can handle even the most complex home theater setups consisting of up to 11 speakers.
The receiver is also compatible with Pioneer's Multi-Zone Technology, which allows you to play different audio sources in different rooms.
Pioneer Elite SC-LX904's features include 8 HDMI inputs, 3 HDMI outputs, Hi-Res Audio playback, and built-in Wi-Fi and Bluetooth. There's also a USB port on the front panel, which makes it easy to connect a portable hard drive or thumb drive. I was able to hook up a TV, PlayStation, smartphone, laptop, and even a turntable. The AirPlay compatibility was especially handy, as it allowed me to easily stream audio from my iPhone to the receiver. By the way, there is no energy-saving ECO mode, which might be disappointing to some people.
One of the first things that caught my attention was the inclusion of HDCP 2.2 support. This ensures that the receiver will be able to handle the new 4K Ultra HD. The receiver also includes support for 3D pass-through, 4K upscaling, and HDR. I tested the receiver with a 4K TV, and it did an excellent job of upscaling lower resolution content. The list of advantages complements support for Dolby Atmos, DTS Neural:X, IMAX Enhanced, DTS:X, Dolby Digital Plus, and other pro features.
Sound quality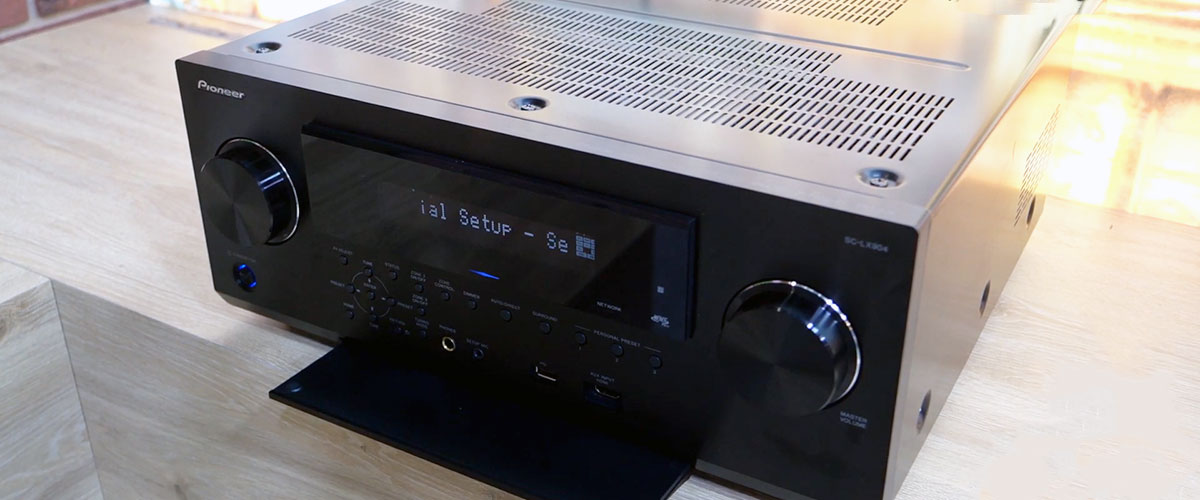 Listening to music and watching movies on Pioneer Elite SC-LX904 was an absolute pleasure. The receiver delivered exceptional sound quality with crystal clear highs and thundering lows. I watched Captain Marvel and during the beginning of the movie, when Carol dreams and we see the explosion and the earth falling to the ground, there were numerous tiny elements in the soundtrack around me that I hadn't noticed with my old receiver. I never had to adjust the volume levels, even during explosions and other loud scenes.
Verdict about Pioneer Elite SC-LX904
There is nothing about Pioneer Elite SC-LX904's specifications that may disappoint you in terms of the quality of sound or picture. You just connect it to the components you have, and it works great. As for me, this is all I'm looking for in receivers.
Pioneer Elite VSX-LX104 – budget
You might be scrolling through hundreds of customer reviews and see that all receivers have a lot to offer their users. But are they the right option for you? In this Pioneer Elite VSX-LX104 review, I will take a closer look at the features and performance of the VSX-LX104 to help you make an informed decision.
Whether you are already familiar with home theater receivers or this is your first time shopping for one, I hope that my insights will be of use to you.
Build and design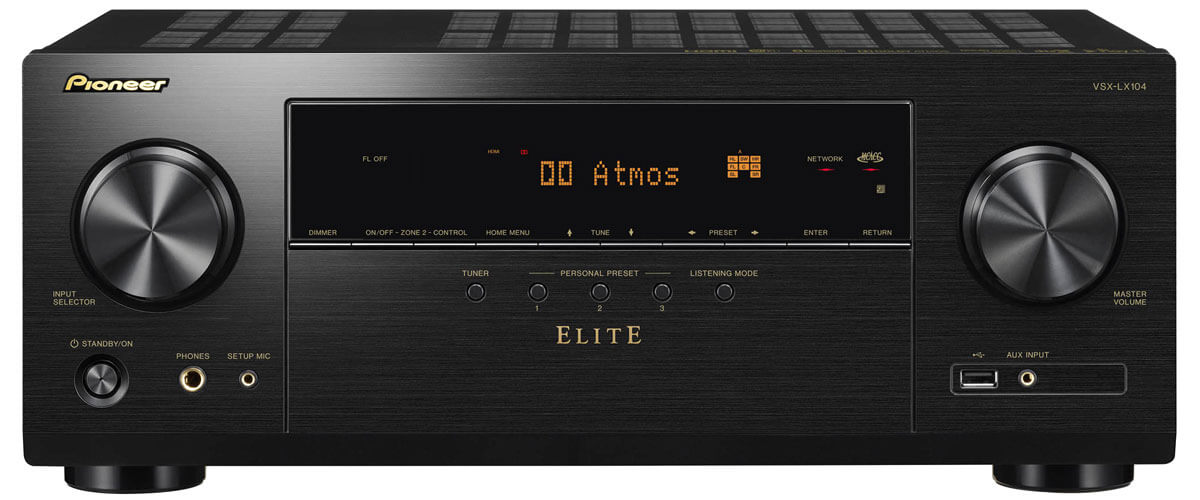 The Pioneer Elite VSX-LX104 measures 14.56 x 17.13 x 6.81 inches and weighs 20.7 pounds. While it is not the smallest or lightest receiver on the market, it is still manageable enough to fit comfortably into most home theater setups.
The front panel has a brushed aluminum finish and is adorned with a Pioneer logo. There is also a row of buttons for navigating the on-screen menus. The buttons and knobs are all easy to access and clearly labeled, making it simple to make adjustments on the fly. All the connections and controls are located on the back panel: speaker terminals, inputs and outputs, power cord and ports. The VSX-LX104 also includes a remote control.
Features and specs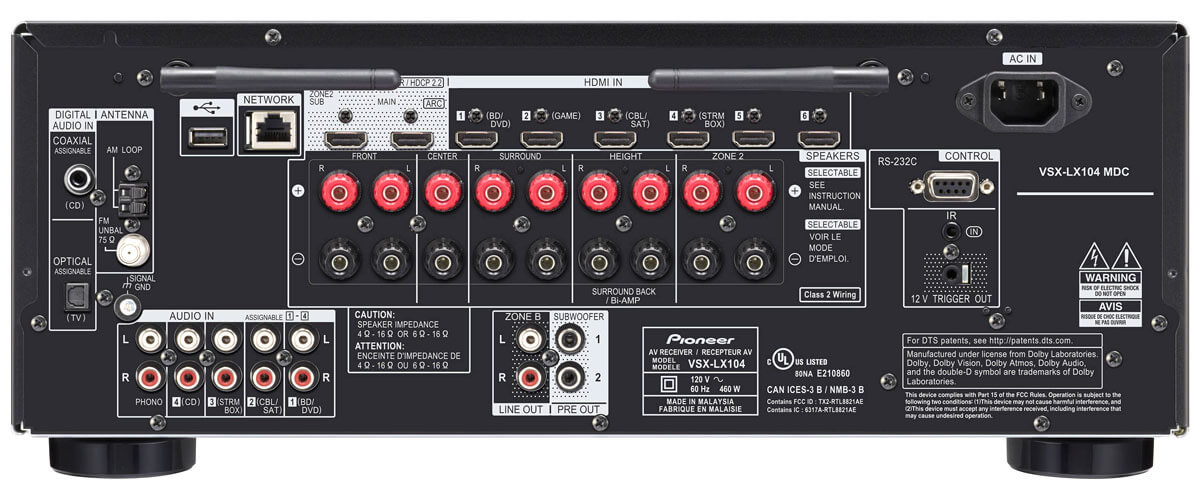 The Pioneer Elite VSX-LX104 is a 7.2-channel receiver, each of its channels can handle up to 80 watts of power. In reality, I wouldn't say it sounds so much more powerful than other receivers that claim to have fewer watts of power. However, it's not bad and is able to drive most speakers without issue.
The receiver also has a Bi-Amp function which can be used to drive a pair of speakers with separate amplifiers for the high and low frequencies. This feature improves sound quality, especially with speakers that are not able to handle a lot of power. Zone 2 Sources allows you to send audio from the receiver to the second room in your home, perfect for watching TV or listening to music while someone else is using the main TV or audio system.
In terms of connectivity, the VSX-LX104 has everything you need. It includes 6 In and 2 Out HDMI inputs, a phono input, 6 analog inputs, a headphone output, and more. Thanks to this, I could connect all the devices I use at once, among which were my cable box, Blu-ray player, and turntable.
You can also connect the receiver to your network and use Pioneer's iControlAV5 app to control all of its functions from your smartphone or tablet. In addition, Pioneer Elite VSX-LX104 features many popular streaming services.
The VSX-LX104 also includes a variety of sound modes to help you get the most out of your audio. These modes include Auto MCACC (which automatically adjusts the receiver's settings to match your speaker setup), Direct Stream Digital (for listening to high-resolution audio files), and a variety of other modes that are specific to different types of content.
Sound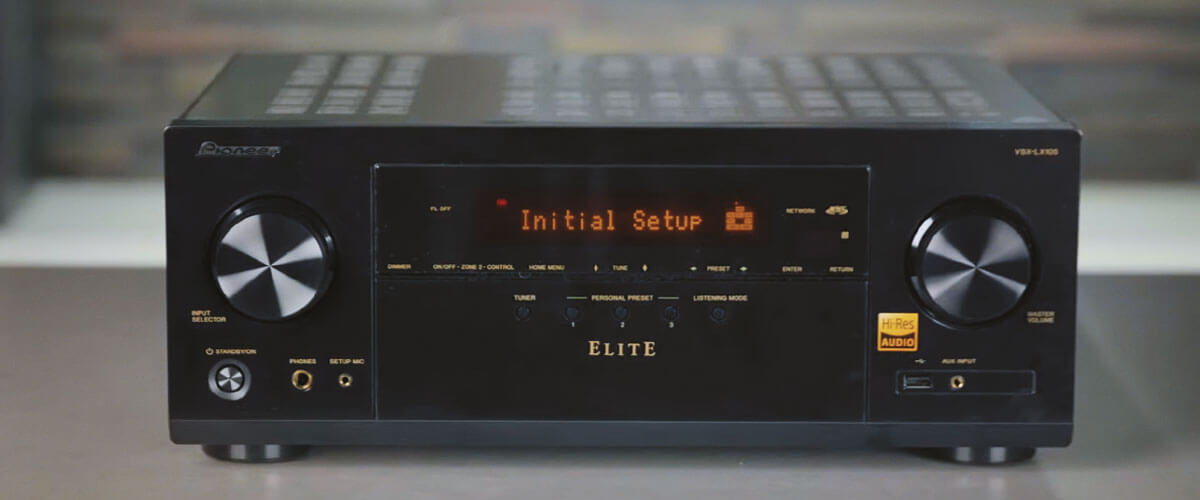 Overall, due to its specifications, Pioneer Elite VSX-LX104 is an excellent performer. The various sound modes did a good job of tailoring the sound to match the type of content I was playing. When watching action movies or listening to music, I didn't feel like the bass was overpowering or muddled.
I was also impressed with the receiver's ability to handle low-frequency sounds. With the support of various audio decoders and formats, the receiver adds height information to the soundscape, making it seem like the sounds are coming from all around you. All music with vocals sounded clear, and I didn't notice any distortion at high volumes.
Verdict about Pioneer Elite VSX-LX104
To sum up, the Pioneer Elite VSX-LX104 is all about exceptional sound quality and a wide range of features. If you are looking for a receiver that handles most types of content and performs well, VSX-LX104 can make your theater experience remarkable.
FAQ
Are Pioneer receivers good?
Pioneer is known for its innovative and high-quality audio products, and its receivers are no exception. Pioneer AV receivers offer excellent
sound quality
thanks to features like advanced Digital Signal Processing and Variable Quality Enhancement. They also offer a wide range of inputs and outputs, making them compatible with various devices. In addition, Pioneer receivers are typically very user-friendly, with clear menus and simple controls.
Is Pioneer the same as Onkyo?
Pioneer and Onkyo are two well-known brands in the world of audio equipment. Both companies make a wide range of products, including receivers, speakers, and turntables. However, while Pioneer and Onkyo share some similarities, there are also several key differences between the two brands. For instance, Pioneer Elite receivers are typically known for their higher-end products, while Onkyo offers a more budget-friendly option. In addition, in terms of sound quality, Pioneer is often said to have a warmer and richer sound, while Onkyo is known for its clear and precise sound.
Who bought out Onkyo?
Onkyo has faced financial difficulty, and in 2017 it was bought out by Sound United, the parent company of Denon and Marantz. Sound United is a privately held company based in California. It was founded in 1980 and is owned by a group of private equity firms. Sound United plans to operate Onkyo as a separate brand, continuing to produce its line of products.
Are vintage Pioneer receivers any good?
Vintage Pioneer receivers are known for their warm sound quality. This is because they use analog circuits rather than digital ones. As a result, they tend to reproduce music more colorfully than newer digital receivers. Another benefit of Pioneer receivers is that they are built to last. They are made with high-quality parts and are designed to be durable. But, if you are looking for the best Pioneer receiver for home theater with enough outputs for speakers and multimedia equipment, you should pay attention to more modern models.
We are supported by our audience. When you purchase through links on our site, we may earn an affiliate commission at no extra cost to you.
Our newsletter
* We will never send you spam or share your email with third parties