If you're looking for a Sony home theater receiver, you've come to the right place. This review highlights the top three Sony models, which I have thoroughly tested and given my opinion on each of them. My review will help you make an informed decision and choose your most optimal option. So, I invite you to take a virtual journey into the world of Sony receivers.
Our pick

Sony STR-DN1080
Best Sony AV receiver
One of the top AV receivers in Sony's lineup, the STR-DN1080 is fully featured, simple to operate, and has excellent audio quality.
Read the full review
.
Best Sony AV receiver reviews
Reading our Sony STR-DN1080 review will help you to get to know a few key things that differ this receiver from the rest models. First, it is equipped with six HDMI inputs and, of course, two outputs.
Usually, it is more than most such devices have. So, it means that you can easily connect all needed devices to the receiver and even without worrying about running out of ports. Additionally, the Sony STR-DN1080 stands out from other models, because of one of the most powerful audio processing engines. It allows it to reproduce sounds that are more true to recorded initially, providing a much richer experience than other receivers on the market today.
Build and design

The STR-DN1080 measures 16.92 x 6.14 x 13.03 inches. It is well-equipped, but isn't too complex in usage. The Sony STR-DN1080 receiver has a sleek and modern design, because of a black finish and some silver accents. The front side is elegant and has a large, central display screen, buttons, and dials to handle the device. This display is clear and really easy to read. The buttons are also well-placed and comfortable in usage. The receiver's back houses a lot of ports and connectors, for example different input and output jacks, as it was mentioned, HDMI and USB ports.
Purchasing the Sony STR-DN1080 you will also get a special remote control. It means you mustn't connect to another device for enjoying wireless, hands-free operations. In addition, you can place your receiver at the rear part of your room and still operate the receiver using this remote control.
Features and specs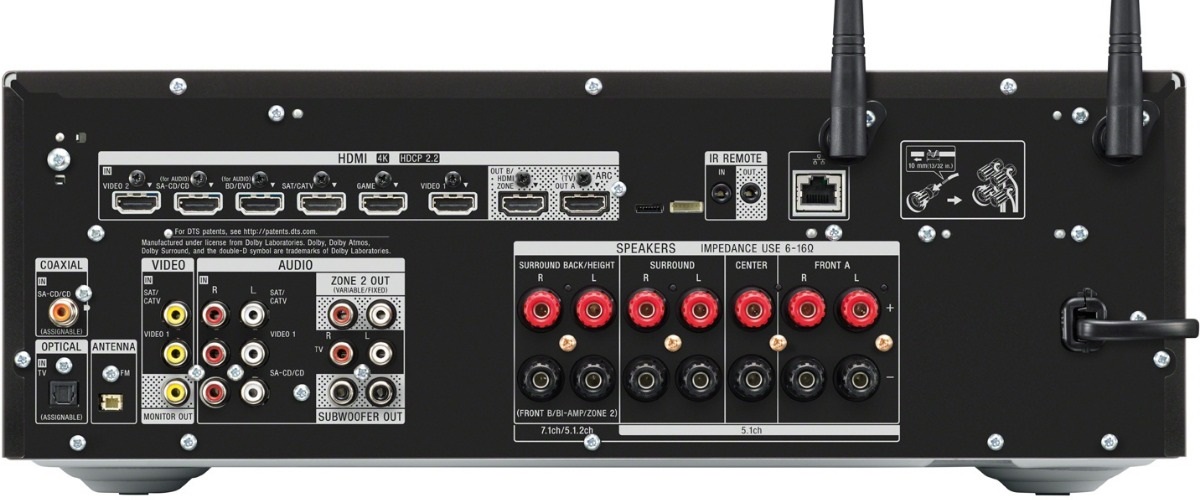 Sony STR-DN1080 is a 7.2-channel receiver with 165 W (6 ohms, 1 kHz, 1ch driven THD 0.9%) per channel. STR-DN1080 AV receiver has multi-room support. So, by downloading the Sony app, you can easily connect your home speakers to play the same music in different rooms.
The Sony STR-DN1080 receiver has Chromecast capabilities. It gives a possibility to control the music playback on the receiver using your. You can also cast audio content from websites and other apps to the receiver. Sony STR-DN1080 supports AirPlay 2, letting you wirelessly stream your iTunes library from your computer or other Apple device. Besides, you can ask Siri to regulate playback on the receiver.
The STR-DN1080 receiver is equipped with a wide variety of ports, including inputs and outputs. For example, 8 HDMI ports (here we can speak about six inputs and two outputs), a USB port, and optical and coaxial digital audio outputs.
Besides, it has an Ethernet port, with which you can connect the receiver to a home network. It allows the user to control the settings and playback on their receiver. It also has built-in Wi-Fi and Bluetooth. This receiver is perfect for connecting all your devices and sending the audio to the whole surround sound system.
The STR-DN1080 receiver has several features that will attract movie enthusiasts' attention. For example, 4K Ultra HD (up to 60p (4:4:4)). In addition to 4K Ultra HD support, the STR-DN1080 is also HDR compatible. It means that you'll be able to enjoy HDR content to its fullest potential, with improved contrast and color accuracy. Whether you're watching a movie or playing a video game, the HDR compatibility of the STR-DN1080 will give you an immersive experience. So with these Sony STR-DN1080 features, you'll get the most out of your movies and TV shows.
Sound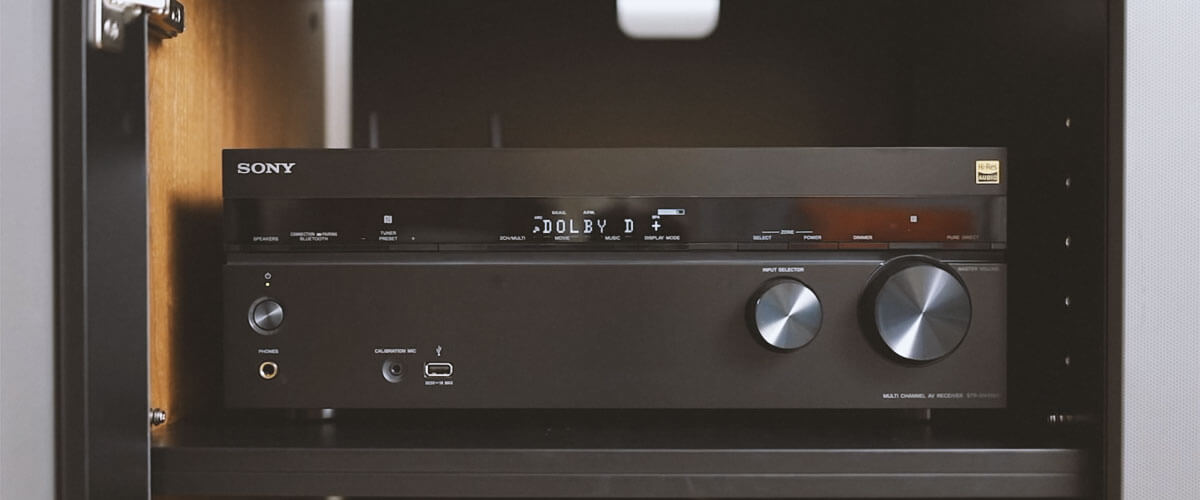 The STR-DN1080 can decode Dolby Atmos, and DTS:X surround sound formats. So that you have a chance to enjoy a clear and really powerful sound. It can handle all of your music and movie needs with ease. The receiver provides a crisp sound even without any distortion. You will hear every note and nuance in your music, as well as experience the full impact of your movies. The STR-DN1080 is the ideal option to improve any home entertainment system.
The STR-DN1080 receiver also features Sony's Digital Cinema Sound. This feature gives you a chance to listen to the best sound quality, whether watching your favorite film or listening to music. Furthermore, this device creates a fascinating surround sound experience. It will help you to feel like you're right in the film action, no matter what kind of films you are watching.
Verdict
Sony STR-DN1080 specifications prove that this receiver is a perfect device for improving your home entertainment system. It provides high sound quality, and you can regulate it using your personal smartphone, tablet, or remote control. So if you're going to buy a receiver that will fill up your house with rich, clear audio, then this model fits the bill!
Sony STR-DH590 – budget
Here is a Sony STR-DH590 review, which will help you choose the best receiver for you. Sony STR-DH590 AV Receiver is the famous line of receivers - STR-DH510 and STR- DH710.
The main feature that differentiates this model from others is undoubtedly its four in/1 out HDMI implementation, which allows you to pass a 3D video signal and transmit an audio signal to another device through ARC (Audio Return Channel). I also want to highlight that the company reduced power consumption and increased the efficiency of the receiver.
Sony STR-DH590 has many new features. For example, new inputs and outputs that support 3D signals and PS5. In addition, the USB port allows streaming content from the network, and there is a possibility to connect wirelessly via Bluetooth and Wi-Fi.
Build and design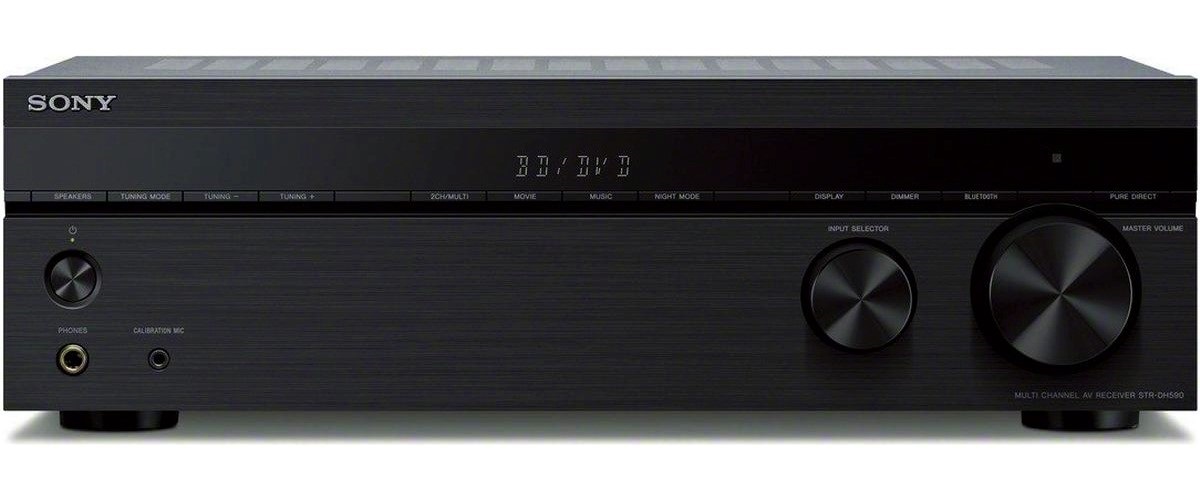 The Sony STR-DH590 has 15.7 lb of total weight and dimensions of 17.0 x 5.2 x 11.8 inches. As for me, the design is modern; because it has a gloss black finish and aluminum elements.
On the front side of this receiver, there is an ON/OFF button, input and speaker selector buttons, and volume control. The volume control has a large and convenient form, which also makes it easy to use. Besides, here you can find connections for a TV aerial, speakers, and a headphones jack. The receiver also has an extra HDMI socket for a recording device.
The rear panel of the Sony STR-DH590 receiver has different inputs and outputs, connectors, and power jacks (including one to power the remote control).
The remote control makes it very easy to change the volume or switch between inputs without getting up off your couch.
Features and specs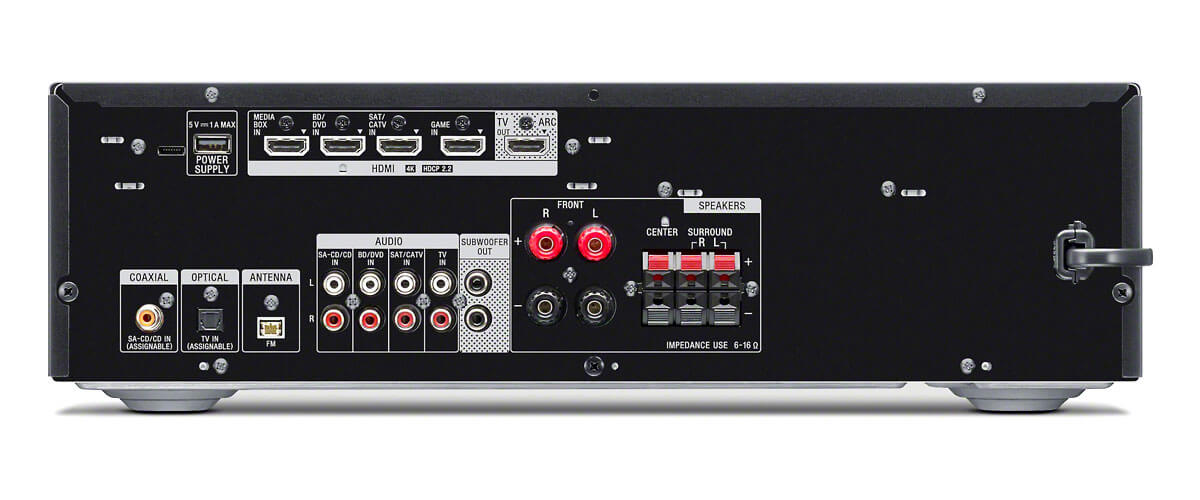 Sony STR-DH590 is a mid-range receiver with good connectivity and picture quality. First, let's consider Sony STR-DH590 specifications. It's a standard 5.2 channel receiver with 4K Ultra HD Pass-through, which means it can receive 4K signals from devices like UHD Blu-ray players or PlayStation 5. According to the manufacturer, the power is 145 W (6 ohms, 1ch THD 0.9%), and as for frequency response, it is 1kHz. Besides, Sony STR-DH590 supports the following audio formats: MP3, WMA, WAV, AAC, CD-DA, and DVD-Audio. However, this model doesn't support Multi-room zones and Bi-amping functions.
This home theater system has Dolby Digital and DTS decoders for incredible sound quality. The receiver includes an HDMI output, USB input, iPod docking station port, and AM/FM radio tuner. You can also connect Sony STR-DH590 to any high-definition TV via HDMI connection. It has 4 HDMI inputs and one output, meaning you can connect up to 3 HD devices to the receiver at once. So if you have a Blu-ray disc player, TV, game console, and set-top box all connected, then any one of them can be selected without having to switch HDMI cables back and forth.
Its outputs are also equipped with S-Video, Composite video, and Coaxial digital audio that supports. It also has built-in Bluetooth. So, you can connect playback of your favorite music directly from your smartphone or other devices.
The Sony STR-DH590 is an excellent choice for viewing 4K content with a frequency of up to 60 fps. Using a 4K HDR pass-through, Dolby Vision function, and flexible surround sound, this AV receiver creates an authentic cinema atmosphere at your home. It supports HDCP 2.2 and HDR (High Dynamic Range), providing a high-quality image with a balanced contrast of colors.
Sound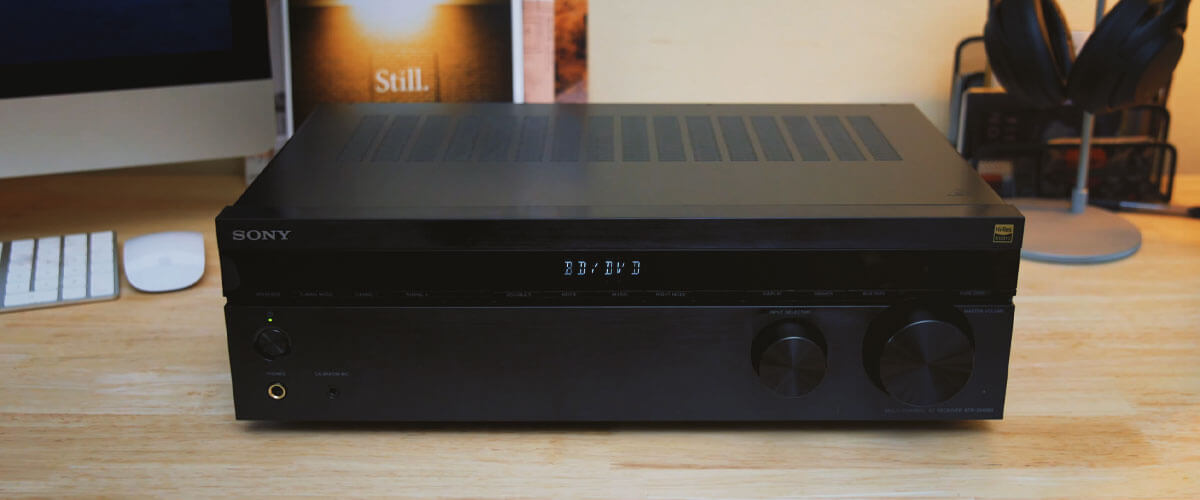 Using this receiver, you can get a full range of advantages with Dolby Digital, Dolby Digital Plus, and DTS-HD Master Audio.
If you're looking for a great receiver that will give you a fantastic sound when watching films, the Sony STR-DH590 is worth considering. The sound quality is excellent and brings the film to life. It has got a perfect bass and a nice treble. However, sometimes the mids are too strong and not crystal clear enough.
Verdict about Sony STR-DH590 receiver
The Sony STR-DH590 receiver has excellent sound quality. It's also very easy to set up and use. This range of Sony STR-DH590 features will help you to enjoy the sound at full. The Sony STR-DH590 receiver is not the cheapest one on the market, but I think it's an excellent choice for anyone looking for a new receiver.
Sony STR-DH790
If you choose a receiver, you can read our Sony STR-DH790 review, which will help you make the right choice. Sony STR-DH790 is a powerful, high-performance AV receiver that offers one of the best connectivity and thrilling sound quality at this price range. In addition to its primary function, which is the amplification of input signals from different sources, it can be used as a source for connecting additional devices to the system.
The device supports digital audio formats Dolby Atmos and DTS:X. This allows you to create a more immersive audio experience when watching movies or listening to music. It also supports 4K and HDR video playback.
Build and design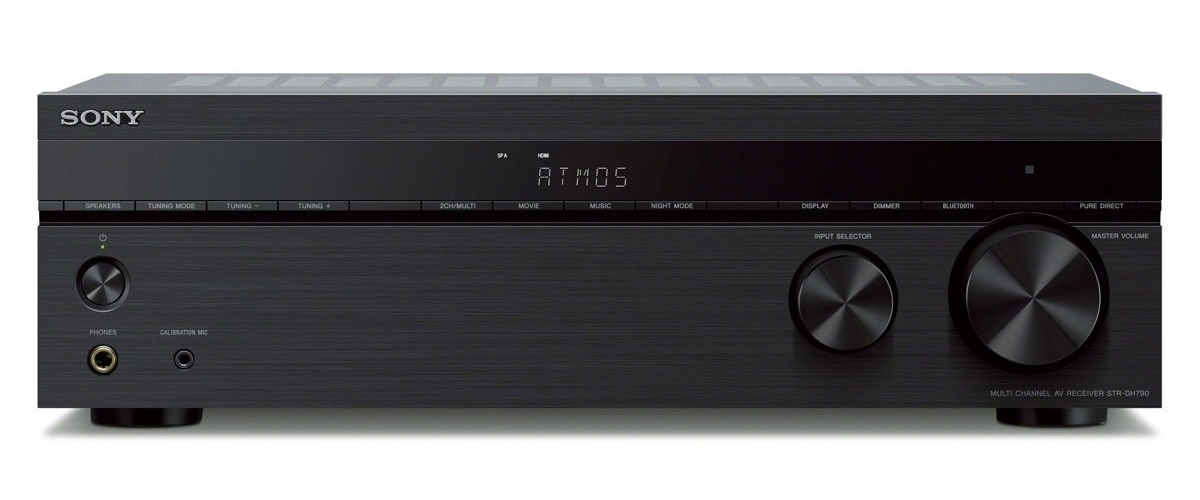 Sony STR-DH790 is an excellent receiver with 17 x 5-1/4 x 11-3/4 inches measures. In addition, the shape of the receiver gives a feeling that this device is strong and won't break easily.
The front side of Sony STR-DH790 is home to two digital audio optical inputs, one stereo RCA input, and one 3.5 mm minijack input. There is also a power button and a volume knob. Besides, you can find a remote control sensor on the front side. The backside of the receiver is home to a variety of ports and jacks as well.
It also comes with all the necessary cables that you will need to make it work.
Features and specs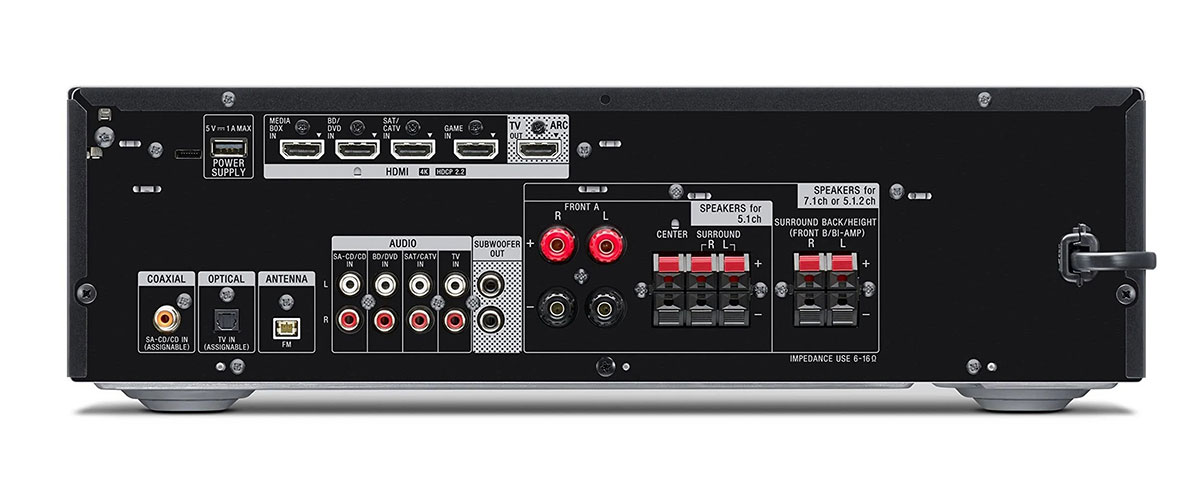 STR-DH790 is an A/V receiver with 7.2 channels of surround sound and 145 W (6 ohms, 1kHz, 1ch THD 0.9%) of power output to bring your music or game audio to life in the best way possible. The main STR-DH790 features include An FM tuner, Dolby TrueHD, DTS-HD Master Audio decoding, Multi-zone capability for audio output, Multi-room capability for audio playback across zones.
It also comes with a built-in Bluetooth receiver, which means you can connect your smartphone or another Bluetooth-enabled device to stream audio wirelessly. There are four HDMI inputs, one HDMI output, which means you can plug in multiple devices simultaneously. Besides, you can find two digital audio optical inputs, one coaxial input, seven RCA inputs, two subwoofer outputs, and one 3.5 mm minijack output. There are also three speaker posts and a power cord connector. Finally, the Sony STR-DH790 receiver is unique in that it has a built-in Bluetooth adapter. This allows you to stream music from any compatible device without needing an Ethernet cable or a Wi-Fi adapter.
Considering Sony STR-DH790 specifications, we can highlight a high-end home theater receiver. It has 4K 60p (4:4:4) pass-through and HDR support, making it perfect for streaming movies in crisp quality.
With HDR support, you can enjoy deep colors and balanced contrasts. In addition to this receiver's already excellent audio capabilities, it now has Dolby Vision pass-through. This means that if you have a TV that supports Dolby Vision, you can enjoy the improved picture quality that this format provides.
Sound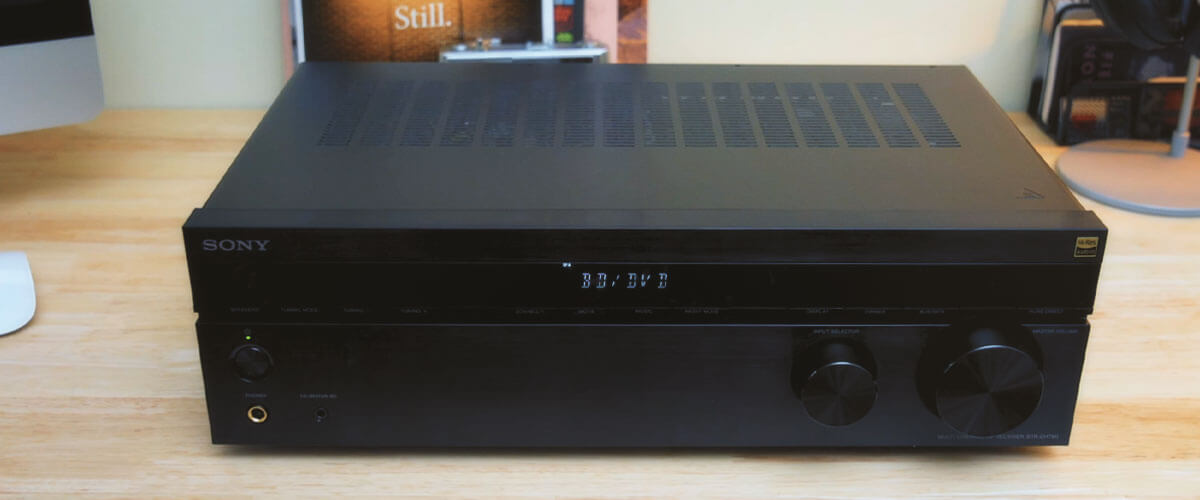 If you're looking for a great receiver that delivers high-quality sound, the Sony STR-DH790 is an excellent choice. One of the best things about this receiver is its sound quality. The highs and lows are well balanced, and the soundstage is wide.
So whether you're watching a movie, listening to music, or playing video games, the Sony STR-DH790 receiver is sure to provide a great audio experience. It produces a clear, rich sound that will make you feel like you are in the middle of all the action happening on screen. In addition, this is an ideal option for large and small rooms because the S-Force Pro Front helps create a virtual surround acoustic field, using only two speakers.
Verdict about Sony STR-DH790
The Sony STR-DH790 is an excellent receiver for people looking to take their home theater experience to the next level. Although the receiver features an extensive list of impressive audio and video capabilities, including Dolby Atmos and 4K Ultra HD Blu-ray discs compatibility, this model offers one of the best surround sound experiences available on the market today.
FAQ
Does Sony make good AV receivers?
Sony offers a great selection of
high-quality products
that will meet your needs, whether you're looking for a simple receiver for your first home theater setup or a more advanced model with all the bells and whistles. In addition, Sony AVRs are known for being very user-friendly, so you can get to work quickly and easily. And, of course, the name Sony is known to almost anyone, and this is a brand you can trust. Proven over time.
Is Denon better than a Sony receiver?
When it comes to choosing a receiver, there are a lot of different brands out there to choose from. But two of the most popular brands are Denon and Sony. So, which is better? Well, it depends on your individual needs and preferences. Both manufacturers offered their products the highest quality sound and modern features. Therefore, it is not quite correct to compare them. There will be no winner in this battle. You can only compare certain models of these brands and choose the one that suits you most.
Did Sony stop making AV receivers?
No, it didn't. Although the company has shifted its focus in recent years, it still offers a range of receiver options for home theater systems. Among the Sony models, you will find surround sound receivers,
multi-room
and streaming services support, as well as many other useful features.
We are supported by our audience. When you purchase through links on our site, we may earn an affiliate commission at no extra cost to you.
Our newsletter
* We will never send you spam or share your email with third parties