If you want to upgrade your home theater, you may need a set of surround speakers driven by a top-tier, expertly-tuned AV receiver. Many well-known companies are on the market, but I chose Yamaha today. They have been on the market for a long time and have a lot of fans all over the world. Therefore, I reviewed the best Yamaha AV receivers to show you the advantages and disadvantages of their lineup. Hence, you can make the proper decision when choosing AV receivers for your needs.
Our pick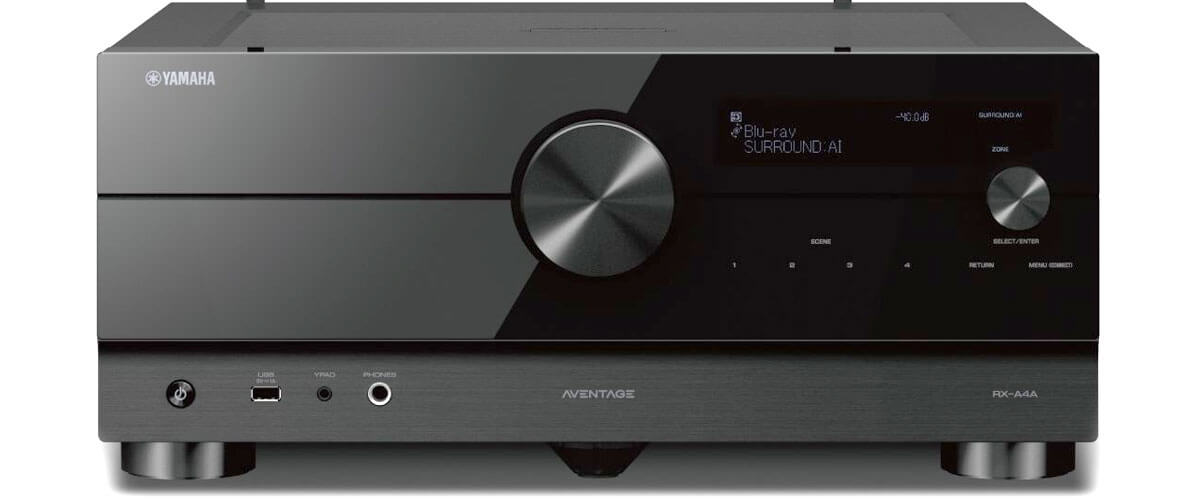 Yamaha RX-A4A
Best Yamaha AV receiver
The Yamaha RX-A4A delivers realistic sound and video that transports you out of your home and into your favorite movie.
Read the full review
.
Best Yamaha AV receiver reviews
This Yamaha RX-A4A review will take an in-depth look at one of the best AV receivers available on the market today. Previous models in the RX-A series have been very popular, and this one is sure to continue that trend. We'll go over the features, specs, design, and performance of this AV receiver to help you determine if it's the right model for your home theater setup.
Build and design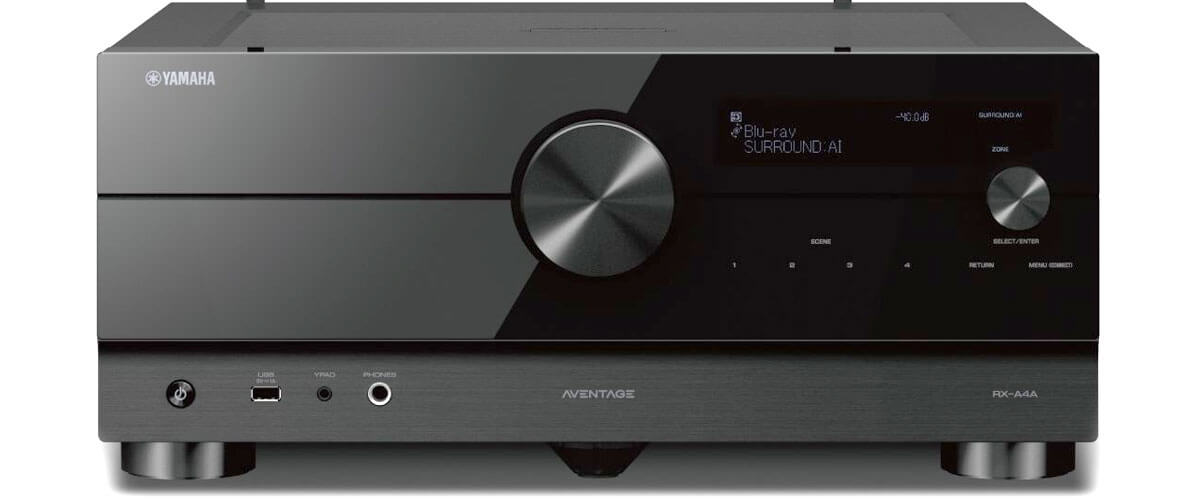 The Yamaha RX-A4A measures 17.1 x 6.8 x 14.6 inches and weighs just over 20 pounds, so it's not too big or too heavy to be inconvenient to move around. It's made to be placed in a standard AV rack and has plenty of ventilation to keep it cool during operation.
The front panel is fairly straightforward, with the power button, volume control, and input selection buttons located near the top. There are also indicator lights for power, input, and surround mode. The receiver has a clear glass finish and houses all the buttons and controls, while the back panel is packed with ports and connections.
Features and specs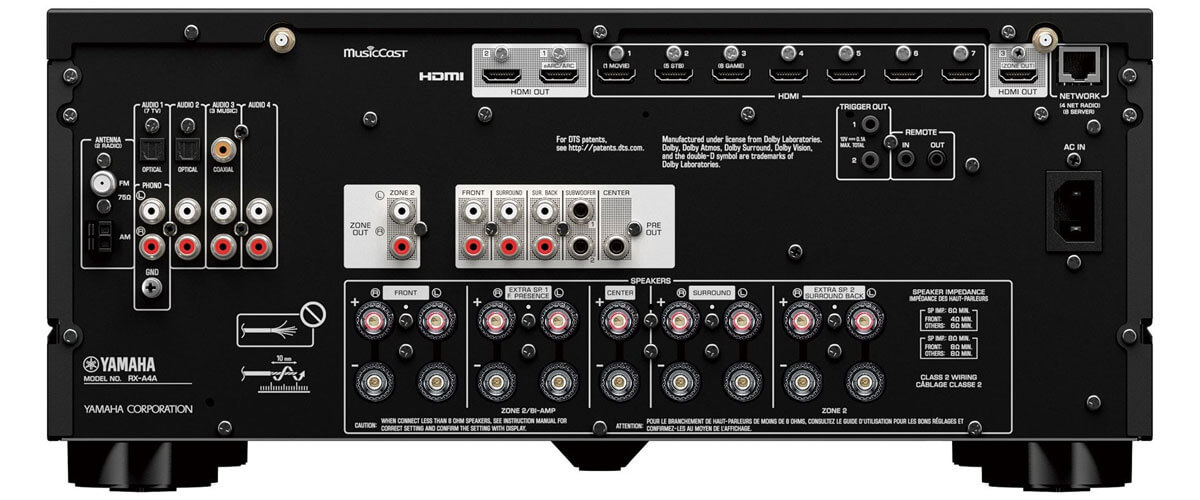 The Yamaha RX-A4A's specifications are next. It is a 7.2-channel AV receiver with a maximum power output of 100 watts per channel. The receiver has 2 Multi-room zones and ESS SABRE DACs for superior sound quality. There is also a Music Enhancer included to improve the frequency response of compressed audio files.
The RX-A4A has a total of 7 HDMI inputs and 3 outputs, which is more than enough for most home theater setups. It also features advanced voice recognition and control with Amazon Alexa, Google Assistant, and Siri. You can use your voice to control various functions of the receiver, such as power, volume, input selection, and surround mode.
Also, this AV receiver comes with a remote control and an iOS/Android app for controlling it remotely. So you can stream music from Pandora, Spotify, and other streaming services using the built-in app.
The only drawback that happened to me while using the receiver was that it can take a few seconds for the audio signal to adjust and actually play.
This model is able to decode high-resolution audio files up to 24-bit/192kHz and has a frequency response of 20Hz-20kHz. Also, the receiver supports 4K Ultra HD, 3D, and Dolby Atmos and also includes Yamaha's Cinema DSP 3D technology, which creates a virtual surround sound environment that is faithful to the original soundtrack. This is a fantastic feature for action and sound-based movies or TV shows.
Another characteristic I find very special is Surround:AI that automatically adjusts the sound field to match the content you're watching. When I was watching a concert, the sound was focused on the center of the room, but after I switched it to a football game, the sound was more evenly distributed around the room.
Sound quality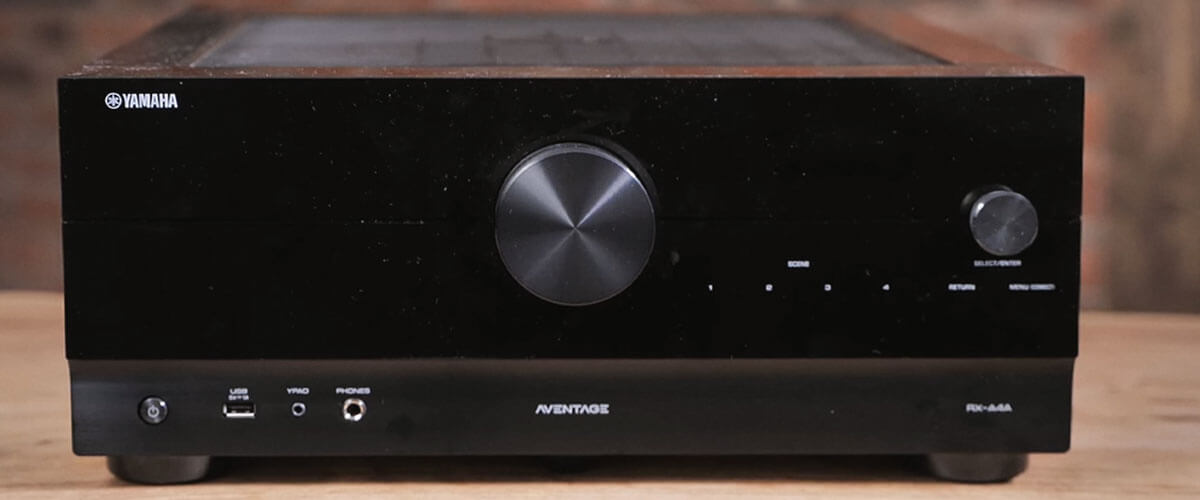 I do video games, music, movies, and TV as well as my 4k HDR Blu-rays and MKV files on my computer hooked up to the receiver. The YAMAHA RX-A4A's features have so far handled everything just fine. The highs are crisp and detailed, the mids are well-balanced, and the lows are deep and authoritative. Besides, the receiver does a great job with all the different audio formats. I don't have Atmos speakers, but even without them, the receiver still creates a realistic soundscape.
Also, I think passthrough mode is worth mentioning here. Shortly, this feature enables you to route the video signal through the receiver while it's on standby. I found it useful for playing a game late at night with headphones through your controller; no need for the amp to be on and muted, or have headphones through the amp. Overall, I'm very pleased with this receiver.
Verdict about Yamaha RX-A4A
The Yamaha RX-A4A is a great AV receiver for anyone looking for all the latest features. With a variety of settings, it can be tailored to your specific needs and preferences. If you want the best possible audio and video quality, the Yamaha RX-A4A may be the perfect option.
Yamaha RX-A8A – premium
If you're looking for a high-quality A/V receiver that will deliver the amazing audio experience you deserve? Well, Yamaha RX-A8A is worth considering.
With its comprehensive feature set and stellar sound quality, it is certain to exceed your expectations. In this Yamaha RX-A8A review, I'll explore some of the key features I personally tested and discuss how they can benefit you.
Build and design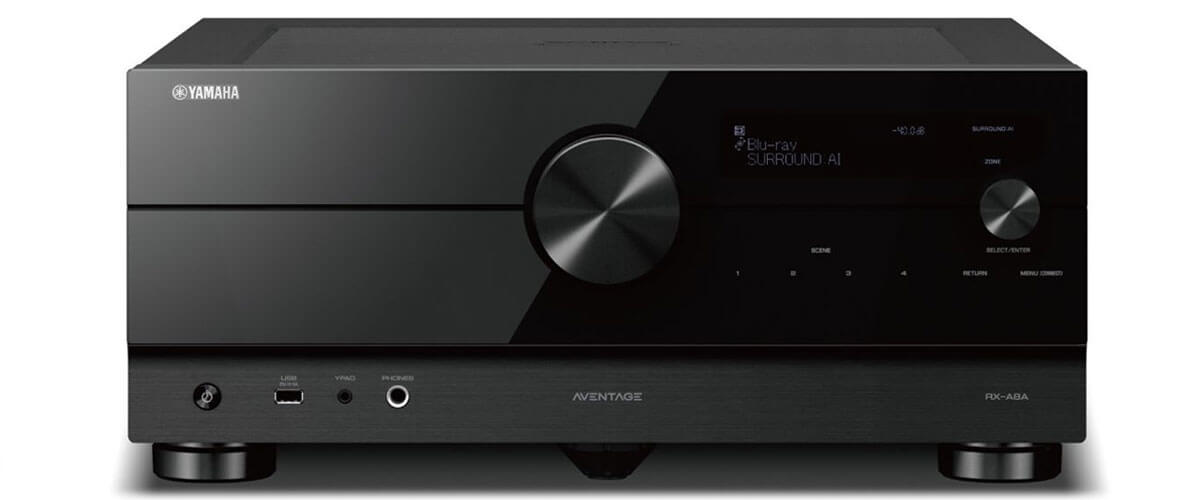 First and foremost, Yamaha RX-A8A is a beautifully designed piece of hardware. It features a sleek and modern look that will complement any home theater setup. But looks aren't everything. It's also important that the receiver is solidly built and durable and made with high-quality components.
The front panel is packed with buttons and controls, so you'll have easy access to all the features. There's also a large display that provides information about the current status of the receiver. This is a great feature, especially for those who are new to A/V receivers. The back panel is loaded with ports and jacks, so you'll be able to connect all of your audio and video components.
Features and specs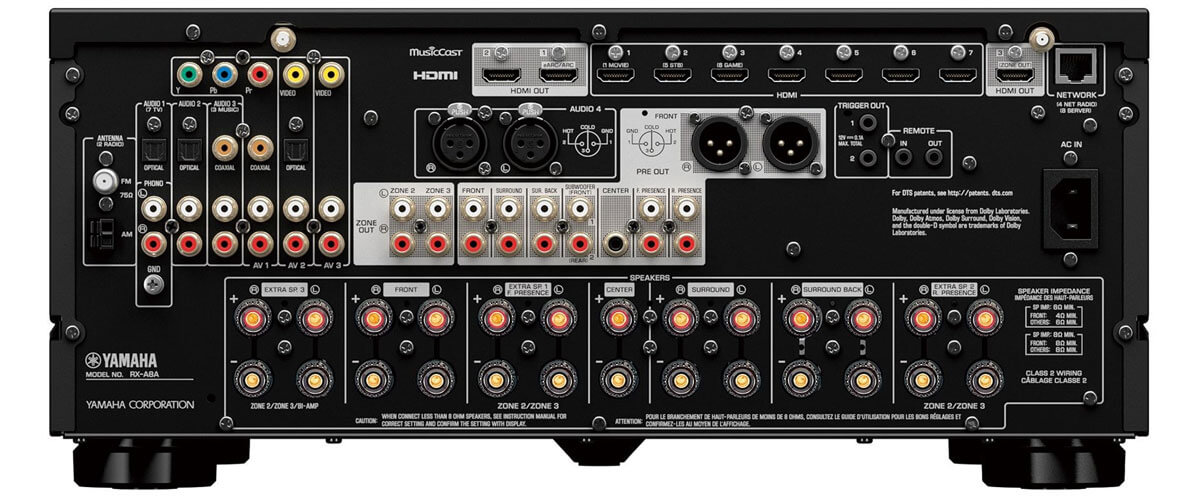 In terms of specifications, Yamaha RX-A8A is one of the most powerful receivers on the market. It has 11 channels of amplification which means that you'll be able to connect up to 11 speakers all over your house. The receiver delivers 150 watts per channel, so it can easily handle even the most demanding home theater setups without any sound distortions or problems. In addition, High Slew Rate Amplifier, combined with Yamaha's own DSP processing, allows hearing every nuance of your favorite music tracks.
Yamaha RX-A8A is equipped with a wide range of connectivity options. It has 7 HDMI inputs and 3 outputs, so you'll be able to connect all of your high-definition devices. There is also built-in Wi-Fi and a network port, so you can easily stream content from the internet or from your local network. RX-A8A is also a great choice for those who are looking for a receiver that can be used for home automation. I managed to download apps for iPhone, iPad, Android phone, and tablet. Actually, you are able to control your receiver with just a simple tap on your smartphone.
One of Yamaha RX-A8A's features is support for different video formats and high resolution. It can decode and playback videos in 4K Ultra HD resolution, so you'll be able to enjoy the latest blockbuster movies in stunning detail. There are also HDR10 and Dolby Vision formats included for the best possible viewing experience. Video Adjustment lets you automatically tune the image to match your specific preferences, for example, adjusting the contrast, brightness, and color saturation. VRR/ALLM/QMS/QFT support lets you enjoy smooth and lag-free gaming experiences, with no annoying image stuttering or tearing.
Sound quality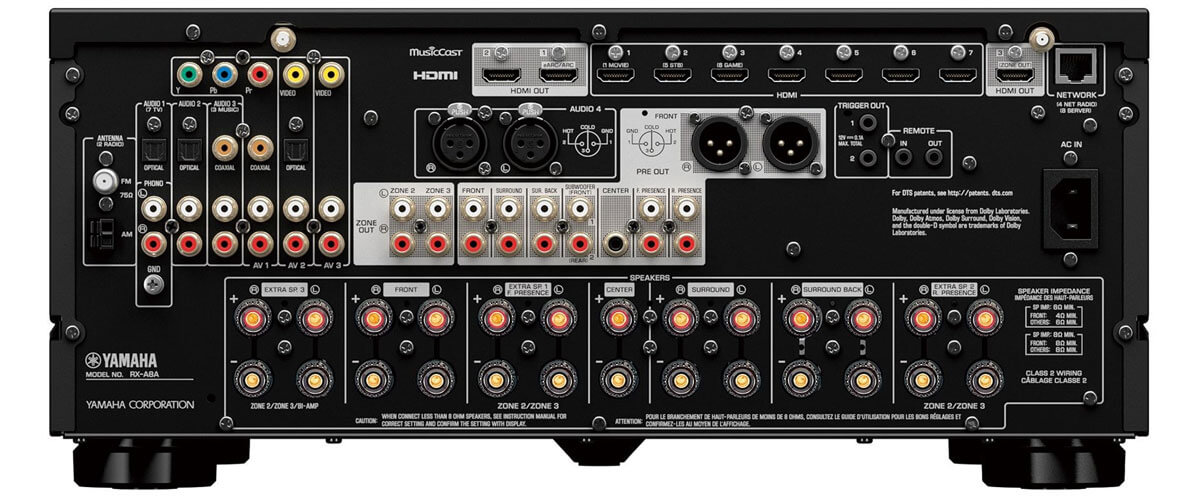 Of course, the most important thing about any A/V receiver is the sound quality. And the Yamaha RX-A8A doesn't disappoint. It has been designed with audiophiles in mind and delivers an amazing listening experience that will truly envelop you.
The receiver supports a wide range of audio formats, including Dolby Atmos, DTS:X, and Yamaha's own CINEMA DSP 3D technology. It creates truly immersive and realistic sound both for movies and for music. Even if you have just a pair of speakers, MusicCast Surround mode will produce 3D sound. As for me, it feels like you are in a movie theater or a professional music studio. Moreover, with a calibration system set up, performance will be perfectly optimized for your room.
Verdict about Yamaha RX-A8A
In my opinion, RX-A8A excels in many areas. This powerful receiver can provide stunning surround sound, and it's packed with features that will make your entertainment experience truly unique and will last for years.
Yamaha RX-V385 – budget
Here we suggest you read the Yamaha RX-V385 review, in which you can pay attention to the essential features of this device.
The first thing that differentiates Yamaha RX-V385 from other receivers is its price range and built-in Chromecast support. It allows listening to your favorite music and watching movies without using any external devices. The second exciting feature is built-in Bluetooth to connect to all other Bluetooth devices, including your smartphones, tablets, and laptops. Yamaha RX-V385 also includes Airplay. So, you can stream music from your iOS devices wirelessly. One more feature of RX-V385 is the mobile app. As a result, you can use your iPhone or Android device as a remote control.
Build and design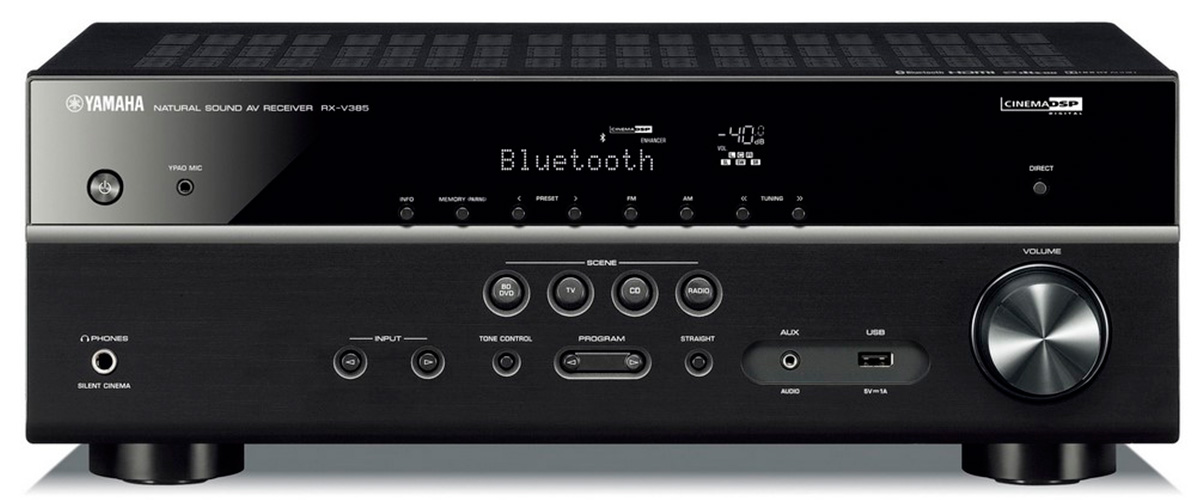 The Yamaha RX-V385 has 37,4 pounds of total weight and dimensions of 12.4 x 17.13 x 6.34 inches. So I think it can fit in most home spaces.
On the back side of the receiver there are ports for connection. The front side includes a headphone jack, a Channel Input for playback of surround sound, the switch, and one volume regulator. Its design gives a possibility to install the Yamaha RX-V385 in different ways. The company designed a receiver with a slim profile. As a result, you can install a device in any place near the television, suitable for you and your design.
Besides, it is not difficult to tune the receiver. You can connect Yamaha RX-V385 to your devices using a special mobile application. It also provides access to some additional settings. You can connect TV, speakers or other devices; regulate the amplifier power.
Features and specs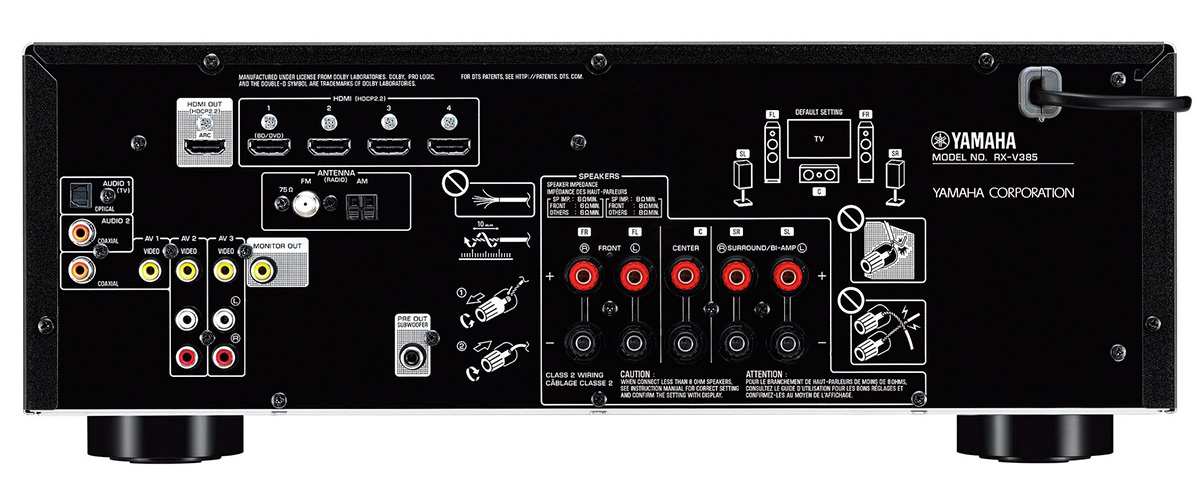 Yamaha RX-V385 has quite good features. It is a 5.1-channel AV receiver with a Rated Output Power of 1ch driven, 100W (8 ohms, 0.9% THD). Besides, this receiver supports different file formats, such as MP3/WMA/MPEG-4 AAC/WAV: up to 48kHz/16-bit to convert the digital signal into an analog one; it uses 3 Burr-Brown DA Converters with the power 384kHz/32-bit.
The RX-V385 can bi-amp compatible front speakers (L, R). That means to regulate the high and low ranges, it uses two separate amplifiers. It also improves the sound of front speakers, because the device prevents high and low sounds blending.
As for inputs, the Yamaha RX-V385 is well equipped. It has a single optical input, two coaxial inputs, and two analog audio inputs. It also has a single HDMI HDCP 2.2 compliant output to complement its 4 HDMI inputs. A USB connection on the front allows you to connect a USB drive and play music from it. In addition, the receiver can stream music wirelessly because it has built-in Bluetooth. However, it doesn't have built-in WI-FI. Yamaha RX-V385 also includes Airplay that makes a connection with Apple devices possible.
Yamaha RX-V385 specifications also give the user a lot of possibilities. For example, this device allows watching different 4K videos with 60 frames/second speed. Yamaha RX-V385 allows enjoying high dynamic range (HDR) Video, in particular providing Dolby Vision and Hybrid Log-Gamm, because of up-to-date HDMI features. In addition, these technologies improve color contrast and smooth tone.
Sound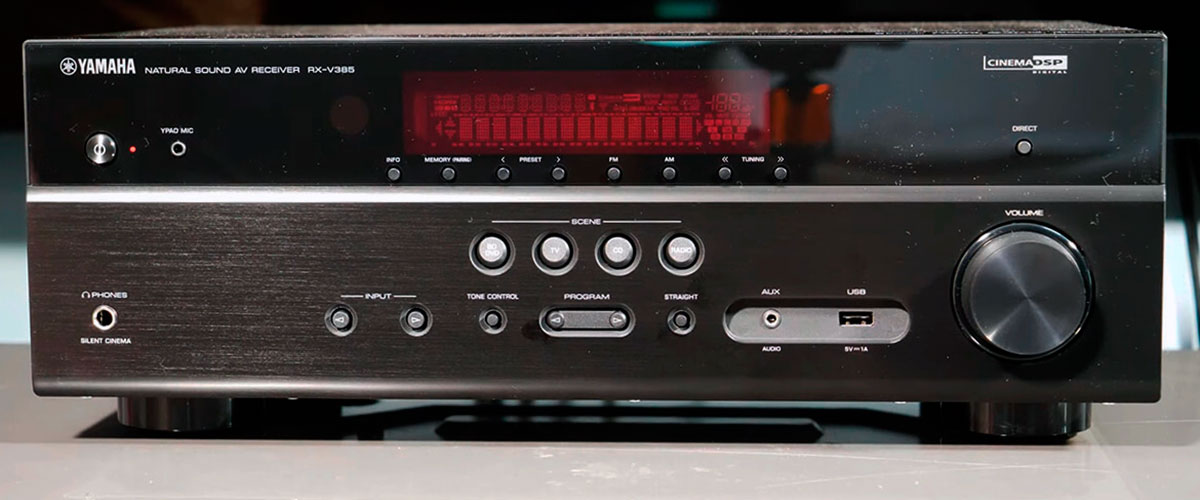 You can enjoy the natural and high-quality sound because of CINEMA DSP technology. As a result, it produces HD Audio.
For such a level receiver, the 385 displayed a pretty good sound. Dialogues and other movie sounds are clear and precise. With Yamaha RX-V385 even a tiny speaker will give more powerful bass than a large speaker. They also maintain excellent sound balance and localization. In the tensest movie moments, the 385 produces copious amounts of bass, creating a real cinema atmosphere.
Using this Yamaha RX-V385, you have a chance to feel virtual 5-channel surround sound, even if your surround speakers aren't behind you. There is only one disadvantage, the Yamaha RX-V385 may not be so good and powerful in larger rooms.
Verdict about Yamaha RX-V385 receiver
All in all this receiver provides high-quality for a reasonable price. It will give you a possibility to playback your favorite music and videos without using other sources. With this receiver, you can also enjoy a movie with Dolby True HD and DTS-HD Master Audio. Moreover, Yamaha RX-V385 is a good option for people, who like to stream music and video wirelessly.
Yamaha RX-A6A
Are you in the market for an amplifier that can handle all your audio and video needs? If so, Yamaha has a model that may interest you – the RX-A6A. So far, I've been very impressed with its quality, whether I was watching movies, listening to music, or gaming. Keep reading this Yamaha RX-A6A review to find out why.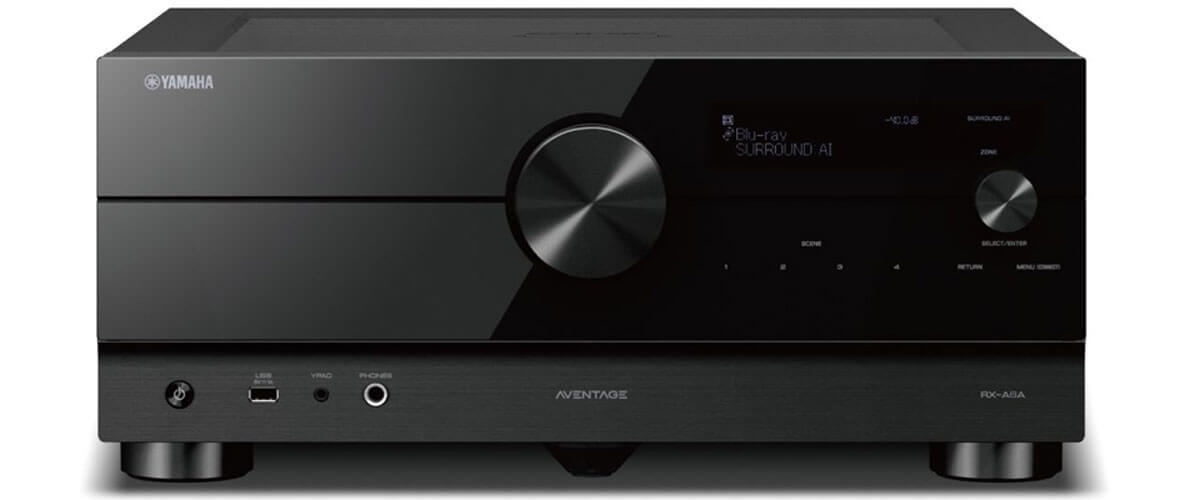 Build and design
The Yamaha RX-A6A is a beautiful amplifier. It has a sleek, modern design with a black finish. It's also quite large, measuring in at 17-1/8 x 7-1/2 x 17-3/8 inches and 41.2 lbs, so you'll need some space for it.
But it's not just about looks – the RX-A6A is also built to last. It has a robust construction with a metal chassis and thick, heavy-duty speaker terminals that will last for years and can handle even the most strenuous listening sessions.
The front panel of the RX-A6A is quite simple, with just a few buttons and an LCD display. The buttons allow you to control basic functions such as power, volume, input selection, and sound mode. The LCD display provides information about the current settings and status of the amplifier. The back panel features more HDMI inputs and outputs, as well as a variety of other audio and video connections.
Features and specs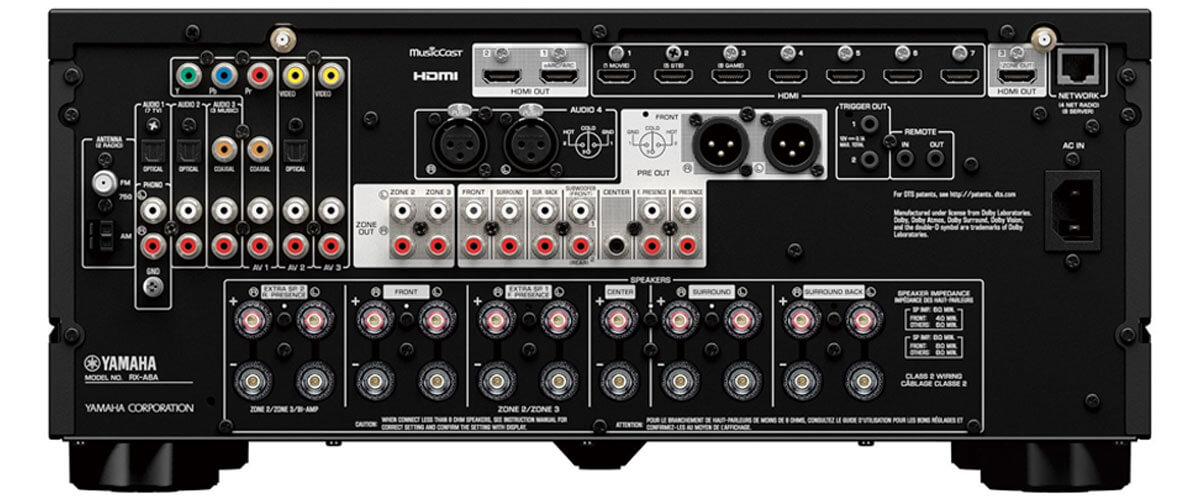 The Yamaha RX-A6A is a comprehensive amplifier, with plenty of features to satisfy even the most demanding user. It's a 9.2 channel receiver that can handle up to 150 watts per channel. The RX-A6A also features Yamaha's Compressed Music Enhancer, which restores lost detail and dynamic range in compressed music files. Multi-room listening is available here, so you can listen to music in 4 different rooms of your house or even in the backyard.
Bi-amp capability is included too, which allows you to use two amplifiers to drive your front speaker set. If you're concerned about expensive power bills, there's an ECO mode that cuts electricity use by up to 20%.
RX-A6A has a wide range of inputs and outputs, like 7 Inputs and 3 Outputs for HDMI. As an example, you can use them to connect with a Blu-ray player, cable box, gaming console, and other devices. I like that this model supports probably all current connecting options, including wireless: analog and digital, coaxial, USB connections, composite video inputs/outputs, network port, front AV input, a headphone output, WiFi, Bluetooth, and more. In fact, you can connect just about anything to it. If you are a fan of radio, here is a built-in FM-tuner quality too.
Some other specifications of Yamaha RX-A6A in terms of video quality include 4K Ultra HD pass-through, HDR support, and Dolby Vision, near-4K quality. You are able to get the most out of your current video collection. It also supports 3D audio formats such as Dolby Atmos and DTS:X. And if you're a gamer, the RX-A6A has you covered with its low latency mode and various gaming modes that optimize the sound for different types of games.
Sound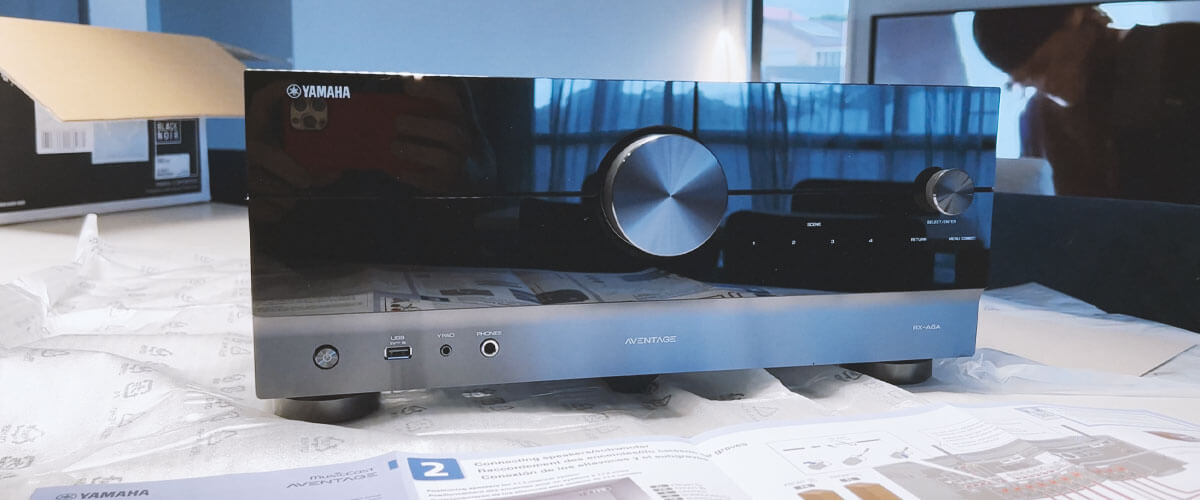 My experience with the sound quality of the Yamaha RX-A6A has been overwhelmingly positive. The amplifier is able to deliver clear, crisp audio with excellent dynamics. Whether I was watching a movie or listening to music, I was always impressed by the powerful sound that this receiver produces and particularly with how well it handled gaming audio – gunshots and explosions sounded realistic and immersive. And its low latency mode ensures that there is no delay between what you see on the screen and what you hear, so you won't miss a single beat.
A listening mode selector that allows you to choose from three different listening modes: music, movie, or game. These modes optimize the sound for different types of content. A custom mode that you can use to create your own personal listening settings. For films, the cinema DSP mode creates a truly cinematic experience. There's also a dialogue lift mode that raises the level of dialogue in movies and TV shows to make it easier to hear. For music, the stereo mode creates a wide, spacious soundstage. And for games, the game mode provides an extra level of immersion.
Verdict about Yamaha RX-A6A
My personal recommendation for anyone looking for a high-quality amplifier would be the Yamaha RX-A6A. Whether you're a movie buff, music lover, or gamer, there are tons of features for everyone. It took my audio experience to the next level.
Yamaha RX-A2A
We prepared for you the Yamaha RX-A2A review, in which you can read about the key features of this receiver. If you're looking for a high-quality AV receiver that supports 4K Ultra HD and HDR10, the Yamaha RX-A2A is an excellent option.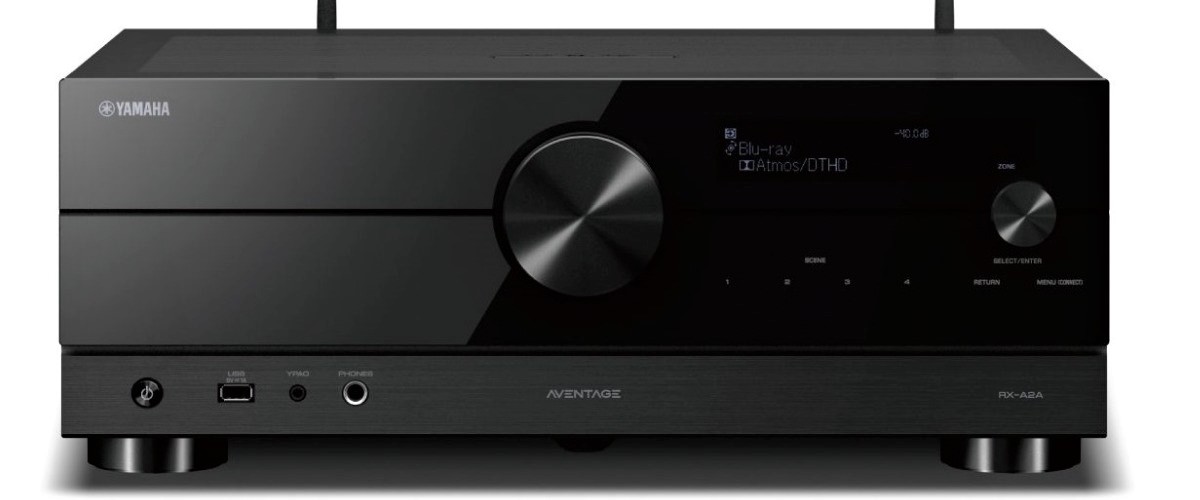 It's not the cheapest receiver on the market, but it offers features and performance that you won't find in most other receivers. For example, it includes a phono input for connecting a turntable, and it has a dedicated Zone 2 output for sending audio to another room in your house.
Build and design
The Yamaha RX-A2A receiver comes with a sleek and stylish design to complement any home décor. The receiver has a black cabinet with a silver front panel, and it measures 17-1/8" x 6-3/4" x 14-5/8" inches. It weighs 22.5 lbs., so it's not too heavy to move around if needed.
On the front panel, you can find a USB port, audio input ports (including another "AUX" A/V input), and speaker binding post outputs. An LED display shows the source name or listening mode currently on. There are also buttons, which will let you quickly mute the sound or change the volume level without using the remote. On the front panel, there is a possibility to control power, select input, volume, and other essential functions.
Besides, you can use the supplied remote control to do all of this. The remote is backlit, making it easy to use in low-light conditions.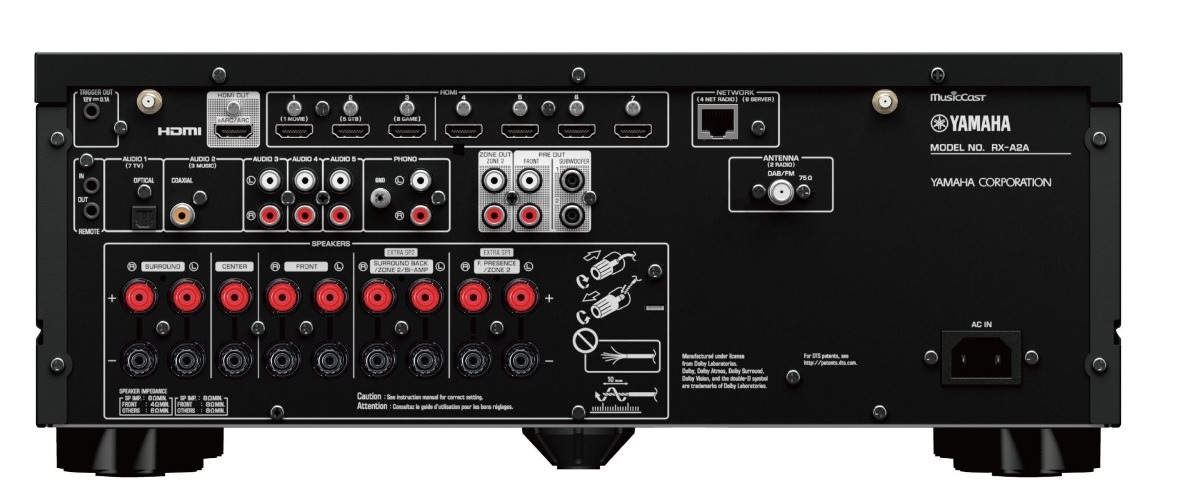 Features and specs
With its 7.2 channel surround sound and 100 W (8 ohms, 0.06% THD) with 2ch driven, the RX-A2A can deliver an immersive, unparalleled soundstage perfect for movies and music. It also features Yamaha's MusicCast technology, which allows you to stream music from your phone or tablet to other MusicCast-enabled devices throughout your home. Besides these Yamaha RX-A2A features, it has the bi-amp capability. It means that the main left and right speakers can be powered by two separate amplifiers, one for the low frequencies (bass) and one for the high frequencies (treble). As a result, it provides better sound quality, improved bass response, and reduced distortion.
Yamaha RX-A2A receiver contains a variety of ports and jacks. For example, there are seven HDMI inputs and one output. Two digital optical audio inputs, two coaxial audio inputs, and a LAN port.
This receiver is perfect for people who have a lot of devices that need to be connected to their home theater system. Yamaha RX-A2A receiver has WiFi and Bluetooth. You will be able to stream music from your smartphone. You should connect the phone to the network of AV receivers, and you're ready to go. Also, don't forget that you can use Spotify Connect or Airplay.
It also supports 4K (up to 120p) and 8K (up to 60p) video pass-through so that you can enjoy the latest high-resolution videos without any degradation in quality. In addition, the RX-A2A will also support HDR10+ (High Dynamic Range) technology which gives a broader color range between bright and dark images for more realistic looking images on your TV.
Sound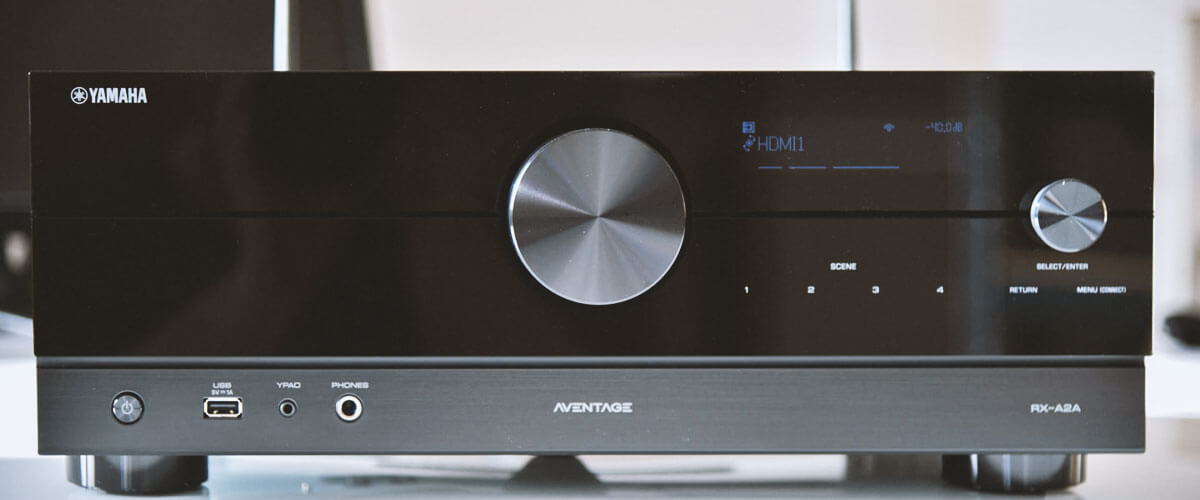 The Yamaha RX-A2A is perfect for home theaters and media rooms. It provides clear, immersive sound and stunning visuals that will take your entertainment experience to the next level. In addition, it supports Dolby TrueHD and DTS HD master audio.
Besides, Yamaha RX-A2A is designed to create an immersive 3D sound experience. This surround sound receiver is equipped with Dolby Atmos and DTS:X audio technologies, which allow it to deliver a realistic, three-dimensional audio experience.
If you like to watch movies or listen to music with many basses, this receiver is perfect for you. It can create a sound that is both rich and full.
Verdict about Yamaha RX-A2A
Summing up all Yamaha RX-A2A specifications, I recommend it to anyone looking for a high-quality receiver with excellent features. It has an impressive range of audio inputs, outputs, and amplifier power. In addition, it is easy to configure and use. The Yamaha RX-A2A offers everything you need in an audio and video receiver.
Yamaha RX-V4A
We have prepared a Yamaha RX-V4A review for you to make your choice easier. The most obvious thing differentiating it from others is the support of 8K HDMI and 4K Ultra HD video with full 60p resolution, allowing receiving and processing 4K content without compression.
The new RX-V4A is a universal receiver that supports almost any existing surround sound format. It provides a possibility to work with network sources or external speakers through its proprietary Yamaha system. It supports Dolby Atmos and DTS:X – two new surround sound formats. What is more, this model offers a possibility to work with network sources and external speakers through a proprietary Yamaha system.
Build and design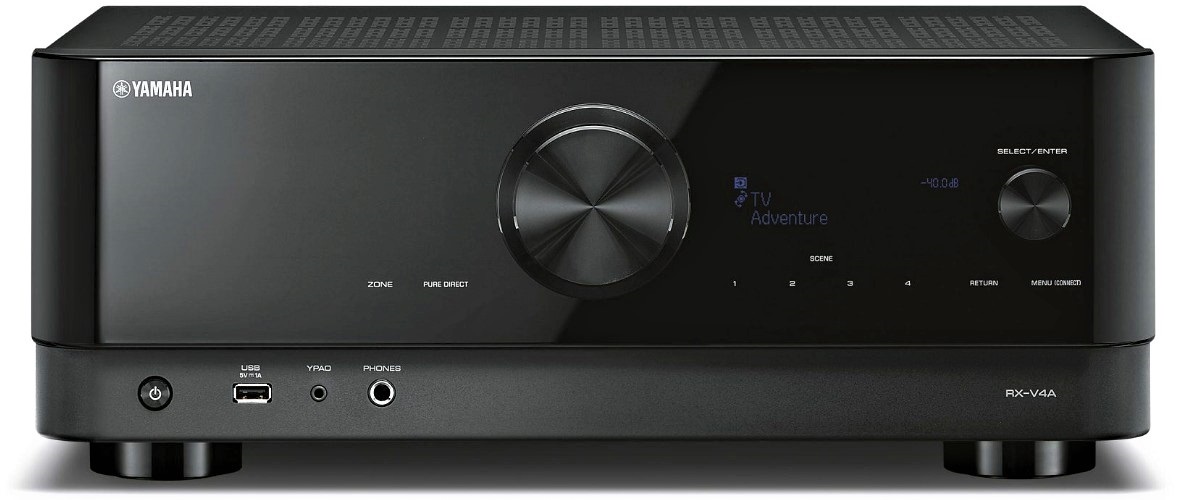 The Yamaha RX-V4A receiver has a sleek and modern look. It has a black finish and a brushed aluminum front panel. The Yamaha RX-V4A receiver weighs about 19.4 lbs and measures 17-1/8" x 6-3/4" x 14-7/8" inches.
The front panel includes a power button, volume and channel knobs, and buttons for managing the audio input and output. The receiver also includes an on-screen display that allows you to control all of its functions.
On the rear side of the Yamaha RX-V4A receiver, you can find all inputs and outputs. They allow you to connect the receiver to other devices, such as a TV or a computer. The ports are also used to power the receiver and to transfer audio and video signals.
The remote control for the Yamaha RX-V4A receiver is easy to use. It gives you complete control over the receiver's settings and has more than enough buttons to make it easy to set up.
Features and specs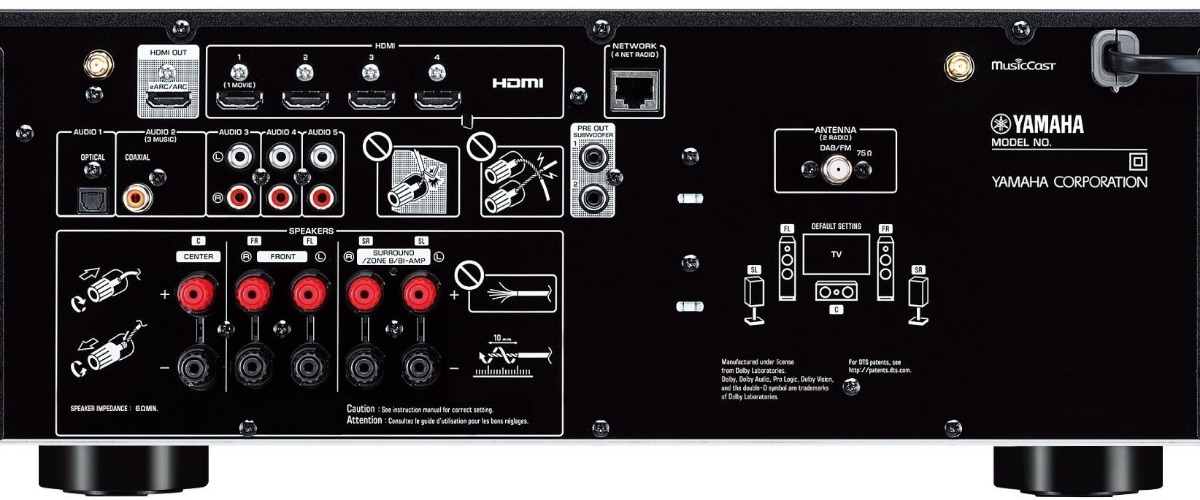 As for Yamaha RX-V4A specifications, it is a 5.2 channel AV receiver. This receiver has 80 W (6 ohms, 0.06% THD) per output channel when two speakers are driven. In addition, this receiver is equipped with bi-amp ability. Therefore, you can connect your speakers directly to it and use the receiver as a power amplifier for high-quality sound reproduction without losing the dynamics that often accompany passive loudspeakers.
Yamaha RX-V4A is an excellent home theater receiver for the newer AV formats. The Yamaha RX-V4A also has a variety of input jacks that allow for many different options for connecting external devices. In addition, this receiver comes with many features such as 4 HDMI inputs, network capabilities through RJ45 input, USB input and outputs, two digital optical audio output ports, and analog audio out port. It also has built-in Bluetooth and Wi-Fi so that you can connect it in different ways.
The video quality of the Yamaha RX-V4A receiver is not bad. The picture is clear and with ample color depth. This receiver is equipped with HDR10+. A new standard for high dynamic range video offers improved contrast, excellent brightness, and enhanced color. In addition, Yamaha RX-V4A supports a 4K Ultra HD video passthrough, allowing you to watch your favorite movies and TV shows in stunning detail. The Yamaha RX-V4A receiver is also an 8K (up to 60p) capable device that delivers excellent video quality.
Sound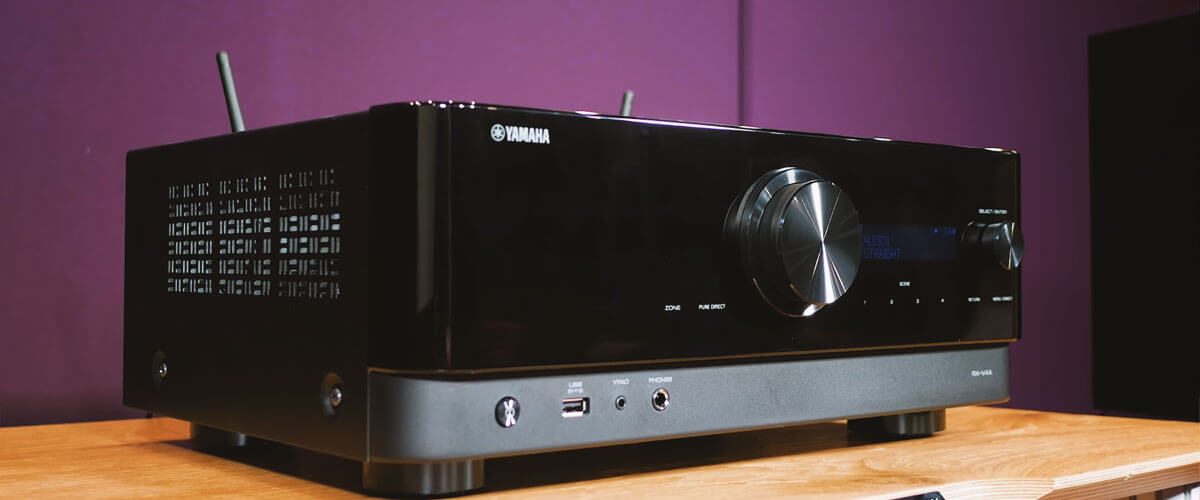 When it comes to sound quality, the receiver is clear and sounds great. In addition, the Yamaha is not distorted when you turn the volume up to its maximum setting.
The Yamaha RX-V4A is an excellent receiver for listening to music. The sound quality is excellent, and the surround sound effects are powerful. Additionally, it supports Dolby Digital Plus decoding. It provides an immersive opportunity for watching videos, TV shows, and games.
However, some people argue that it has a little bit of bad sound quality when watching movies, compared to the sound quality in music. The problem is that it does not have any preset modes for watching movies, so when you choose "Movie" mode, the only thing that would change is that dialog will be louder. Sometimes, that's not enough.
Verdict about Yamaha RX-V4A receiver
Summing up Yamaha RX-V4A features, it is an excellent receiver for home theater and music listening. Dolby Atmos, built-in Wi-Fi, and Bluetooth, AirPlay, and MusicCast make it enjoyable to use. If you're looking for an easy way to create the perfect sound in your home theater, this receiver is highly recommended and worth buying it.
Yamaha AVR buying guide
If you want to upgrade your home theater, you may need a set of surround speakers driven by a top-tier, expertly-tuned AV receiver. Many well-known companies are on the market, but I chose Yamaha today. They have been on the market for a long time and have a lot of fans all over the world. Therefore, I reviewed the best Yamaha AV receivers to show you the advantages and disadvantages of their lineup. Hence, you can make the proper decision when choosing AV receivers for your needs.
How many channels do I need?
If you have a large room or want additional speakers, you may need an AV receiver with more than seven channels. They are essential because they dictate how many speakers can be connected. Each channel powers one speaker. For example, if you have a five-channel AV receiver, you can connect up to five speakers. However, if you try to connect more than the prescribed number of speakers, you may damage your device. As a result, it is crucial to choose a model with the correct number of channels for your needs.
How much power per channel do I need?
The power output is one of the most important considerations when choosing a receiver. It is measured in watts per channel, which dictates how much volume the receiver can produce. A higher wattage means the receiver can produce louder sounds without distortion. For most people, a device with 50 watts per channel is more than sufficient. However, if you have a large room or want to crank up the volume without worrying about distortion, consider a receiver with 100 watts per channel or more.
Pay attention to your connections
Any Yamaha AV receiver you buy today will come with support for the most common connection types. For example, you'll need an HDMI output to use your TV as a hub for all your home entertainment system. Most Yamaha receivers have multiple HDMI inputs to connect all your devices. Older devices may use component video or composite video connections. These are less common now, but if you have an older device that you want to keep using, make sure your model has the right inputs. Yamaha AVRs also come with built-in Wi-Fi and Bluetooth. They allow you to wirelessly stream music from your computer or phone to your receiver. If you want to use a voice assistant like Alexa or Siri, then you'll need a receiver with Wi-Fi. Bluetooth is a good option for connecting wireless headphones or speakers.
What additional features should I pay attention to?
One important feature to consider is surround sound support. It will significantly improve the immersion and audio quality if you plan to use your receiver for movies and TV shows. Another critical feature is the 4K pass-through, which allows you to watch 4K content from devices like Blu-ray players and streaming boxes. This feature is a must-have if you have a 4K TV. Finally, look for receivers with built-in streaming apps like Netflix, Hulu, and Amazon Prime Video. These apps will allow you to directly access your favorite streaming content without needing an external streaming device. By keeping these additional features in mind, you can choose an AV receiver that perfectly suits your needs.
FAQ
Do high-end receivers sound better?
In a word, yes. The extra money you spend on a receiver will likely improve sound quality. But don't forget that your speakers are just as important as the receiver when getting great sound. So make sure to invest in a good set of speakers to go with your new receiver, and you'll be well on your way to enjoying quality sound in your home.
Do I need to match receiver and speakers?
You can mix and match brands, types, and even sizes of receivers and speakers as long as they have the same impedance rating. However, it might be worth considering matching your receiver and speaker brands if you're looking for the best possible sound quality.
Which is better DTS or Dolby?
If you want a more enveloping surround sound experience with a more significant bass response, go for
DTS
. On the other hand, Dolby is the better choice if you prioritize dialogue clarity over other soundtrack elements. Ultimately, though, the best way to decide is to test both codecs and see which sounds better.
Is Dolby Atmos good for gaming?
If you want the most immersive gaming experience possible, using a system that supports Dolby Atmos is your best bet. You will be able to
enjoy games in unparalleled surround sound
and take your gameplay to the next level.
We are supported by our audience. When you purchase through links on our site, we may earn an affiliate commission at no extra cost to you.
Our newsletter
* We will never send you spam or share your email with third parties