Onkyo receivers are some of the best on the market. They offer a range of features and options that make them perfect for any home theater system. If you're looking for a great receiver that will provide incredible sound quality and performance, then pick the best Onkyo receiver.
Our pick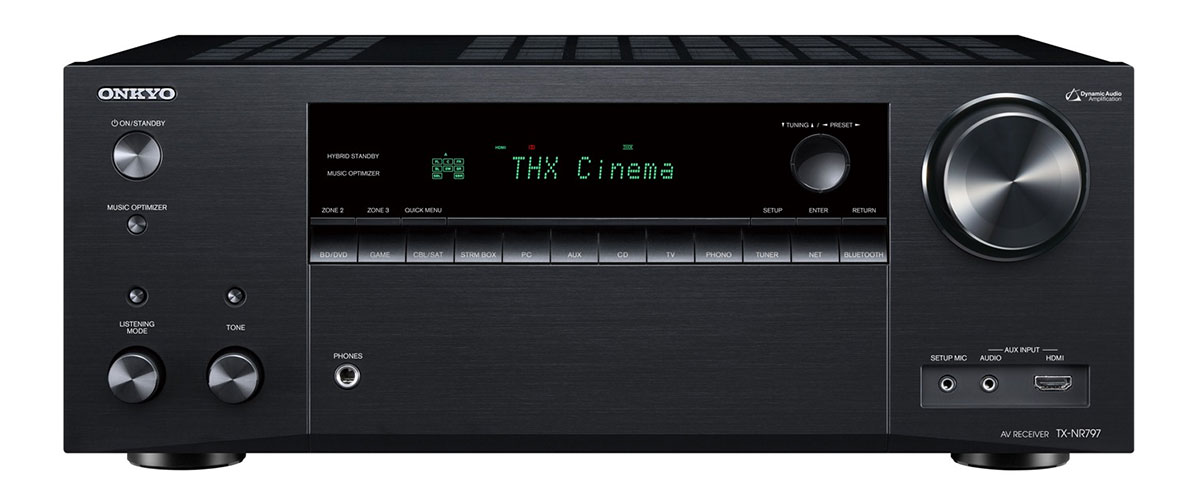 Onkyo TX NR-797
This 9.2-channel Onkyo SMART AV Receiver will play the lead role in your whole-home audio experience.
Read the full review
.
Best Onkyo AV receiver reviews
If you are not sure about this model, we suggest you read our Onkyo TX-NR797 review. The TX-NR797 is one of the most potent Onkyo receivers, and it differs from other receivers in its class in a few ways.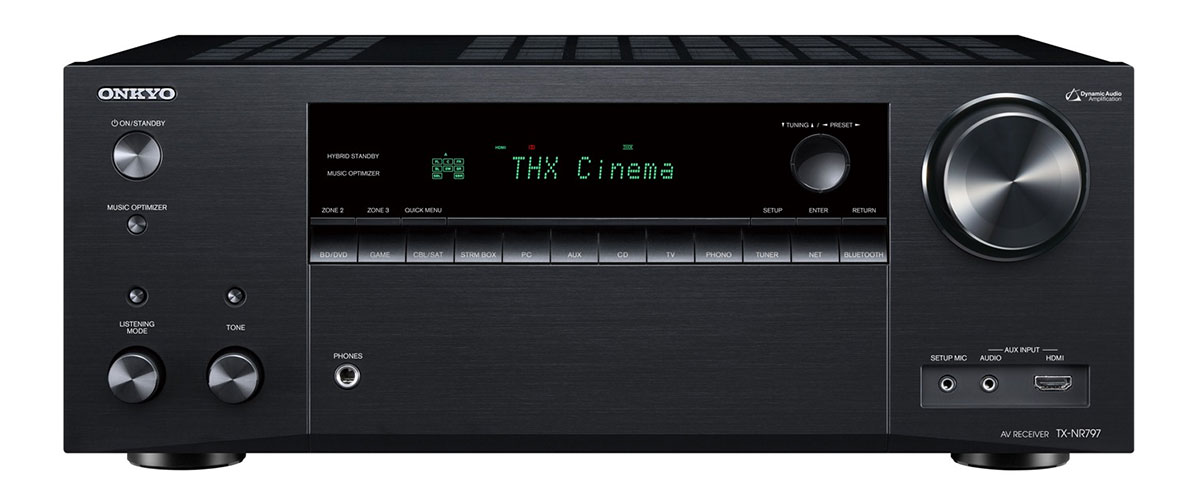 First, it offers plenty of features and capabilities to make your movie watching and music listening experience much better. For example, this receiver can decode Dolby Atmos and DTS:X soundtracks, which gives you an immersive surround sound experience. It also has very robust and feature-rich network audio capabilities. Finally, it allows you to access your music library from any device on your network, including PCs, smartphones, and tablets.
Build and design
It measures 17 1/8" x 6 13/16" x 14 15/16 inches and has a very sleek and modern design that will look great in any home theater. This receiver looks very attractive with its nice-looking curves on the front panel, which contains an aluminum facing plate combined with a black color metal casing.
The whole front panel is very logical and well designed. All connectors are labeled nicely with their names, making setting up much easier for connections between various devices. In addition, a front panel includes Power and Station preset buttons, a Volume control dial, a Mute button, Input selector, and Tuner.
The Onkyo TX-NR797 receiver is not difficult to set up. The receiver has a guided setup process that makes it easy to follow.
Features and specs
Onkyo TX-NR797 is a 9.2 channel network A/V receiver that supports 4K Ultra HD video playback, HDR10, and Dolby Vision passthrough. According to Onkyo TX-NR797 features, the power is 100 Watts, 0.08% THD, when two channels are driven. Furthermore, it has a built-in Chromecast that helps to stream content from your devices easily and quickly.
In addition, Onkyo TX-NR797 has AM and FM tuners. So, you can listen to your favorite radio stations. Furthermore, it includes AirPlay support, so it gives a possibility to stream music from your Apple devices. The Onkyo equipped this receiver with FlareConnect Multi-room Audio playback, which allows you to send audio to compatible speakers in other rooms.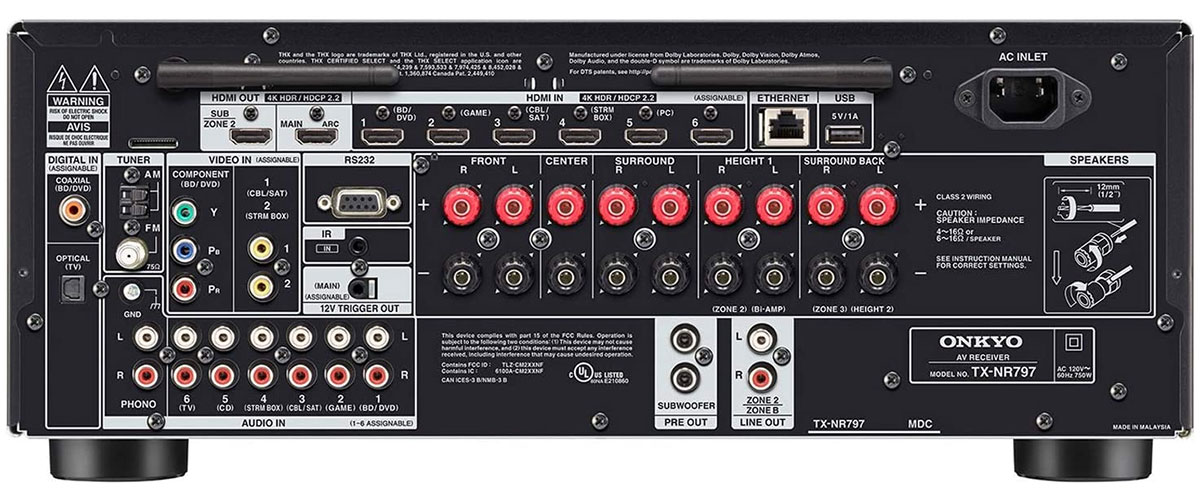 The Onkyo TX-NR797 has a lot of different inputs and outputs that will fit any modern home theater system configuration. We have found the number of ports quite impressive. On the back side of this model, you will find 7 HDMI inputs, composite video inputs, digital and analog audio inputs. Besides, you will find 2 HDMI outputs, one composite and component video outputs. Besides, there are three digital and seven analog audio outputs.
In addition, the Onkyo equipped TX-NR797 with Bluetooth and Wi-Fi. So, you will be able to connect wirelessly to your home network and as a result stream your music from computer or mobile device. Furthermore, you will get access to Internet radio stations to discover new music or listen to your favorite online radio shows.
Let's consider some Onkyo TX-NR797 video specifications. This receiver supports video playback in 4K resolution. It has built-in HDMI 2.0a connections so that you can connect 4K video sources directly to it without extra converters. The TX-NR797 can also upscale lower resolution video to near-4K quality so that you can enjoy your old movies and TV shows with improved detail and clarity.
Sound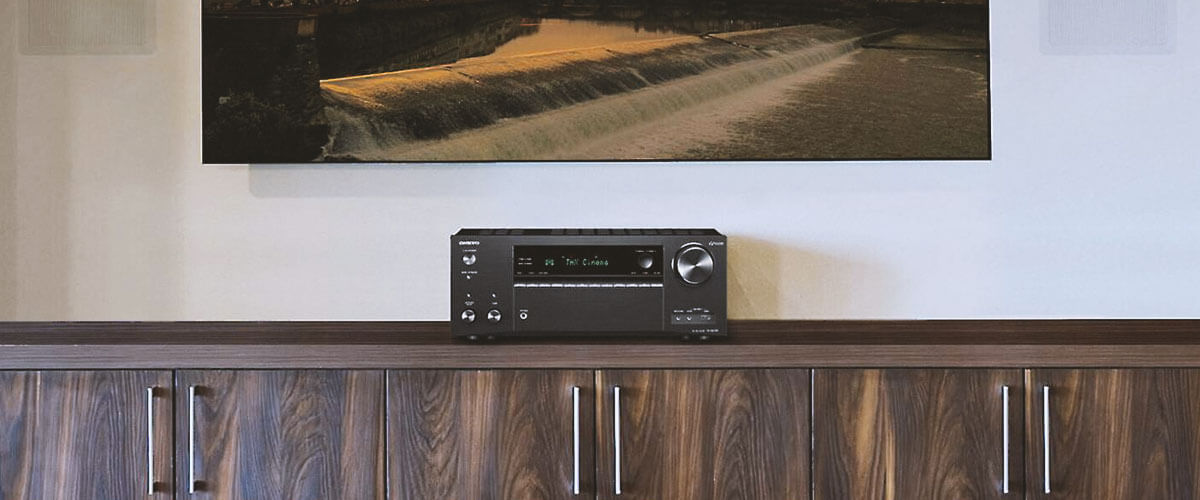 The sound quality is excellent, and it can quickly fill a large room with sound. The Onkyo TX-NR797 offers excellent sound quality when listening to music. This receiver generally produces clear and powerful sound, making it the perfect choice for movie enthusiasts.
In addition, it's perfect for listening to all types of music, from classical to rock. The technology that Onkyo TX-NR797 uses is Dolby Atmos and DTS:X. It delivers impressive 3D surround sound effects, especially if you have a speaker system capable of reproducing height effects. This receiver also features THX Select2 Plus certification, which guarantees high-quality sound reproduction.
However, some users argue that this model has better but not the best sound compared to some other receivers.
Verdict about Onkyo TX-NR797
The TX-NR797 is an excellent choice for anyone looking for an AV receiver to improve home theater and wants to get excellent sound quality. If your goal is to get surround sound from all directions and feel like in the scene playing out before your eyes, this receiver is a perfect option!
Onkyo TX-SR494
Here is an Onkyo TX-SR494 review, which will make your choice easier. The Onkyo TX-SR494, like its big brother the HT-R693 and its little brother - TX-NR646 is the only model in the line of Onkyo receivers that can pass bitstream content from all available sources, including DVD players and TV boxes.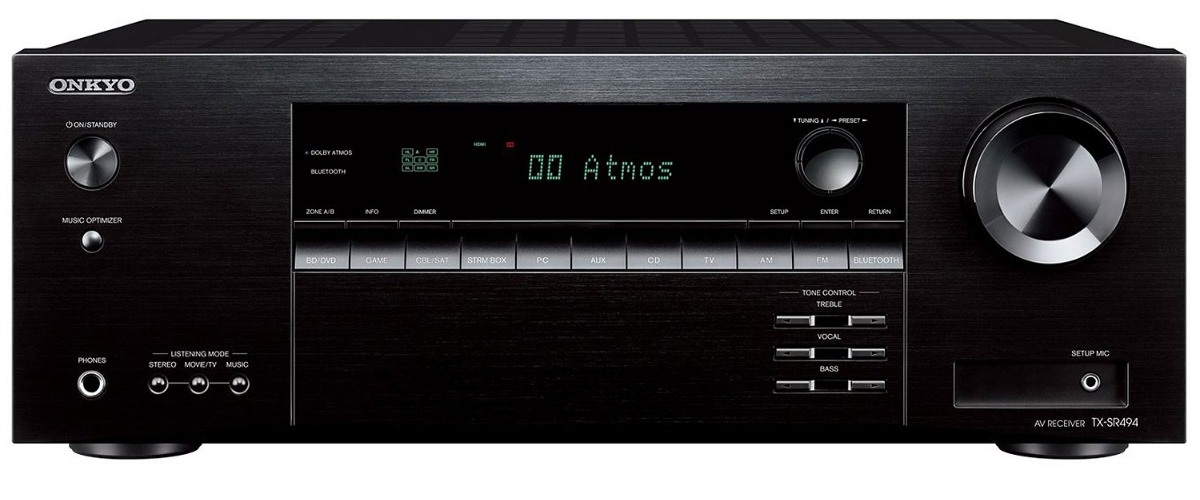 Not all models in this range have such top features. For example, these are decoding of Dolby TrueHD and DTS-HD Master Audio formats that bring us particular pleasure from our home cinema.
Build and design
The first thing that almost everyone will notice is the full aluminum front panel, which makes this receiver a high-end product. Onkyo has kept a clean and transparent design. The dimensions are: 17,1" x 6,6 x 12,9 inches and its total weight is 18.1 lbs.
The front side of the Onkyo TX-SR494 receiver has a headphone jack, volume control buttons, input selection, and a power on/off button. In addition, the front display gives information about the source, volume level and shows different lights depending on the status of your surround sound system.
Onkyo TX-SR494 receiver has a back panel, which provides you with HDMI inputs and outputs, a set of component video connections, analog stereo audio outputs for your speakers, etc. It is a straightforward receiver that comes with a simple set of instructions. It can be connected to other devices easily and does not have many components to deal with. The remote control is also without complicated buttons or functions.
Features and specs
Let's consider some Onkyo TX-SR494 specifications. The TX-SR494 is a 7.2-channel receiver with 80 W/Ch (8 Ohms, 20 Hz–20 kHz, 0.08% THD) power when 2 Channels Driven. The frequency response of the receiver is 10Hz-100kHz with 3dB direct mode. Its key features include the bi-amp capability for the front, HCPS (High Current Power Supply), and a wide range of connectivity options. This product is perfect for those who want a great audio experience in their home theater setup.
The TX-SR494 offers 4 HDMI inputs and 1 HDMI output. This is great for homes with many devices. It is easy to switch between sources. It also has an optical digital audio input so that you can listen to movies and games in surround sound. Additionally, the TX-SR494 has a Zone B line output that can send audio to another room in the home. This receiver also has built-in Bluetooth, so you can easily stream music from your phone or tablet.
The Onkyo TX-SR494 video features provide a lot of opportunities for users. The receiver can handle four types of HDR and supports BT.2020, ensuring that you will always get the best video and audio they can. In addition, this model can upscale and transfer 1080p, and 4K (up to 60p/4:4:4) signals with no loss in quality. Dolby Vision technology also optimizes picture quality by dynamically adjusting colors, brightness, and contrast.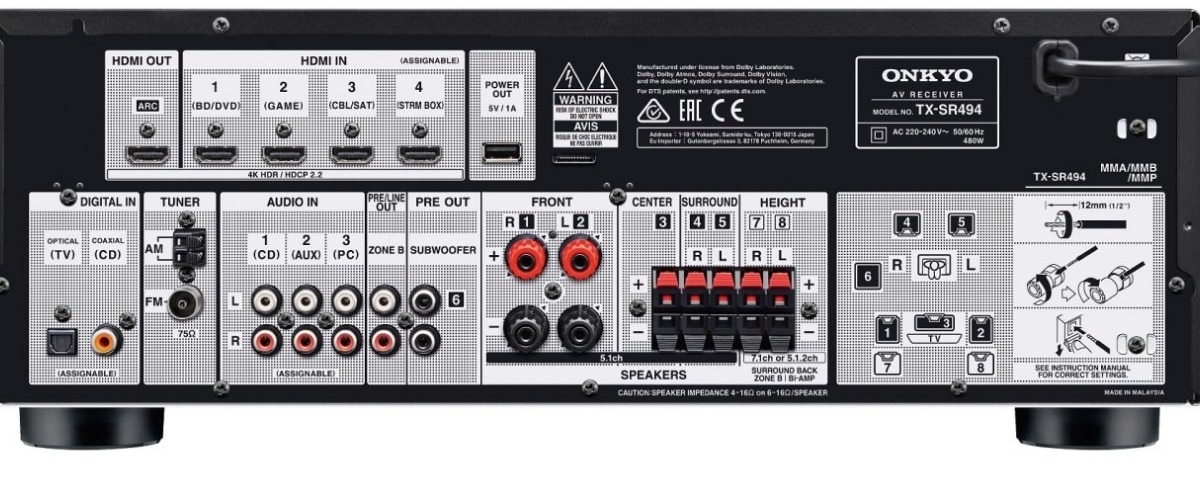 Sound
Onkyo TX-SR494 receiver can produce good sound quality without any distortions. It ensures you a unique experience when watching movies or playing games. This receiver can produce clear, detailed, and balanced sound output with its Multi Channels configuration. The receiver also provides deep bass. Besides, it has a good control knob to regulate bass and treble as per your desire. You can connect your portable devices like smartphones and tablets to it and enjoy your favorite music tracks. It has both Dolby and DTS decoding, making it great for hearing the difference between the two formats.
Verdict about Onkyo TX-SR494 receiver
We can sum up that the Onkyo TX-SR494 receiver has many useful features, including Dolby Atmos, a built-in Bluetooth, and a 4K HDR passthrough. However, it doesn't have a built-in Wi-Fi adapter. All in all, this receiver seems to be a good choice for your home theater.
Onkyo TX-SR393
We have prepared an Onkyo TX-SR393 review. The TX-SR393 is an excellent receiver that offers excellent value. It has many features not found on other receivers in its price range.
For example, it has built-in Bluetooth that allows you to stream music from your phone or tablet. It also has an HDMI port with a 4K passthrough and HDCP 2.2 support, which allows you to take full advantage of the latest high-resolution video formats. Finally, it has a built-in FM tuner, which you will not find in many other receivers.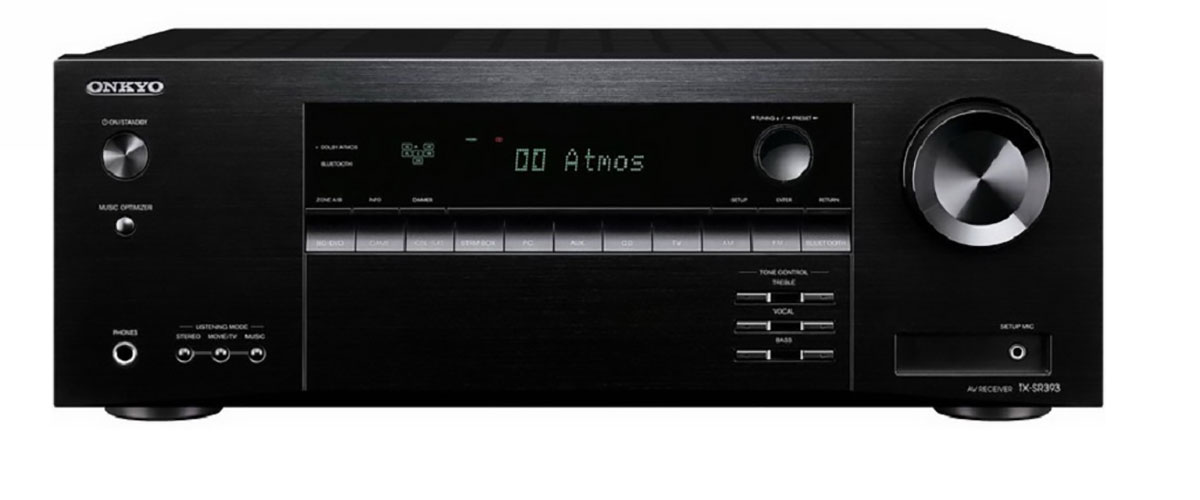 Build and design
Let's begin with Onkyo TX-SR393 features. The receiver's dimensions are 17 1/8"" x 6 5/8"" x 12 15/16"" inches, and it is 18.1 lbs in weight. The front panel has a clean and clear design. The front panel has a power button, input selector, volume knob, and headphone jack. The back panel has speaker terminals, an antenna connector, different inputs, a USB port, and HDMI ports.
A small display in the middle of the front panel shows the current input and volume level. Around the display, four LED indicators show which input is selected: Analog, Optical/Coaxial, and two HDMI inputs.
There is also a remote control. It is essential, but it gets the job done. It has all the standard buttons you would need, such as power, volume up/down, input, and surround mode. Plus, it's backlit, making it easy to see in the dark.
Features and specs
Onkyo TX-SR393 is a 5.2 channel A/V Receiver with 80 Watts, 0.08% THD of audio output when 2 channels driven. TX-SR393 is a receiver that allows you to enjoy many features. For example, it supports Zone B line-out. In addition, it allows users to send audio from the receiver to a second location, typically in another room.
Onkyo TX-SR393 has HDMI, Optical, and AUX inputs, a USB input that you can play music directly from your mp3 player or phone, a headphone output, and coaxial input. The rear panel of Onkyo TX-SR393 has several audio output ports. It also houses an antenna port for picking up FM broadcast signals. In addition, there are two RCA connectors for the analog input source, along with a dedicated digital coaxial connector. The speaker terminals are similar to the ones on the front. This model doesn't have built-in Wi-Fi, but you can connect your mobile phone, TV, DVD player to it via Bluetooth.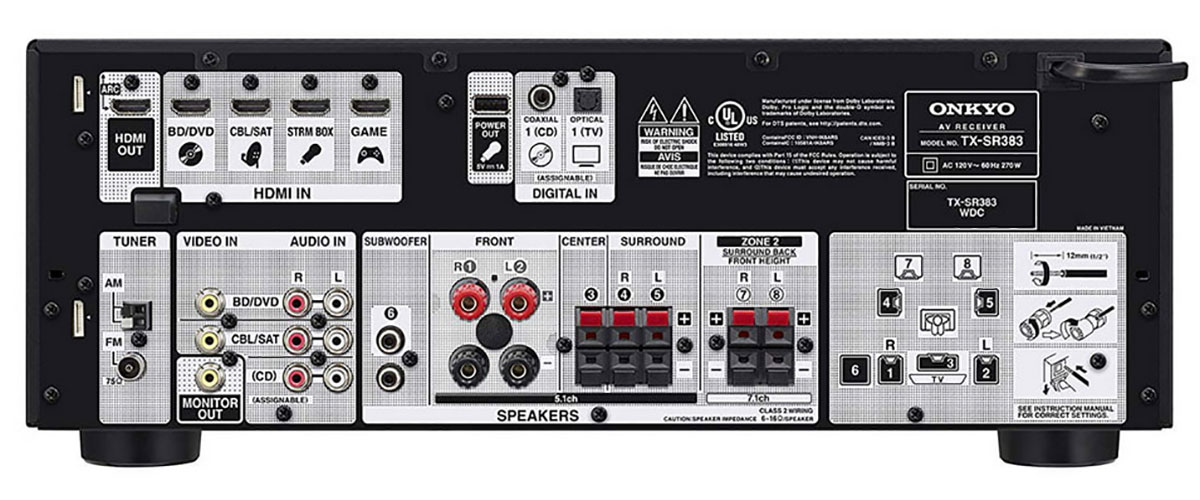 As Onkyo TX-SR393 video specifications, have Ultra HD Pass that supports 4K (up to 60p) video signals. It makes your movies come alive. It plays all types of media files, including high-definition blu-ray discs, making it worth buying for movie buffs. A high-quality video processor guarantees the highest image quality by minimizing noise and improving color gradation. In addition, the upscaling function converts standard definition material to Full HD for an improved picture, even on large screens.
Sound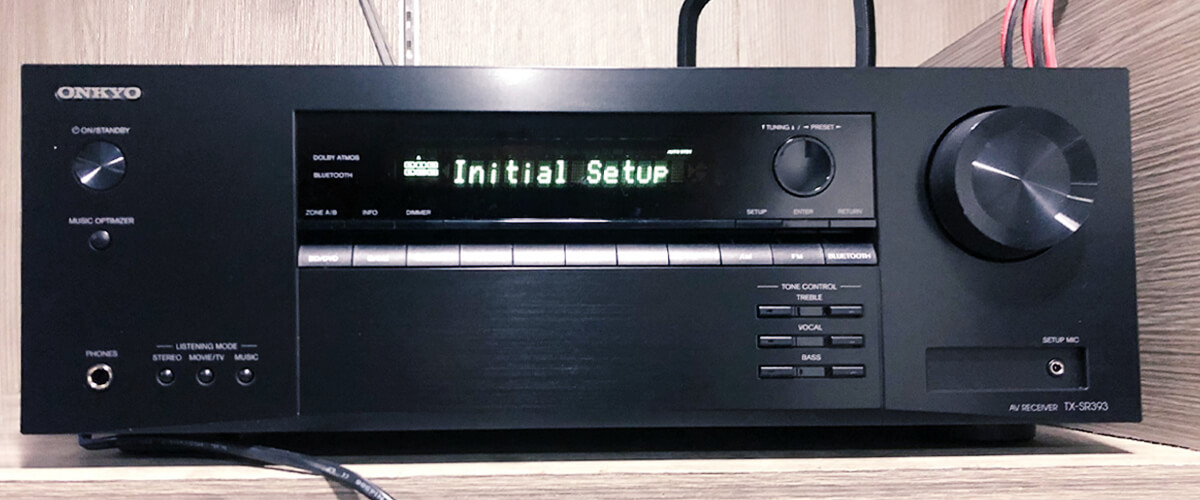 It has an excellent sound quality, and it can easily play almost all types of file formats, including MP3, WMA, AAC, WAV, FLAC, and DSD. In addition, the TX-SR393 also supports Dolby Atmos and DTS:X, which are two of the latest audio formats. As a result, it allows you to experience a more immersive sound with better quality.
The sound of the Onkyo TX-SR393 is perfect for watching movies. This receiver brings the movies to life and makes you feel like you are right in the middle of the action. The low, mid, and high frequencies are well balanced, but it lacks some power in the bass frequencies. When watching an action movie, you will notice this effect with explosions or car chases. This aspect can be compensated by adding a subwoofer to the system.
Verdict about Onkyo TX-SR393
The Onkyo TX-SR393 is the perfect amplifier for those who want to enjoy a genuinely cinematic soundscape. It's powerful enough to deliver performance that will satisfy even the most avid audiophile, but it does so without compromising on convenience or affordability. So if you're looking for an upgrade from your current system, you should pay attention to this model.
Onkyo receivers buying guide
What power per channel do I need in my receiver?
When choosing an AV receiver, it's important to consider
how much power you need
. Many factors come into play, such as the size of your room and the type of speakers you're using. In this post, we'll explore how much power each channel needs in order to deliver a great audio experience.
How many amplification channels do you need?
When considering an AV receiver, one of the most important decisions you'll make is how many amplification channels to choose. While 5.1 and 7.1 setups are still popular, best Onkyo receivers offer a range of options, from 2.0 stereo configurations to 9.2 systems with 11 channels of amplification. With so many choices available, it can be tough to decide which is right for you. This blog post will help you understand the differences between the
various channel counts
and figure out which option is best for your needs.
What additional features should I pay attention to?
When shopping for an AV receiver, it's important to understand the features that will be most important to you. Some of the key features to look for include surround sound decoding, HDMI connectivity, and room calibration. By understanding what these features are and how they can benefit you, you can make a more informed decision when purchasing an AV receiver. Let's take a closer look at each of these features.
We are supported by our audience. When you purchase through links on our site, we may earn an affiliate commission at no extra cost to you.
Our newsletter
* We will never send you spam or share your email with third parties